Bexar County Sheriff Javier Salazar announced late Thursday night that officials from the Tamaulipas State Police notified his office that they have 30-year-old Sijifredo Montemayor, who was involved in the Wednesday shooting of Balcones Heights Police Department Sgt. Joey Sepulveda, in custody.
Salazar said that the US Marshals Service and the Laredo Police Department have been in communication with the Mexican authorities and that Sijifredo Montemayor is said to be receiving treatment at a hospital in Mexico for the gunshot wound he sustained after his brother, Wilfredo Montemayor, allegedly shot Sepulveda on Wednesday. Salazar said he believes that after Sijifredo Montemayor is medically cleared, Mexico authorities will transport him to the border, where US law enforcement can take him into custody.
After explaining that the Bexar County Sheriff's Office received false intel earlier Thursday, Salazar said he is remaining apprehensive until he sees proof that Sijifredo Montemayor is actually in custody.
"Earlier in the day we were given information that he was in custody," Salazar said. "We held off on releasing it — it turned out that was premature information. And so […] we are a little bit leery of it until I see proof that he's actually under arrest."
In Thursday night's press conference, Salazar identified Sijifredo Montemayor as the driver of a stolen truck that was located by BHPD officers Wednesday afternoon. While Sepulveda was ordering Sijifredo Montemayor to shut the truck off and exit, his 27-year-old brother Wilfredo Montemayor allegedly opened fire from the back seat. Sepulveda was critically wounded with multiple gunshot wounds but has undergone surgery and is in stable condition.
The BCSO SWAT team executed a callout around noon Thursday on a home where both parents of the Montemayor brothers and several siblings live, for multiple unspecified warrants. Multiple family members were detained for questioning after BCSO successfully called them out of the house.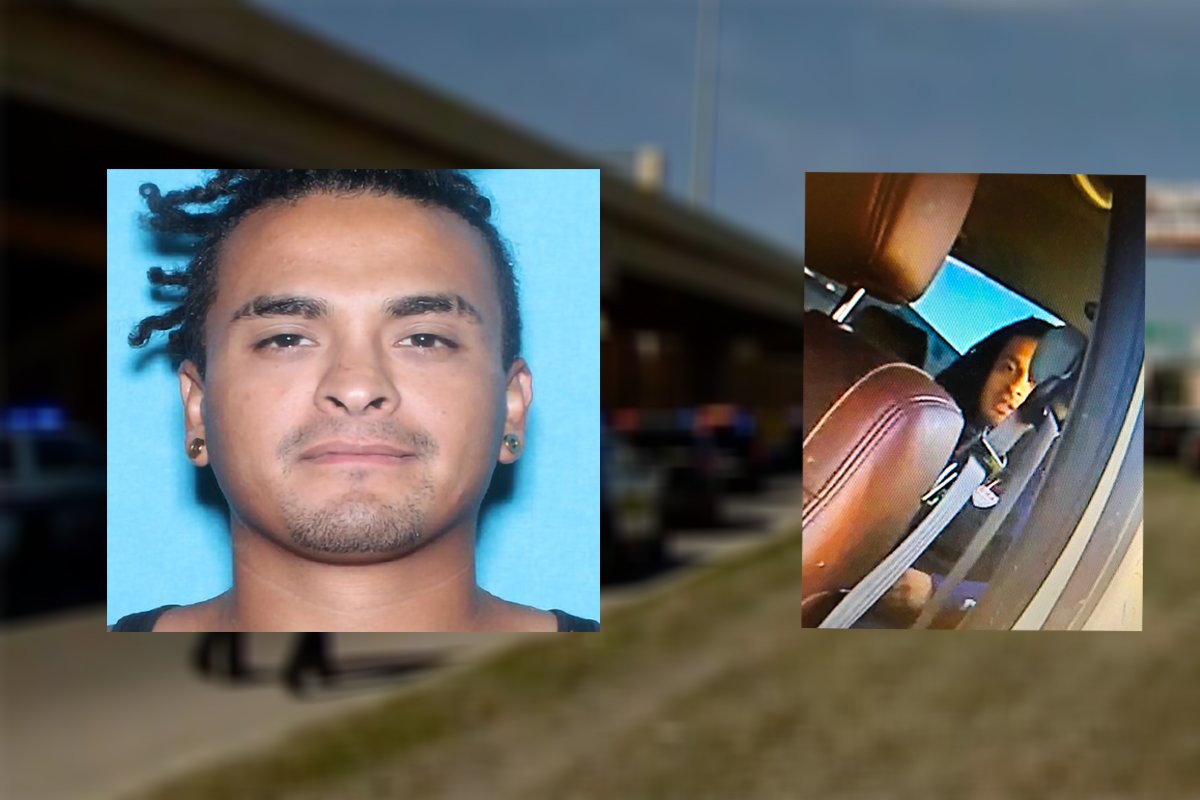 Salazar said they believe that several family members of the brothers helped transport Sijifredo Montemayor across the Mexican border around 5:30 p.m. Wednesday. Law enforcement officials have not been able to decipher whether the family members acted under false pretenses, or if they willingly smuggled him out of the country.
Authorities did not locate Wilfredo Montemayor during the search of the family's home. Salazar said Wilfredo Montemayor is believed to still be somewhere in San Antonio, Texas, and he believes that the fugitive is armed and dangerous.
UPDATE AT 11:05 P.M. EST
Salazar gave an update late Friday afternoon from the Bexar County Jail after law enforcement unloaded Sijifredo Montemayor from an unmarked SUV and walked him into the jail.
Sijifredo Montemayor had escaped the US into Nuevo Laredo, Mexico, where he was staying with a relative. Salazar explained that he "self-surrendered" to Mexican law enforcement and was taken to a hospital for treatment of a gunshot wound to his left shoulder blade. Authorities are now investigating whether it was Sepulveda's fellow officer who shot Sijifredo, or if his brother accidentally shot him. After treatment, Sijifredo was transported to the border by the Tamaulipas State Police, received in Laredo, Texas, by US authorities, and subsequently transported back to Bexar County and booked into jail.
Salazar also gave an update on Sepulveda's condition and said the sergeant was able to communicate with his family through writing.
Wilfredo Montemayor is still at large and is armed and dangerous, but Salazar had a warning for him and anyone who is helping him that they may face felony charges for harboring a fugitive.
"We're not going to give up, and we're not going to let up on that pressure," said Salazar. "[Wilfredo isn't] going to get a moment's rest until he's in this jail."
---
Editor's note: Sheriff Javier Salazar had previously identified Sijifredo Montemayor as the back-seat passenger and suspected shooter, and Wilifredo Montemayor as the driver.