Sixty special operations soldiers will have combat awards upgraded for their actions in 1993's Operation Gothic Serpent, the battle chronicled in the book and movie Black Hawk Down.
Fifty-eight soldiers from the fight will receive Silver Stars and two will receive Distinguished Flying Crosses. The Silver Star is the third-highest award for valor bestowed by the US military, nearly always for direct combat. The Distinguished Flying Cross is the highest award given specifically for flight duty.
The battle erupted as part of Operation Gothic Serpent, a campaign in Mogadishu, Somalia, led by Army Special Operations Forces from August to October 1993. The fight involved units from the 160th Special Operations Aviation Regiment, the 75th Ranger Regiment, the Army's Special Operations Command, and the 10th Mountain Division. On Oct. 3, armed militants under Somali warlord Mohamed Farrah Aidid shot down two of the 160th's MH-60 Black Hawk helicopters as they flew assault teams to arrest two of Aidid's lieutenants. Heavily armed militia members numbered in the hundreds swarmed the crash sites, leading to an 18-hour fight between the soldiers stuck on the ground, the forces sent to retrieve them, and the local militias. In the end, 18 Americans were killed and a 160th pilot was held prisoner for 11 days.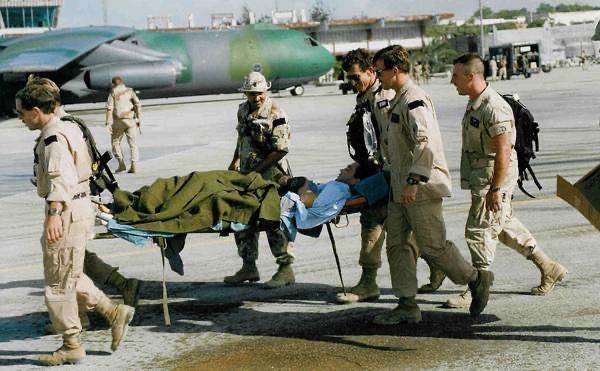 The upgraded medals will add to an award tally from the battle that is already among one of the most decorated days in US military history and one of the defining missions of US special operations. The 18-hour running firefight produced dozens of awards for valor, including several higher than the Silver Star. Army snipers Randy Shughart and Gary Gordon were awarded the Medal of Honor for attempting to rescue the crew of one of the downed helicopters, including pilot Michael Durant. Both died in the attempt, and Durant was taken prisoner. Timothy Wilkinson, an Air Force Pararescueman, was awarded the Air Force Cross for braving direct fire to rush medical supplies to injured Rangers.
According to homeofheroes.com, Silver Stars were awarded to 34 combatants from the Army, Navy, and Air Force after the battle, seven posthumously. Two pilots with the 160th were also awarded posthumous Distinguished Flying Crosses, as was Durant.
All 18 soldiers killed in the battle received valor awards posthumously, with about half receiving Silver Stars and others receiving Bronze Stars or below. Coffee or Die Magazine asked officials with the Army if any of the upgrades would apply to posthumous awards but officials said no specific information was being released on any of the awards. Names of the recipients are not being released.
According to an Army release, the upgraded awards will be presented later this year in separate commemoration ceremonies hosted by the units in which each soldier served at the time of the mission.
Read Next: What Really Happened Before and After the Battle of Mogadishu