Simulation in the military is not a new thing. In some sense, almost all military training is a simulation to one degree or another. Unless you're actually killing someone in the woods of Camp Lejeune or Fort Bragg, your training was a simulation. Anything not real, from simunitions to virtual reality, is a type of simulation.
That being said, technology has enabled much higher-fidelity simulation than what was previously possible. Simulation has been used extensively in some fields for a long time. In aviation, simulation even predated computers and has been a mainstay of training for decades.
The reason aviation was the first to train in synthetic environments was that for many regimes of flight, like instrument (in the clouds) flying, the world can be represented very simply via indicators and gauges. The pilot's inputs are similarly discrete, as well — roll, pitch, and yaw. All very simple to put together with even the simplest computers.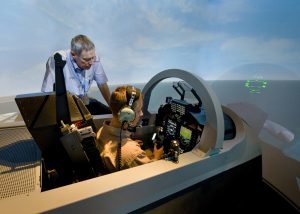 After aviation, other specialties that operate equipment embraced simulation with gusto. Ship drivers have devices that duplicate a bridge or Combat Information Center. Tankers have simulators that approximate what it's like to shoot a 120mm smoothbore cannon at a T-72.
Similar to aviation, these fields have the operator interacting with the world through equipment. They view the outside world through glass or via sensors. As computers, modeling, and graphics gradually improved, so did the simulators' ability to depict reality.
It means that once the software is developed, it can be used on relatively cheap devices and fielded widely, even as an individual-issue item. Being in a barracks room or stuck on a ship is no longer a barrier to training.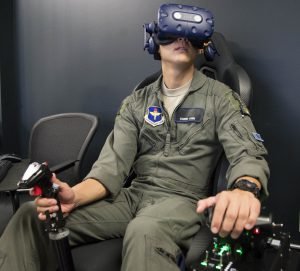 In the US Air Force's Pilot Training Next program, individuals receive VR units to practice with throughout flight training. They can get hundreds of reps in required procedures and maneuvers before they even step in an aircraft. Whereas my roommates and I spray-painted the airport diagram of Naval Air Station Corpus Christi in our yard and practiced landing-pattern procedures like children running around playing make-believe, today's student pilots can practice in a high-fidelity immersive environment with units they can take home.
This same technology is going to change every other specialty. We tend to think of simulators only for operators, but virtual reality also has the potential to completely change maintenance training. Letting students tear apart perfectly good aircraft or other vehicles is generally a bad idea. Having physical maintenance trainers is horrendously expensive, and keeping them in the current configuration is difficult, especially in aircraft.
Even the grunts are getting in on the action. Infantry training depends on being able to operate in multiple different environments, which are difficult to capture at any one base. Being able to go from desert to jungle to urban is a huge asset.
We don't have Star Trek's holodeck yet, but every day gets us a little bit closer. As training costs for modern weapons go nearly asymptotic, the need to save money isn't just a matter of penny-pinching — it's critical to national defense.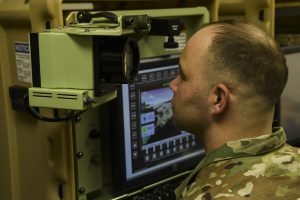 But too often, simulation is presented as merely a second-best alternative to the real thing. In actuality, when used to the fullest, simulation may be the best way to make sure that training is not just affordable, but more effective.
Traditionalists can point out that a headset cannot duplicate the 100 pounds of gear on the back of an infantryman, the G loads of a maneuvering combat aircraft, or a stripped nut on an aircraft transmission. For that matter, no matter how realistic the graphics, nothing truly duplicates the knot in one's stomach one feels going into a zero-visibility brownout landing in the desert while using night vision goggles. It's very difficult to fully and accurately capture the friction of real life, be that a radio with just a little bit too much static to understand, or a rock on the ground in just the wrong place.
First, being able to practice hundreds of times at high fidelity, even missing some of the physiological stress, goes a long way toward calming butterflies, be that while flying an aircraft, fixing one, or running out the back of one toward an objective. Having the fundamentals nailed makes adjusting to the X factor of real-world ops that much easier.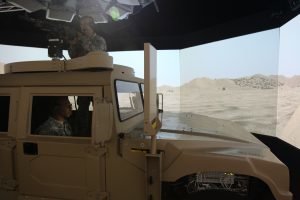 And there's more emerging technology to help bridge that gap. As the name implies, Augmented Reality, or AR, imposes synthetic images onto the real world. Think Pokémon Go, if instead of hunting Pokémon you were going after ISIS. For example, you go flying in a real aircraft, but your aircraft sensors and your eyes show a virtual opponent to engage.
On the ground, even the biggest and most elaborate training areas rarely permit truly free fire and movement. AR devices will allow ground units to maneuver in the real world against synthetic opponents, humping as much weight as their sergeants major want. Instead of expensive dedicated Opposing Force, or OPFOR, units, they can employ realistic representations of the enemy using his latest equipment.
The difference these technologies make in individual and unit proficiency could be enormous. Where today, units might only get to participate in major field exercises yearly at best, they'll be able to train nearly anytime and anywhere in the world, even from tents or ships in some cases.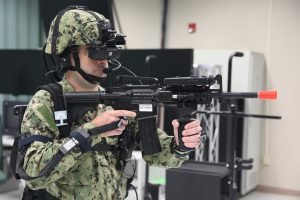 Training can even occur immediately prior to real-world execution. Prior to a hit on a particular target, rehearsals can be run repeatedly in completely representative virtual environments. Contingencies can be drilled until all participants know them by heart.
Fuller use of simulation does more than just enable more repetitions and iterations. It saves operating hours for when they're really needed, in operational missions and in combat. This is especially true for aircraft, which actually have maximum hours for their useful lives, but it is also true for other equipment. Saving equipment from being used for routine training means it's more likely to be in working order for real missions, not having been beaten up for dozens of rotations in the training areas of Twentynine Palms or Fort Irwin. And when units do go to the field or do live fire, that time can be used for advanced skills, not the basics.
As some of this technology is rolled out where it's never been used before, it will be clunky and not fully representative. It may initially be useful for only specific tasks. But the state of the art is changing rapidly. Training and Readiness manuals, school syllabi, and doctrine will need to be agile enough to change with it. Simulation via VR and AR can either be treated as cheap substitutes or as force multipliers. Looking at the numerical challenges facing the US military in some potential future fights, it needs all the multipliers it can get.