In 2014, Soflete's co-founders — who stay largely anonymous because of their active roles in the military — saw workout overkill hurting their peers as they prepared for selection. Unhappy with the status quo of military fitness programming, they put together a PDF of a selection-prep program focused on strength and conditioning but with very little heavy rucking. They slapped a brand name on it, combining the acronym for "Special Operations Forces" and "athlete," and uploaded it to the internet, where it took off.
The spade and crossbones Soflete logo is now ubiquitous in veteran-oriented gyms, while the company has grown to offer an app with hundreds of workouts tailored toward any goal — bodybuilding, increasing stamina, preparing for selection, or simply improving overall health. The programs can be adapted to use just a backpack or common household items as weights, so users can work out in spartan conditions on base as easily as in the gym.
The face of the company is Doug Kiesewetter, a Green Beret who has served in Afghanistan, Iraq, and Africa and is still active with the National Guard. He now works as Soflete's chief content officer, though he'll be the first to call such titles "made up" — everyone splits responsibilities based on who's available and who's deployed.
Kiesewetter sat down with Coffee or Die Magazine to talk fitness, facing your fears, and why tough guys should do yoga.
This interview has been edited for length and clarity.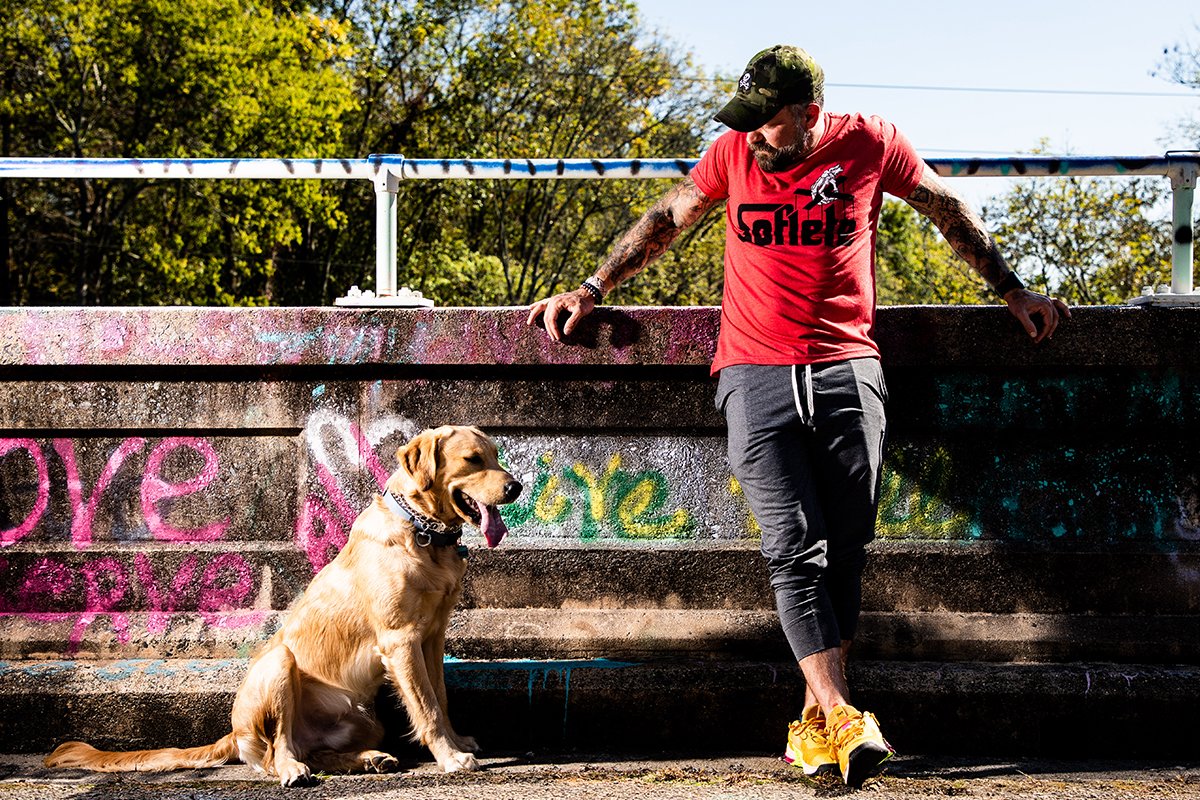 COD: I've been testing out the Soflete app, and the video tutorials have been really clutch because I don't know what broad jumps or alternate bounding or most of the other exercises are.
DK: I've been coaching for like eight years and with Soflete for five, and I still don't know what a lot of the movements are in the app. It really is good to have programming other people write for you that forces you to try new things. A lot of our video content [in 2021] has centered around me tearing my ACL while skiing. It was actually a good experience because, for most of my adult life, I've been training in a pretty fixed modality. I do different programs, but it's either to be strong or to get better at something endurance-related for work. So it's nice to be injured and do programs that focus on things I don't like that are recovery oriented. And realize that while I felt like I was really fit — and I was performing at a high level in my job — there were a whole bunch of deficiencies in my movement patterns and my movement quality.
COD: At first it surprised me when the app prompted me to do some sort of yoga flow, but Soflete is actually a big proponent of yoga and stretching. Why should tough guys do yoga?
DK: I think yoga is becoming more popular across the board. People are starting to see the benefits, and they're not feminizing that aspect of fitness as much as they used to. When I first did it in 2011, there was a lot of stigma, like, "Oh, that's a chick thing. I don't do it." And you're like, "Okay, well, it's also one of the hardest things I've ever done."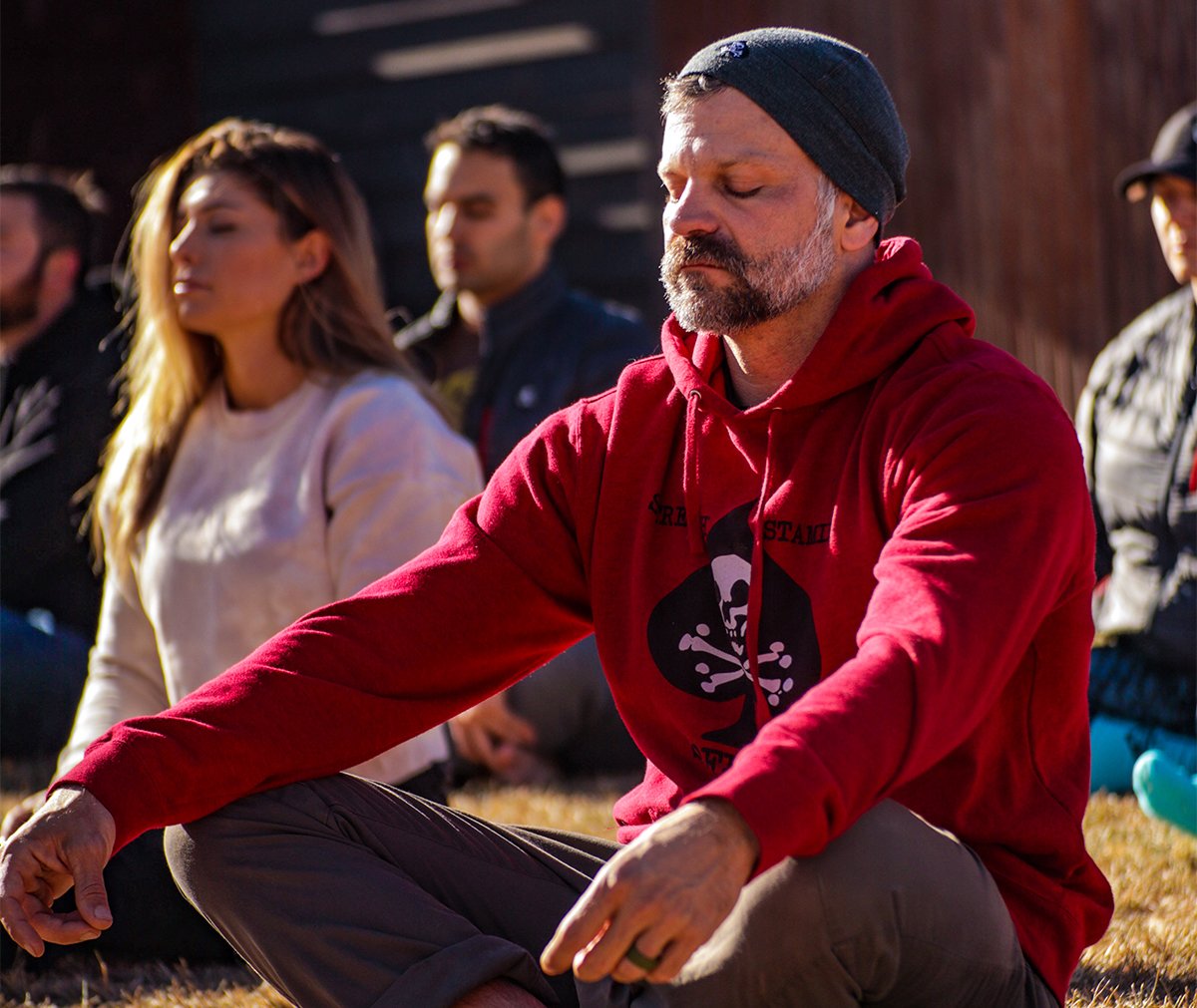 As athletes, guys get really good in one plane of movement. They push, pull, stand up, and that's it. That overdevelops big movers, and it doesn't focus on stabilization muscles. It takes away from their mobility and range of motion, and it contributes to injury. So yoga allows guys to build better movement quality. The other aspect is that yoga focuses on controlled breathing, which is downregulating a lot of your stressors, allowing you to find more balance in your — and I'm gonna say it — mind-body connection. You're going to see your resting heart rate go down, your average heart rate for major efforts will decrease, and that is really good for you, healthwise.
I know a lot of SOF guys like to talk about how they're basically pro athletes, and in some capacity, they are. I mean, soldiers, cops, firefighters, EMTs — in some capacity, there's an aspect of athleticism required. But there's not a game day you're training for; there's not an event you're trying to peak for. So as an athlete in these jobs, it's important to have a middle-low level of performance where you're not burned out. A lot of that is about building a more bulletproof body. Rather than having a bunch of athletes push themselves super hard and then die of a heart attack early, we're trying to encourage people to maintain their body for a 30-year career in special operations, or whatever their job is, and still have a lot left in the tank to keep up with their kids, to have an active lifestyle, and to pursue adventures after the government is done telling you what to do.
COD: You've expanded to include more than just the SOF community, but how does the military and veteran experience behind Soflete factor into its success?
DK: I think we've benefited from a 20-year forever war where we fetishized the special operations experience because such a small portion of the military carried so much of the workload. So we have the cool-guy factor. I don't think, when Soflete and Black Rifle Coffee Company started, that people were cognizant of a veteran/military-specific market. The "bro vet" market is something that has kind of been created on its own, and we just happened to be at the front of that wave. The really nice thing for us is that, in the long run, our veteran experience is really just an experience that is informative but not defining. It's a community that I am proud to be a part of, but it's not about me being a Green Beret or my partners having cool jobs at cool places that we can't talk about. The products, mindset, and lifestyle that we're promoting transcends any job.
COD: Soflete has the slogan "Die living." What does that mean?
DK: It means something different to every person. But I think that, as technology increases and our need to be physical diminishes, we lean into that easy lifestyle more, and people become less inclined to do things that push themselves. If you're not making the most out of the very small window of time you have on the planet, you're just cheating yourself. So "Die living" is choosing a little bit of discomfort, choosing to push yourself into things you're afraid of, adventures that may have seemed crazy to you.
An example from my personal life is I got put on a Special Forces mountain team a few years ago, and I'm paralyzed by heights. Climbing 20 feet up a rock face has me wanting to poop myself. And all of a sudden, I realized I had this huge opportunity. I have all this gear, and all these guys that have tons of experience, so I started climbing a lot more, and climbing has become kind of a passion, which I never would have thought before. It was like, "Hey, I go to the gym, I work out an hour to two hours a day, and I want to be fit." If your whole life revolves around going to the gym, you're missing the point of life. The gym is great, but it's a training ground for what is bigger and better. Whatever that is for you, if that's extreme sports or if it's knitting, I don't care. But you should be choosing something that challenges you and allows you to feel full of life.
---
This article first appeared in the Spring 2022 edition of Coffee or Die's print magazine as "Die Living."
Read Next: