This article was originally published on Oct. 7, 2019, by the Department of Defense.
A year after his accident and the loss of his leg, Spc. Ezra Maes is still amazed at the circumstances that led to his survival. If you ask, he'll credit his survival to a uniform belt, smartphone and "shockingly good" cell service.
What the 21-year-old soldier fails to mention is the sheer force of will it took for him to stay alive.
"If I didn't help myself, my crew, no one was going to," said Maes, now assigned to the Brooke Army Medical Center Warrior Transition Battalion at Joint Base San Antonio-Fort Sam Houston, Texas. "I knew I had to do everything I could to survive."
A year earlier, the Army had deployed Maes, an armor crewman stationed at Fort Hood, Texas, to Poland in support of a joint training mission called Atlantic Resolve. He served as the loader for the main cannon of an M1A2 Abrams tank, a massive 65-ton tank known for its heavy armor and lethal firepower.
Exhausted on the second day of a weeklong rotation in Slovakia, he and two other crew members fell asleep in the tank that evening. He was jolted awake a few hours later by the sudden movement of the tank heading downhill.
"I called out to the driver, 'Step on the brakes!'" Maes said. "But he shouted back that it wasn't him."



"Either I step up or we all die."



The parking brake had failed. The crew quickly initiated emergency braking procedures, but the operational systems were unresponsive due to a hydraulic leak.
The tank was now careening down the hill at nearly 90 mph. "We realized there was nothing else we could do and just held on," Maes said.
After a few sharp bumps, they crashed into an embankment at full speed. Maes was thrown across the tank, his leg caught in the turret gear. He then felt the full force of the tank turret sliding onto his leg. His initial thought was his leg was broken. His next thought was he needed to get free so he could assist Sgt. Aechere Crump, the gunner, who was bleeding out from a cut on her thigh. The driver, Pfc. Victor Alamo, was pinned up front with a broken back.
"I pushed and pulled at my leg as hard as I could to get loose and felt a sharp tear," Maes said. "I thought I had dislodged my leg, but when I moved away, my leg was completely gone."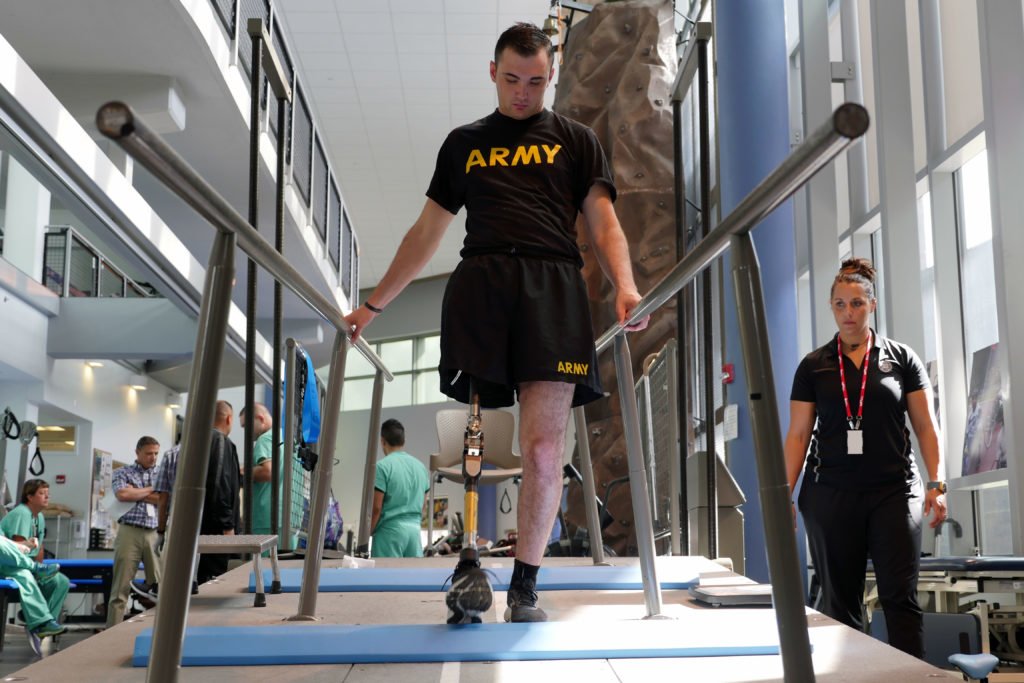 Freed from the pressure of the turret, the blood poured out of his wound at an alarming rate, but with other lives on the line, Maes pushed his panic and any thought of pain aside. He pulled himself up and into the back of the tank to grab a tourniquet from the medical kit. Halfway there, he began to feel lightheaded from the blood loss.
"I knew I was going into shock," he said. "All I could think about was no one knows we're down here.
"Either I step up or we all die."
Maes began shock procedures on himself — stay calm, keep heart rate down, elevate lower body — and cinched his belt into a makeshift tourniquet to slow down the heavy bleeding. He called out to Crump, who had staunched her bleeding with a belt tourniquet, to radio for help.
Maes' heart sank when Crump said the radio wasn't working.
But then he heard an incredible sound; his cell phone was ringing.



"Life will take a 180, but it doesn't have to be a bad thing. Don't let it hinder you from moving forward."



Maes' phone was the only one that wasn't broken and the only one with working cell phone service. With one leg cut and the other broken, Crump crawled to reach Maes' phone and threw it down to him. He unlocked the phone and sent his friend a text. Help was on the way.
His last memory of that location was his sergeant major running up the hill carrying his leg on his shoulder. "I wanted to keep it, see if it could be reattached, but it was pulverized," Maes recalled.
Maes, who had also broken his ankle, pelvis in three places, and shoulder, was rushed to a local hospital, his first helicopter ride, before being flown to Landstuhl Regional Medical Center, Germany and then on to BAMC. Between an infection he picked up overseas and nearly daily surgeries to fight it, he spent four months in intensive care.
"I feel super lucky," he said. "My crew all does. So many things could have gone wrong. Besides my leg, we all walked away pretty much unscathed."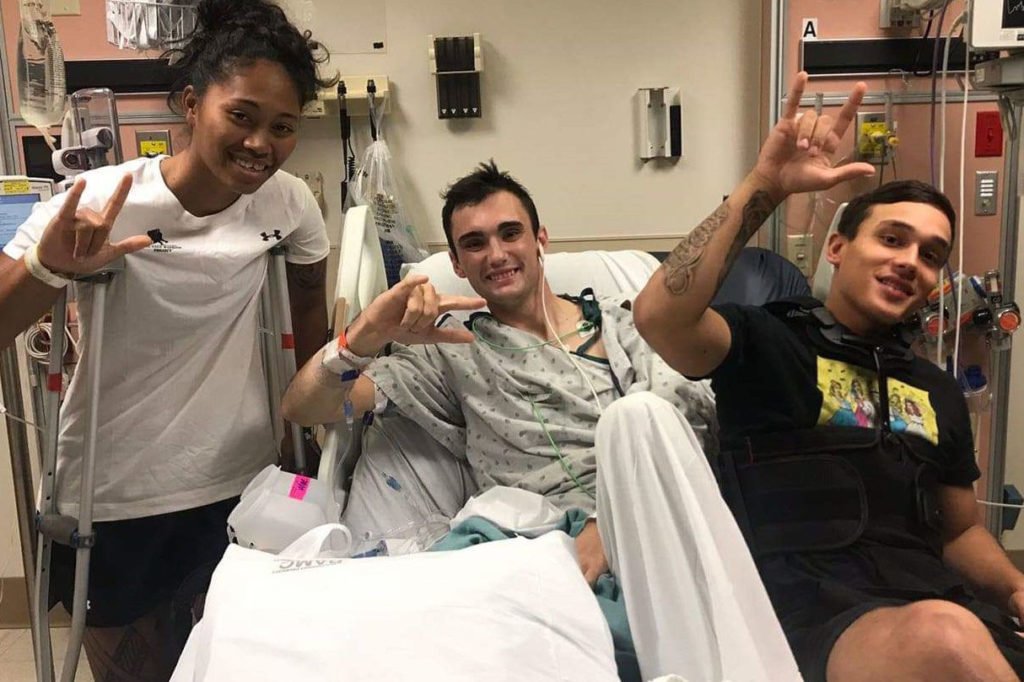 A year later, Maes is immersed in physical and occupational therapy at the Center for the Intrepid, BAMC's outpatient rehabilitation center. This day, Maes is working out intensely with Candace Pellock, a physical therapy assistant. Against the backdrop of the hospital, Maes moves across the gravel on crutches with an ever-present smile despite the Texas heat and strain of balancing on uneven ground.
It's all in preparation to receive his long-term prosthetic leg through a cutting-edge procedure called osseointegration. For this procedure, not unlike a dental implant, BAMC surgeons will implant a titanium rod in the bone of Maes' residual limb, rather than a traditional socket, to attach the prosthesis.
While he was having a tough time emotionally before the accident, Maes now sees each day as a gift. It's a second chance he'd like to share with others who may be having a tough time post-injury or trauma.
"When something like this happens, it's easy to give up because your life won't be the same, and you're not wrong," he said. "Life will take a 180, but it doesn't have to be a bad thing. Don't let it hinder you from moving forward."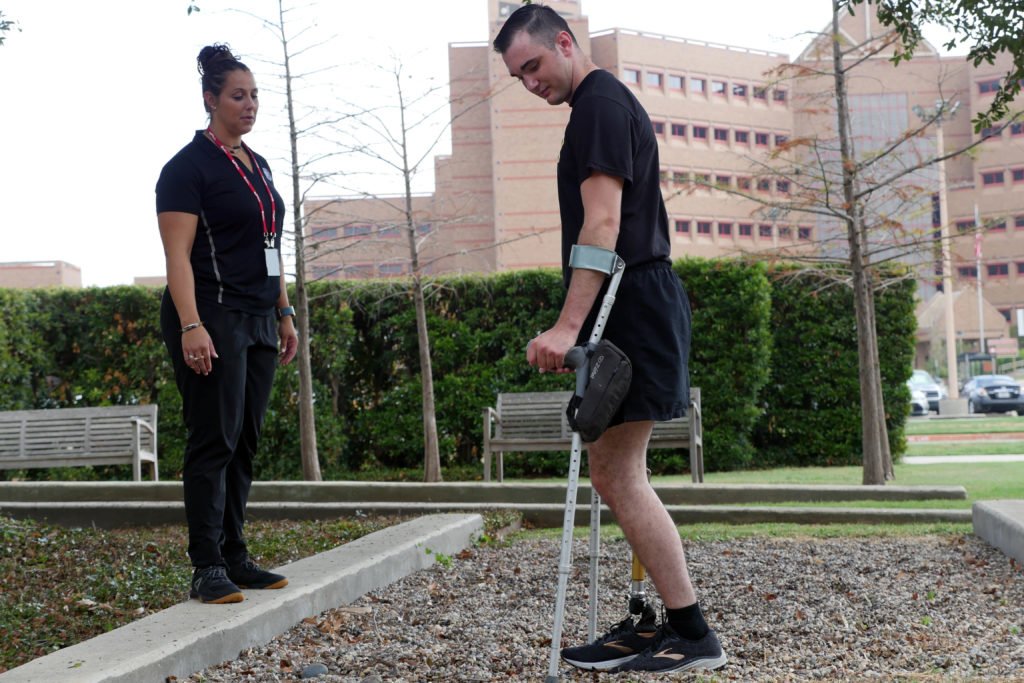 At 21, Maes has a new attitude and a new lease on life. With combat arms in the rearview mirror and inspired by the CFI's care, he plans to become a prosthetist and help others regain their mobility.
But what he doesn't plan to do is switch his phone service.
As he puts it, "My cell phone saved my life."
Elaine Sanchez is assigned to Brooke Army Medical Center.