Over the weekend, a woman stood outside the gate of Kabul's Hamid Karzai International Airport, holding up her baby and waving the child's passport.
The baby's forehead was red because her temperature was 102.8. The woman held the thermometer up to the guards.
The baby's passport was blue because she is an American citizen, like her father, who is an active-duty US soldier.
The woman waved and yelled, her American daughter crying in her arms.
And, still, no one inside would open the gate.
The scene was described to Coffee or Die Magazine by two sources who were in contact with the woman as she spent as long as 12 hours at a gate outside Kabul's airport. The sources, who were in contact with US officials in Kabul and the US, expected the woman and her daughter to be admitted.
She was not. And the woman is not alone.
Coffee or Die is tracking the plight of over 200 Afghans — plus the 8-month-old American girl — who all are said to be direct relatives of active-duty US soldiers. All have spent the last week negotiating their way into Kabul and past Taliban checkpoints only to be denied entry to HKIA in the final days of the US evacuation.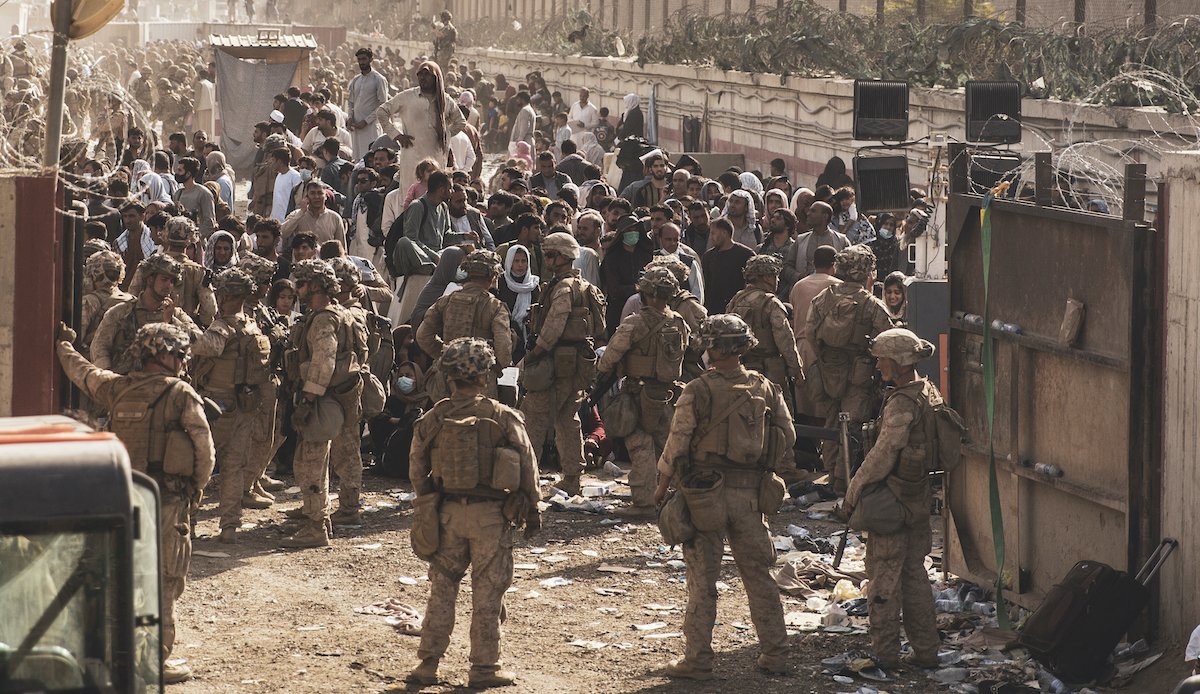 It is not clear if US authorities are focused on the group, despite significant outreach to officials by refugee advocates in the Digital Dunkirk movement, a loosely organized confederation of legal, logistics, and military experts who have been accounting for and helping process Afghan refugees through US visa requirements.
Though thousands of former US employees are seeking to leave Afghanistan, this group appears to be unique in that they are wives, fathers, mothers, brothers and sisters, and other direct relatives to a group of roughly two dozen active-duty US soldiers, each of whom is an American citizen.
"If their husbands were with them they would sail right through the line," said a US-based immigration expert who has been attempting to aid the families. "But it's women who don't have [US] passports and they can't get in. I'm flabbergasted."
In all the cases, the US soldiers were born in Afghanistan and — as young men or teenagers — worked with US forces early in the war, earning a chance to move to America. Once on US soil, these men earned US citizenship by joining the US Army as translators under the 09L military occupational specialty. Most, if not all, have since been back to Afghanistan in uniform, again working as translators for US troops.
According to a Digital Dunkirk member who has been working with the families, they number about 215, with close to 180 holding at least a P1-level visa, which would have been sufficient for entry to the airport as recently as the middle of last week.
The group includes three women married to American soldiers, and the American child (a source provided Coffee or Die with a picture of what appeared to be the child's American passport).
The soldiers have been told that as the US withdrawal has neared its final days, only their "nuclear" families — wives and children of the soldiers — would likely be eligible for evacuation. If true, that would strand the vast majority of their relatives, which includes elderly parents and brothers and sisters.
After several days of being stopped at Taliban checkpoints away from the airport — where, a Dunkirk volunteer said, they often faced violence — most have been able to reach one of the gates at Hamid Karzai International Airport in the last few days.
But none have gotten in.
"We've tried smuggling them over walls, hiding them in buses, everything," said a Dunkirk representative.
The three married US soldiers were married before the husband came to the US. All of the soldiers have worked in the subsequent years to bring their families over. But their own careers and their family identities are well known in their home towns and villages, said a Dunkirk representative. Many families have been harassed and threatened by the Taliban since the group took over, and most fear that violence will increase when the US military and most of the international press have left the country. Death threats, a source close to the families said, are common.
Coffee or Die has learned that the soldiers have been assigned as translators at a refugee intake center in the US. As such, they are working long hours to in-process and translate for Afghan refugees arriving from Kabul.
In other words, they are greeting refugees who managed to pass through the very same gates that their families are currently stuck outside.
"We have hundreds of cases of people who we are working to get out," said the Dunkirk rep. "But these are service members. I can't believe they're not letting their families in."
Read Next: