With the eyes of law enforcement focused on the May mass shootings that killed 10 shoppers at a Buffalo, New York, grocery store and 19 schoolchildren and two teachers in Uvalde, Texas, first responders in South Carolina ran a drill to see whether they could save more lives during a rampage.
The June 6 training at Edisto High School brought together Orangeburg County Emergency Medical Services members and personnel from the sheriff's office, South Carolina Department of Public Safety, and the Red Cross. The scenario on the Cordova campus was designed to replicate what would happen if an active shooter attacked during the busy start of morning classes.
That's when Orangeburg County EMS crews usually run shift change. During this drill, they were told the gunman hadn't been stopped by the time first responders arrived, which made the school an active crime scene usually barred to paramedics and EMTs.
This time, planners wanted to see how far they could blur the traditional barriers between what police call the "hot zone," an active crime scene that puts the lives of unarmed first responders in danger, and the "cold zone," when cops clear them to start treating victims.
"I have a 12-year-old son who is in these schools in Orangeburg County, and I want the people that are going to respond to a potential incident to be as prepared as possible for that," Orangeburg EMS training officer Kayla Windnagle told Coffee or Die Magazine.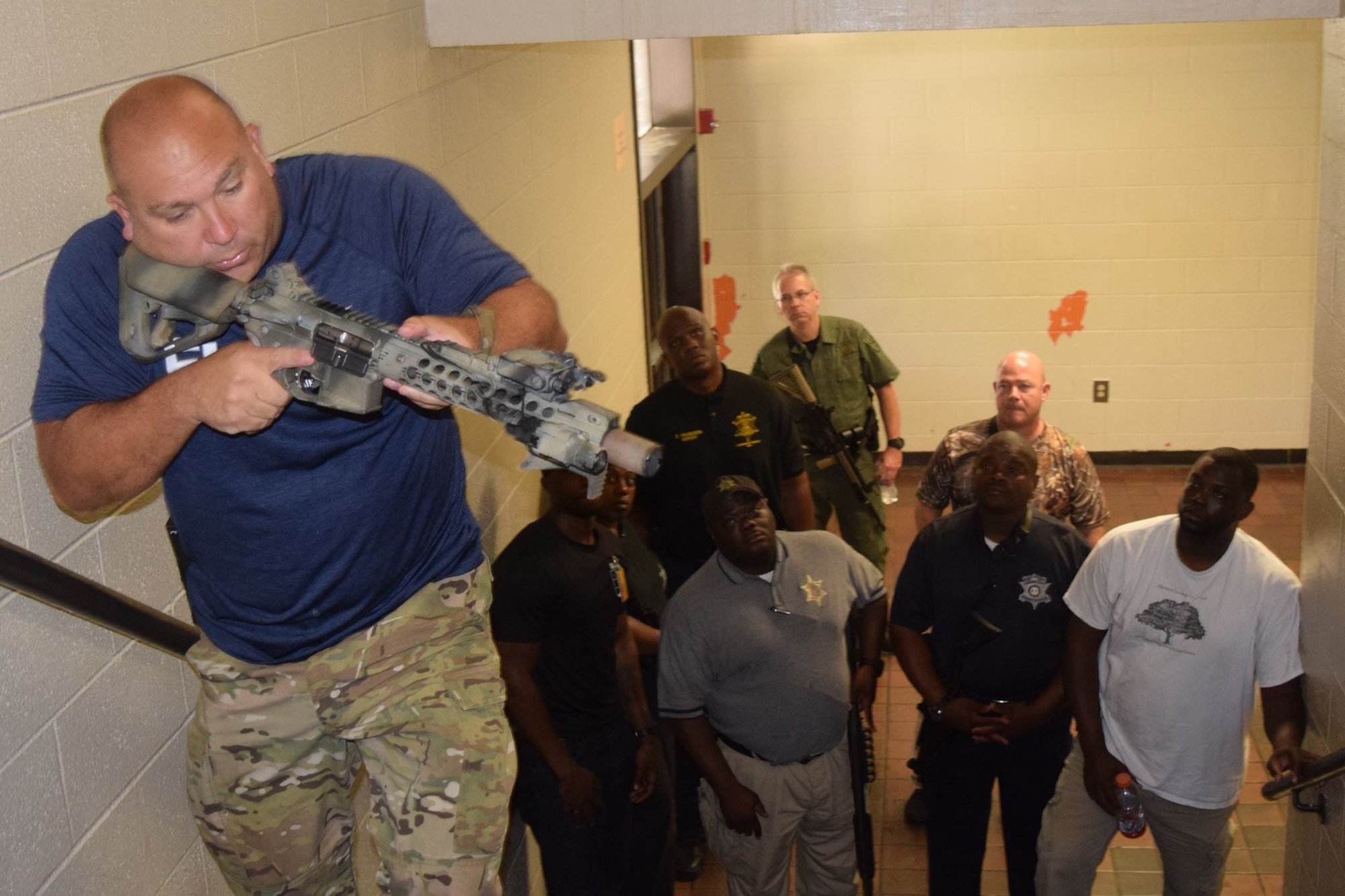 SWAT medics nationwide often enter the "hot zone" alongside the elite cops, but Orangeburg County planners realized that, sometimes, it takes time to assemble and deploy those specialized squads. Most police procedures call for cops to immediately find and fire at active shooters, and emergency medical personnel are blocked from following them.
At the Edisto High School drill, first responders arriving on the scene were forced to quickly "work through everything," Windnagle said, including "figuring out where we're going to place our patients, where the critical-care point is going to be, where the evacuation point was going to be. So it really was as realistic as possible, minus the children."
EMS crews established an evacuation point outside the school, and a team of Orangeburg County Sheriff's deputies entered the building to lock down a hallway. That became a "warm zone" designed to allow some EMS personnel to join law enforcement officers inside the school.
In the back of Windnagle's mind was how all of that might rapidly change, "because any warm zone can turn into a hot zone unexpectedly," she said.
"Having to go into a situation like that doesn't sit well, and I don't know how it could ever sit well," Windnagle said. "But being that we did this training, and are gonna continue to do other types of training to prepare for it, it does make it a little bit easier."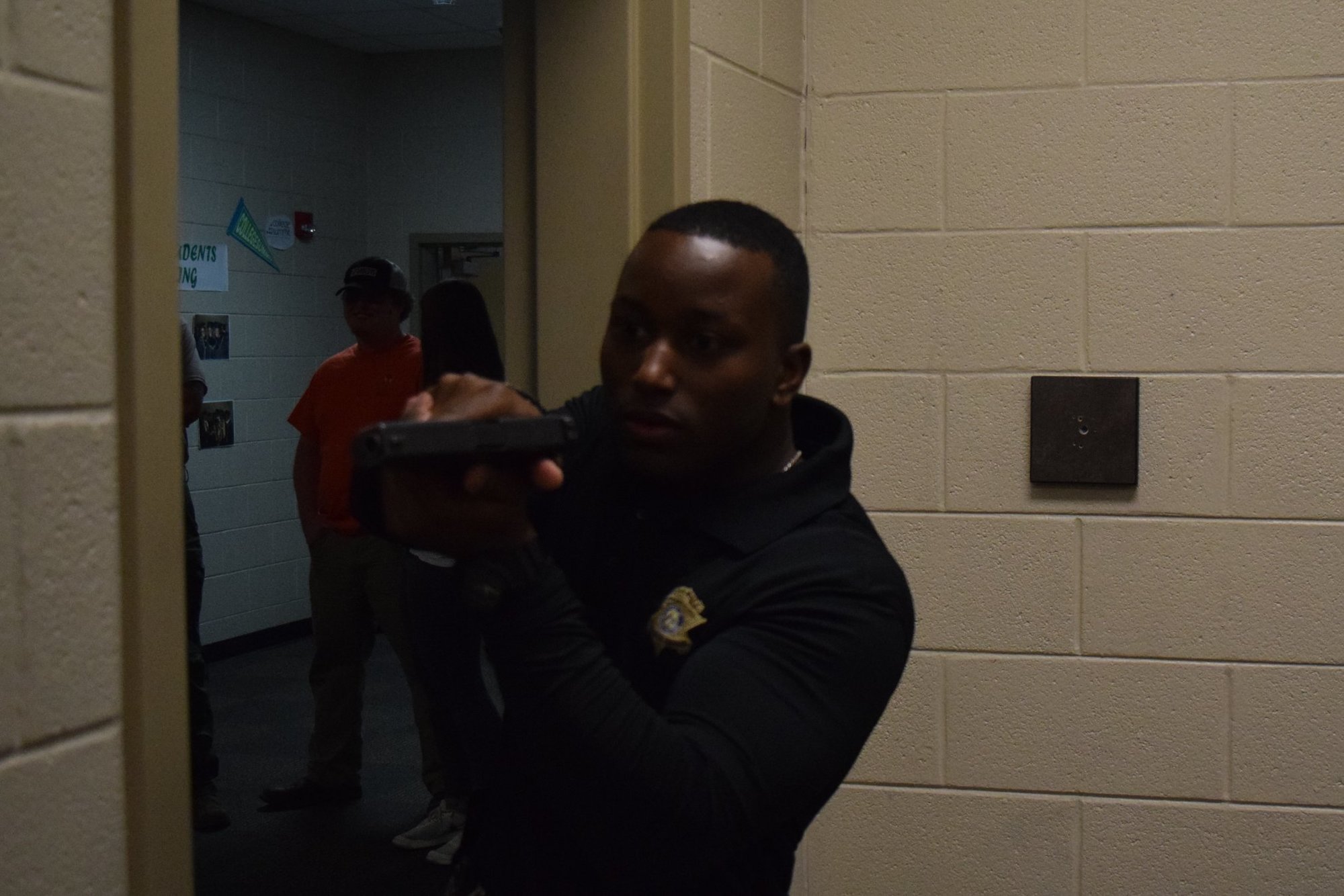 David Pendarvis, the C-shift supervisor for Orangeburg County EMS, brought more than a quarter-century of experience with him into the scenario's "warm zone."
He's trained for years to treat the victims of active shooters and served as a medic on the Sumter County Sheriff's Emergency Response Team. Once inside, he and other Orangeburg paramedics and EMTs established a casualty-care point to provide initial lifesaving care to the shooter's victims.
Outside, Windnagle stood by at the evacuation point. And that's when planners announced the scout team of deputies had stopped the gunman.
That greenlighted Pendavis and the other providers in the "warm zone" to rush deeper into what had just been a "hot zone."
"So we're doing a room-by-room sweep of the whole building, locating potential patients, potential fatalities, and we're still looking for all the bad guys that may be out there," Pendarvis said.
More than 100 volunteers from the community played the roles of wounded teachers and students. They held up index cards detailing their simulated injuries.
Emergency crews inside sorted the victims for transfer to Windnagle's team outside. And that's when she realized they needed to revamp part of their procedures. The colored tags of green, yellow, red, and black designed to help triage patients failed to include details that might become important during a mass casualty event.
Windnagle pointed to three simulated patients who arrived at the same time at the evacuation point. One had gunshot wounds to the chest. Another had been shot in the abdomen. The third took a round to the face.
The first two patients were considered critical because they displayed signs of hemorrhagic shock, including altered mental states. But the third patient's vital signs were stable. And that person began arguing that a gunshot wound to the head should move a patient into the ambulance first to be rushed to an emergency room.
Windnagle and others on the team found themselves having to explain why they made evacuation decisions. They know now that in the wake of a real mass shooting, they might have to reason with people confused by the chaos of the moment.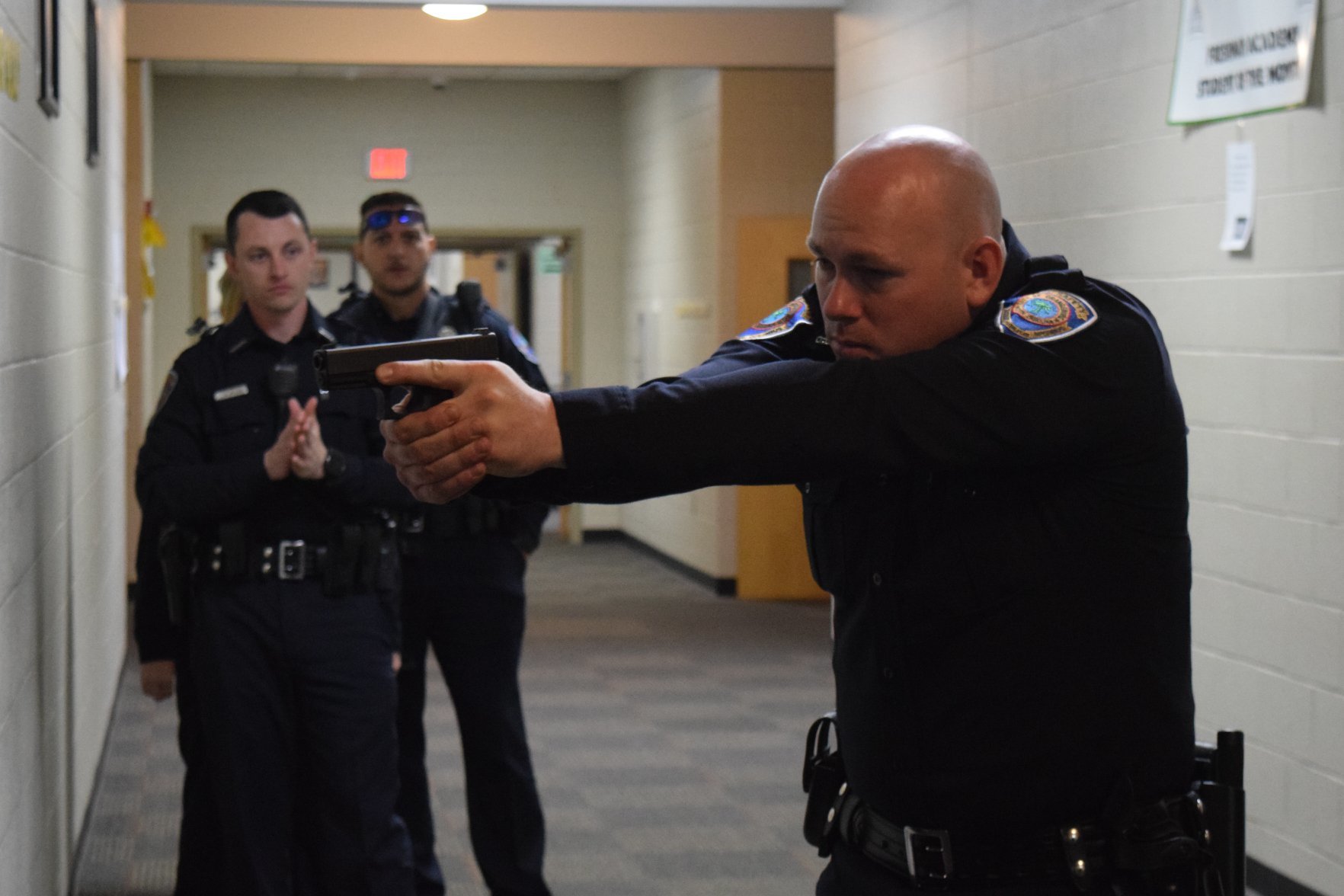 And the chaos affected first responders, too.
"It's not every day that we go into a building that big, a building that we're not familiar with, and have that many people yelling and hollering and trying to figure out what's going on," Windnagle said. "And being embedded with the sheriff's department, you know, surrounded by guns and things like that is a whole different world than what we have been used to so far."
The Orangeburg Sheriff's Office initially posted photos on its Facebook page detailing the drill but then removed the images following public criticism about the procedures and weapons deputies employed to confront an armed intruder.
Pendarvis told Coffee or Die that Orangeburg County's drill formed a crucial part of EMS training and that first responders nationwide should consider adopting similar scenarios because mass shooter tragedies aren't going to disappear.
"I can tell you, I started back in the early '90s. And we never talked about these situations, because this is stuff you've watched on TV and happened in other countries," Pendarvis said. "And now it's here."
Read Next: