KYIV, Ukraine — The sound of freedom roared over the South China Sea this Independence Day, underscoring America's commitment to maintain freedom of movement within a region where China has made controversial territorial claims and often bucked international maritime law conventions.
A U.S. Air Force B-52 bomber took off from Barksdale Air Force base in Louisiana on Saturday, flew halfway around the world, and linked up over the Pacific Ocean with strike fighters and electronic warfare jets from two aircraft carriers, the USS Nimitz and the USS Ronald Reagan.
"Back home we would celebrate the Fourth by launching fireworks," said Yeoman 2nd Class Chareese Knox, a sailor assigned to the Nimitz, according to a Navy statement released on Saturday. "But nothing celebrates freedom like launching fighter jets from the middle of the ocean at night."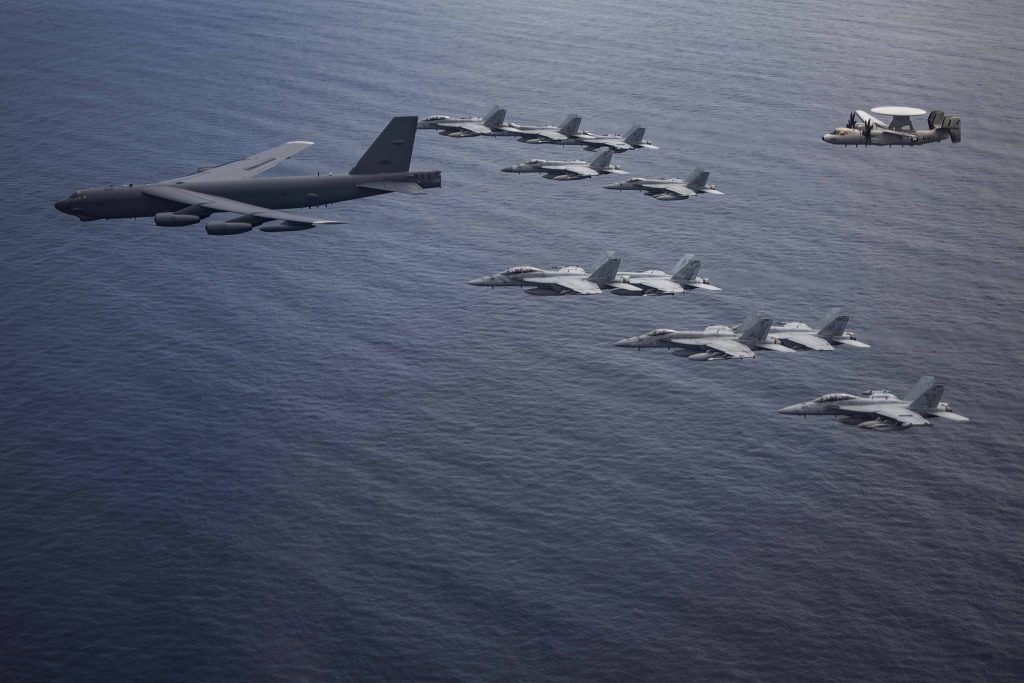 Over the weekend the U.S. Navy conducted a rare exercise comprising two aircraft carriers in the South China Sea. Both the Nimitz and Reagan Carrier Strike Groups combined to form a single Carrier Strike Force in an exercise designed to test the Navy's air defenses and the ability to prosecute long-range strikes with carrier-based aircraft.
"On this Fourth of July at sea, it's a privilege to stand the watch with our teammates in Nimitz and Ronald Reagan Strike Groups to protect freedom of navigation and the free flow of commerce," Captain Todd Whalen, commodore of Destroyer Squadron Nine, said in a Navy statement.
During the exercise, aircraft from both carriers simulated enemy attacks, which tested the combined Nimitz Carrier Strike Force's multilayered air defense networks. China has touted its long-distance so-called "carrier killer missiles" as a game-changer when it comes to challenging America's naval dominance. Thus, the American dual-carrier exercise was clearly meant to challenge China's narrative and show that U.S. forces are able to defend against and defeat China's missile threat.
With its withdrawal last year from the Intermediate-Range Nuclear Forces Treaty, the U.S. has floated the possibility of deploying ground-based, medium-range missiles to the Indo-Pacific theater — part of a broader effort to push back against China's rising military footprint in the region.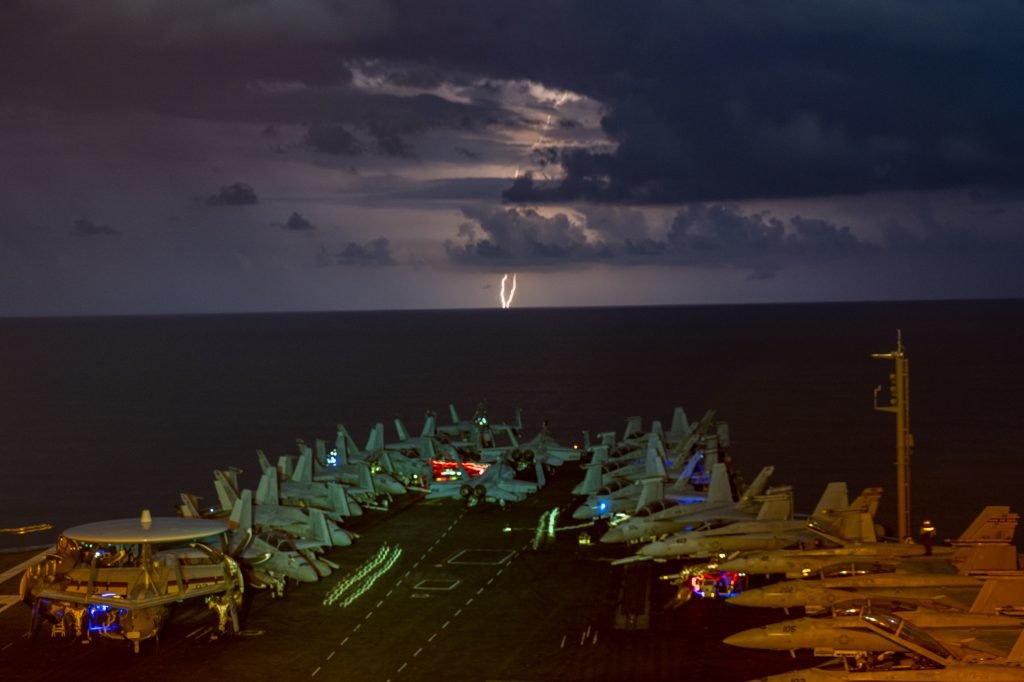 Signed by President Ronald Reagan and Soviet leader Mikhail Gorbachev in 1987, the Intermediate-Range Nuclear Forces Treaty, or INF, banned missiles with ranges between 300 and 3,400 miles. The U.S. suspended its obligations under the INF Treaty in February 2019, claiming that Russia had been developing and deploying missiles in violation of the pact's limits for years.
Yet China was never bound by the so-called INF treaty's missile restrictions. Consequently, some experts say the U.S. decision to pull out of the pact was also intended to not let China gain an advantage over U.S. forces operating in the Pacific Ocean and South China Sea.
For its part, Saturday's 28-hour B-52 mission was meant to show America's "capability to rapidly deploy to a forward-operating base and execute long-range strike missions," said 96th Bomb Squadron commander Lieutenant Colonel Christopher Duff, according to a Pacific Air Forces statement.
"This sortie demonstrates our ability to reach out from home station, fly anywhere in the world and execute those missions, rapidly regenerate from a forward operating base and continue operations," Duff said.
The Army, too, recently made its presence known in the Indo-Pacific theater.
On June 30, more than 400 U.S. Army paratroopers from a unit based in Alaska parachuted into Guam as part of an exercise designed to simulate an "emergency" deployment. The paratroopers boarded onto Air Force C-17 cargo planes at Joint Base Elemendorf-Richardson in Alaska and donned their parachute gear en route, while traversing the Pacific Ocean to Guam. The exercise demonstrated the paratroopers' "capability to rapidly deploy to and seize contested territory," the Army said in a release.
"This scenario tested our ability to execute real-world missions and demonstrated that we are capable of deploying anywhere in the U. S. Indo-Pacific Command area at a moment's notice." Colonel Christopher Landers, commander of U.S. Army Alaska's 4th Infantry Brigade Combat Team (Airborne), said in an Army release.
Simultaneous with the American Carrier Strike Force maneuvers, China's navy also conducted a major exercise near the Paracel Islands in the South China Sea, which ran from July 1 to 5. Considering both China and Vietnam have claimed rights to sections of the Paracel archipelago, the Chinese exercise consequently took place in "contested waters and territory," the Department of Defense said in a statement.
"Conducting military exercises over disputed territory in the South China Sea is counterproductive to efforts at easing tensions and maintaining stability," the Pentagon said.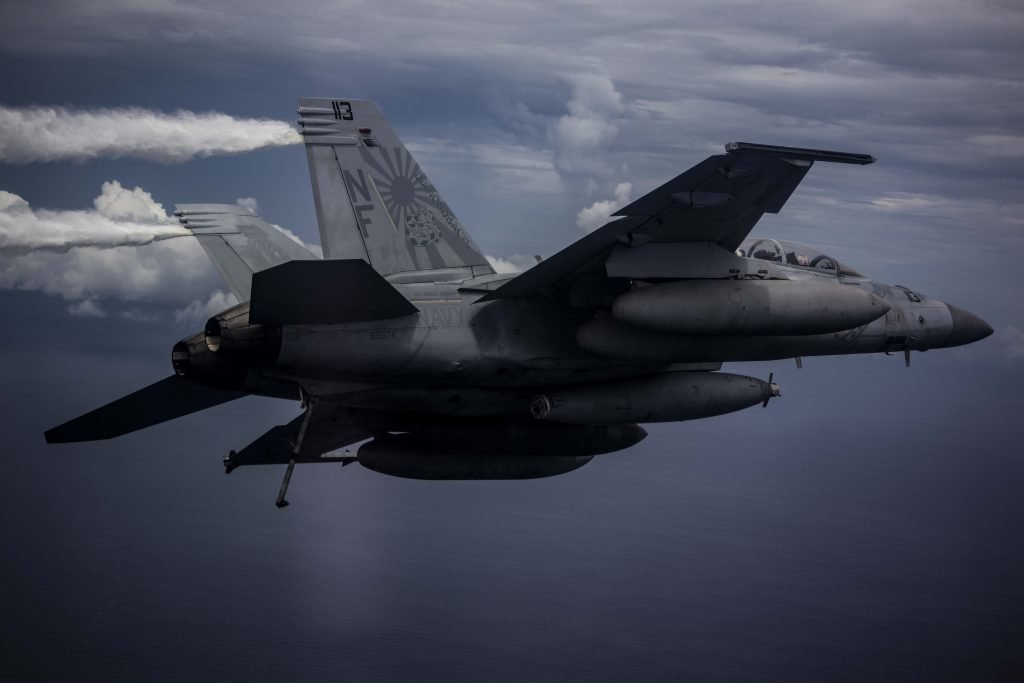 According to the Defense Department's 2019 Indo-Pacific Strategy Report, China "seeks Indo-Pacific regional hegemony in the near-term and, ultimately…global preeminence in the long-term."
China has had a recent spate of maritime confrontations with Vietnam and the Philippines in the South China Sea, ratcheting up an ongoing dispute over freedom of navigation in that body of water after Beijing began transforming natural atolls into military outposts. Other nations with territorial claims in the South China Sea include Malaysia, Brunei, and Indonesia.
The U.S. Navy routinely conducts so-called "freedom of navigation" missions in the contested region, sometimes skirting nearby atolls and islands over which China has claimed ownership to assert the ability of vessels under any nation's flag to lawfully traverse through recognized international waterways.
However, China's expanding military footprint in Southeast Asia is not limited to the South China Sea. News reports last year claimed Cambodia was harboring a secret Chinese base on its soil. Also last year, Chinese and Russian warplanes conducted a joint air operation over the Sea of Japan, raising the specter of more military cooperation between the two countries, both of which are contemporary adversaries of the United States.