Most people don't have a nickname for the stretch of space that reaches from earth's orbit to the moon. But in the Space Force, they do: the "cone of shame."
For complicated reasons having to do with trajectories and the moon's gravitational pull, that stretch – called "cislunar space" – is very difficult to monitor via satellite, and thus almost impossible to defend. So the Air Force Research Lab (AFRL) is building a space vehicle that can patrol up to 239,000 miles out from earth and root out threats that might be hiding in this blind spot.
Called the Cislunar Highway Patrol System, or CHPS, this vehicle would function like a police squad car, detecting, tracking and identifying man-made objects in this vast span. This concept, initially termed the Cislunar Highway Patrol Satellite, has been discussed publicly by Air Force and Space Force officials for several years. But a new hype video has CHPS back in the news, and officials say they're planning on a 2025 launch date, even as many details remain unclear.
"Until now, the United States space mission extended 22,000 miles above earth," a voice intones over images of a rocket launching a satellite into space. "That was then; this is now."
Released March 1, the video comes as government and industry plan trips to the moon and its vicinity on an unprecedented scale. NASA, which hasn't put a man on the moon since 1972, plans to land a group including a woman and person of color by 2025, the first of a new series of lunar expeditions. It's also designing an orbiting lunar outpost called Gateway to enable long-term moon habitation and regular rotations. In preparation for the upcoming manned flight, an uncrewed rocket, Artemis 1, will launch from Cape Canaveral around May and conduct a distant retrograde orbit around the moon before reentry.
Elon Musk's company SpaceX is eyeing 2023 for the first-ever trip around the moon for paying customers, with Japanese billionaire Yusaku Maezawa confirmed as the first passenger. It will be a long time before moon tourism competes with a trip to Disney World, but we're certainly closer to that prospect than we ever have before.
"And as moon traffic increases in coming decades, the video narrator states, "the U.S. Space Force will ensure the peaceful development of space, keeping our missions safe and secure in these distant frontiers."
Considering the Space Force already has a Space Operations Command colloquially known as SPOC(K), it's likely no accident that the name of its planned satellite is a throwback to CHiPs, the '70s TV show about two California motorcycle highway patrol officers. According to the video, CHPS will be responsible for "collision avoidance, on-orbit logistics, communication, navigation and maneuver, all critical to the United States and allied space commerce science and exploration."
Space.com reported that the Air Force Research Lab was soliciting proposals for a CHPS prototype through late March and would announce a contract winner in July.
The use case is clear enough; how the Air Force Research Lab plans to move from concept to reality in the stated time frame is less so. In one of the earliest public discussions of CHPS, in September 2020, Col. Eric Felt, head of AFRL's Space Vehicles Directorate, described the concept as a "straw man" intended to generate fresh ideas from industry on how to patrol and protect the lunar exclusion zone. (That presentation, given at the AMOS Space Situational Awareness Conference and reported by Breaking Defense, also revealed AFRL's use of the term "cone of shame" to describe the moon-adjacent regions that hide in satellites' blind spots.)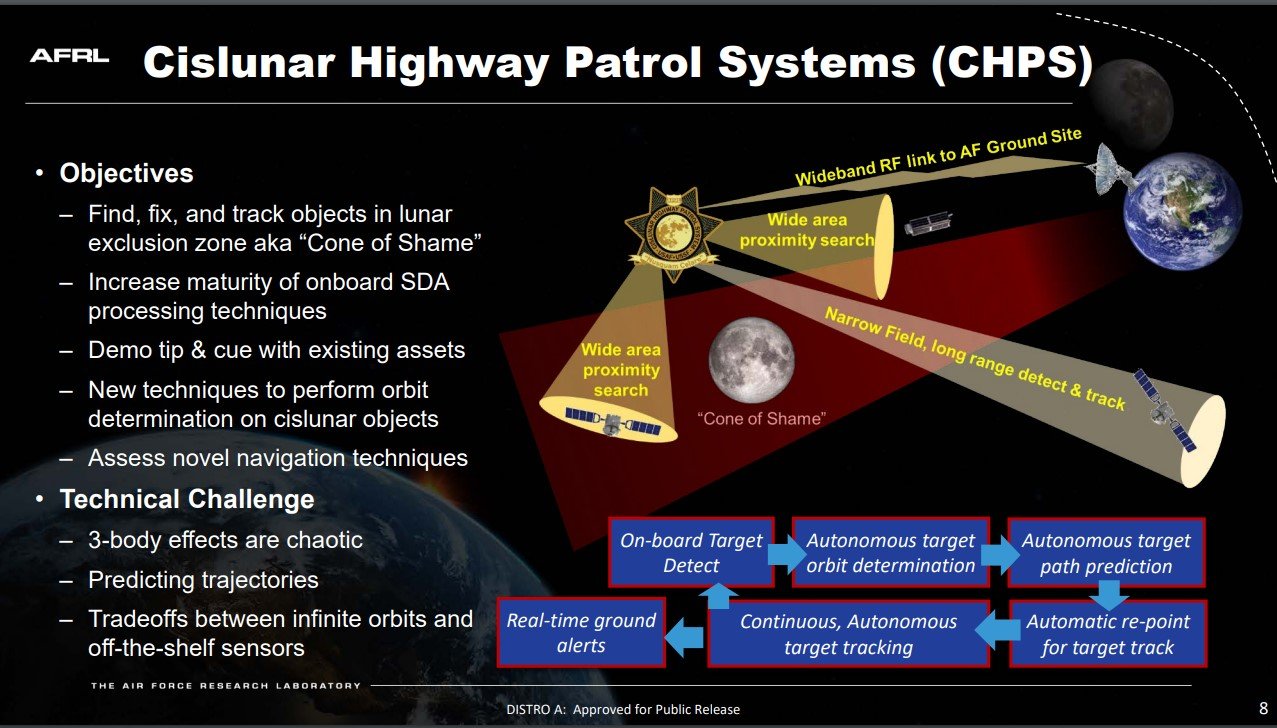 A fact sheet published by AFRL provides few technical specifics on the system, and no details on the make of the satellite, its lifespan or cost. After its launch in 2025, the sheet states, the spacecraft will use a mix of wide-field and narrow-field sensors to find and track objects and provide position updates on spacecraft operating near the moon.
"Novel on-board image processing and orbit determination software will be developed and deployed by AFRL," it adds, "as well as the new navigation techniques needed to accommodate the large distances between the Earth and CHPS's planned operational area."
In what may be a related investment, AFRL awarded Colorado-based aerospace and defense company Blue Canyon technologies a $14.6 million contract in November to build a microsatellite that can sense and operate beyond geosynchronous orbit – in cislunar space. News outlet C4ISRNet reported that the satellite will need to support a number of payloads and stay in orbit for up to three years.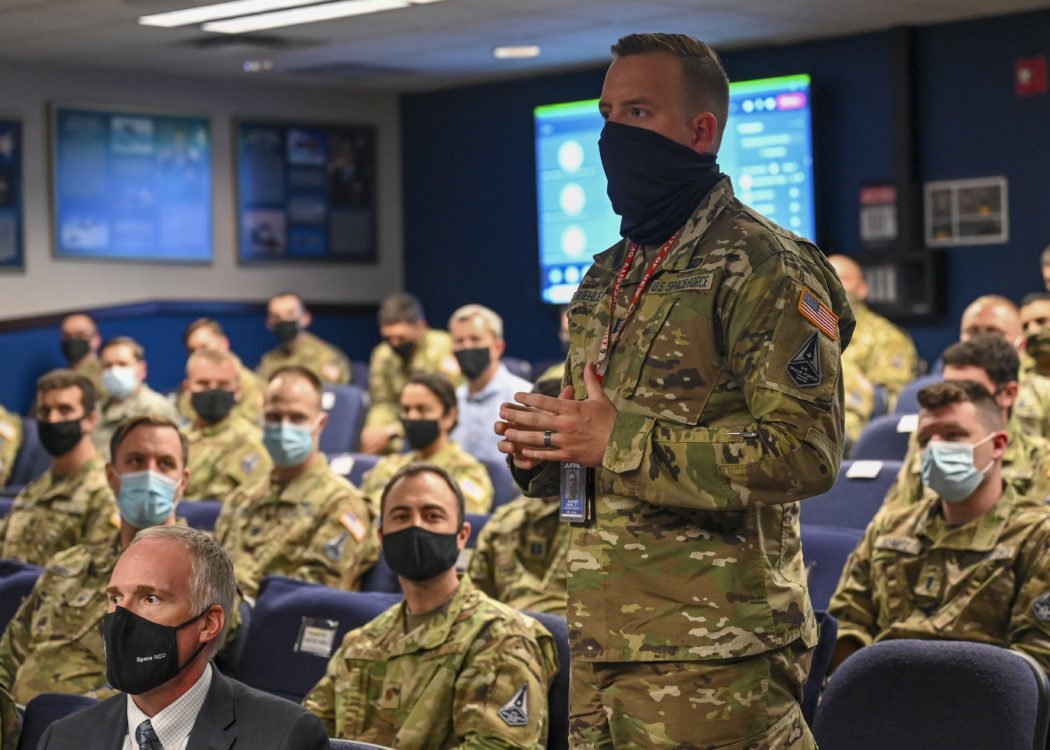 Meanwhile, Congress has been pushing hard for movement on this project. Last year's defense budget bill, the National Defense Authorization Act for fiscal 2022, called for a report from the defense secretary, chief of Space Operations and director of the Space Development Agency that included, among other things, an assessment of technologies required to gain "routine access to extended orbits beyond geostationary orbits, including cislunar orbits," and "greater cislunar awareness capabilities."
The same bill also adjusted Space Force funding to add $61 million for the purpose of accelerating the "cislunar flight experiment." Under a line item for "threat warning research," the Space Force defense budget justification budget cites 2022 plans to "continue to develop techniques to detect, track, identify, and characterize satellites using multi-phenomenology techniques with an emphasis on space domain awareness beyond geosynchronous equatorial orbit all the way to the moon."
While the description does not cite any specific events or milestones, it states plans to continue development on onboard sensors, conduct exercises within the Defense Department and "plan for next generation flight experiments."
Space Force technology may be getting closer to the moon, but don't expect Guardians to follow any time soon. During the service's first year in 2020, the then-head of Space Operations Command, Maj. Gen. John Shaw, suggested that Space Force personnel might staff command centers "somewhere in the lunar environment" in coming years. Space Force officials quickly downplayed the comment, though, with Space Force vice commander Lt. Gen. David Thompson adding that any such development was decades in the future.
This article was originally published March 21, 2022, on Sandboxx News. Follow Sandboxx News on Instagram.
Read Next: Chernobyl Worries Continue as Russian Forces Move Back