When people hear the words "Space Force," they usually think of America's newest military branch or the Steve Carell TV show. But there's another Space Force out there: three veterans with a presence on social media and streaming services that has propelled them to record charts with their solo releases. Now, Space Force is poised to take off as a collective. Their first album, an EP called Killavic Presents Space Force — Retreat, was released May 28.
Rappers Raymond Lott (also known as The Marine Rapper, or TMR), Topher Townsend (who simply goes by Topher), and Andrew DeCuir (shortened to D.Cure) make up Space Force. They each took a winding path to meet and begin collaborating, but one thing they have in common is military service. TMR was a Marine combat correspondent, Topher was a cryptologic language analyst in the Air Force, and D.Cure spent 11 years in Air Force security forces.
It was their service that brought them together, as they met through a burgeoning veteran community online. "I started to network with other veterans who do music," TMR said. "I saw there was a void there."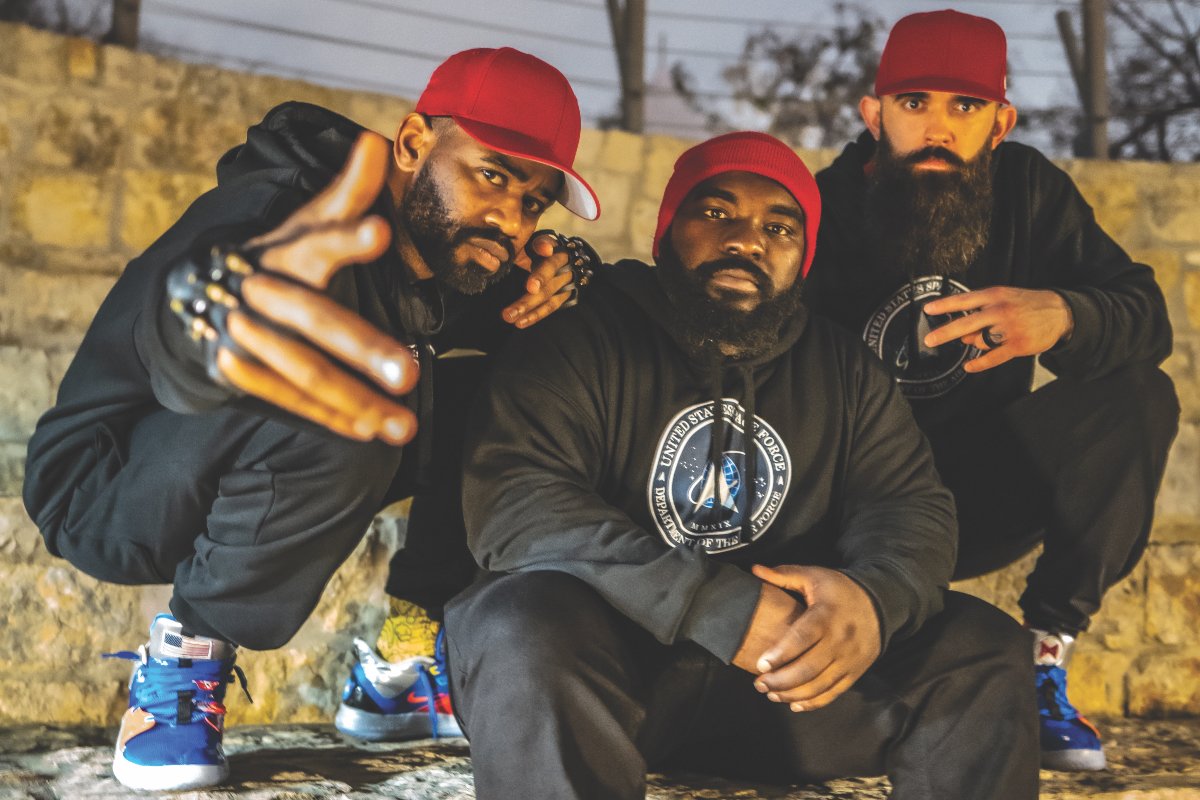 TMR runs a record label called Ninja Punch Music that supports veteran rappers, while D.Cure runs an Instagram group called the Bar Keepers, where veterans can share their verses.
"TMR has always been really big on bringing all these military artists together," D.Cure said. For the Retreat EP, they worked with producer Killavic, who is also a US Marine Corps veteran.
Many veterans speak of the loss of unit camaraderie as one of the hardest things to deal with when they transition out of the military. Space Force embraces that camaraderie and showcases it in its group structure.
"Part of the reason we're so successful is we believe in the other person," TMR explained. "It goes back to our military roots. When you're on patrol, you don't have time to ask if that guy has your back; he just has your back, or he doesn't."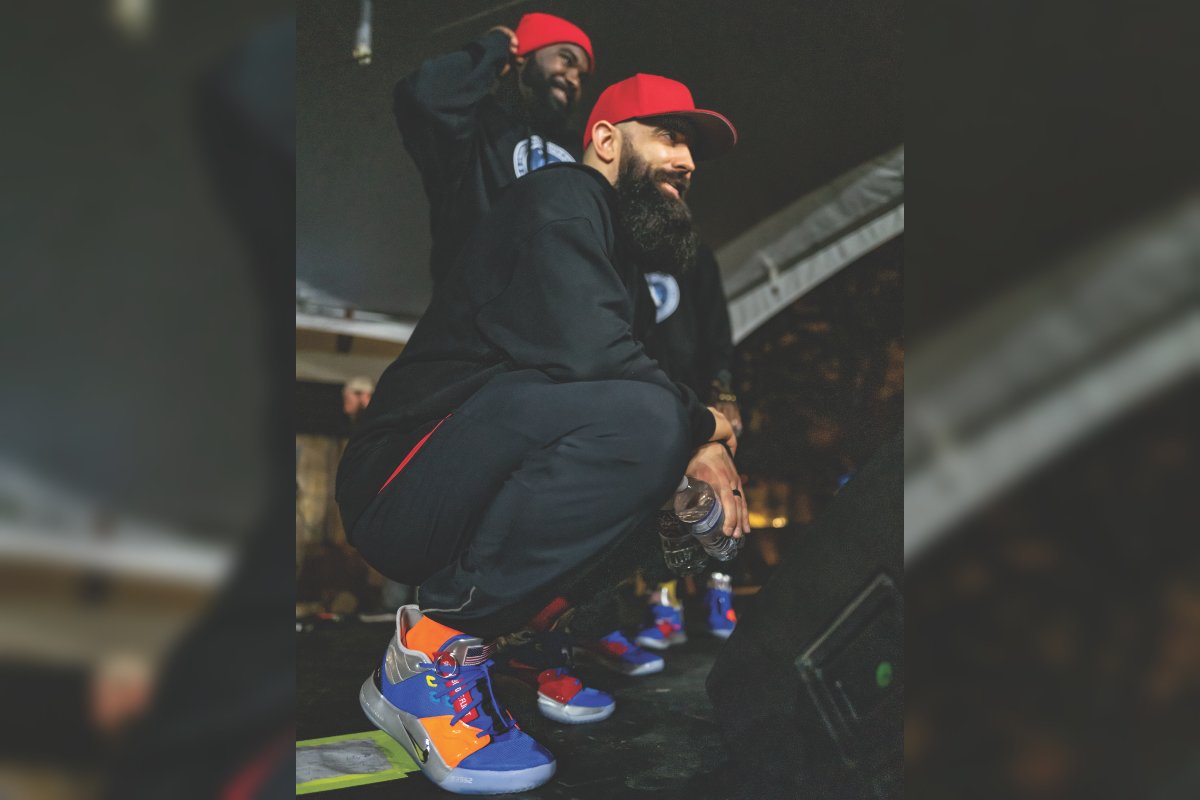 Topher puts the importance of their military background in even more basic terms: "We just wanted to show that veterans can put out great music without sounding corny."
All three rappers embrace the history of the genre and see themselves as reminiscent of Outkast or Beastie Boys, other bands that used aspects of sci-fi imagery in songs like "ATLiens" and "Intergalactic."
D.Cure also cites underground rappers like Atmosphere and Sage Francis as influences, while Topher says Eminem is the artist who first inspired him to rap. TMR, however, says that his greatest influence is the cadence of the M16 rifle. "I obsess over emulating anything that can sound Marine-like," he said.
"We all have special powers," TMR continued, explaining their complementary styles. "D.Cure's the fast rapping one, Topher is the commercial pop hit guy, and I'm the lyrical guy. No matter what, you're going to find someone in there you like."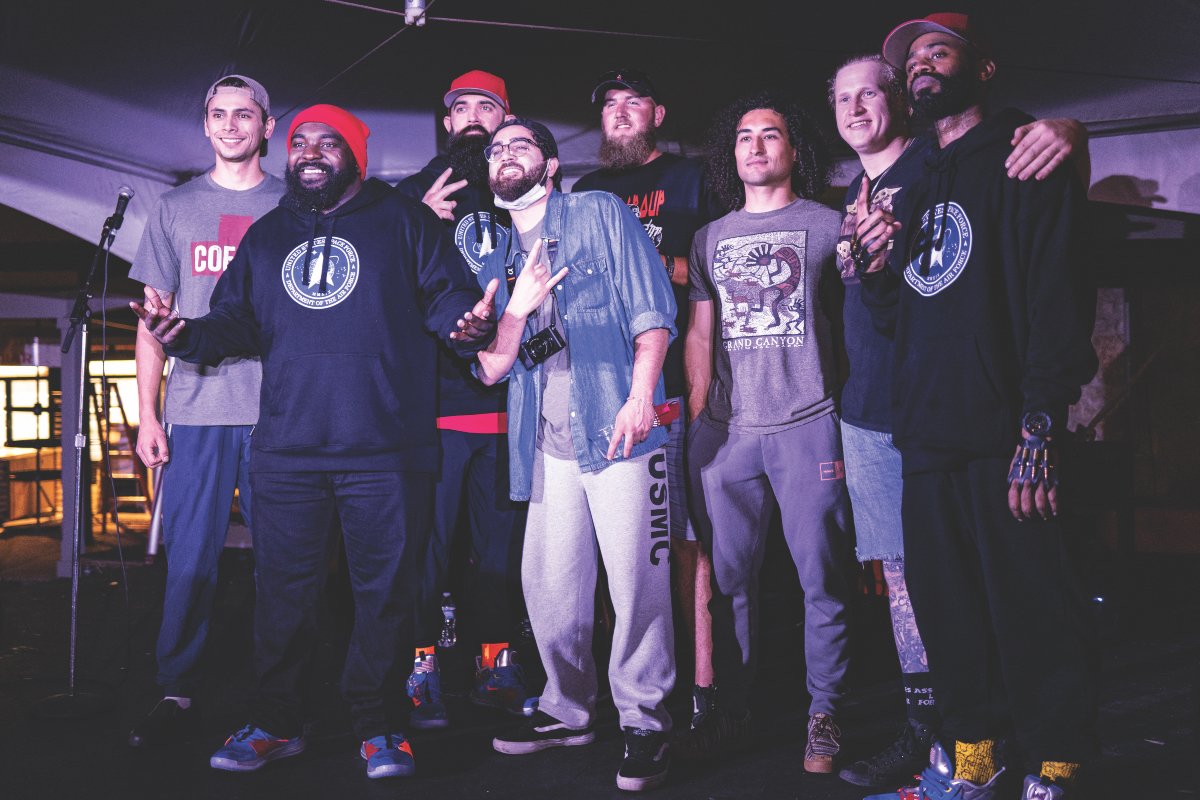 In February, the group played its first live show together at the Alamo. "There's been two of us at one time in one place, but there had never been all three," TMR said. They live so far apart, spread across the country, that "when we come together, we have to make it count."
Much of their musical output has come from improvisational rap battles they stream on Instagram @spaceforceradio under the hashtag #saturndays, where the three trade off verses. "We never know what the other person is going to say until we actually hear the song," Topher said. He added they plan it that way to retain the excitement of the collaboration. "It's always a nice, pleasant surprise — like, you went hard, bro! That spontaneity allows us to keep it fresh."
"We're competitive in the sense that we want to bring out the best in each other," TMR said. "We're all on the same sports team, but at the same time, we all want to take that shot."
D.Cure agreed. "The standard is set very high, and it doesn't allow any of us to slack off."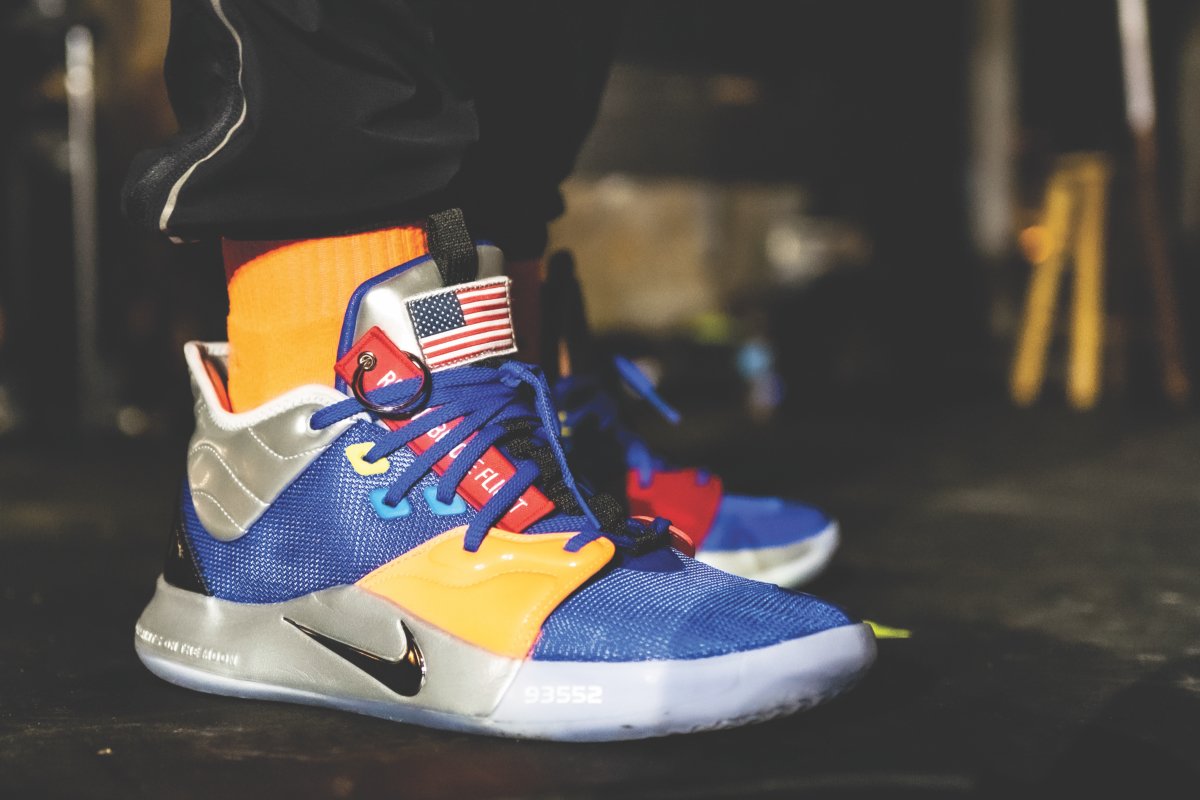 At the beginning of the year, TMR and Topher got their first tastes of infamy when their track "The Patriot" was pulled from online streaming services following their performance at a Veterans for Trump rally in Washington, DC, on Jan. 6. "It was a blessing because that ended up supercharging it," TMR said. When the song was rereleased, it zoomed to No. 1 on Billboard's digital rap sales chart.
"We didn't go through any label at all," TMR said with pride. "We didn't spend a dime on any promotion at all. The audience that we have is mostly military and first responders, and they're very loyal. They want to support us. And it's propelled us to the top."
"There's always someone looking for a voice to be heard," Topher said, explaining the track's success. "Right now, the left controls the culture, controls the voice. All these conservatives, people on the right, have been shunned. I've got to make music and let people know, no, you're not crazy."
Topher was unsurprised by the critical reaction to the song. He sees liberals in the music industry as hypocrites. "It was definitely confirmation that they don't care about Black voices," he said. "Everyone's like, 'Lift Black voices, lift Black creators,' and then you've got two Black veterans and their music has no cussing, no vulgarity, no racial slurs, nothing. And their song gets removed, and no one cares, they're cheering it on."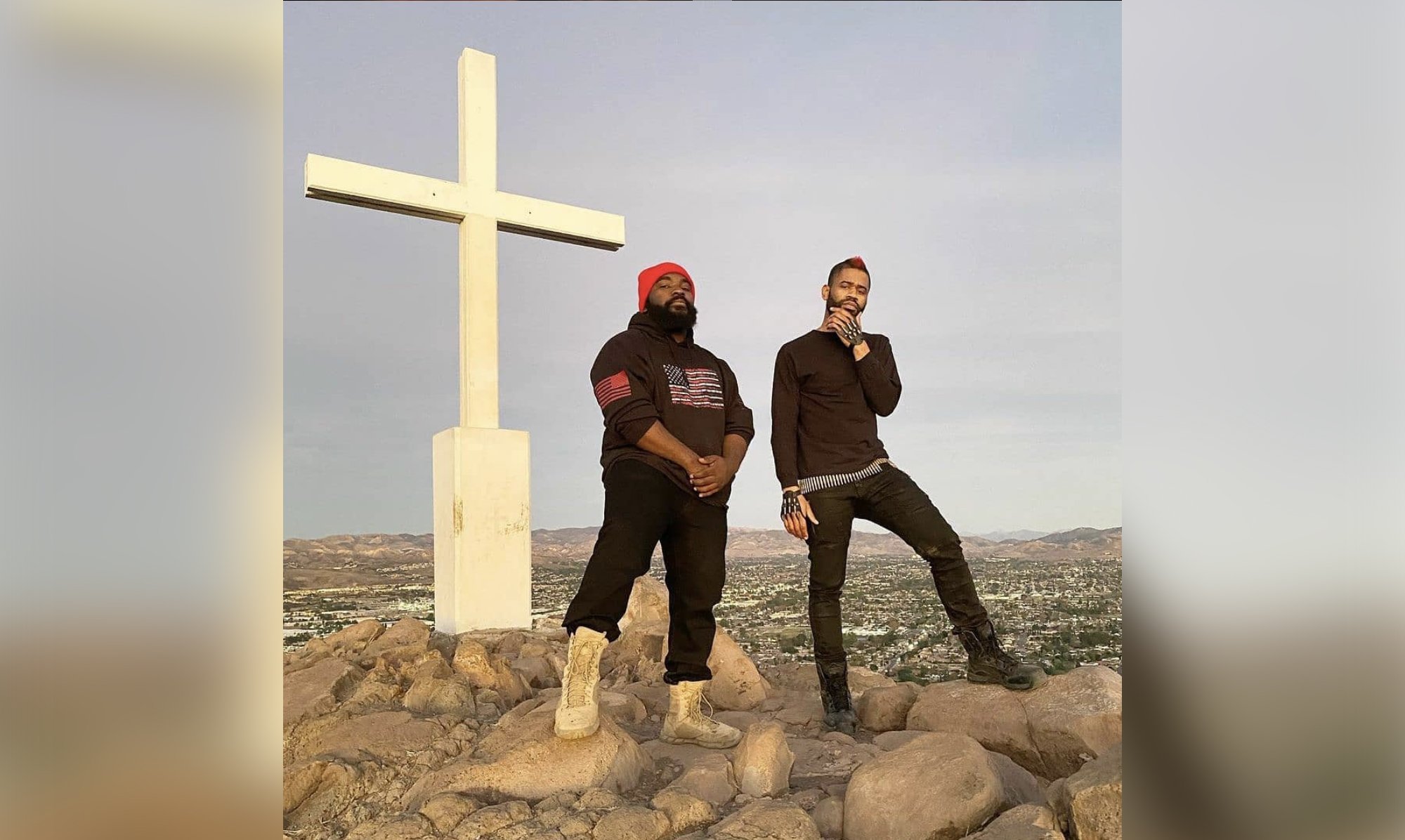 D.Cure saw it as an example of increasing censorship of dissenting voices. "We can't be censoring art," he said. "That's the most honest way to express yourself."
"I want you to say what you want to say," TMR said, explaining his feelings on the subject. "I want you to live however you want to live. I want you to express yourself.
"Because once we start censoring comedy, art, and music, that's when our society is going to go down.
"A lot of people who I've thought were friends for years abandoned me because they were too scared of the politics. The song has been misinterpreted as conservative. It's really not. It's a song about unity."
But Topher is more adamant about how his politics have shaped his career. "I figured, if we want to change the culture, one of the biggest influences on culture is music. So, how can I influence that to fight for what I believe? I grew an audience because of my political commentary. Now I'm using that audience to push my music."
"They've really created this huge movement, and for me to experience it, I'm just super proud," D.Cure said of the success of his partners. "I think it's incredible what they're doing for independent artists and for military artists; to say that there's a way to make this happen and showing that dreams can come true."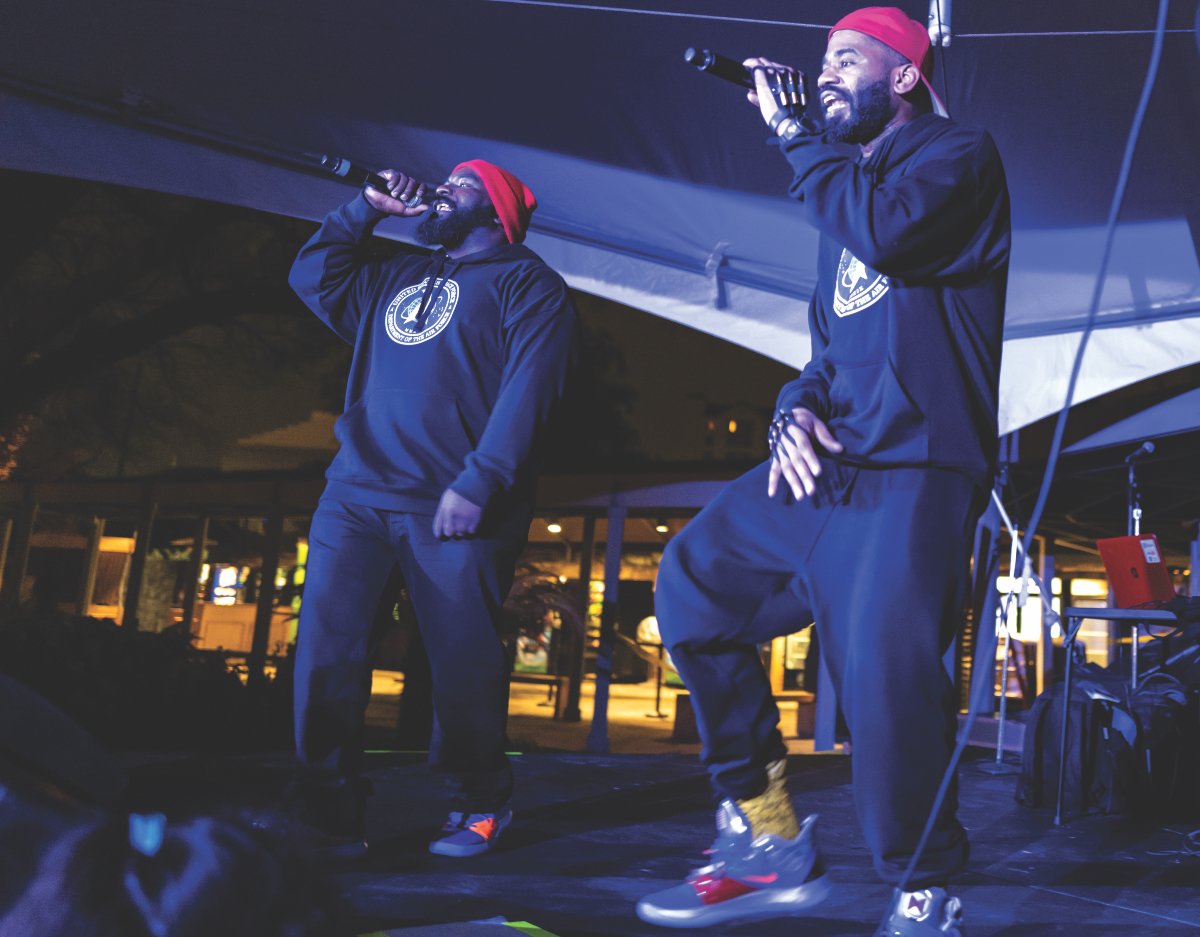 D.Cure has also tasted social media success with "Dad Jokes" videos that have gone viral on Instagram. He often raps about his struggles with alcohol, which he thinks appeals to his veteran audience. "It just worked out that I had a story that was relatable that I could share through the music," he said.
While D.Cure veers toward the humble side, TMR doesn't hold back when describing how he sees himself: "A creator, an innovator, a visionary. The greatest Marine rapper of all time."
Topher hopes their lyrical content can continue to push boundaries and inspire other artists to break the mold. "You can believe you're locked in a jail cell, but you don't know until you actually try to open that door," he said. "You've just gotta keep going, keep going, keep pushing your music out there to the people."
In the wake of the group's first album release this summer, TMR has no doubt they'll continue to have phenomenal success in their collaboration. "Hopefully, nobody ever tries to come against us, because we're just so hungry."
---
This article first appeared in the Summer 2021 edition of Coffee or Die's print magazine.
Read Next: