SpaceX has won a $149 million Department of Defense contract to build satellites to track hypersonic missiles, marking the first government contract for building such equipment for Elon Musk's groundbreaking commercial spaceflight company.
As part of the Space Development Agency's planned "mega-constellation" of weapons-tracking satellites, both SpaceX and L3 Harris Technologies Inc. will produce four satellites for the Pentagon to track hypersonic weapons. The L3 Harris contract to build its four satellites is reportedly valued at $193 million.
The eight commercially produced satellites will be equipped with wide field of view (WFOV) overhead persistent infrared (OPIR) sensors. Those satellites will form the first layer of a planned surveillance network to track hypersonic missiles.
Under the Space Development Agency's National Defense Space Architecture, the US will put into orbit a constellation of hundreds of satellites, primarily in low Earth orbit, to track maneuverable hypersonic missiles — a weapons technology currently under development by both Russia and China.
In 2018, Russian President Vladimir Putin unveiled new weapons that he touted would be able to defeat US missile defense systems. Among those new weapons was the Avangard hypersonic glide vehicle, supposedly capable of flying at Mach 27. The Avangard reportedly went operational in December.
Beijing, too, is developing new hypersonic weapons. In August, China tested a ballistic missile capable of carrying a hypersonic glide vehicle.
The flight paths of intercontinental ballistic missiles — which are essentially lobbed in an arc from their launch point — can be relatively easily predicted after launch. Hypersonic missiles, on the other hand, can be steered in flight, making them much harder to track and a more evasive mark for anti-missile defense systems.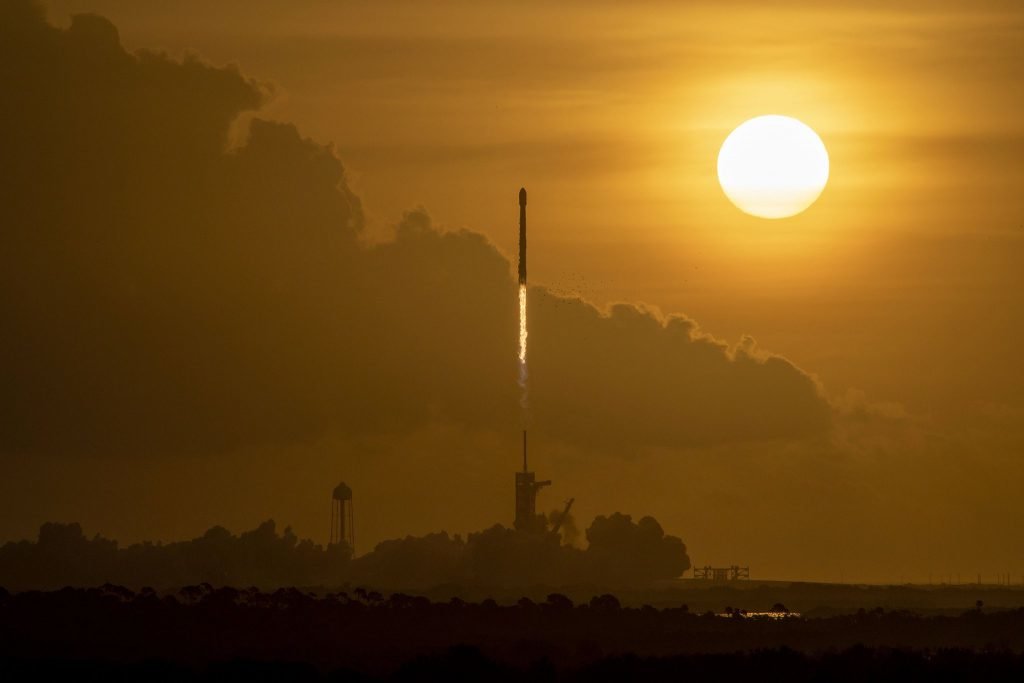 The US Missile Defense Agency and the Space Development Agency are developing the Hypersonic and Ballistic Missile Tracking Space Sensor, which will help track hypersonic threats. However, some experts warn the program doesn't have enough funding and is plagued with challenges when it comes to integrating with other missile defense systems and linking to advanced interceptors and directed energy weapons.
The US Space Force already possesses missile-tracking satellites in high geosynchronous orbits. The new satellites to track hypersonic threats will operate from much lower orbits and will therefore have a comparatively limited field of view, requiring the creation of a constellation of satellites that can effectively hand off tracking responsibilities as they follow the flight path of a hypersonic weapon from horizon to horizon.
SpaceX and L3 Harris are expected to deliver their combined first batch of eight satellites by fall of 2022. The entire missile-tracking constellation is planned for completion by 2026. Initial operating capability is expected by 2024.
SpaceX has already scored several high-profile government spaceflight contracts. Notably, two NASA astronauts launched to the International Space Station in May aboard a SpaceX Dragon capsule, which was powered into orbit by the company's Falcon 9 rocket. It was the first-ever launch of a space crew aboard a commercial spacecraft, and it marked America's return to active spaceflight operations after a nine-year hiatus following the last space shuttle flight in 2011.
SpaceX was also recently selected by the Space Force to carry out national security space launch missions over the next five years.
On another front, SpaceX's Starlink program is currently creating a mega-constellation of small satellites in low Earth orbit to provide global broadband coverage for high-speed internet access. SpaceX anticipates Starlink will achieve "near global coverage of the populated world by 2021."
On Tuesday, SpaceX put 60 Starlink satellites into orbit aboard a two-stage Falcon 9 rocket launched from Kennedy Space Center in Florida. SpaceX has had 17 missions this year.
Under the new Pentagon contract, SpaceX will use its Starlink assembly plant in Redmond, Washington, to build its four missile-tracking satellites.