Members of the US Marshals Service, including Chief Deputy US Marshal Lamont Ruffin and supervisor Derek Haywood, both from the DC District Court, swore in 2,000 National Guard soldiers and 2,300 law enforcement officers as special deputy US marshals, according to the US Marshals Service Flickr account.
"The US Marshals Service routinely supports US Secret Service and Metropolitan Police Department and their security efforts for presidential inaugurations," Dave Oney, US Marshals Service spokesperson, said in an e-mail response. "Additionally, the US Marshal for the District of Columbia customarily specially deputizes thousands of state and local law enforcement officers from around the country to augment security at the event."
The swearing-in process for the LEOs took place both inside and outside of a DC hotel on Monday, and the National Guard soldiers were sworn-in in front of the Washington Monument on Sunday. Mass swearing-ins similar to these events occur before every presidential inauguration to increase the law enforcement presence in the capital.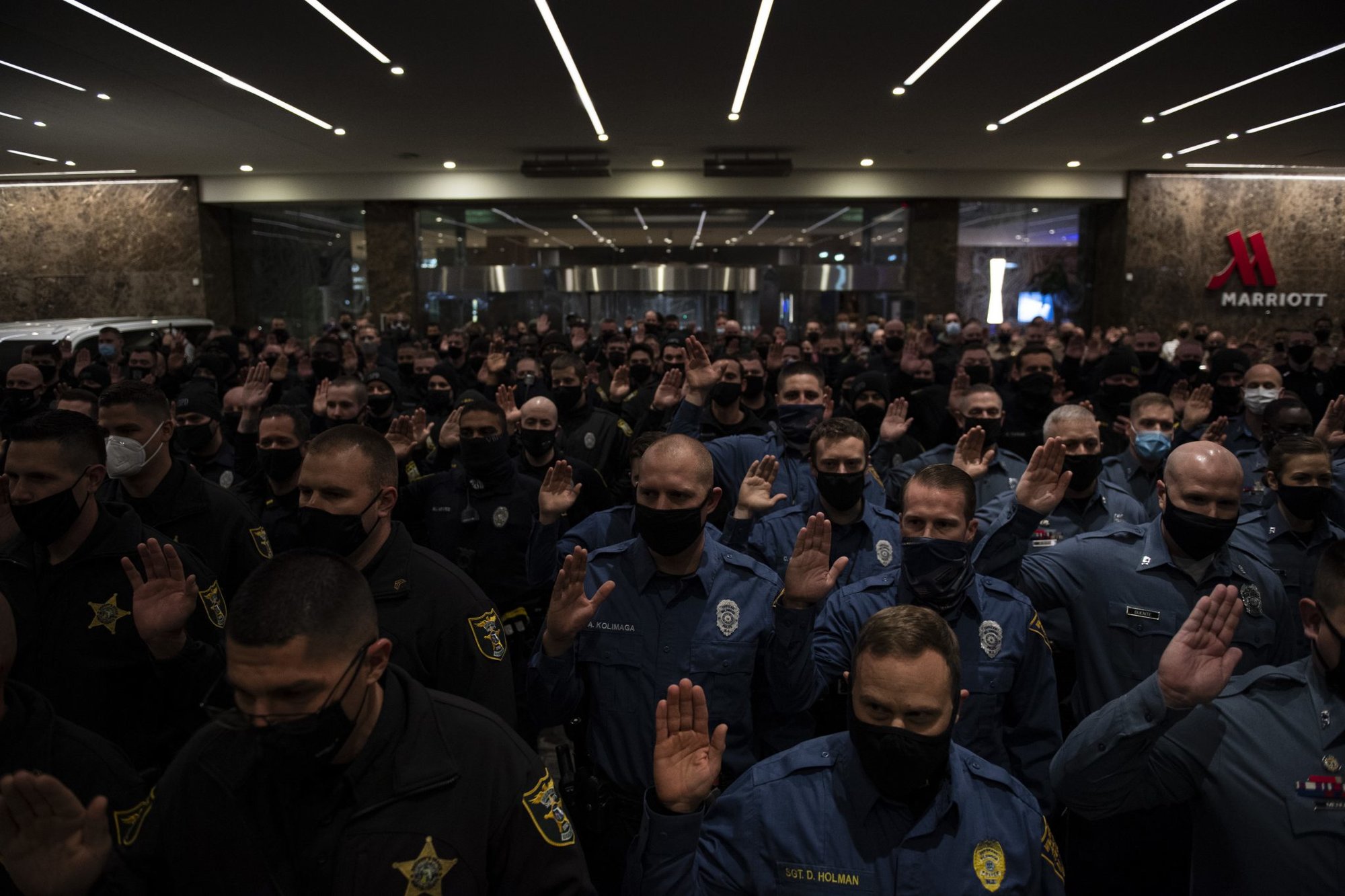 The newly sworn-in special deputy US marshals from the National Guard and more than 40 police departments now have "temporary, limited, local law enforcement authority" explicitly related to the safety and protection of the presidential inauguration and other related events.
The National Guard Bureau said some National Guard soldiers will be sworn in as "special police" by various law enforcement agencies, like the US Capitol Police, the US Park Police, and the Metropolitan Police Department. Their duties will include protecting members of Congress and other congressional personnel and securing the grounds and property of the US Capitol.
On Jan. 6, a large contingent of President Donald Trump's supporters left a "Stop the Steal" rally and violently attacked the US Capitol. Five people died as a result, including one US Capitol police officer, Brian Sicknick. In addition, another officer who attempted to defend the Capitol that day, identified as Officer Howard Liebengood, took his own life three days after law enforcement and the National Guard secured the Capitol complex.
Acting Attorney General Jeffrey A. Rosen released a statement Tuesday regarding the need for enhanced security following the Capitol attack.
"The American people have demonstrated that they will not allow mob violence to go unanswered. Violence and senseless criminal conduct are not the right way to resolve differences or promote change in our country," Rosen said. "So, rest assured that every level of law enforcement and the National Guard are working around the clock here in Washington, D.C., to provide safety and security for Inauguration Day, and that federal, state, and local law enforcement all around the country are doing the same in our state capitols and government buildings across all fifty states.
"As Americans, we all should seek to have a safe and peaceful Inauguration Day, and if we hold fast to our country's Constitution and traditions, we will."