On Sunday night, the St. Louis Police Department (SLPD) announced that an officer died after sustaining a gunshot wound to the head.
Officer Tamarris L. Bohannon had served with the SLPD for three and a half years. The department tweeted, "It is with the heaviest of hearts that we report that our critically injured officer has died. We cannot express how much we appreciate the hospital staff who continuously treated both officers for their injuries. Thank you all for your continued thoughts & prayers!"
The incident leading to Bohannon's death began at approximately 6 p.m. Saturday when Bohannon and his partner responded to a shooting in the vicinity of Spring Avenue and Hartford Street and found the couple who had called 911 standing in the street. They told the officers that a man armed with a gun had kicked them out of their house and barricaded himself inside. As Bohannon and his partner walked toward the 3700 block of Hartford, shots rang out.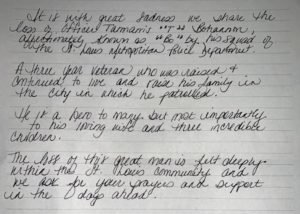 Bohannon was shot in the head, and his partner immediately called for backup and attempted to pull Bohannon to safety. The responding officers arrived on scene, and another unidentified officer was shot in the leg while exiting his squad car.
"SWAT and Crisis Negotiators responded. Contact was made with the suspect; however, he refused to peacefully surrender and fired several shots out of the house," SLPD Public Information Officer Michelle Woodling said in an email response to Coffee or Die. "After several hours of no communication, SWAT made a tactical entry and the suspect was taken into custody without further incident."
The SLPD tweeted at 5:37 a.m. Sunday that the barricaded shooter was taken into custody and the area was all clear.
"Our officers have been going through a lot this summer, as you know," Col. John W. Hayden Jr., chief of the St. Louis Police Department, said during a Saturday press conference. "We've had a surge in violence, we've had a lot of activity that we've done, and these officers — all they are trying to do is do their job and try to help a person that's wounded, and they come under gunfire themselves."
He added that this event marks the eighth St. Louis police officer shot in the line of duty since June 1. During the St. Louis riots and protests brought on by the in-custody death of George Floyd earlier this year, retired SLPD Capt. David Dorn was shot and killed while attempting to prevent the robbery of a pawnshop amid rioting in St. Louis.