A clock ticked down the final minutes before the annual St. Patrick's Day parade on the Savannah parade committee's website, signaling the long-awaited return of a 198-year-old tradition celebrated by soldiers at Fort Stewart and Hunter Army Airfield. The parade's return also brought back another ritual, one that the Army has tried to discourage.
The St. Patrick's Day parade was canceled for two years in a row because of the coronavirus pandemic, but on Thursday, March 17, hundreds of thousands of spectators rose early to snag their spots along the green-decorated streets of Savannah, Georgia. Just after 10 a.m., participants stepped off from the staging area near Forsyth Park. Around 280 bands, clubs, floats, and families wound their way though the oak-shaded streets in a spectacular celebration of Irish heritage and culture, ending in Madison Square in the afternoon.
"This is something our soldiers and families truly look forward to as a return to normalcy," said Lt. Col. Lindsey Elder, the spokesperson for the 3rd Infantry Division, based out of Fort Stewart.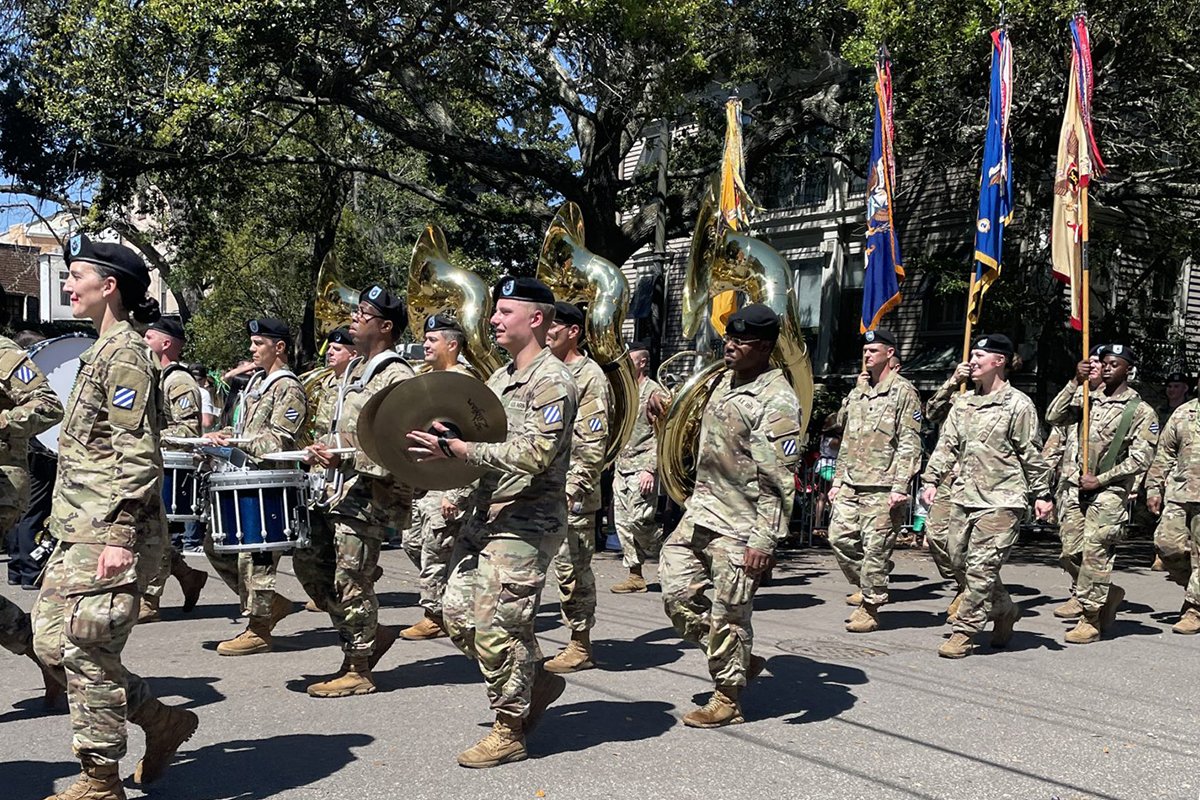 For years, the 3rd Infantry Division Band has dazzled spectators with lively performances in the iconic parade.
"A community event with the energy and magnitude of the Savannah St. Patrick's Day parade — it's something the band works on for months and develops choreography for," Elder told Coffee or Die Magazine.
The 75th Ranger Regiment's 1st Battalion, stationed at Hunter Army Airfield, marched alongside the 3rd Infantry Division and cadets from Benedictine Military Academy, continuing a tradition that began in 1974.
Many soldiers' faces bore evidence of the return of yet another tradition, albeit one discouraged by parade organizers and Army officials.
For decades, women have slathered on bright red lipstick and run into the street to kiss soldiers' faces, leaving messy lip prints behind. Army officials and local authorities asked spectators to stop smooching soldiers in 2018. Attendees darting into the street present a safety concern, according to officials. The Army also wants parade attendees to respect the personal space of its troops.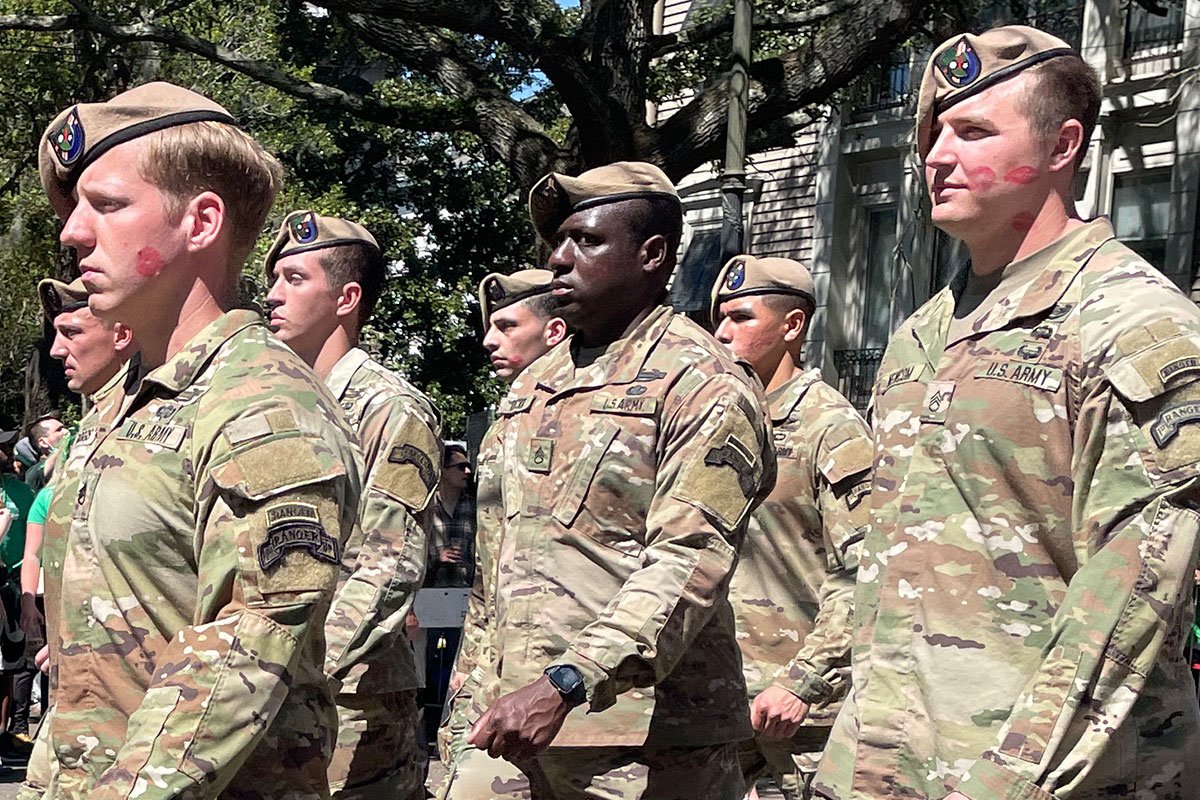 In the era of COVID-19, the city doubled down on its kissing ban, and the Rangers' senior leaders urged soldiers to "reject beer and kisses," one Ranger said.
Lipstick-stained cheeks, however, could be seen on participants throughout the parade.
St. Patrick's Day has become a dayslong celebration in Savannah, drawing visitors from around the globe. This year, Irish Minister for Justice Helen McEntee was in attendance, as were representatives of Ireland's national police and the Irish Prison Service, according to parade organizers. But the parade began in the 1800s as a "mere stroll on the streets of Savannah to protest discrimination against Irish workers being denied employment," said Doug Andrews, Vietnam veteran and chairman for the Veterans Council of Chatham County.
Through the council, Andrews has helped chauffeur World War II veterans to parades for years — his way of "helping each other and the community do good." He said the public festivities have held great significance for service members and veterans for as long as armed forces have existed.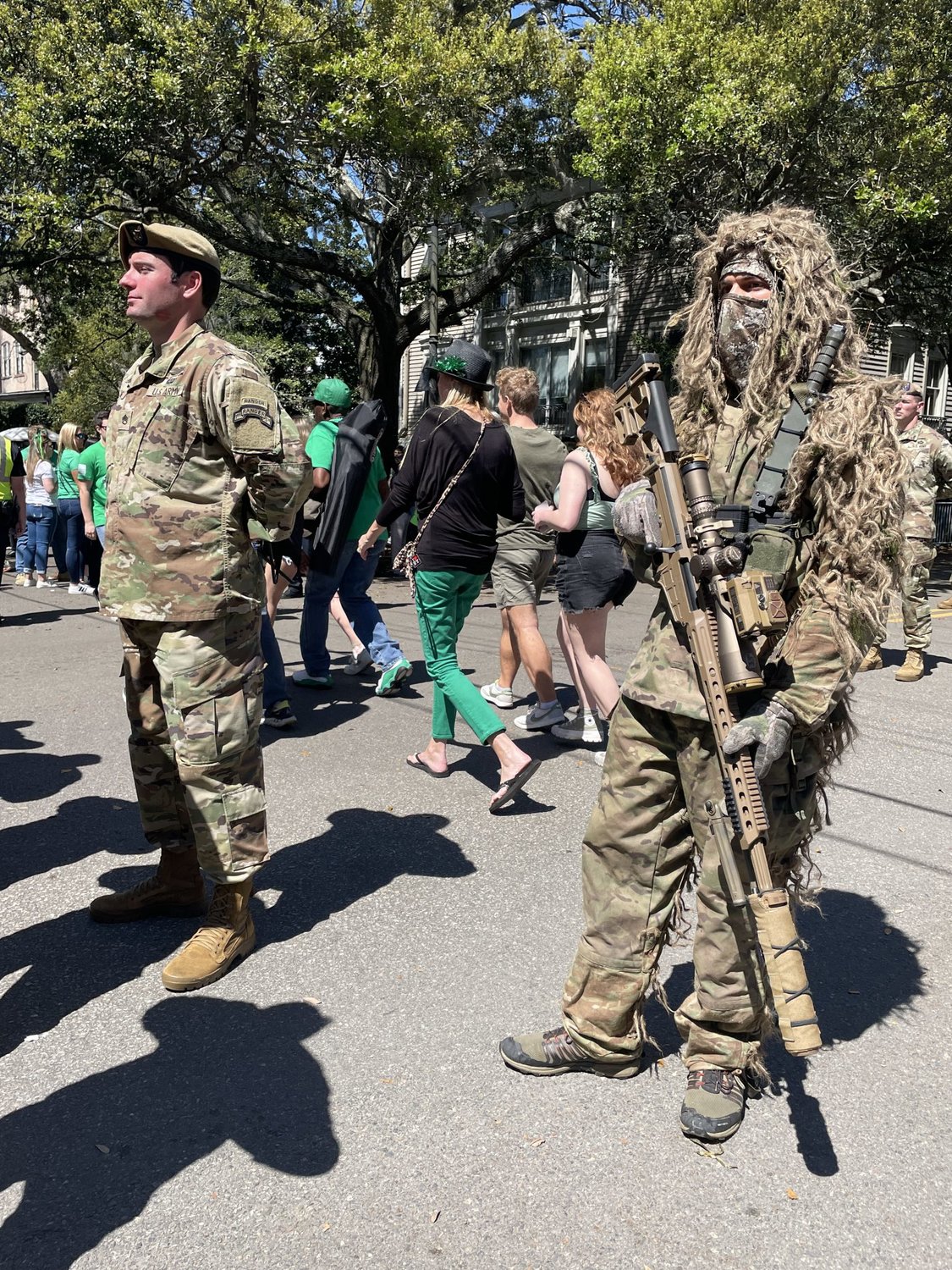 "Conquering generals and emperors made public their display of strength upon victory over a defending force — as far back as Babylon, and writ large during the rise of the Roman Empire, beginning in 753 B.C.," Andrews told Coffee or Die in an email.
The parade coincided with Savannah's first Navy Week, which meant a large sailor presence could be seen in historic downtown Savannah Thursday, including a 30- to 40-piece band and the Navy's senior executive host, Rear Adm. Susan BryerJoyner. A native of Savannah and a Herschel V. Jenkins High School graduate, BryerJoyner was escorted during the parade by the high school's marching band.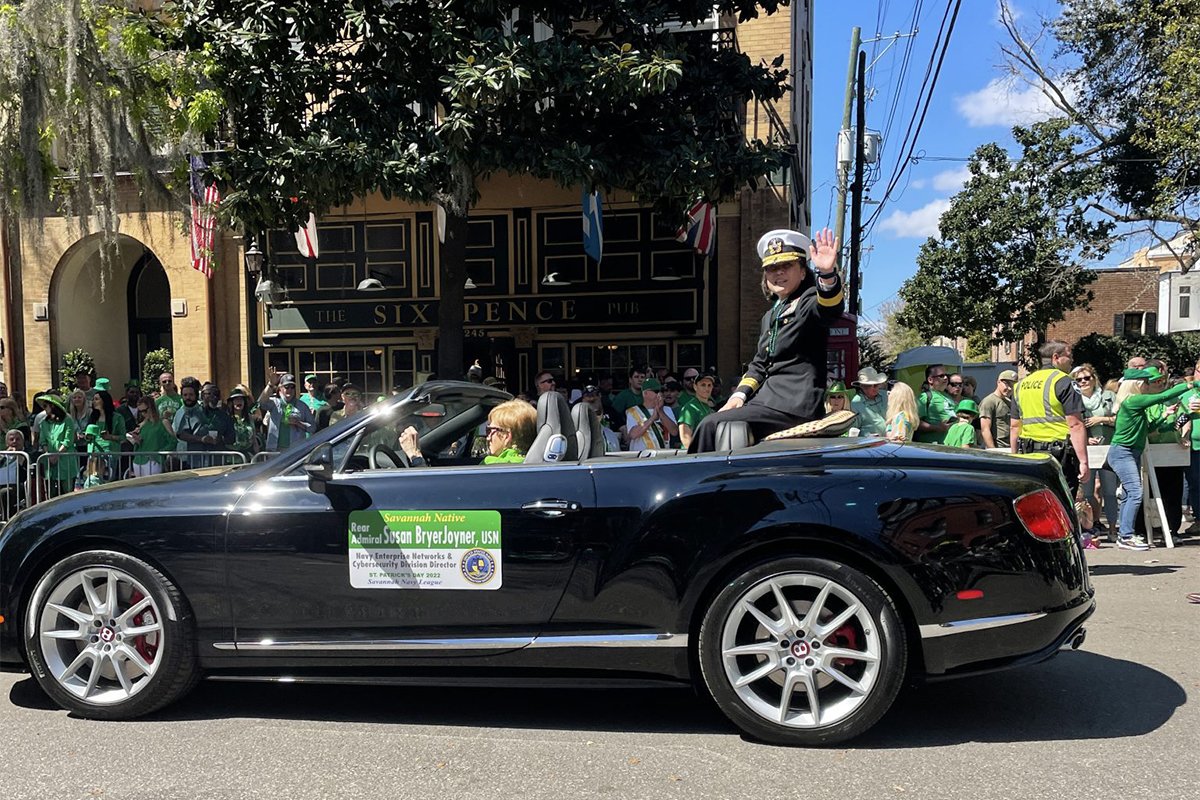 The parade has been canceled several times in its nearly two-century history; during the Civil War, World War I, and the Irish Revolution in 1921. But the coronavirus pandemic marked the first time it had been canceled in 99 years.
"We can look back on the past two years and reflect on many things that have frustrated us, challenged us, and even some that have made us smile," the Savannah St. Patrick's Day Parade Committee website's homepage reads. "Whatever you have experienced during this time, I know that this year's parade will help you feel a sense of pride in how our community can show our resilience to challenges that we face."
The parade committee also paid tribute to the military through its Sgt. William Jasper Memorial Ceremony on the eve of St. Patrick's Day. During the ceremony, a procession marched to the iconic bronze statue of Jasper, a Revolutionary War hero.
Read Next: