On a recent warm fall afternoon in Charleston, South Carolina, Stacy Pearsall struggled to wind herself down from the daily bustle of ranch life. Flustered from her regular stream of chores and nursing a broken hand for which she recently underwent surgery, the retired Air Force combat photographer fumbled briefly with her phone as she settled into a video-chat interview with Coffee or Die Magazine.
Constant motion is Pearsall's preferred state of being. A few weeks before she was trampled by one of the rare Brabant draft horses she cares for, another horse kicked her in the head; fortunately, she was wearing a helmet. Even after multiple combat deployments left her with a traumatic brain injury and significant spine and nerve damage, she's never quite figured out how to listen to her body, slow down, and generally behave like a person with actual physical limitations.
"She's about as stubborn as one of her donkeys," says Pearsall's husband, retired Master Sgt. Andy Dunaway, with a chuckle.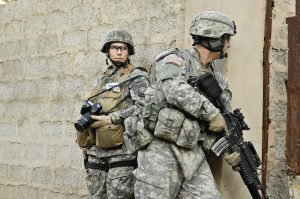 Pearsall's unflinching resolve is a characteristic she habituated early in her career as she fought to earn her place among the military's best photojournalists at the Air Force's elite 1st Combat Camera Squadron, where she carved out a legacy of extraordinary, trailblazing service as one of the best shooters in the Department of Defense.
"I spent my entire career trying to tough everything out," Pearsall says. "I never wanted to be the one who reflected badly on women. I always had this attitude that I wouldn't let people in and let people know how bad things were."
After spending her first four years on active duty processing photos from U-2 surveillance aircraft, Pearsall, whose family's tradition of military service can be traced back to the Revolutionary War, applied for a spot at 1st Combat Camera, where she says "somebody typically had to die or retire" for a spot to open up. When a former supervisor was assigned to the unit, he encouraged Pearsall to apply, and after a rigorous screening process, she was accepted and joined the unit in 2002.
"I actually wasn't a very good photographer back then, but I was a hard worker," Pearsall says. "There was absolutely a 'good old boys' climate, so all I could do was earn respect through my work."
Pearsall's husband served at the squadron from 2002 to 2010.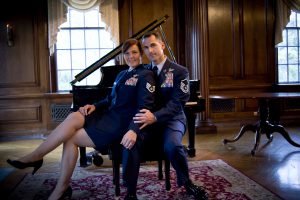 "We supported a lot of tier 1 missions and taskings that were only open to men," Dunaway says. "Some men at the time definitely viewed women as not necessary or less capable."
Pearsall says she lost count of how many times she was told she couldn't do an assignment because the unit wanted a man. But as she navigated an often overtly misogynistic culture, she was also exposed to the best training and equipment the military had to offer and a pool of incredibly talented and experienced photographers — many of whom rewarded her determination and work ethic with invaluable mentorship.
"Stacy was always out on assignment or looking for something to photograph," Dunaway says. "She was always out experimenting with the camera, working to get better, and people noticed that."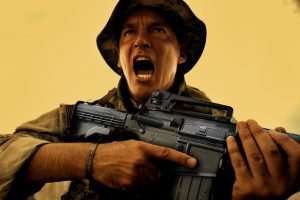 Pearsall's work ethic earned her a combat deployment to Iraq in late 2003, and the photos she made during her first Iraq tour earned her top honors in the National Press Photographer Association's 2003 Military Photographer of the Year (MILPHOG) competition, making her the second woman to ever win the prestigious title.
Pearsall was exposed to combat action several times, including an incident in which the HMMWV she was riding in hit a bomb. Her service during that deployment earned Pearsall an Air Force Commendation Medal for valor while documenting combat operations.
"I don't know why anyone earns a medal for that," Pearsall says, looking down uncomfortably for a moment and processing. "I think it was for continuing to document even when shit went sideways — for doing my job. I look back and think how ludicrous it is to get a medal for doing your job."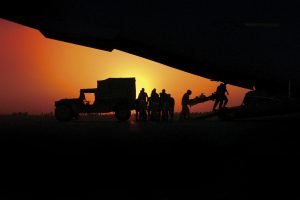 After returning from Iraq, she earned the privilege of attending the Pentagon's Military Photojournalism program at Syracuse University's S.I. Newhouse School of Public Communications in 2004. The yearlong course of study at one of the country's best journalism schools is the Department of Defense's most advanced photography course. Only a handful of Air Force members are selected annually, and the service gives its graduates the special designation of "PJ," or photojournalist.
Dunaway says it was a rare feat for a squadron member to win MILPHOG without first attending the MPJ program, and after excelling at Syracuse, Pearsall was afforded more opportunities to prove herself among her peers.
She ultimately deployed to 41 countries, supporting humanitarian relief missions, special operations forces, combat, and other operations. Her images were used by the president, secretary of defense, and Joint Chiefs of Staff to make informed decisions about military operations.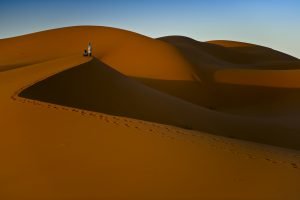 In 2007, Pearsall was again named Military Photographer of the Year, making her the first and only woman in American history to win the title twice. Her portfolio consisted mostly of images from her second Iraq deployment, and Pearsall also took home top honors in numerous individual categories of the competition, including Combat Photography, Portrait, Pictorial, and Photo Story.
But just as Pearsall appeared to be hitting her professional stride, beneath the surface, she was beginning to break. She had suffered another improvised explosive device blast in Iraq and lived through a bloody ambush during which she was knocked off her feet while rushing to aid a gravely wounded soldier. Her neck slammed into the edge of an ICV Stryker ramp, aggravating the cervical spine trauma she suffered on her first combat deployment. With adrenaline surging through her, Pearsall jumped up and dragged the wounded soldier out of the street and into the Stryker before pinching closed a severed artery in his neck until a medic arrived.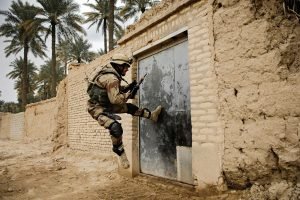 Recalling the ambush, she suddenly stops and goes quiet for several moments. She turns away from the camera, trying to suppress the anguished feelings that always flood back when she tells the story. Gathering herself after several moments, she says, "I just try not to live in that moment too much."
In 2011, Pearsall shared the whole story on the PBS NewsHour.
It's not just the trauma of that day's violence and death that haunts Pearsall. It was, after all, just one of the many intense combat actions she lived through and documented on that deployment, earning a Bronze Star in the process. The thing that seems to pain Pearsall most about the ambush is that she pinpoints the injury she suffered that day as "the beginning of the end" of her military career.
"I got banged up a lot on that deployment," she says. "But I had always operated under the ideology that if I wasn't missing a limb and I could see and had a pulse, I should just keep working."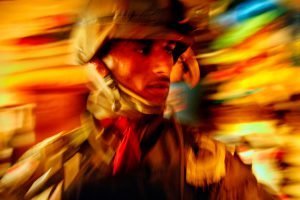 Soon after suffering the neck trauma, she started having bad side effects from nerve damage. She often found it difficult to hold her camera or other objects as neurological tremors would sometimes involuntarily release her grip on items. The bomb blast from Pearsall's first deployment had ruptured her eardrum, and the vertigo she suffered from inner-ear damage worsened after the ambush in 2007.
After a friend convinced Pearsall to seek medical treatment in Iraq, a doctor hooked her up to an electrical stimulation device, hoping to alleviate some of her pain.
When the current contracted the muscles in her neck, Pearsall fell backward, nearly passing out from the jolt of excruciating pain. After ordering and reviewing X-rays for Pearsall, the doctor explained the severity of her condition:
"He's like, 'I don't know how to tell you this, Sgt. Pearsall, but you've got to go to Balad [Air Base] today. The chopper leaves in four hours. Go pack your shit.'"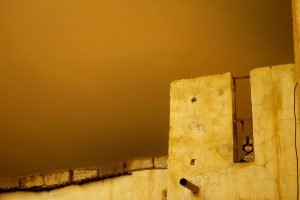 Pearsall expected to get a CAT scan and return within 24 hours. Instead, doctors told her she had a cervical spine trauma and wearing a Kevlar helmet and body armor every day was no longer an option without treatment and recovery.
"They wanted to send me to Germany for surgery right away," she says. "And I was like, 'No, not doing that.'"
Pearsall never returned to combat. She was sent back to Charleston for long-term nonsurgical treatment. Ultimately, she had to endure a soul-crushing process that required her to go before a medical review board.
"I remember when I was going through that," Pearsall recalls, "I had an officer in my unit look me in the eye and say, 'You weren't wounded.' The whole process was awful, and after going through all of that, I thought about suicide. It was not a good place to be."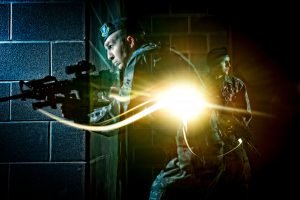 After she was medically retired, Pearsall found herself making frequent trips to the Ralph H. Johnson VA Medical Center in Charleston. As she carried a head full of bad memories, remorse, and shame to her appointments, she felt alienated and isolated by the constant assumptions by male veterans and staff that she was a dependent rather than a combat veteran.
"In our society, a lot of people, especially older veterans, still don't associate women with being military veterans," Dunaway says. "They look at women as a support function, or as being married to a service member."
Pearsall says at the VA hospital, she was frequently asked if she was bringing her father or husband for a doctor's appointment. On one especially irritating occasion, the Red Cross was passing out cookies and sodas, and when Pearsall reached for some, her hand was slapped away. The cookies were for veterans only, they told her.
"That really made me resentful and bitter," she says. "I thought everyone was prejudiced against me."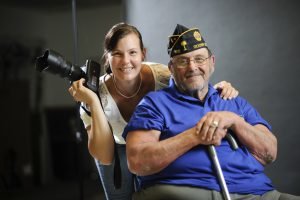 In 2008, Pearsall was waiting to see a neurologist at the hospital when an Army veteran from World War II named Mickey Dorsey sat down next to her and changed her life forever.
"I could see him staring at me, and I was getting really pissed," she says. "When I turned and asked if there was something I could do for him, I found out he was a volunteer at the VA, and he could see that I was struggling and was just looking to help me."
Pearsall says as she and Dorsey forged a friendship, he inspired her to find a new purpose — another way to serve. She says she set out to honor and thank other veterans with "the only gift I had worth giving, my photography."
She started bringing her camera to appointments and making portraits of some of the veterans she'd meet. After doctors told her she shouldn't carry anything more than 5 pounds or stand for long periods, she started bringing a backdrop and lights — stubborn and determined as ever.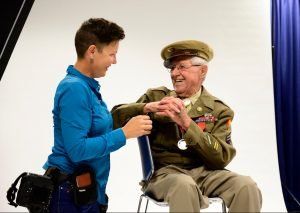 The Veterans Portrait Project was born.
That first year Pearsall photographed 100 veterans, and 88 of the portraits were curated for a permanent exhibition in the Ralph H. Johnson VA Medical Center's Hall of Heroes.
"Suddenly I found myself enjoying what I was doing, and it gave me a sense of purpose," she says. "It showed me that I could serve outside of a uniform — that I could serve my fellow veterans by helping to challenge people's perceptions and educate the general public and even the veteran community about who veterans are."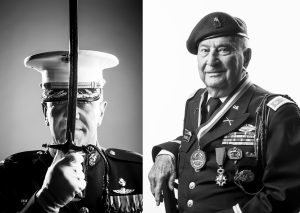 She set a goal to photograph veterans at other VA facilities and in the nearby area. Soon she was holding exhibitions — some permanent and some pop-up — all over the country. She would curate a number of portraits and invite political leaders, local business owners, and community members to engage in a dialogue with the veterans she photographed.
Since taking her first portrait in late 2008, Pearsall has traveled coast to coast with the VPP, covering 82 cities in all 50 states. She has documented more than 8,500 veterans in more than 189 engagements. Each veteran receives a complimentary, high-resolution portrait that they can share with friends and family. Their portraits and stories are also included in national printed exhibitions, showcased in video productions, and shared via social media, ensuring their contributions to American military history are never lost.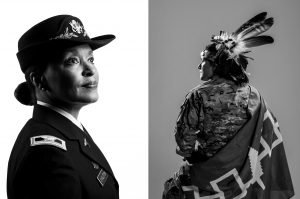 Pearsall's portraits are displayed at the National Veterans Memorial Museum in Columbus, Ohio, the Pentagon, the Military Service Memorial for America at Arlington National Cemetery, and myriad locations all over the country.
'They're everywhere," she says proudly.
Pearsall says the VPP collection represents the more than 22 million military veterans in the United States.
"They're young and old, male and female. They come from all walks of life and have varied religious beliefs, levels of education and racial ethnicity," she says on the VPP website. "What unites them all is their service. It's a bond that cannot be broken, and I'm proud to be one of them."
Pearsall says she remains passionately devoted to teaching photography and supporting photographers of every skill level. From 2009 to 2013, she owned and operated the Charleston Center for Photography, a photography education institution and studio. She is a Nikon Ambassador, an educator, military consultant, public speaker, veteran advocate, and author of two books — Shooter: Combat from Behind the Camera and A Photojournalist's Field Guide: In the Trenches with Combat Photographer Stacy Pearsall. She also produces her own podcast and will soon produce a TV show for PBS.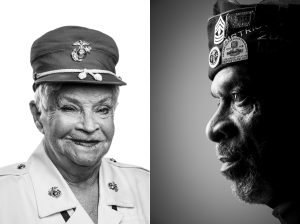 Dunaway says his wife's work sustains and fulfills her, but most people don't see that it takes a lot out of her, too. As Pearsall points out, "The hard part for me is I have constant reminders in my pictures."
"Every time she does a speech or engagement, it brings her PTSD back," Dunaway says. "But Charlie helps with that."
Charlie is Pearsall's service dog. He helps her deal with everything from seizures to post-traumatic stress, hearing and mobility support, and nightmare interruptions.
"Every day is a conscious decision to be present," Pearsall says. "The emotional stuff that you carry with you — it's not something you ever get over. It's just something you learn to carry and how heavy you allow that burden to be."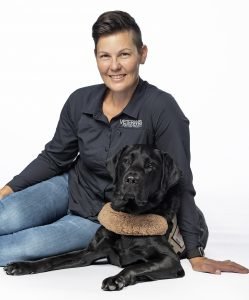 With that, Pearsall looks at her watch, and as the interview winds down, she worries aloud that her sincerity and vulnerability might come off "bitter and ugly." She stresses that her military experience was "incredible on so many levels," and that she would do it all over again if given the choice.
"I think the military has come a long way," she says. "The fact that combat arms and special operations roles are now open to women is pretty extraordinary. More women are filling important leadership roles at even the highest levels of the Air Force, and that's incredible too. So I look at all of that progress, and I am honored to have been part of the growth and to have had the opportunity to experience and to document the history that unfolded while I was in the service."
And with that, Stacy Pearsall gets back to work.
---
This story was recognized with the Military Reporters & Editors Association's James Crawley Award in 2021.