As you get older, you find various benchmarks that tell you how old you're getting. You can run laps and lift weights to fool Father Time for a while. But sooner or later, you'll tell a young person that "If I catch any of you guys in my stuff, I'll kill you," and he'll look at you blankly and report it as promoting a hostile work environment. You'll realize he must have missed out on the Bill Murray classic Stripes and that you are getting really old.
Yes, Stripes is turning 40 this year. Some of you are saying, "Wow. It's been that long?" Others are saying, "What the hell is 'Stripes'?"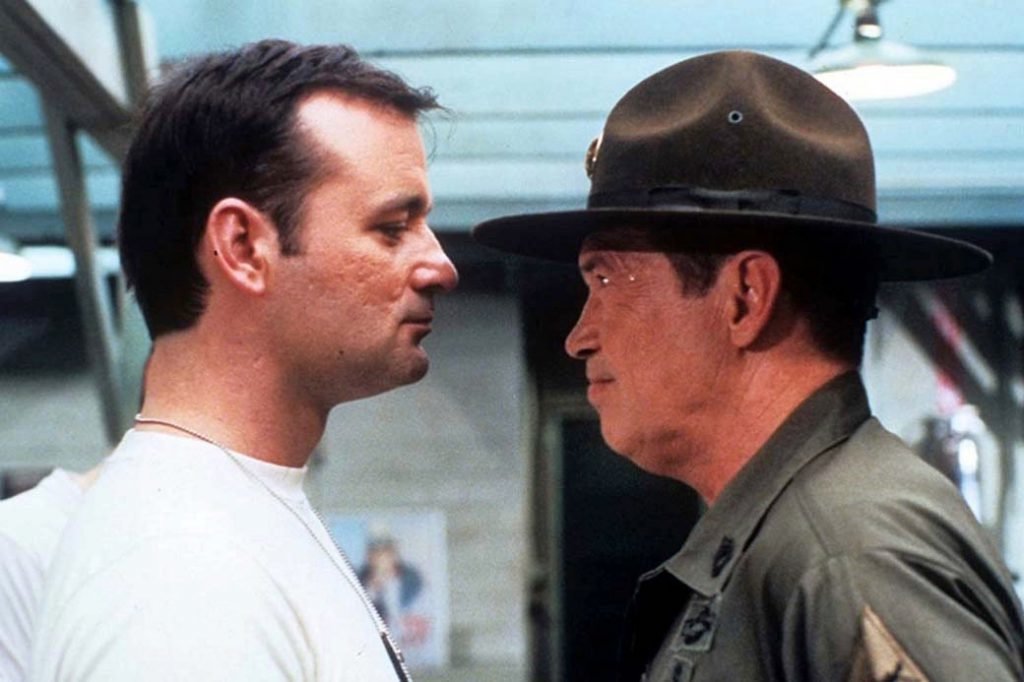 Stripes hearkens back to before Bill Murray was Bill Murray. Taken one way, it's a stupid 1980s comedy, full of over-the-top parody and unrealistic situations and a little unnecessary nudity. At the same time, like most Bill Murray comedy, it somehow manages to make the viewer feel something more. There are LOTS of incredibly stupid '80s comedies, especially ones that involve the military, that don't stand up. Chevy Chase's Deal of the Century comes to mind.
When Murray's John Winger throws the keys to his cab into the East River, gets his car repo'ed, and loses his girlfriend in one afternoon, he joins the military out of the same place that many have for centuries — getting out of a bad situation and seeing the world.
Of course, the early 1980s military was a lot different. For example, the Army recruiter asks, "Now, are either of you homosexuals?" Ziskey's reply, "No, we're not homosexual, but we are willing to learn," still works, though. This was still in the post-Vietnam era, and the movie makes it clear that the recruits are far from the best of the best, from "Psycho" to "Ox" to "Cruiser," who answers "Son, there ain't no draft no more" with "There was one?"
Many vets, or at least the old ones, get a little frustrated with Stripes and its depiction of boot camp as a joke. Marines don't because they think it's a documentary on Army basic training. Still, the essential point is there: A bunch of losers eventually turn into a cohesive fighting force, able to execute a daring rescue mission into Czechoslovakia in an EM-50 Urban Assault Vehicle (a tricked-out, heavily armed motor home).
As in Full Metal Jacket, the best parts of Stripes come during recruit training. The most memorable part of the movie is Murray's "mutts" speech at graduation.
"We're not Watusi. We're not Spartans. We're Americans, with a capital 'A', huh? You know what that means? Do ya? That means that our forefathers were kicked out of every decent country in the world. We are the wretched refuse. We're the underdog. We're mutts! […] We've been kicking ass for 200 years! We're TEN and ONE!"
Stripes, for all its corniness, has something that's missing from a lot of comedy — military and otherwise — today. It's not trying to be smarter than the audience. It's not packed full of inside jokes and snide comments. It's just having fun, and that's why it is still a part of the culture 40 years later.
Stripes isn't trying to shed light on the human condition. Stripes is just making fun of military life. Stripes doesn't aspire to be more than it is, but it is more than it appears.
"Do you think I'm officer material?" Ziskey asks while guarding a Winnebago in an empty hangar. He took something mundane and made something better out of it. This low-budget comedy spawned the film careers of legends like Bill Murray, Harold Ramis, John Candy, and many lesser but still recognizable actors. Every veteran with a Winnebago thinks of it as a "heavily armed recreational vehicle." Stripes will live on forever. Even if Generation Z doesn't appreciate the "big toe" school of military leadership.
Read Next: John Wayne Dodged the Draft in WWII, but These 6 Movie Greats Did Not