What a difference a few months make. The US Navy expeditionary fast transport ship USNS Carson City pulled into Port Sudan on Wednesday, marking the first port visit by a US Navy ship after Washington officially rescinded Sudan's status as a state sponsor of terrorism in December.
"This ship's […] visit to Port Sudan is a demonstration of our commitment to strengthening the relationship between the United States and Sudan as the Sudanese people seek a democratic future," US Embassy in Sudan Chargé d'Affaires Brian Shukan said in a release. "This visit in turn helps to promote peace, security, and preserve freedom of the seas."
The Carson City's Sudanese port call also comes as the US military increasingly turns its attention toward Russia's so-called "malign" influence on the African continent. Of particular interest, in December — just one week before the US dropped Sudan's terror designation — Russia announced a deal with Sudan to establish a Russian naval base at Port Sudan on the Red Sea.
The Russian agreement calls for the creation of a Russian logistics center housing up to 300 personnel and four naval units — all operating under a renewable 25-year lease. As part of the exchange, Moscow agreed to send military advisers to Sudan and secured rights to transport "weapons, ammunition and equipment" through Sudan's airports to equip the new naval base.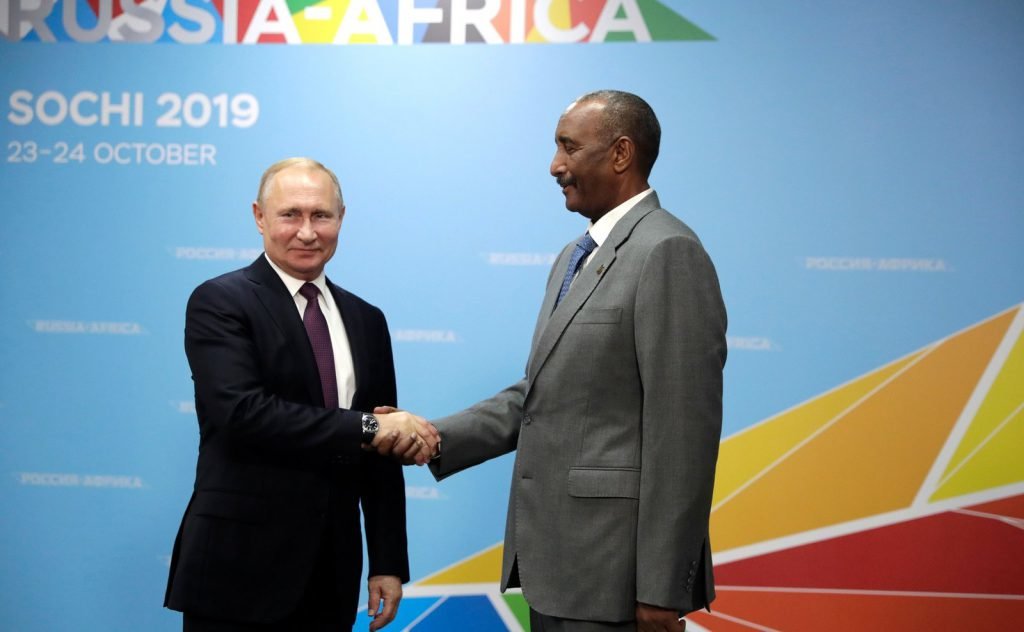 The US designated Sudan as a state sponsor of terrorism in 1993 due to its support for al Qaeda, as well as for Palestinian extremist groups such as Hamas. Omar al-Bashir, who had ruled Sudan for some three decades, was ousted in a 2019 military coup following widespread popular protests against his regime's economic mismanagement and rapidly rising inflation. A transitional government remains in power in Sudan's capital, Khartoum.
For his part, al-Bashir was imprisoned and convicted in Sudan on multiple corruption charges. The International Criminal Court has also levied war crimes charges against the deposed Sudanese president for his role in the Darfur, Sudan, massacres from 2003 to 2008.
The Trump administration lifted Sudan's designation as a state sponsor of terrorism on Dec. 14, 2020. The move was reportedly done in exchange for Sudan's pledge to normalize relations with Israel and an agreement to pay some $335 million to settle claims made by the victims of the 1998 al Qaeda bombings of the US embassies in Kenya and Tanzania, as well as al Qaeda's 2000 bombing of the USS Cole off the Yemeni coast, which killed 17 sailors. A deal is still reportedly being hashed out for Sudan to compensate victims of the Sept. 11, 2001, terrorist attacks.
The US list of state sponsors of terrorism now includes Cuba, Iran, North Korea, and Syria.
Usama bin Laden, the former head of al Qaeda, arrived in Sudan in 1991 after a falling out with the Saudi royal family over the basing of US forces in Saudi Arabia for Operation Desert Storm. In Sudan, bin Laden ran a small business empire as a front for al Qaeda, which was, at that time, expanding its terrorism franchise across Africa and the Middle East. The al Qaeda leader had inherited some $200 million while living in Saudi Arabia, and his economic investment in Sudan, a country ravaged by civil war and extreme poverty, was generally welcomed by al-Bashir, who had seized power in 1989.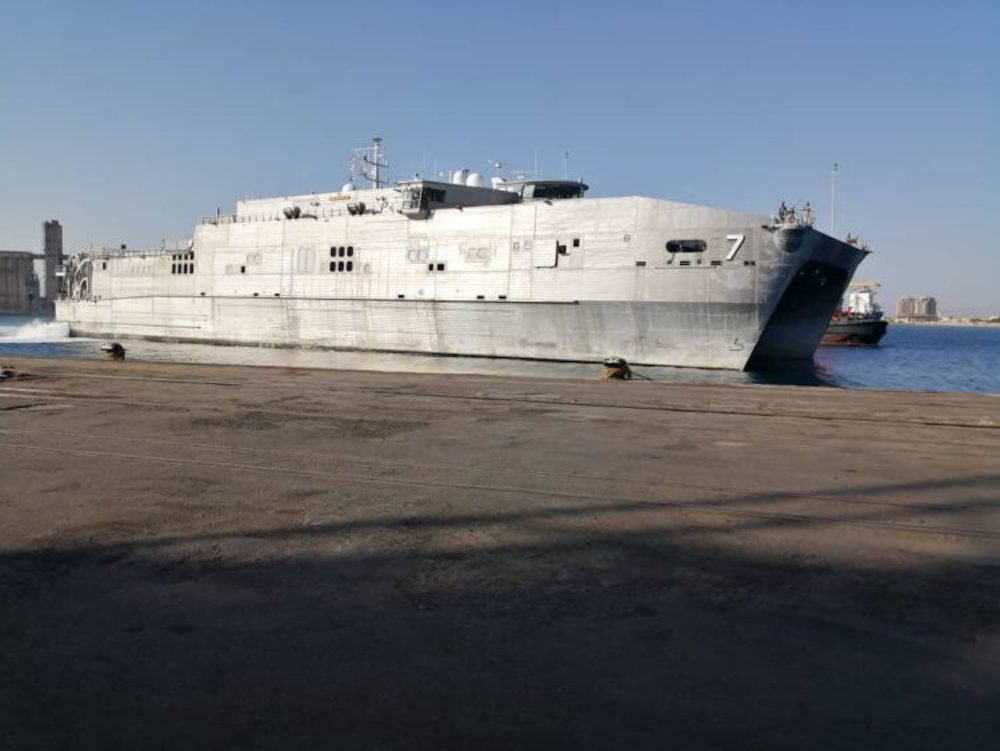 Bin Laden reportedly lived in Khartoum until Sudanese officials, acting under US pressure, expelled him from the country in 1996. Bin Laden chartered an aircraft and flew to Afghanistan, where he established a new home base for al Qaeda until the 2001 US invasion. The Sudanese government reportedly seized all the assets bin Laden left behind — totaling some $30 million, according to news reports.
"We are at a moment of fundamental change in the bilateral relationship between the United States and Sudan, made possible by the efforts of Sudan's civilian-led transitional government to chart a bold new course away from the legacy of the previous regime," Andrew Young, US Africa Command's deputy commander for civil-military engagement, said in a statement regarding the Carson City's visit to Port Sudan — the first time a US Navy ship has visited the country since the creation of US Africa Command in 2007.
The Carson City, which is assigned to the Navy's Military Sealift Command, is crewed by about 35 sailors and civil service mariners. Preceding the ship's arrival at Port Sudan on Feb. 24, a US Africa Command delegation visited Sudan in late January, meeting with top political and military leaders.
"U.S. Africa Command understands the importance of combating terrorism and piracy, malign activities, and ensuring safe seas for shipping," Rear Adm. Heidi Berg, US Africa Command's director of intelligence, said in a release about the January visit.
Russia increased its economic ties to Sudan under al-Bashir's watch. On the military front, Russian mercenaries reportedly operated in Sudan — defending gold and diamond mines, among other missions — and Moscow reportedly established a permanent representation in Khartoum's Ministry of Defense, according to a 2019 Pentagon report.
When his 30-year reign came under threat from growing protests, al-Bashir turned to Moscow for help — entrenching an economic relationship in which the Kremlin was looking for access to Sudan's vast oil reserves. "In Sudan, Russia provided diplomatic, financial, and arms support to the beleaguered government of Omar al-Bashir," reported a 2019 Pentagon report titled Russian Strategic Intentions.
Ultimately, al-Bashir's 2019 ouster did not spoil Russia's ambitions for influence in Sudan. In fact, Russia's 2020 naval base deal "signifies Russia's resurgence as a great power in Africa," the World Politics Review reported in December.
Some 10% of world trade and 9% of global oil shipments pass through the Red Sea daily, making the body of water wedged between East Africa and the Arabian Peninsula a strategic priority for the world's trifecta of competing great powers — the US, China, and Russia.
Both the US and China maintain military facilities in the East African nation of Djibouti, located about 500 miles south of Port Sudan at the mouth of the Bab el-Mandeb Strait linking the Red Sea to the Gulf of Aden.
US Africa Command has identified both Russia and China as "malign" actors on the African continent. During the past seven years, Russia sold $9 billion in weapons to African countries, making Moscow the continent's biggest arms dealer. And Russian private military companies are active in 16 countries across Africa, according to the Department of Defense.
US Africa Command has recently sounded the alarm on Russia's destabilizing paramilitary activities across Africa. US officials warn that Russia is looking to establish a military foothold in North Africa as a way to gain sway over the Mediterranean Sea. Consequently, the Pentagon has taken steps to link its presence in Africa with European operations to deter Russia.
In November, the US Army announced the consolidation of US Army Europe and US Army Africa into one four-star Army service component command.
"This is not just a consolidation of headquarters. It's also a consolidation of our capabilities across Europe and Africa. European and African issues are inextricably linked, I think it's very safe to say," Army Gen. Christopher Cavoli, commanding general of US Army Europe and Africa, said in a telephonic press conference on Tuesday.
"So this consolidation enables greater synchronization of operations in Africa with our NATO allies here in Europe, many of whom have very important security concerns and security interests in Africa," Cavoli added.
Read Next: Taliban Bomb-Making Workshop Snafu Kills 30 Militants