Thanks to new legislation signed into law Saturday, anyone distressed with thoughts of suicide will be able by next fall to dial 988 to reach a national crisis line similar to 911 for mental health emergencies.
President Donald Trump on Saturday signed two bills into law to help prevent veterans suicide — the National Suicide Hotline Designation Act and the Commander John Scott Hannon Veterans Mental Health Care Improvement Act.
The latter establishes a new Department of Veterans Affairs grant program to promote collaboration with outside entities and enhance suicide prevention services for veterans and their families. It establishes new data requirements to better track potential causes of suicide and new hiring rules to bolster the VA's mental health workforce.
The VA estimates that more than 20 veterans die by suicide every day, and of those 20, 14 have received no treatment or care from the VA, according to a statement by Senate Veterans Affairs Committee Chairman Jerry Moran, R-Kan. Moran and ranking member Jon Tester, D-Mont., sponsored the Improvement Act, which they say will improve outreach to veterans and their mental health care options in six major ways:


Bolstering VA's mental health workforce to serve more veterans by offering scholarships to mental health professionals to work at Vet Centers and placing at least one suicide prevention coordinator in every VA hospital.


Improving rural veterans' access to mental health care by increasing the number of locations at which veterans can access VA telehealth services.


Implementing a pilot program to provide veterans access to complementary and integrative health programs through animal therapy, agritherapy, sports and recreation therapy, art therapy, and post-traumatic growth.


Establishing a grant program that requires VA to better collaborate with community organizations across the country already serving veterans. This collaboration will result in earlier identification of veterans who are at risk of suicide and will provide the ability to intervene with preventative services.


Studying the impact of living at high altitude on veterans' suicide risk and diagnostic biomarker research to identify depression, post-traumatic stress disorder, anxiety, and other conditions.


Holding the VA accountable for its mental health care and suicide prevention efforts by examining how the department manages its suicide prevention resources.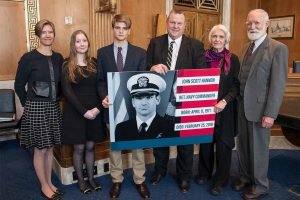 "People in distress and in need of timely care should face the fewest obstacles possible to get help," VA Secretary Robert Wilkie said after the bill was signed. "The bill President Trump signed today will soon make it easier for those at risk to be quickly connected to a trained responder and will help save lives."
The legislation is named for Navy SEAL Commander John Scott Hannon, who retired to Montana after 23 years of service and worked to help veterans find their own paths to recovery before he died by suicide Feb. 25, 2018.
"This is a very proud moment for my brother and our entire family," said Kim Parrott, Hannon's sister, on behalf of the Hannon family. "This law will provide veterans greater and earlier access to the mental health care they need by requiring the DOD and VA to work together to bridge the transition between military service and civilian life and conduct research in evidence-based treatments."
Tester said the new law "combines the best ideas from veterans, veterans service organizations, the VA, and mental health care advocates to deliver innovative solutions that'll help heal invisible wounds of war through increased access to care, alternate therapies and local treatment options."
Senators also agreed to try and fast-track a package of nine House bills also related to veterans suicide. That package — dubbed the COMPACT Act — features a measure by House Veterans' Affairs Committee Chairman Mark Takano, D-Calif., to make VA mental health care services available to all veterans, regardless of their discharge status, according to Military Times. It also seeks to bolster support networks for at-risk veterans and requires VA officials to reach out to veterans every few years to ensure they are aware of benefits and health care options.
"It's been a remarkable journey to get to this point, and I look forward to seeing the critical efforts laid out in this legislation to help our nation's heroes get the right care at the right time for their mental health conditions," said Matt Kuntz, executive director of the National Alliance on Mental Illness Montana, in a statement.