For the first time in Super Bowl history a formation consisting of a US Air Force B-2 Spirit, a B-1B Lancer, and a B-52 Stratofortress will conduct a military flyover at Raymond James Stadium in Tampa Bay, Florida. At the controls of the B-2 will be Capt. Sarah Kociuba, a pilot with more than 90 combat missions and 1,700 flying hours in five different aircraft on her resume.
Kociuba, better known for her call sign "Gucci," will meet up with two other long-range bombers over the Gulf of Mexico before they fly at 1,000 feet at about 300 mph over the stadium at the conclusion of Jazmine Sullivan and Eric Church's duet performance of "The Star-Spangled Banner." The round-trip flight will take between seven and eight hours, so the pilots, unfortunately, won't be able to watch the Tampa Bay Buccaneers square off against the Kansas City Chiefs in Super Bowl LV.
For 53 years the US military has participated in the Super Bowl flyover tradition with the National Football League. The first was organized by World War II veteran and NFL commissioner Pete Rozelle, and it was flown by the Air Force over Miami's Orange Bowl for Super Bowl II between the Green Bay Packers and the Oakland Raiders in 1968.
"Before these two great football teams take to the field, we'll present a real All-American team, the 11 most decorated flyers in the air force," Ernie Seiler, an official of the Orange Bowl committee, told Chicago Tribune reporter Clay Gowran. "As they're being introduced, there'll be a fly-over by fighters from the Homestead Air Force base. Then — wait until you catch this — the planes will give the signal for the downbeat which will launch that 1,000-piece band into the national anthem."
The plan was for the fighters to scream over the Dolphins' home stadium, signaling the band "by almost, but not quite, cracking the sound barrier," Seiler said.
The Packers went on to defeat the Raiders, 33-14.
A handful of NFL players who once wore a military uniform themselves have had the unique opportunity to watch these flyovers from the field. Most notably, Pittsburgh Steelers running back Rocky Bleier witnessed four of them as a player.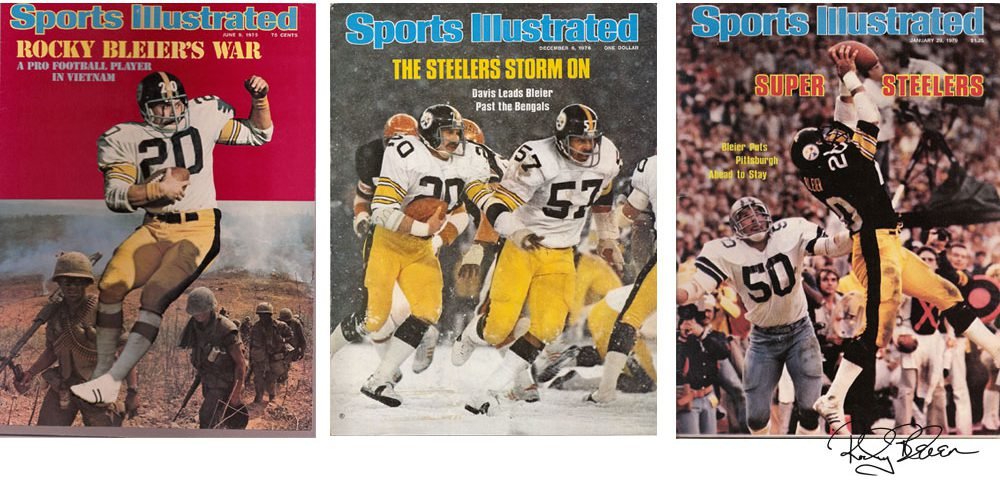 Bleier's remarkable journey of recovery after being wounded in Vietnam in August 1969 is the ultimate success story. He was on a patrol with his platoon from the Army's 196th Light Infantry Brigade in Hiep Duc when an enemy machine gun ambushed them. He hit the ground, aimed his M-79 grenade launcher in the direction of incoming fire, and felt what he thought was a rock hit him in the leg.
He looked down and saw two bullet holes and blood squirting from his thigh. A medic was nearby and patched him up, but then an enemy-thrown hand grenade landed and exploded. He had more than 100 pieces of shrapnel in his right foot, knee, and hip. It took 14 hours before he received any morphine, and gunships had to come on station overhead to help them escape.
Bleier worked out 10 hours a day in rehabilitation, motivated to return to the gridiron. In 1974 he was named a starting running back alongside Franco Harris. In the next six seasons he won four Super Bowls (IX, X, XIII, XIV).
The Air Force performs close to 1,000 flyovers each year in order to showcase "the capabilities of its aircraft while also inspiring patriotism and future generations of aviation enthusiasts." All of the jokes about costing taxpayers their hard-earned cash are, in fact, really just jokes because these flyovers serve as time-over-target training for pilots, aircrew, and ground control teams.
Read Next: US Army Reserve Veteran, NFL Hall of Famer, Kevin Greene Dies at 58