A Navy pilot is reportedly in stable condition after safely ejecting from an F/A-18E Super Hornet fighter jet that crashed in California on Tuesday.
"An F/A-18E Super Hornet from Naval Air Station Lemoore experienced a mishap at approximately 10:10 a.m. today during a routine training flight near Naval Air Weapons Station China Lake," Cmdr. Zachary Harrell, a spokesman for Naval Air Forces, said Tuesday.
"The pilot ejected safely and was taken to a local medical facility for examination," Harrell said.
The Super Hornet crashed in an open field, and local first responders responded to the site. While the wreckage reportedly started a small brush fire, there were no reported casualties on the ground. The cause of the crash is under investigation, the Navy said.
An inland air base located in California's Central Valley, Naval Air Station Lemoore is the Navy's newest and largest "master jet base" and home to Strike Fighter Wing Pacific. The designation of master jet base is given to Navy air bases that permanently house carrier-based tactical jet squadrons and carrier air wings.
Naval Air Weapons Station China Lake is among the Navy's top facilities for aviation and weapons research, development, acquisition, testing, and evaluation.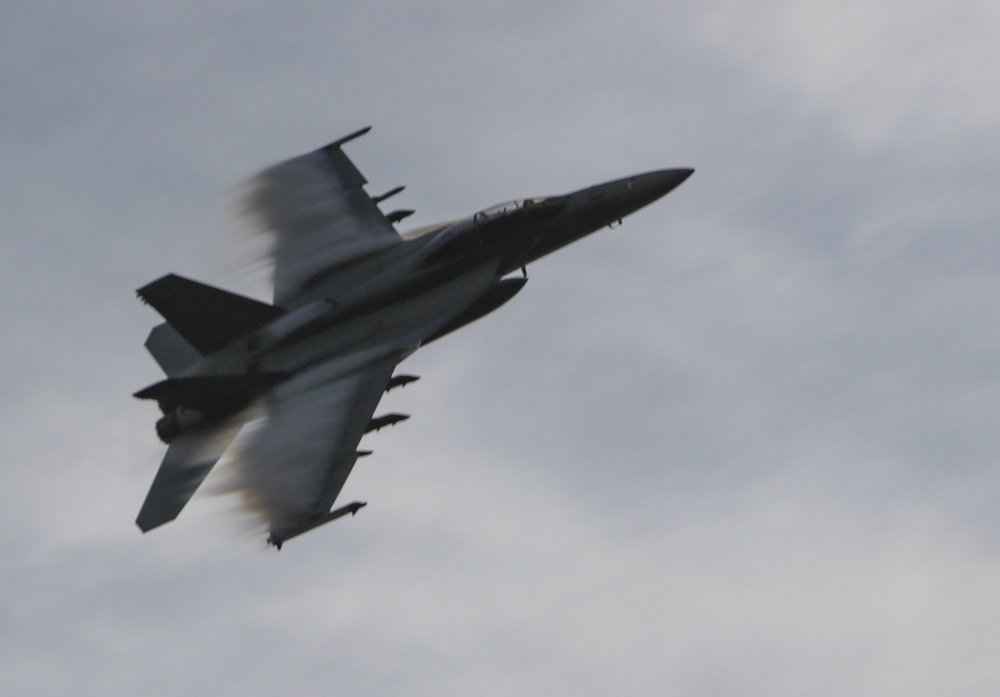 Tuesday's crash comes just three weeks after a Sept. 29 mishap in which a Marine Corps F-35B Lightning II warplane crashed following a collision with a KC-130J aerial tanker during an air-to-air refueling operation near the Salton Sea in Southern California.
The F-35 pilot ejected and survived, and all eight crew members of the KC-130J tanker survived after a forced landing in a farm field.
The F/A-18E is the Navy's primary strike and air superiority aircraft providing force projection, interdiction, and close and deep air support. Originally developed by McDonnell Douglas, which is now a part of Boeing, the Super Hornet first flew in 1995 and was introduced to naval battle groups in 2001.
The Super Hornets have been upgraded to new "blocks" over the years, integrating new technologies to improve weapons systems, performance, and survivability in combat. There are roughly 600 Super Hornets and their electronic warfare variant known as the Growler currently in service.