This article was originally published Aug. 11, 2020, on Army.mil.
By Dani Debehets
RAMSTEIN AIR BASE, Germany – On Aug. 11, U.S. soldiers and airmen assisted the United States Agency for International Development in transporting emergency medical kits from the Netherlands to Lebanon.
The medical supplies will provide assistance for victims of the Aug. 6 explosion in Beirut, along with those needing help from COVID-19.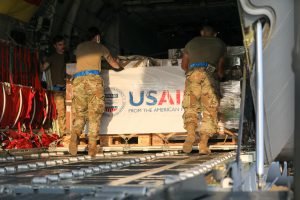 The 21st Theater Sustainment Command coordinated the movement of 21 pallets of supplies from the Netherlands to Ramstein Air Base, Germany, where members of the 86th Logistics Readiness Squadron, 721st Aerial Port Squadron and 1st Air and Space Communications Operations Squadron downloaded, prepared and loaded the nearly 12,000 pounds of supplies onto a U.S. Air Force C-130.
The International Emergency Medical Kits are designed to help local hospitals address critical medical needs and contain items such as medicines, bandages, gauze, examination gloves, thermometers and syringes. The medical kits will be delivered to several USAID partners, including the American University of Beirut and the Lebanese American University.