It's not that the backyard pool was remarkable in and of itself. Rather, it was the people swimming in it. Most of them had visible scars, some of them had fresh wounds that would eventually turn into scars, and one was even wearing a neck brace. Most of them held gold medals in a variety of extreme sports categories, and some of them had world records to their credit.
Two other things they had in common: a beer in one hand and a competitive spirit so strong that it regularly pushed them to the brink of a human's mental and physical limits. Coincidentally, those are also the two things required for a rousing game of "get the fuck out of the pool" — which they were all engaged in on a 100-degree July evening.
Welcome to Pastranaland.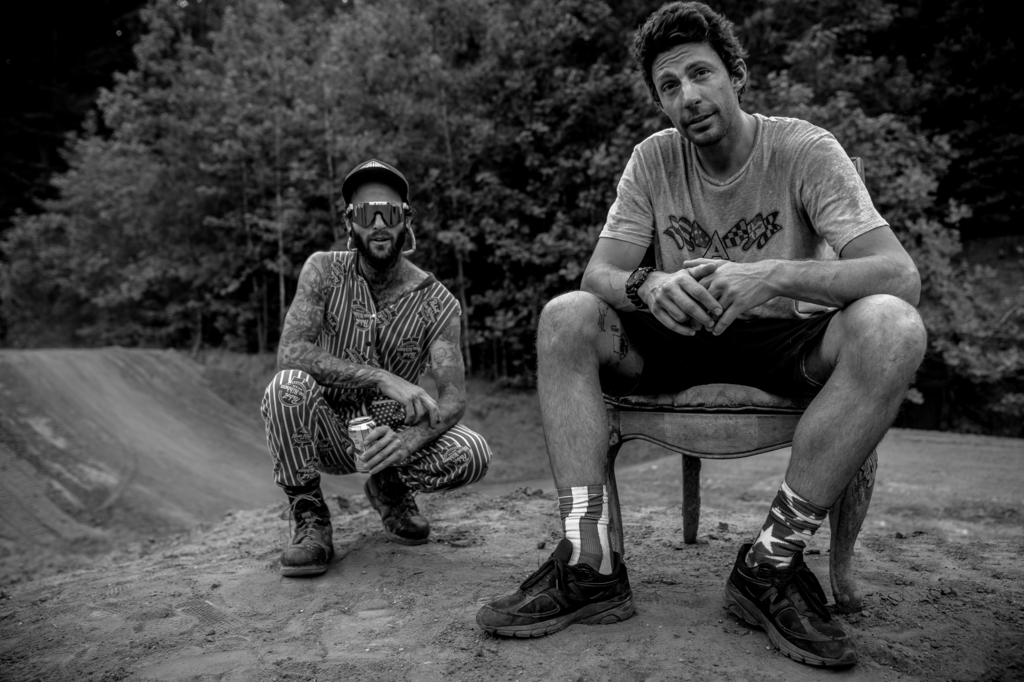 Travis Pastrana has defied death more times than most have faced it. At age 13 he started performing motocross stunts, and by 14 he had endured his first major accident (which left him in a wheelchair for three months). He was the only person to hold a gold medal for the first three years that MotoX Freestyle was an event at the X Games and was later the first rider to complete a double backflip in competition. He's raced in NASCAR, and he's jumped out of an airplane without a parachute.
It was that laundry list of experience that gave me the confidence to jump in on a ride with him behind the wheel earlier that day. But it was the fact that he had broken an unfathomable number of bones over the course of his career that kept me on edge. Indeed, as I strapped on my helmet and he adjusted the volume of the music, someone outside the vehicle asked him if he'd ever wrapped a RZR around a tree out there before.
"Nope," Pastrana responded. "But there's a first time for everything."
There's no such thing as a slow start with Pastrana. We tore out of his parking lot and into the forest trails, racing around hairpin turns and launching off ramps that would have us flying 50 feet off the ground at times.
I don't know how long the ride was, but I do know that my stomach was in my chest on multiple occasions. I don't know how fast we were going, but I do know that I thought we would end up wrapped around a tree on multiple occasions. I don't know the last time I had such an adrenaline rush, but I do know that riding with Travis Pastrana will go down as one of the most exciting things I have ever done.
After my introductory "tour" of Pastranaland, the entire Nitro Circus gang gathered at one of the racing courses deep in the woods. Pastrana picked team leaders who in turn picked their teams. The dirt course had plenty of ramps and hills to choose from, and before long the first heat was off — bikes launching off ramps and whipping around hairpin turns amid cheers from their teammates. It was an intense yet friendly competition among extraordinary athletes — just a normal day at Pastranaland.
Travis Pastrana's 65-acre property sits in the forests of Maryland about 30 minutes outside of the nation's capital. It holds a massive training complex built specifically for extreme athletes and stunt performers — filled with half-pipes, ramps of all shapes and sizes, a pit filled with foam cubes, and a fleet of off-road vehicles. This made it the perfect rendezvous point for the American daredevil (who once said, "I like pass/fail tests," in response to a question about his death-defying stunts) to invite a dozen of his closest friends out for the premiere of his new movie "Action Figures 2."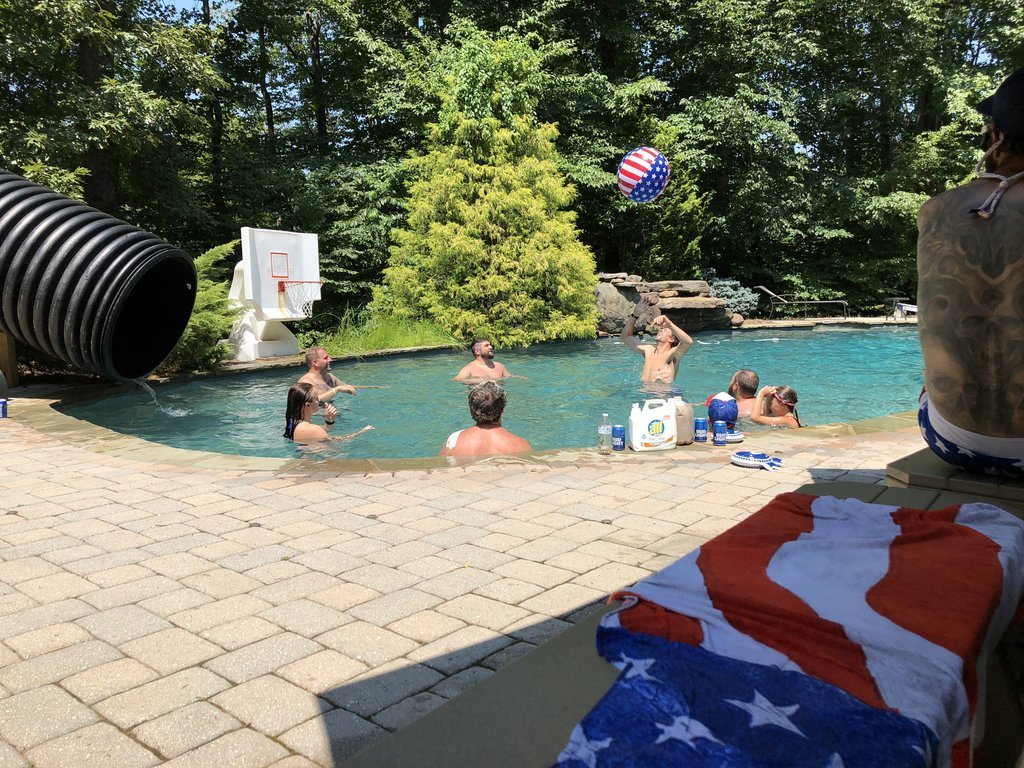 Pastrana's week-long celebration of adrenaline and America isn't for the timid. For example, "get the fuck out of the pool" is a game they created because getting comfortable in a pool and drinking a cold beer after a hard day of racing is too easy. How does it work? Everyone in the pool must have a beer in hand while a beach ball is served from person to person. If you cause the ball to hit the water (either by fumbled reception or bad serve) then you must immediately exit the pool — while everyone else shouts at you to "get the fuck out of the pool!" — and take a shot of whiskey before re-entering the pool.
I'm positive that it will be considered America's favorite competitive aquatic drinking sport some day.
It's no surprise that athletes at the top of their profession who regularly put their lives on the line in both training and competition take their leisure time to the same extremes. The same Type A personality and internal drive that results in the honor of earning a gold medal or a pink hat is not simply turned off when the helmet is hung up for the day. It's both a lifestyle and a life choice.
Pastranaland is home to all manner of performance vehicles from minibikes to race cars, but nothing less than a custom party bus spray-painted in red, white, and blue would suffice for an airport pick up of Chad Kagy. The four-time X Games gold medalist was arriving just before sun down, so Pastrana and company wrapped up the last round of "get the fuck out of the pool" and loaded onto the bus, complete with stereo system and coolers full of alcohol. A designated driver (not allowed to drink) was identified, and so began the arduous half-hour journey into D.C.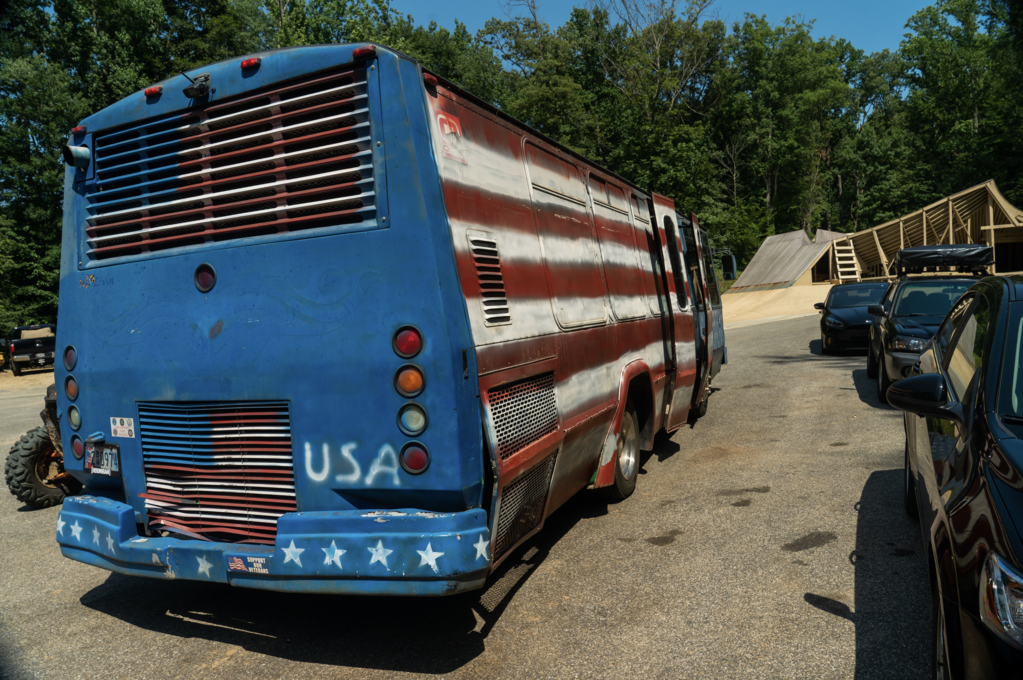 The doors to the bus had barely closed before the first grenade was tossed. Not the explosive fragmentation variety; the grenade in question was a travel-size bottle of liquor. The rules of the game are simple: The thrower must target someone who has at least one hand free with the grenade; if they don't catch it, they must drink it. If they do catch it, the person who threw it must drink it. Suffice it to say that a lack of hand-eye coordination can directly affect your level of sobriety on the Pastranaland bus.
Drinking and singing along to the music pumping through the sound system made the short drive seem even shorter. Before long, the bus grinded to a halt, the doors flew open — well, they were kicked open because they aren't completely operational — and Chad Kagy literally leaped onto the bus, out of the sweltering D.C. heat and into a shower of beer and cheers. Multiple grenades were flung his way, the music was turned back up ("Danger Zone," in case you were wondering), and the party bus embarked on its return journey to Pastranaland.
It's not the ramps, the racing, or the facilities that make Pastranaland what it is. It's not the alcohol or the bus. It's the people. Travis Pastrana embraces the ethos that you must be comfortable being uncomfortable, and that permeated through every facet of the day as he constantly encouraged his guests to venture outside of their comfort zone. At 34 years old, with a wife and two children and a career that would be the envy of most anyone, it would be easy for him to relax. But that's not who he is.
On July 8, he attempted three of Evel Knievel's most iconic — and dangerous — jumps in Las Vegas on live television. He made it look easy, completing the jumps while flying through exploding red, white, and blue fireworks to cheers of an enthusiastic crowd. Travis Pastrana has made a career of competing and showmanship, but it's his lifestyle of being a habitual one-upper who refuses to get comfortable that is most impressive.