MANBIJ, Syria —
Soldiers with the Syrian Democratic Forces spilled out of a house on the edge of an abandoned village northeast of the city center. One of them, speaking into his walkie-talkie, held up his hand to stop our car. The driver, an SDF escort, put it in park and rolled down his window. "He says it's not safe," the driver told us. "Turkish drones. The sky is full of drones."
In May, Turkey's President Recep Erdogan announced plans to invade the northern Syrian cities Manbij and Tal Rifaat to establish a 30-kilometer "security zone" between the two countries. So far this year, 47 Turkish drone strikes in the region have killed 16 and wounded 55, according to the Rojava Information Center. Villages have been shelled near daily.
After a meeting with President Joe Biden last week, Erdogan said there was "no need for hurry" and offered no timeline for the planned invasion. Yet Turkish troops continue to build up along the border. On Wednesday, July 6, the US-backed democratic Autonomous Administration of North and East Syria or AANES, which governs the region, declared a state of emergency.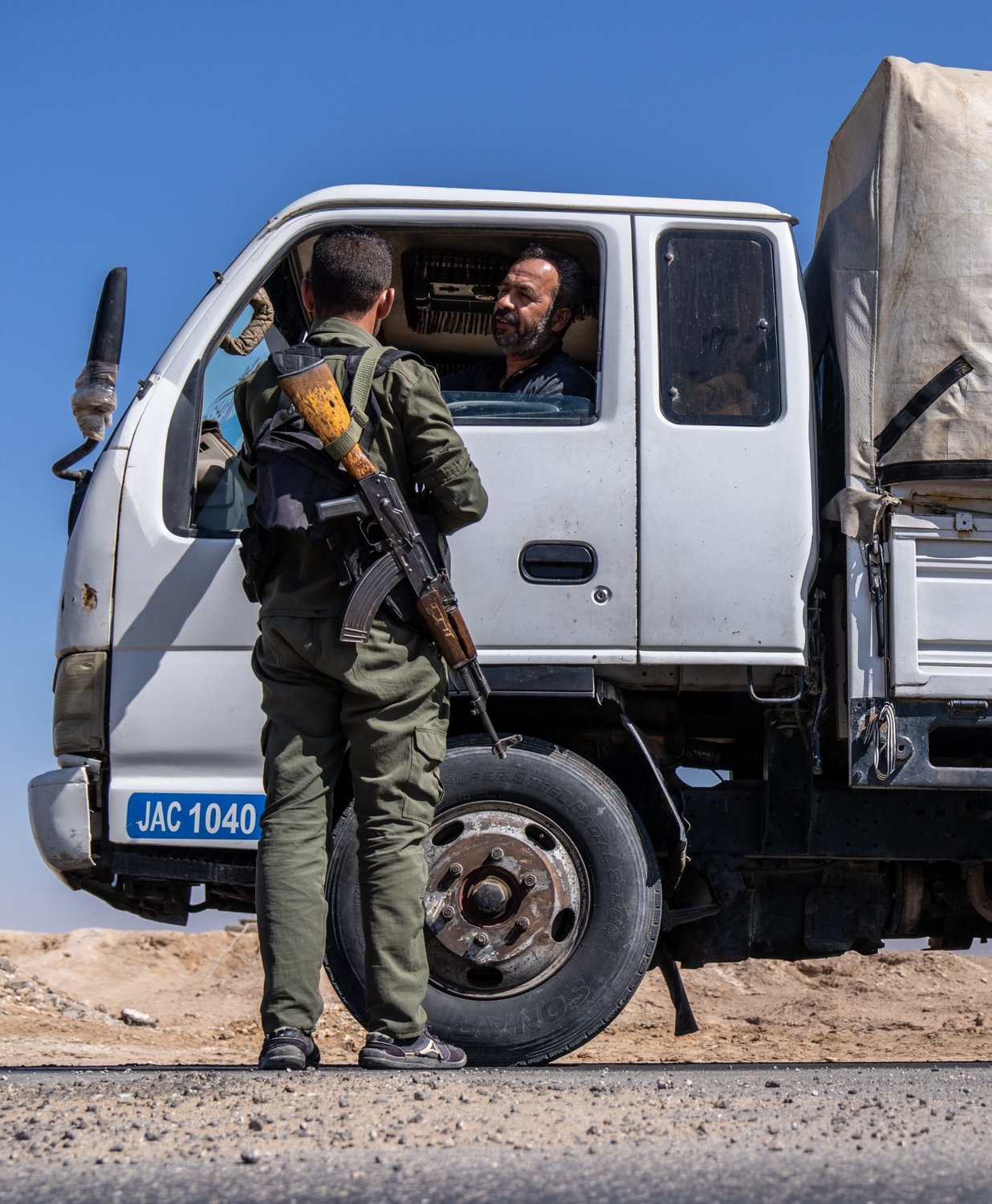 Syrian Democratic Forces, the military branch of the AANES, are on high alert, which we saw firsthand at the blockhouse checkpoint into the front. After a conversation with the soldiers, our driver returned. "We have to talk to their commander," he said.
We backed out and turned into the village of evacuated buildings. No one was visible until we rounded a corner — a grandmother in a hijab and a young man with three children were sitting on a porch, laughing. One of the girls had a small foil balloon, and I imagined they were having a birthday party. Some families — mostly farmers — haven't left the front, despite the risk. According to our driver, a Turkish sniper shot and killed a sheepherder in the area a few days before.
The commander met us at another house. We sat in a small room built on the roof, were served tea, and were told to wait. A soldier came in, sat, and lit a cigarette. An AK-47 leaned against a table next to a few small plants potted in tin cans.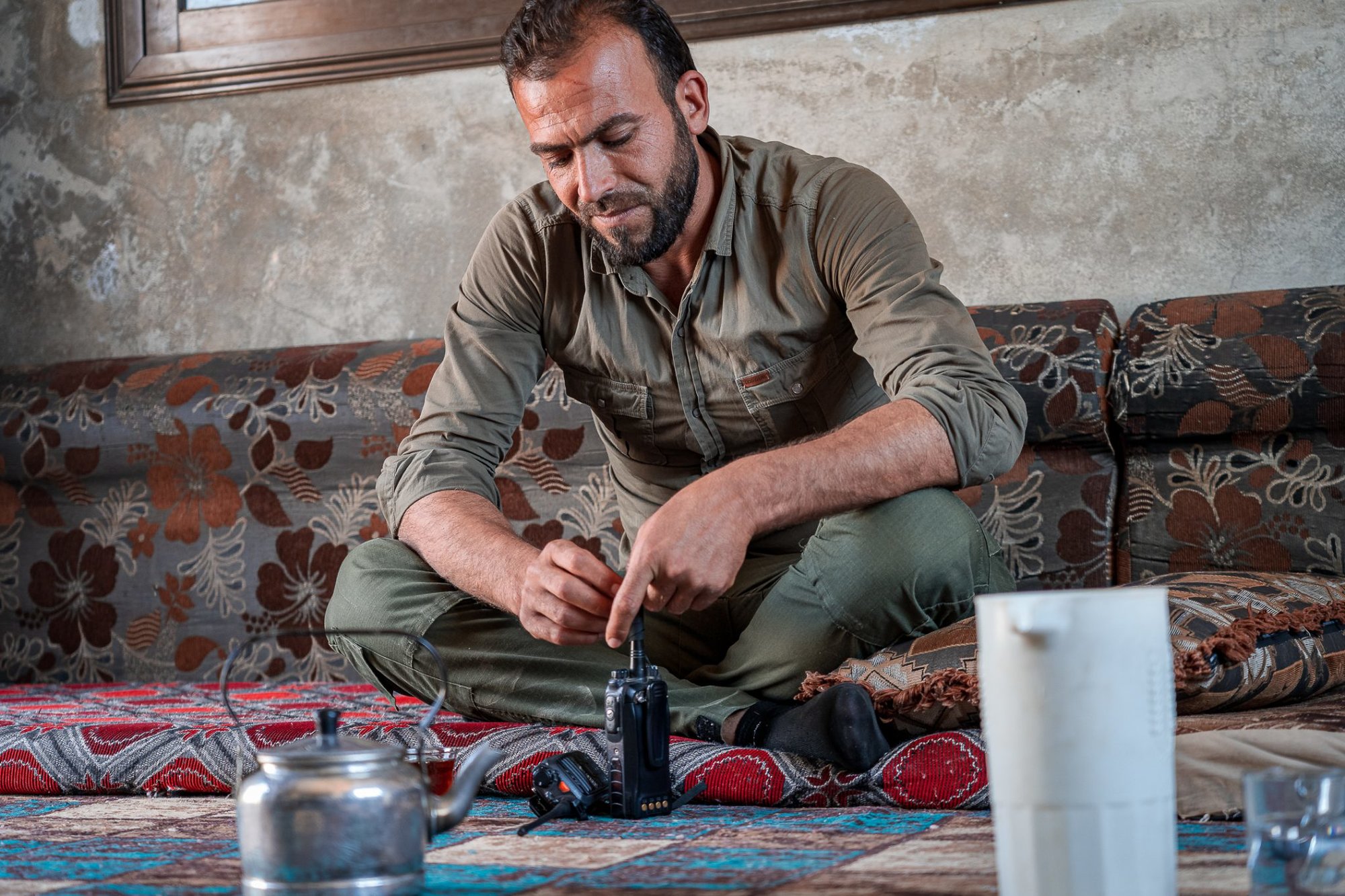 "What are you growing in those little cans by the AK?" I asked.
"Rayḥān. A plant that smells good," the soldier said. Basil.
"How old are you?" I asked him.
"Kobani," our translator interjected. "He said he's from a village outside Kobani."
"How long have you been in the service?"
"Eight years."
"So you were there for the Battle of Kobani?"
"Not in the city of Kobani, but in the villages of Kobani. Liberating the villages from ISIS."
The Turkey Problem
The Syrian Civil War started in 2011 as part of the broader Arab Spring movement. Protesters and armed rebels sought to take down the federal government of Bashar al-Assad, who has ruled the country since 2000, with his father before him in control since 1970.
Various foreign and domestic military forces have entered the conflict over the last 11 years — many with shifting alliances. Out of that chaos, the Islamic State of Iraq and Syria, or ISIS, came to power, bolstered by tens of thousands of foreign fighters who went to the region to wage jihad.
By October 2014, ISIS had captured much of north and east Syria, including 350 villages on the outskirts of the city of Kobani. US and coalition forces launched Operation Inherent Resolve to provide air support to fighters on the ground, including the People's Protection Unit (YPG) and sister unit, the Women's Protection Unit (YPJ). More than 80% of the city was destroyed in the brutal, street-by-street Battle of Kobani, but by April 2015, the US-backed democratic Syrian forces routed ISIS from the city and surrounding villages. It marked the first decisive blow to ISIS in the region — a bloody but victorious start to US relations with pro-democracy Syrians.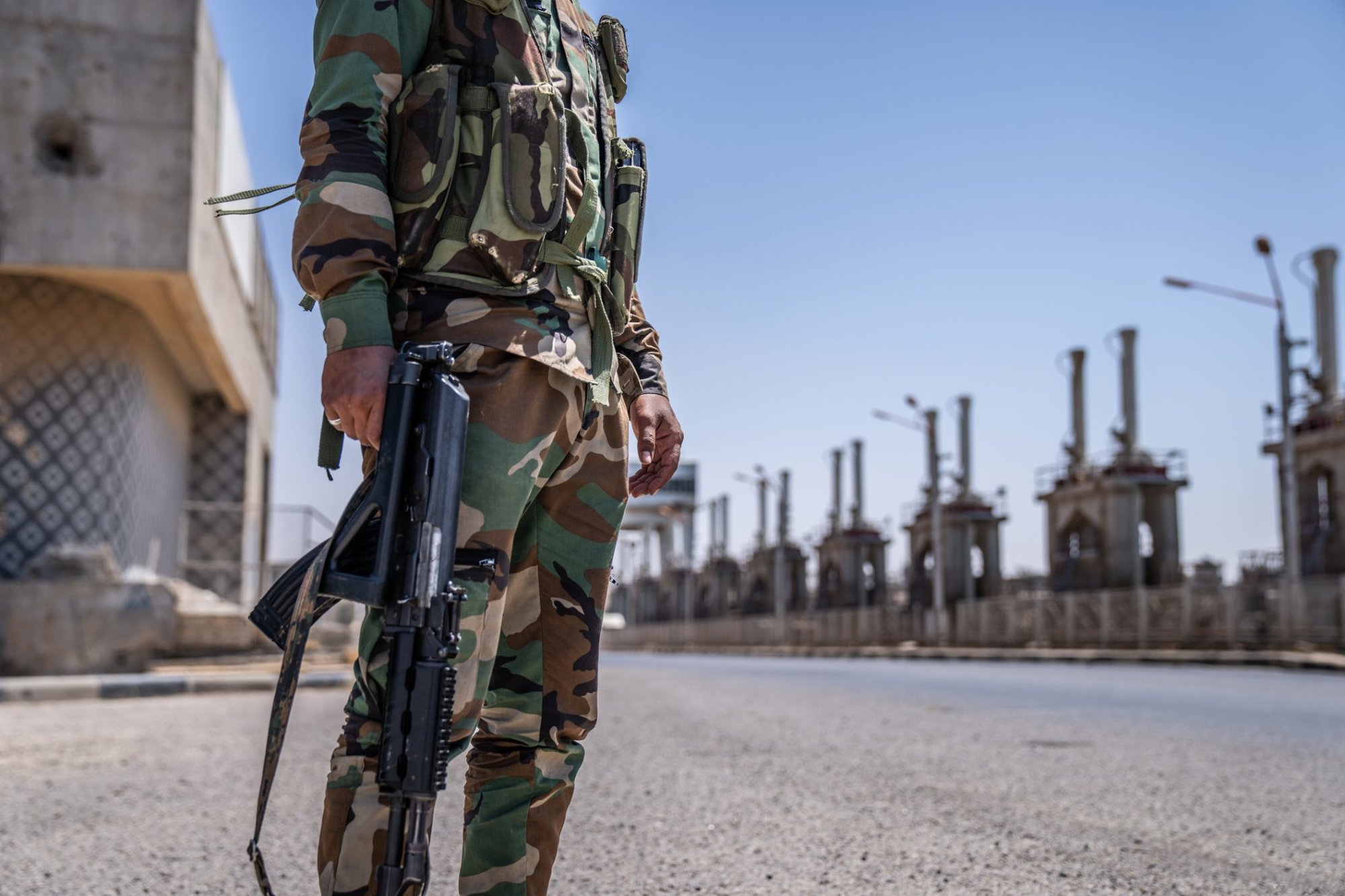 Arab, Kurdish, and other ethnic groups in Syria began to organize into what would become the AANES — an independent, democratic government for the region within, they hope, a larger federalized Syria. The US-backed units like YPG/YPJ and regional forces like the Manbij Military Council collected under the larger Syrian Democratic Forces umbrella. Erdogan soon made his position clear. In June 2015, he said Turkey would "never allow the establishment of a Kurdish state in northern Syria."
The Economist reported, "Turkey's chief concern is that Syrian Kurds might carve out a state for themselves, which would become a magnet for Turkey's own Kurds, who have at times called for self-rule within Turkey." With the AANES, established at the Third Conference of the Syrian Democratic Council on July 16, 2018, a regional government was carved out, but not an ethnic one. Seven regions within the AANES span most of the border with Turkey, from the now Turkish-held Afrin Region northwest of Aleppo to the Jazira Region and Deir ez-Zor on the western edge of Iraq. The majority population is Arab, who govern alongside Kurds, Turkmen, Yazidi, and other peoples.
Nevertheless, in 2016, Turkey launched Operation Euphrates Shield into northwest Syria against the SDF and secured Syrian ground along the border between Afrin and Manbij. In 2018, with Operation Olive Branch, Turkey captured Afrin City. In 2019, after President Donald Trump announced a withdrawal of US troops from northern Syria, Turkey invaded east of Manbij and took 1,800 square miles stretching between Tell Abyad and Ras al-Ayn. Sitting between these two captured regions is Manbij — flanked by Turkish-backed militant groups, including al Qaeda-affiliated Jabhat al-Nusra, according to SDF and AANES sources on the ground. Manbij is the next obvious target for Turkish forces, as it would connect their holdings to the west and east.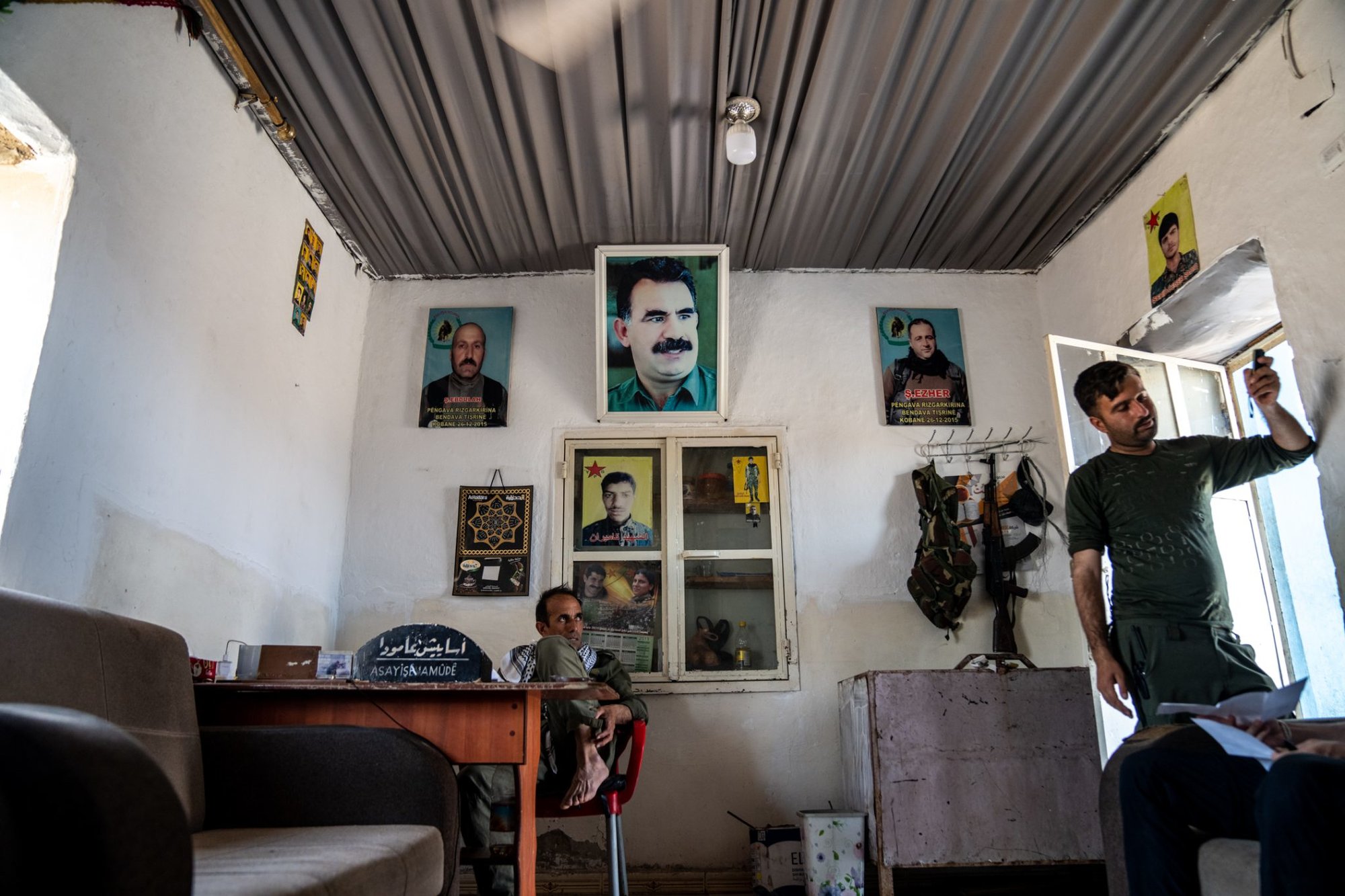 "We are defending our homeland," the soldier tells me as we wait at a safe house for clearance to go to the front lines. "Turkey is an occupying force. We will not allow Turkey to occupy our lands. They are threatening they'd like to bring back the Ottoman Empire."
The walkie-talkie erupts, ending our conversation.
"They're moving us from one position to the other without telling them where we are," the interpreter tells us. "They are sending distracting information."
The soldier stands up and nods. We file out of the room and down to our car, where he joins us. We snake through the village, and the country opens up into olive orchards far as the eye can see — rolling endless rows of trees that reminded me of almond groves in California's Central Valley. I joked it felt like Modesto but less dangerous. No one laughed.
High on a hill before us, maybe a half-mile out, are three concrete fortifications a few hundred meters apart. The driver tells us that's the line — a mix of SDF forces on one side and Turkey on the other, plus a blend of Assad regime forces, also hostile to the AANES effort, and Russia, which has told Turkey from the start not to invade Syria.
We pull up to what's ostensibly a fallback position — a concrete pillbox with a blue tarp for a door. Two young men popped out in shorts and T-shirts and slung AKs. The driver spoke to them, and they went back in, coming out a minute later buttoning up uniforms.
"I heard Turkey has focused on this area [in the Manbij countryside] because there isn't a strong military presence," I tell one soldier.
He laughs. "The military is heavily present here. We are in all the regions, not only in Manbij."
In the pillbox, a thin mattress leans against the wall. A Russian belt-fed PKM machine gun is mounted in a small window alongside a few AKs.
"Turkey is the second-largest military in NATO," I tell another soldier. "Do you think you can beat them back?"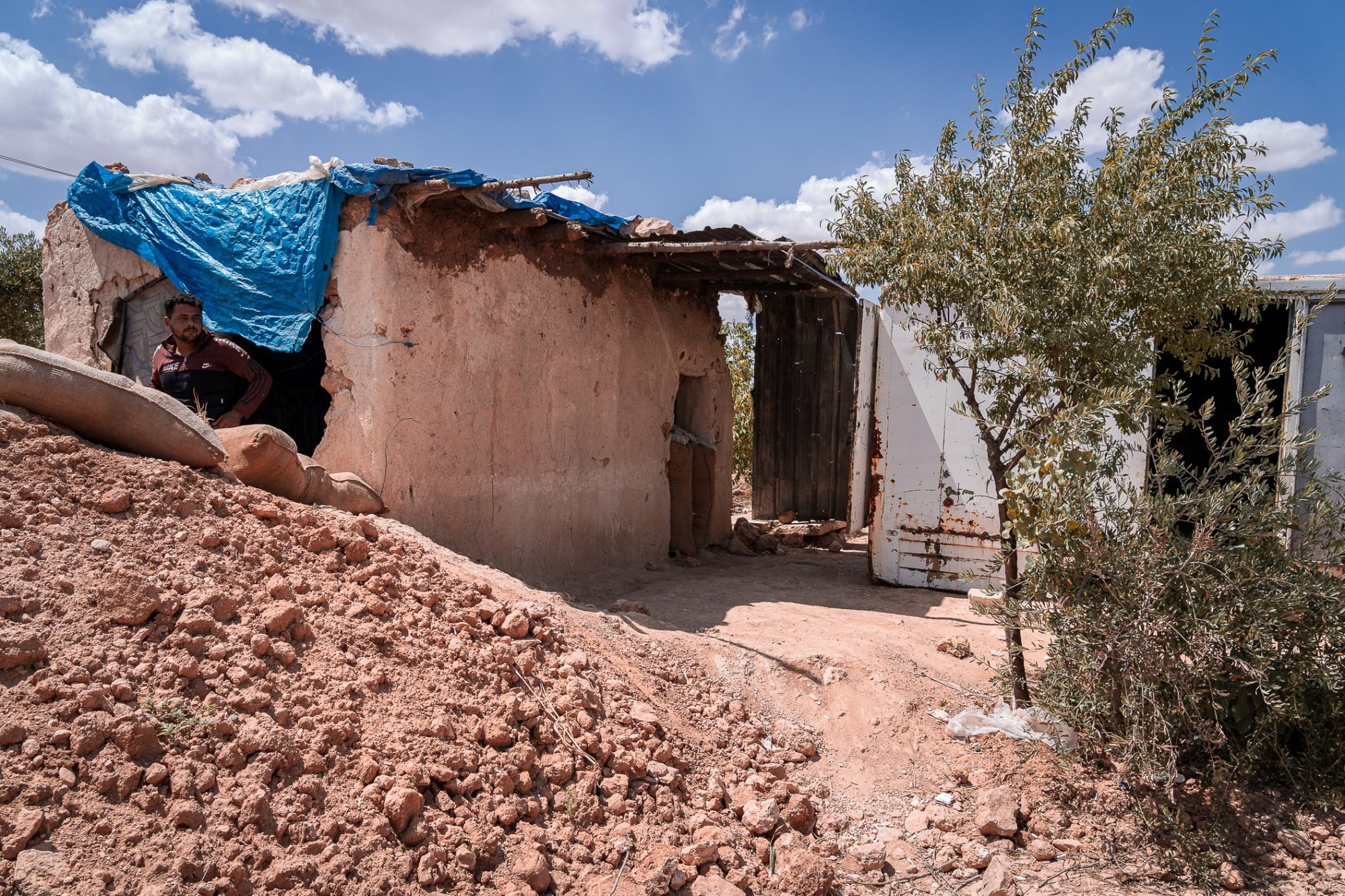 "Turkey sees the Kurds as a threat. This is why they are targeting our region. They don't want any place where the Kurds can enjoy equal rights with other citizens. [Turks] have a state of their own. They have a country of their own. The Kurds are a big ethnic group here and elsewhere in the region. All we want is to have equal rights just like the Turks and other peoples of this region."
Kurds within Turkey have long fought for equal rights. It's a common talking point within Kurdish Syria. Kurdish dress has long been banned in Turkey, and so has the Kurdish language, which still cannot be taught or used in schools or public institutions. Within the Social Contract of the AANES — effectively their version of the Bill of Rights — they declared all languages of all people could be used in education and public business. Many of the 90,000-plus children who attend school across the region have lessons in Arabic, Kurdish, and English, plus many other languages used by the region's people. The fear is that should Turkey control large swaths of north Syria, that will all end. It's also why AANES officials stress they have no intention to build a Kurdish nation-state in Syria. They see their own chance at freedom pegged to democratic values, with all ethnicities and political parties fairly represented in their new government.
"Now, the region and the people are safe," the soldier tells me. "You can go from here to Qamishli. It is safe. There is an organization, there is order, there is a system in place, but in the regions under the Turkish occupation, it's chaos. It's infighting between the different [military] factions, lack of security, lack of order."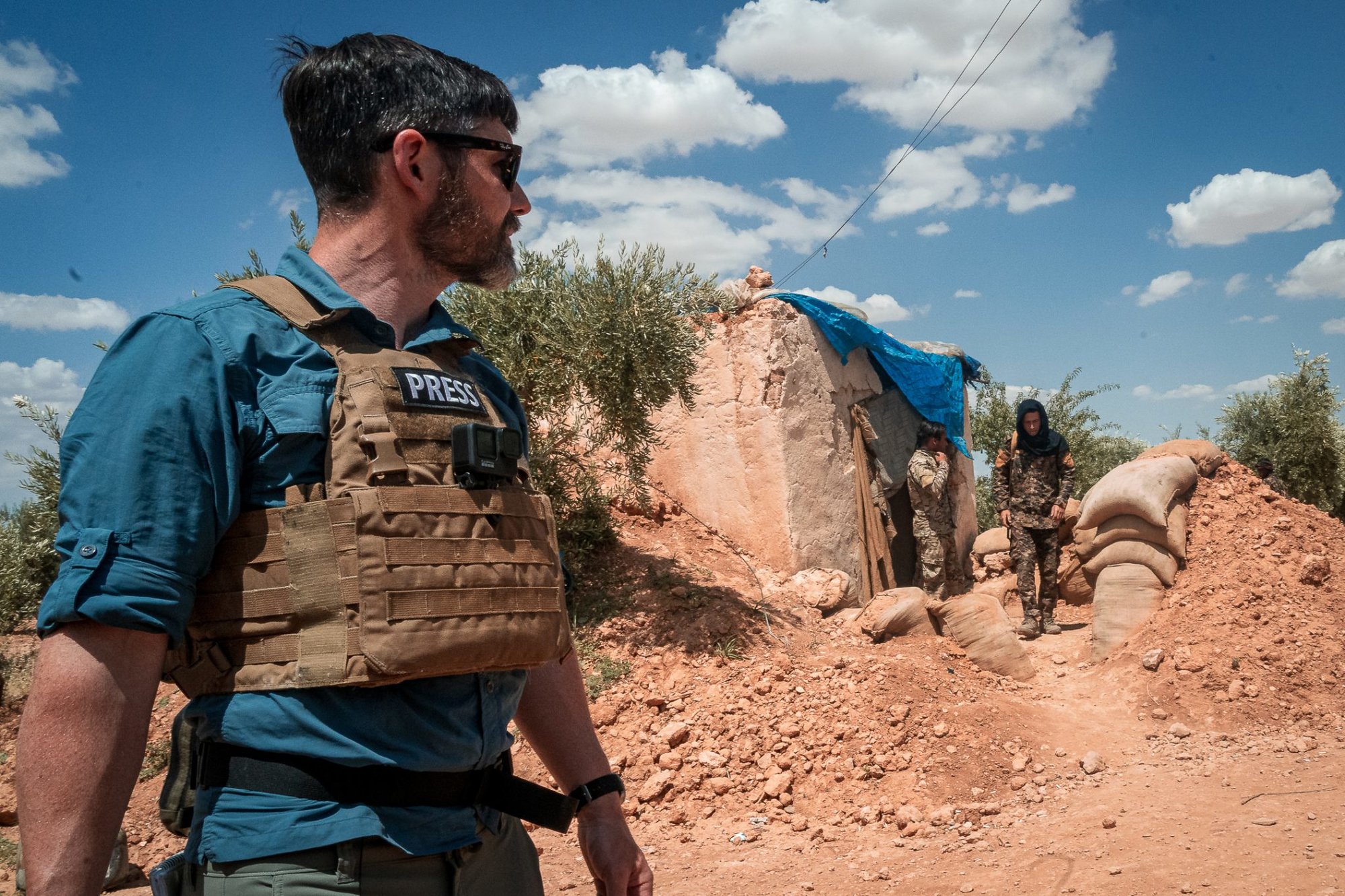 As we're talking, our driver with two soldiers comes over and tells us we should leave. I asked to stay for a few more minutes. Then we hear it: a crack and roar in the sky above. Everyone looks up. A Turkish F-16 cuts through the clouds. For a second, we all just stand there looking up, squinting against the sun.
"Okay," the driver says. "We're leaving."
No Piece of Cake
Muhammad Abu Adel, chair of the Manbij Military Council, heads the region's defense for the SDF. He is a big man in a polo shirt, slacks, and black loafers. He and many of his troops have been combatants in the Syrian Civil War from the start, first against the Assad regime, then ISIS, and now Turkey.
We meet at his base near a stack of industrial grain silos, the tops of which were blasted to rubble by coalition air support in the battle against ISIS. Abu Adel and his peers have asked the US to intervene and stop another Turkish invasion. By all accounts, US policy on Syria is in shambles, with no explicit or public position.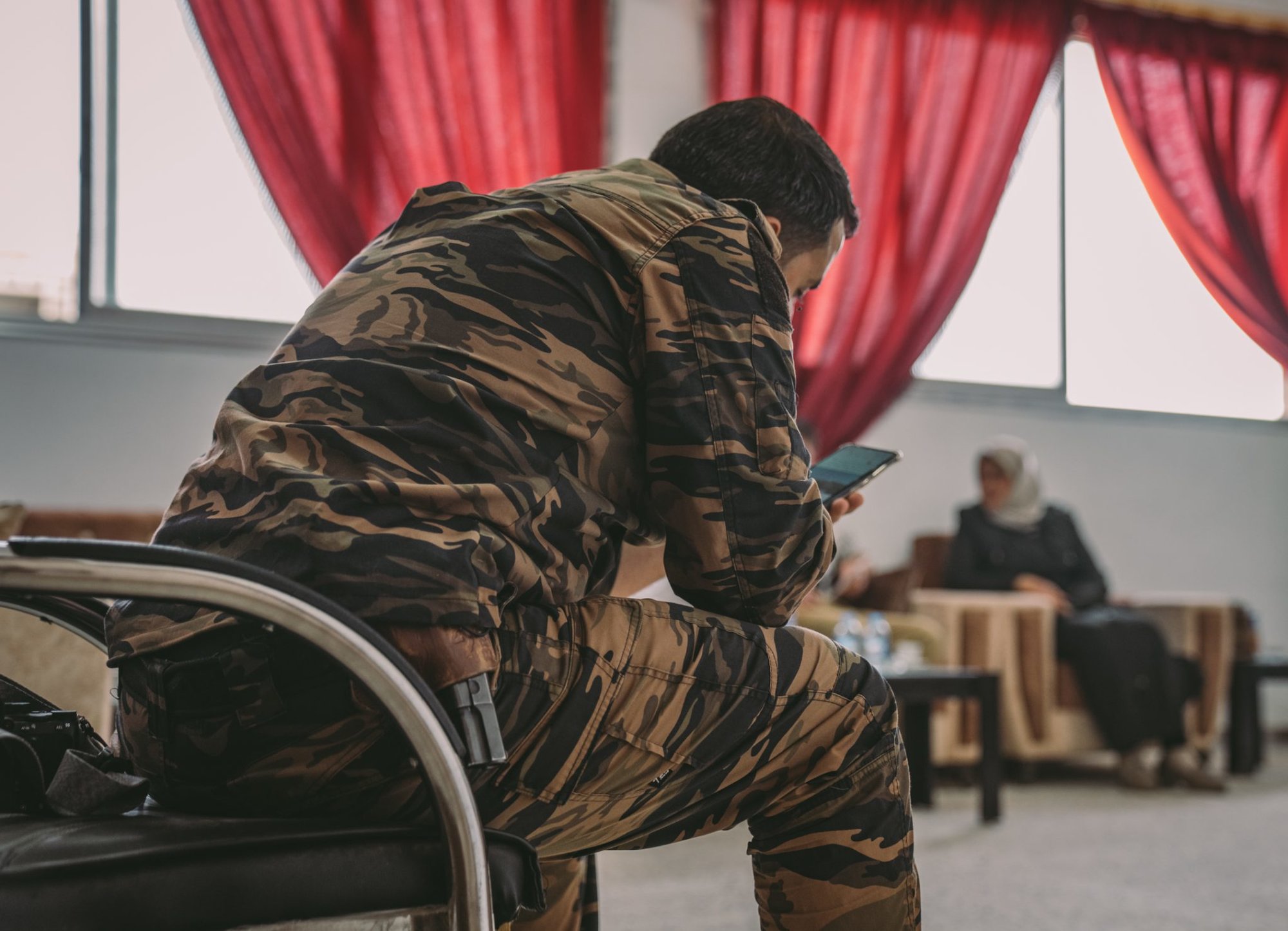 "We took lessons from the previous Turkish invasion," Abu Adel tells me. "We have our preparations. Of course, we are no match for Turkey, the second-largest army in NATO, but we will do our best to cause them as many casualties as possible. Manbij will not be a piece of cake."
Abu Adel and other military leaders in the SDF have asked for a no-fly zone over Syria. They have asked for air defense systems. Mostly they've been met with silence. Operation Inherent Resolve is still in effect in Syria. The official focus remains ISIS sleeper cells in the southern region of Deir ez-Zor — even though ISIS leaders have routinely been captured or killed in the Turkish-controlled areas of northern Syria. In fact, every major high-value ISIS target that has been captured or killed in northern Syria in the last few years was operating in a Turkish-controlled region. Turkey, many in the region allege, is second only to Iran in its state sponsorship of terrorism.
"If they are not superior in the sky, then let all the Turkish army come," Abu Adel says. "They would get so many casualties they would have to stop."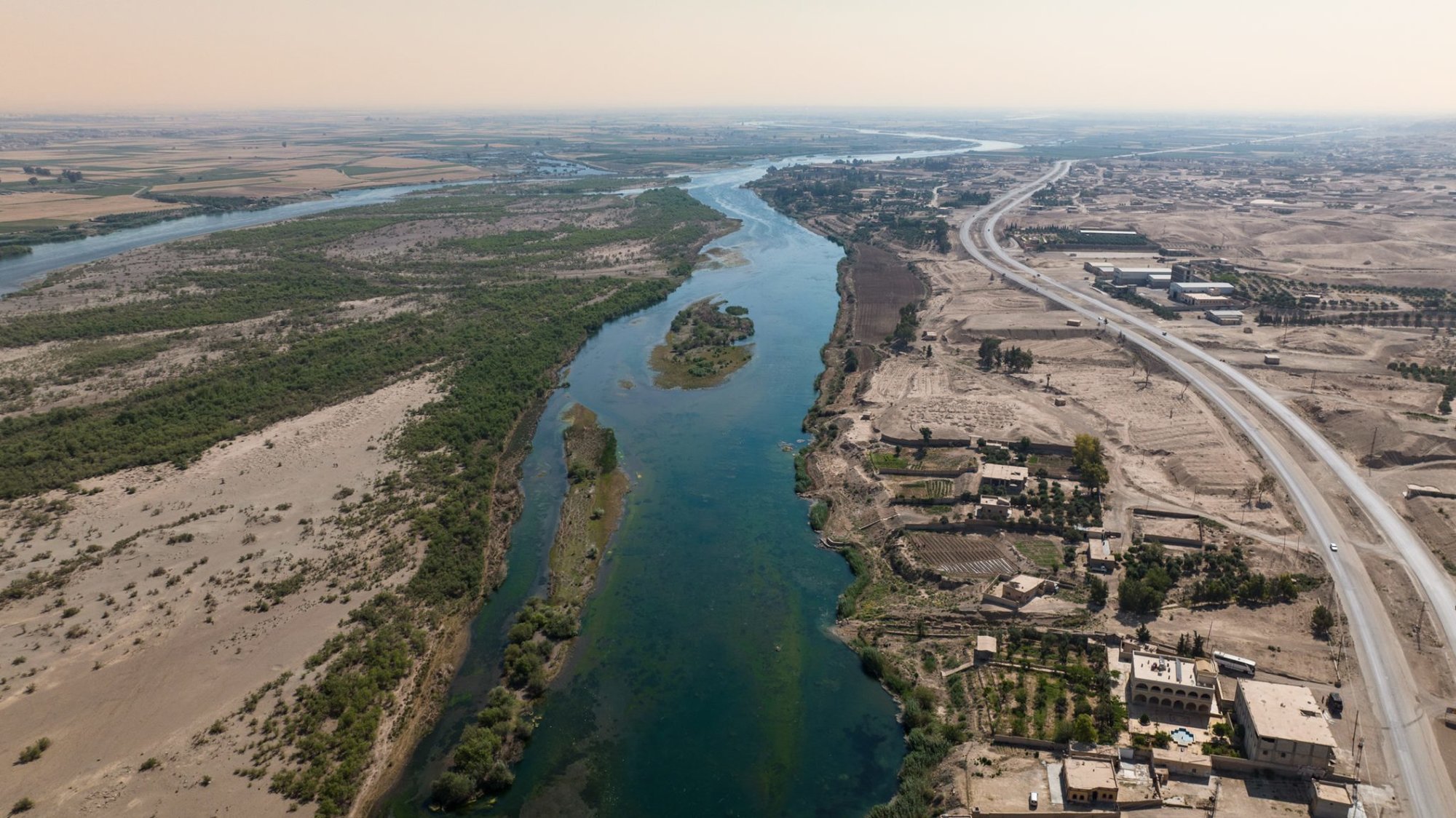 We are sitting on couches in his office. An aide comes in and out. At one point, Abu Adel points to him. "ISIS killed his brother, but he has killed many ISIS fighters — with the US. We have all shed blood with the US."
He takes a sip of tea and lights a cigarette. After a long drag, he says, "Stingers. Only give us some Stingers, and we could beat them all back. If we get only 1% of Ukraine's support, let everyone attack us."
After Trump pulled out of the region in 2019, Abu Adel said his US military counterparts in the region met him with tears in their eyes and apologized.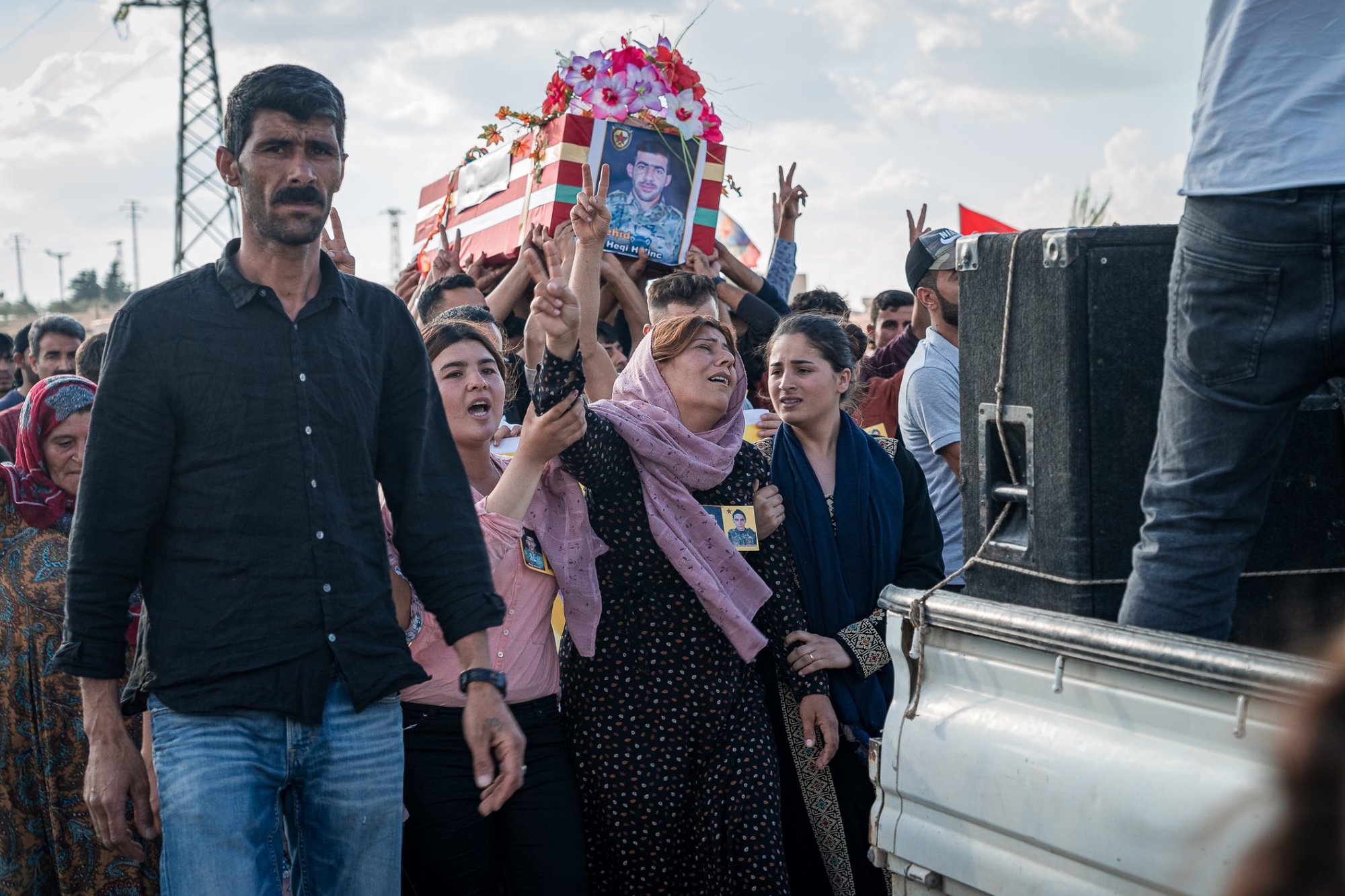 "This is my personal opinion. It's not an official opinion," he said. "I consider the US withdrawal from this region, abruptly, without notifying us, as a betrayal. There is no other word for it. I shed blood in the fight against ISIS. You were providing air support to me. You were with me. All of a sudden, you leave me alone to face the same thing again with Turkey? I understand that Turkey is a member of NATO. The US decision to withdraw would make sense if we were found to be a threat to Turkey if we were attacking Turkey. I challenge you to find one incident that we have attacked Turkey from this region. It doesn't exist."
Abu Adel took another long drag on his cigarette like a man resigned to his fate. In the olive orchards around Manbij, thousands of his troops stood ready for another war in a seemingly endless series of wars for the people of north and east Syria. This time, for now, they stand alone.
"We hope that the US relations with Turkey don't come at our expense," he said. "We do not want to pay that price."
Read Next: ISIS Leader Captured by US-Led Coalition in Syria