On an exhausting day full of seemingly endless training tests stretched across miles of Texas Hill Country on the Reveille Peak Ranch, just 13 of the original 14 two-man TACP teams remained in the 2020 Lightning Challenge. After one team dropped from the competition due to health concerns, the rest of the competitors pressed on, eyeing the prize of earning the title of best TACPs in the Air Force.
Bruised and sometimes bloodied by the previous three days, the highly lethal TACP specialists, who are some of the only individuals officially rated as a weapon system in the Air Force, set out on a clear, windy morning, trekking from station to station in full kit to complete a round-robin-style event that tested the airmen on 14 skills over roughly 10 hours.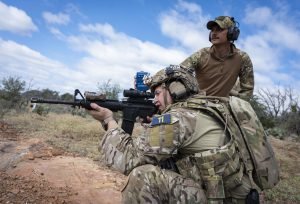 The TACP specialists were tested on skills ranging from a number of dynamic shooting events to configuring and using field-expedient antennas, calling in a 9-line medevac, using Special Warfare Assault Kit technology, and more.
TACP veteran and Black Rifle Coffee Company co-founder Jarred Taylor visited the ranch and met with cadre and competitors on several of the training stations. Taylor, who served as an instructor at the TACP schoolhouse, reminisced with former students and cracked wise with competitors throughout the day.
As a former member of the 14th Air Support Operations Squadron, Taylor was rooting for the team from his former unit.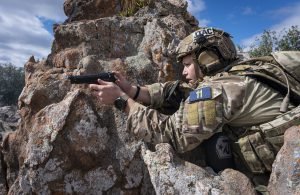 "As they're getting instructions, they don't even need all of the instructions," Taylor said at the station where competitors were tested on building and using field-expedient antennas. "They were like, 'Oh, what's the test? We got it. We're going to do it faster than anyone else, which is generally the type of person that comes out of the 14th ASOS."
After Staff Sgts. Aaron Conway and Brandon Cooke completed the task with the fastest time of the day, Taylor couldn't help but dote.
"Well, my boys have made me proud," Taylor said. "They came in here, slayed this — fastest time out of any other team. They got comms faster than anybody. They just did all around better."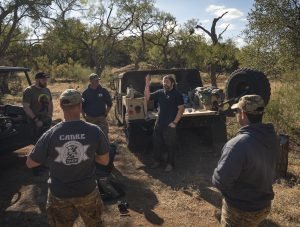 After a mostly cold and rainy week, the Texas sun finally emerged amid spotty clouds in the afternoon, painting the Hill Country landscape in gold and magenta hues as competitors trekked for miles across rocky, dirt trails to find and complete each station.
As evening approached, the TACPs looked haggard and sweaty, but spirits were high as a picturesque sunset painted the horizon, seeming to promise a reprieve from the grueling week soon enough. As they put Day 4 in the books, the competitors looked forward to Friday and the final victory of completing the 2020 Lightning Challenge.