President Joe Biden announced Wednesday that American troops will remain in Afghanistan beyond the May 1 withdrawal date set forth by the Doha Agreement. Administration officials, who said they didn't want a "rushed" exit, set Sept. 11, 2021, as the new target date.
Right on cue, the Taliban, America's somewhat social-media savvy opponent, took the fight to Twitter, promising a "nightmare" for US troops if they remain in the country past May 1. Although the Taliban missed the irony that the war in Afghanistan will have enough "service time" to retire on 9/11/21, they did have plenty of threats — sometimes amusing — to levy against Americans who would remain in the country.
It's important not to discount the seriousness of the Taliban. If nothing else, the militant group has proven to be a resilient opponent. Over the course of two decades, they've absorbed heavy casualties and, according to some, are poised to regain control of Afghanistan following a US exit.
However, threatening kinetic operations with less-than-spicy rhetoric is something the Taliban are prone to doing. While translating Pashto to English is difficult and interpretations can vary, intentionally or not, Taliban threats on social media do make for awkward exchanges.
In order to get the full flavor of these exchanges, we need to travel back nearly a decade to when Twitter was first coming into its own.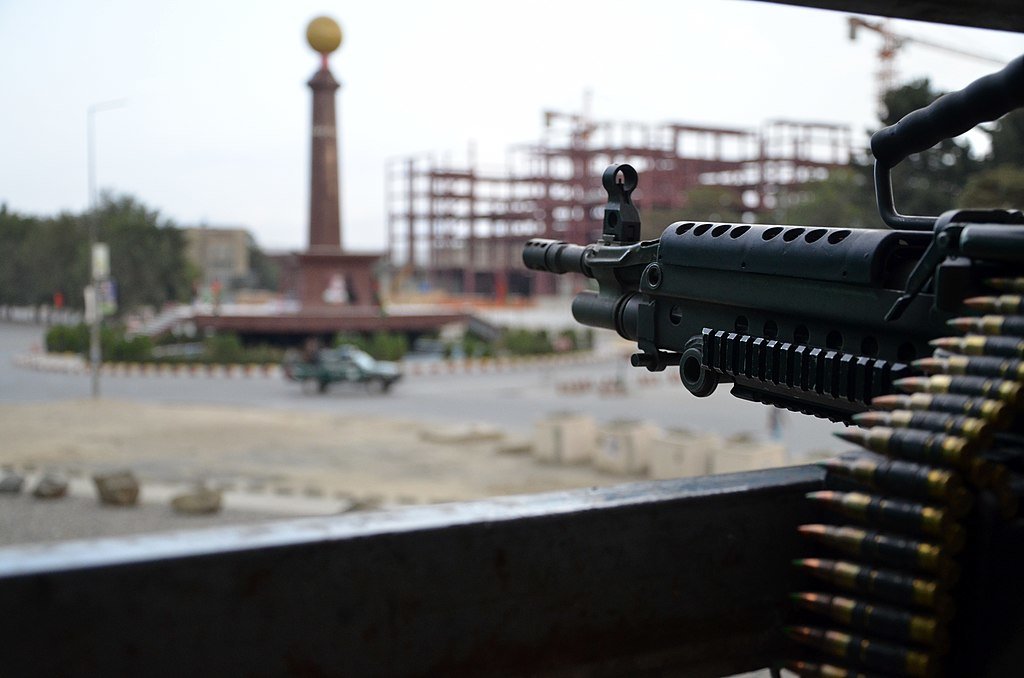 In September 2011, while Americans at the US Embassy in Kabul were fending off Taliban attackers attempting to seize the compound, the International Security Assistance Force and Taliban Twitter accounts were trading virtual rounds:
"How much longer will terrorists put innocent Afghans in harm's way," @isafmedia demanded of the Taliban spokesman on the second day of the embassy attack.
"I dnt knw. U hve bn pttng thm n 'harm's way' fr da pst 10 yrs. Razd whole vilgs n mrkts. n stil hv da nrve to tlk bout 'harm's way,' " responded Abdulqahar Balkhi, one of the Taliban's Twitter warriors, who uses the handle ­@ABalkhi.
Then, as now, the law of the jungle reigns in the Twitterverse. One simply cannot stop the passive aggression — just hope to contain it.
On Dec. 9, 2011, @ABalkhi tweeted that "@isafmedia continue genocide of Afghans: ISAF terrorists beat defenseless man to death."
@isafmedia shot back: "Sorry @ABalkhi: looting and beating innocents NOT part of ISAF practices during routine searches."
@ABalkhi then linked to a summer 2010 video depicting abuse by a rogue platoon of soldiers in Kandahar Province. "@isafmedia too true. You only shoot and loot for fun!!!" Balkhi tweeted.
Even during full-fledged war that spills onto the internet, schoolyard-style insults show up. "You do too!" seems to have seized the day on Twitter, just as it does on the playground. Maybe ISAF should have gone full South Park and responded with, "No, you're a towel!"
For the record, Balkhi's account has since been suspended. Was he on the receiving end of an A-10, or merely a casualty of being too pithy, and therefore a violator of Twitter's terms of service? We may never know.
Speaking of A-10s, in 2018 the US Air Force got in on the action and couldn't help but flex after one of the jets apparently had solid effects on target following a gun run.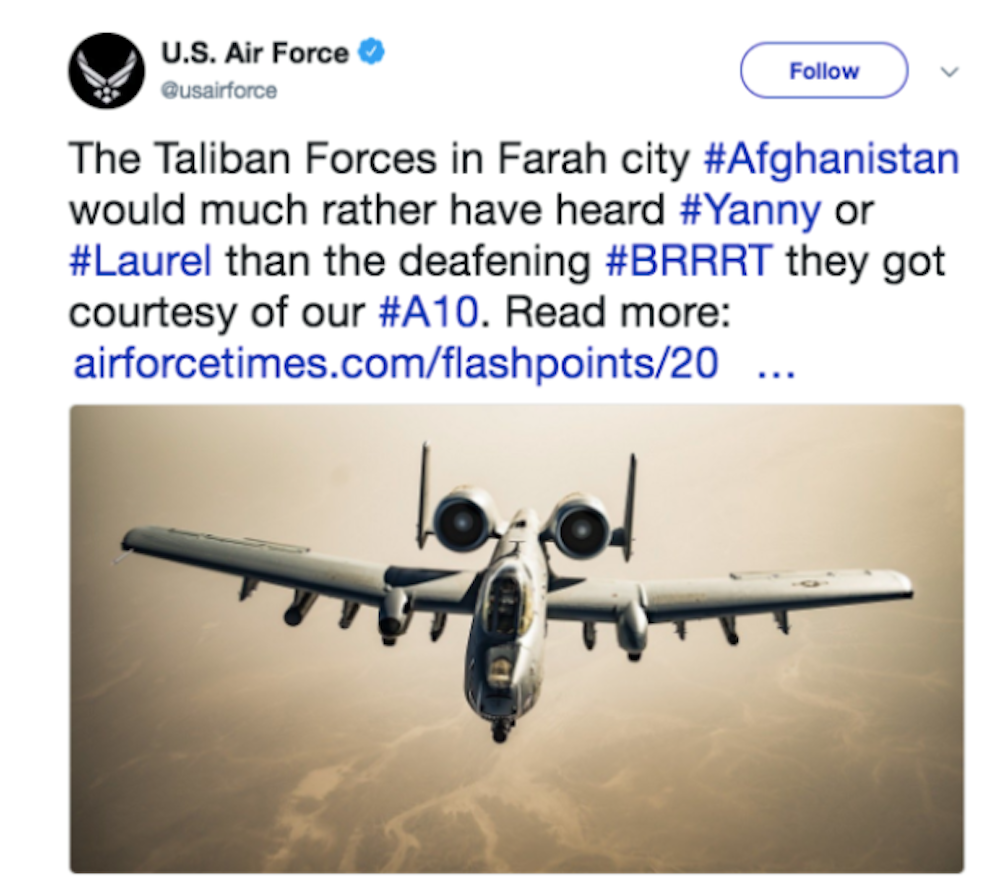 The tweet played off the viral "Laurel or Yanny" debate that swept parts of the internet. The Air Force later took the tweet down, saying it had been "made in poor taste." Good call — it's a safe assumption that rocking Yanni is not something most grunts would admit to.
Following Biden's announcement on Wednesday, the Taliban turned to Twitter to both threaten and "mean tweet" Americans.
Zabihullah, the official spokesman of the Taliban on Twitter, put out a statement that was simple enough to interpret.
@Hafiz_Fida1 then replied with something a bit awkward and potentially a violation of Taliban operational security.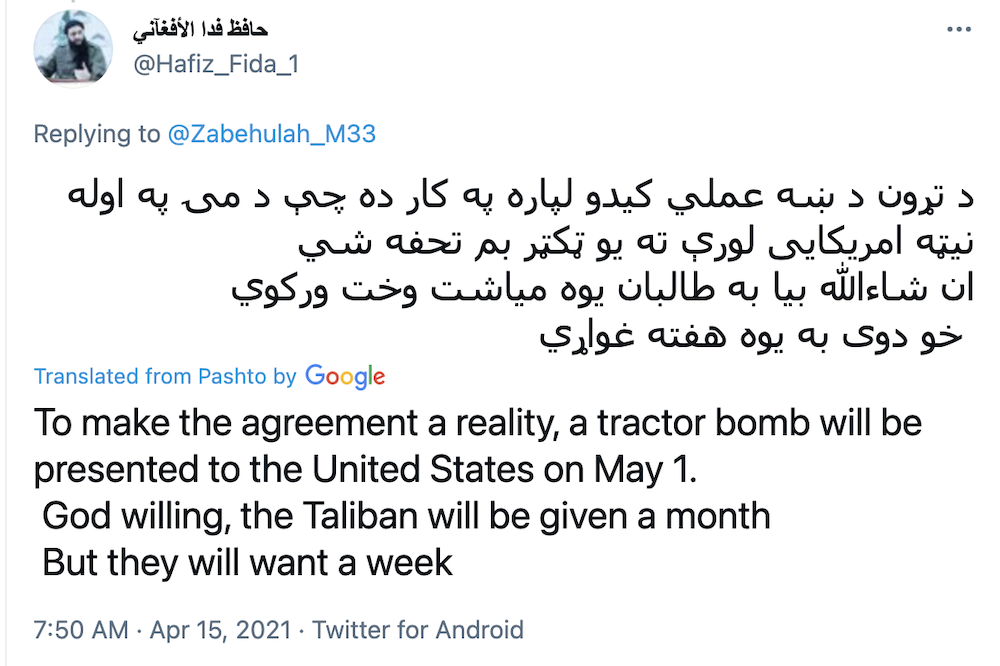 While the threat of delivering an improvised explosive device is fairly straightforward, the tweet leaves readers with questions. For starters, there's an issue of logistics. The US mail system has been gummed up for some time, so that tractor should already be in the mail. A "death plow" moving at 8 mph isn't the most intimidating of prospects; it sounds more like the premise of a Monty Python sketch than a credible threat.
Another user was quick to address this violation of OPSEC, this time by name-dropping a specific group that may have been planning to deliver the "Trojan Deere." Whoops.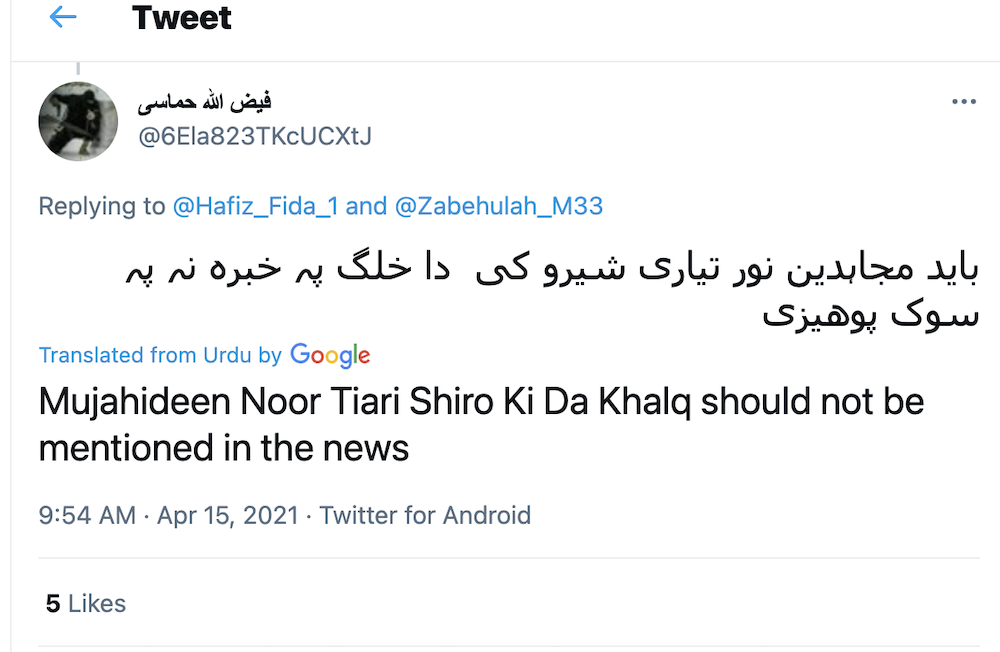 One would hope some entrepreneurial-signals-intercept and intelligence professionals have spotted this.
Next is user @rajustar02, who seemingly upped the ante by alleging that the Taliban would move the fight from the battlefield to the kitchen.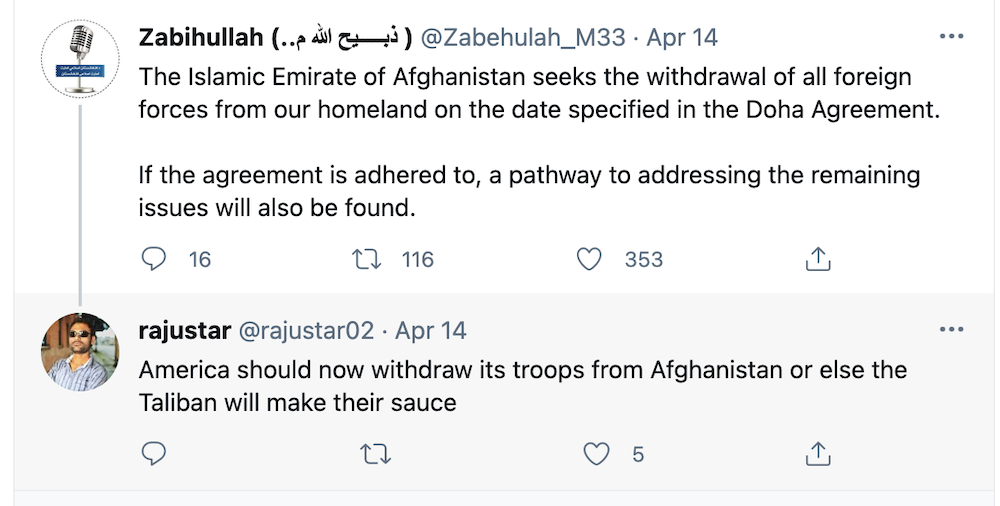 If it comes to a battle of the "sauce," perhaps the Biden administration should enlist chef Gordon Ramsay into the ranks. His son did just join the Royal Marine Corps, after all.
Finally, as with all things Twitter related, the comments devolved into personal attacks.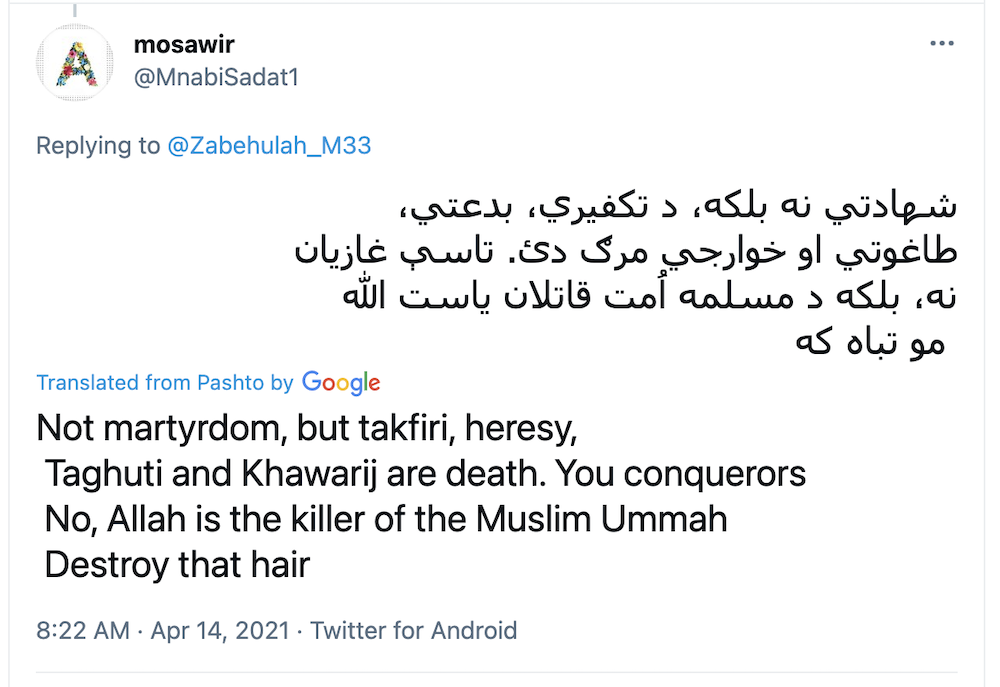 User Moswair covered a lot of ground with that tweet. Accusations based on religion are one thing, but going after someone's hair? That's a bridge too far.
Read Next: US Troops in Erbil Targeted with Armed Drone for 1st Time