Nevertheless, she persisted.
Despite growing up poor, losing her legs as a UH-60 Black Hawk pilot in Iraq, and narrowly losing her first Congressional election in a campaign with "racist ads," Sen. Tammy Duckworth persisted.
As a retired Army Reserve and National Guard officer of 23 years, a former Department of Veterans Affairs executive, and a military spouse and mother of two daughters, Duckworth has seen her persistence pay off.
In Every Day Is a Gift: A Memoir, Duckworth writes about a life of grit. From battling hunger and poverty as a child to recovering from nearly mortal war wounds, Duckworth expects no sympathy and, in turn, elicits respect. There's little time for tears in the book, but there is sufficient space for smiles, including pilot Duckworth's telling a favorite joke about an atheist and a blow job.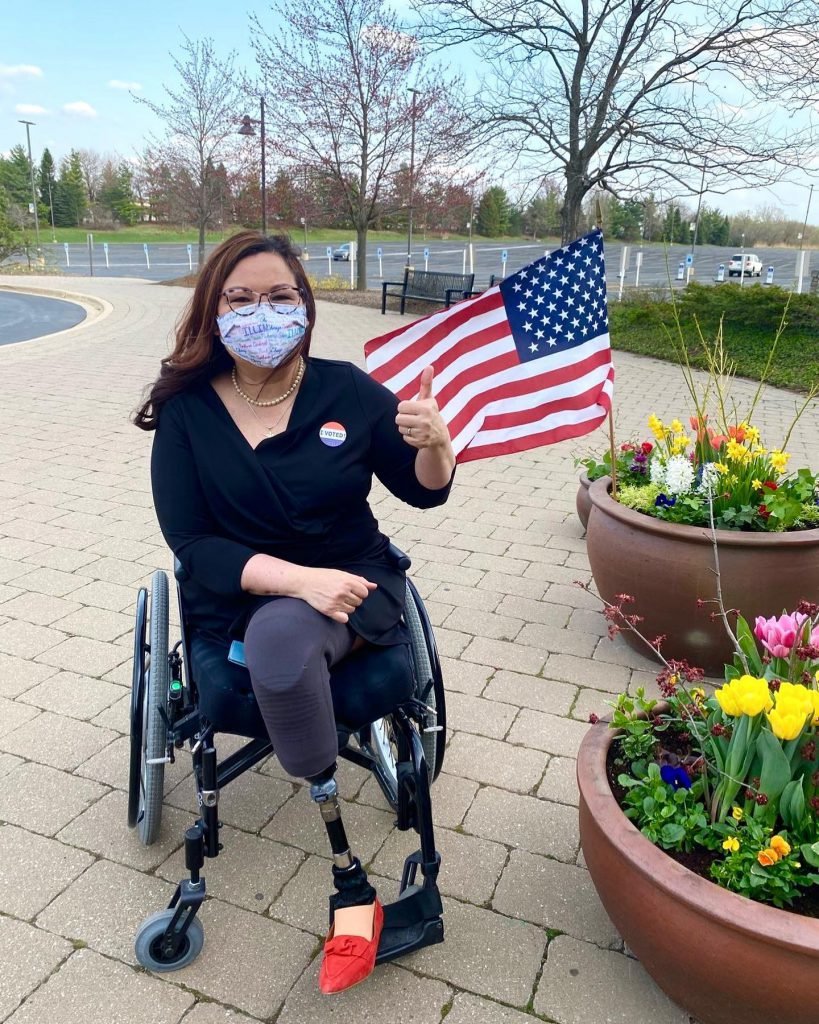 Duckworth recalls her life as the daughter of a "six-foot-tall American dad and a five-foot-tall Thai Chinese mom." As her disabled-veteran father struggles to find work, the family moves from Thailand to Singapore to Hawaii — where Duckworth swims in the ocean, "looking for bills that had fallen out of stupid tourists' pockets" — and finally, Virginia.
"We had moved so many times that each of us had whittled down everything we owned in the world to fit in one suitcase," Duckworth writes. "To this day, I'm the world's best packer."
Their peripatetic path showed Duckworth that "ordinary people became homeless," that food stamps and subsidized school meals can fill a stomach and a brain, and that her family worked their hardest when they were "living at the poverty line."
As a teenager, after school and track practice, Duckworth heads to Waikiki Beach, where she hands out "booze cruise" flyers and dives for tourist dollars.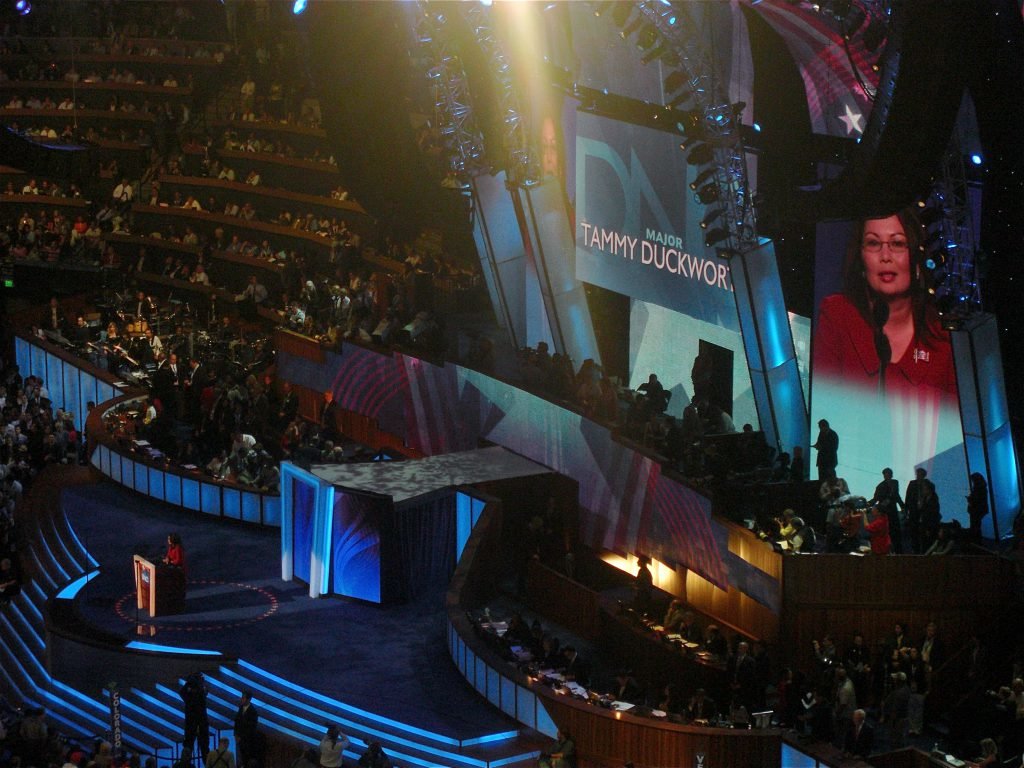 She graduates from high school and the University of Hawaii and, with an interest in foreign service, heads to George Washington University. In DC, a friend suggests she consider ROTC.
"And that's how I made the best decision of my life — a decision that started me down the path to my true calling," Duckworth writes with a nod to the "pure meritocracy" of the Army. "Nobody in the Army cared that I was a poor, mixed-race girl. […] They only cared whether I was capable of completing my mission and willing to serve a cause greater than myself."
In 1991, Duckworth's cause was combat, and she requested Aviation and Air Defense Artillery as job choices.
"I had never thought about becoming a pilot, but if Aviation was the one branch that would allow women to fight, then that was the branch I wanted," she writes.
Two months into flight school, Duckworth was hooked on being one of the "grunt pilots of military aviation" and savoring time with "ugly aircraft." Her fellow-soldier husband, Bryan Bowlsbey, loved "the poetry of flying," but she was drawn to "the head-banging heavy metal" of a helicopter.
Eventually Duckworth deployed to war despite disagreeing with the decision to invade Iraq. "I did what Soldiers are duty-bound to do," she writes. "I followed a lawful order."
In Iraq, the figurative head-banging turned horribly real in 2004 when Duckworth heard "small-arms fire hitting the metal fuselage" of her Black Hawk, and instantly "the world exploded."
"My body was blown apart," she writes.
The narrative about the four-person crew's "very fast, very steep" descent has been reported elsewhere, but the book doesn't flinch at retelling details, including the heroic efforts of her fellow soldiers, two of them also injured.
"There were a lot of heroes that day," Duckworth writes. And before being anesthetized in Iraq, she instructs an Army nurse: "You'd better take care of my guys."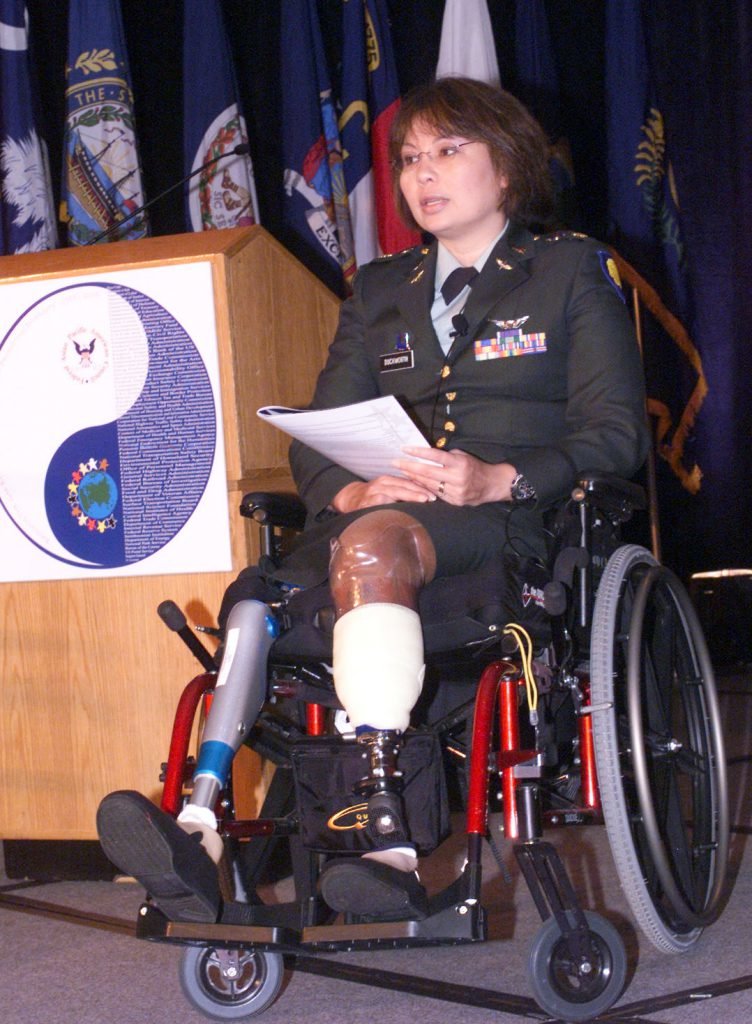 "If those had been my last words, I'd have been fine with that," she says.
After losing both legs and mobility in one arm, Duckworth maintains her grit and her sense of "wounded warrior humor at its cringeworthy best."
"There was no way in hell I was going to let some asshole who'd gotten lucky with an RPG determine my fate," she writes. But "that fucker took my identity" as a soldier, and "that has been what's hardest to accept." Duckworth says the realization that she would never fly an Army helicopter again "ripped my heart out."
In the "Amputee Petting Zoo" at Walter Reed National Military Medical Center, Duckworth empathizes with other patients as some celebrities visit out of sincere concern (Gary Sinise, Adam Sandler), and others (names unmentioned) stop for a photo opportunity.
Duckworth draws a line when a colonel says Secretary of Defense Donald Rumsfeld is on his way to her hospital room. She respectfully declines his visit.
"I always tried to be a good Soldier, and on another day I might have just bitten my tongue and met with Rumsfeld. But in truth, there was nothing I wanted less than to meet face-to-face with one of the architects of the Iraq War."
The next morning a psychiatrist asks whether there are issues she wants to discuss.
"Sir," she told him, "I think my decision last night makes me the sanest person in this room."
Duckworth remains the "Happy Warrior" but admits "there were moments when I felt crushed with sadness." While watching America's Next Top Model and realizing "I would never be able to dress or look like that again," she is distraught, and Bryan comforts her.
"Yes, it's a pain in the ass," he says. "But it'll be a pain in the ass for the rest of your long, happy life." He refuses "to see our situation as anything but lucky," Duckworth says. "I was alive. I was alive. How could I complain?"
---
Every Day Is a Gift: A Memoir by Tammy Duckworth, Twelve, 320 pages, $30
Read Next: Must Watch: Army Ranger's Visual-Poem Ode to Wounded Warriors Is Incredible