Like many good ideas, the Tampa Bay Frogman Swim began over a cup of coffee.
Just over a decade ago an area journalist named Terry Tomalin challenged a 17-year-old named Sam Farnan, who aspired to be a Navy SEAL, to accompany him on a swim across Tampa Bay. After all, Tomalin's thinking went, if Farnan wanted to be a SEAL he'd better be a good swimmer — and in cold water, to boot.
The duo linked up with a retired SEAL commander named Dan O'Shea, and on Jan. 3, 2010 — less than three weeks after that inspired cup of coffee — some 100 swimmers lined up on the shoreline for the inaugural Tampa Bay Frogman Swim.
Now, if you're going to hold an annual athletic contest to honor fallen Navy SEALs, it ought to be something that requires a fair amount of grit to finish. That's to say, something worthy of the legacy of the warriors who are to be honored. By that measure, Sunday's 12th annual Tampa Bay Frogman Swim certainly succeeded. With water temperatures dipping down to 62 degrees Fahrenheit, and with ripping currents, 128 swimmers plunged into Tampa Bay for the 3.5-mile swim. All but four finished.
"It was windy, so it was choppy the entire swim. And the currents were stronger than ever. It was hard," said Wes Schaeffer, a 1992 graduate of the US Air Force Academy who swam in his sixth Tampa Bay Frogman Swim on Sunday.
True to tradition, O'Shea was on hand at the race's finish to hand out Budweiser beers to worn-out swimmers emerging from the chilly waters.
"A Bud from a BUD/S swim buddy," Schaeffer later joked, referring to the notoriously difficult SEAL selection course, Basic Underwater Demolition/SEAL training — commonly known by the acronym BUD/S.
Proceeds of the annual Tampa Bay Frogman Swim are used to support the Navy SEAL Foundation, a nonprofit that provides injury assistance to Navy SEALs and tragedy assistance for SEAL families who have lost a loved one in training or combat. To date, the Tampa Bay Frogman Swim has raised more than $4 million for the Navy SEAL Foundation. The event has also inspired spinoffs in Boston and San Francisco.
In this time of COVID-19, no sporting events can be taken for granted. And this year's Tampa Bay Frogman Swim was no exception. Due to pandemic restrictions, the city of Tampa Bay wasn't issuing permits for the use of city parks. That restriction left the race's normal finishing beach off-limits. Undeterred, race organizers scouted for a new landing zone. They ultimately relocated the finish to a local American Legion Post located on the Tampa Bay waterfront. While it was a fortuitous turn of events, the move also extended the swim's overall length from 3.1 to 3.5 miles.
"We never felt any pressure to cancel the event, and we were determined to make it happen, but we did implement some COVID mitigation practices," Kurt Ott, director of the Tampa Bay Frogman Swim, told Coffee or Die Magazine. "Participants and spectators both expressed their gratitude for our efforts to put on a 'normal' event in these crazy times, since most events were being canceled."
Organizers also chose to reduce the field size from 175 to 128 as a measure to mitigate the potential spread of coronavirus. Yet, despite all the COVID-related headaches, Ott hailed this year's event as an unmitigated success.
"The fact that we were able to pull off this event is a success by itself," Ott said. "It is an opportunity for Gold Star families to come together from across the nation and spend the weekend with each other, watch their fallen sons', fathers', and brothers' legacies being honored, and even meet and spend time with the individual swimmer who is swimming in honor of their loved one specifically. In addition, this is a fundraiser first. And although we may not hit last year's fundraising amount, we'll be close."
Each year the swim is held in honor of a fallen SEAL. This year, the event was dedicated to Navy Senior Chief Kraig Vickers, who was assigned to Naval Special Warfare Group 2. On Aug. 6, 2011, 36-year-old Vickers died when the CH-47 Chinook helicopter he was aboard — call sign Extortion 17 — was shot down by Taliban militants in Afghanistan.
Schaeffer, for his part, personally dedicated his swim this year to honor a fallen SEAL named Nicholas Spehar, a 24-year-old Minnesota native who was killed in action in Afghanistan in 2011. When Schaeffer arrived at the finish line of Sunday's swim — and with his hard-earned Budweiser bottle fresh in hand — he was met by Spehar's father, Patrick, who had flown down to Florida for the event. It was a deeply moving experience that underscored the larger purpose of the annual swim.
"So humbling," Schaeffer said, describing the meeting. "He was so faithful and optimistic and even stoic. My wife came with me this year and got to experience it. It's a powerful event."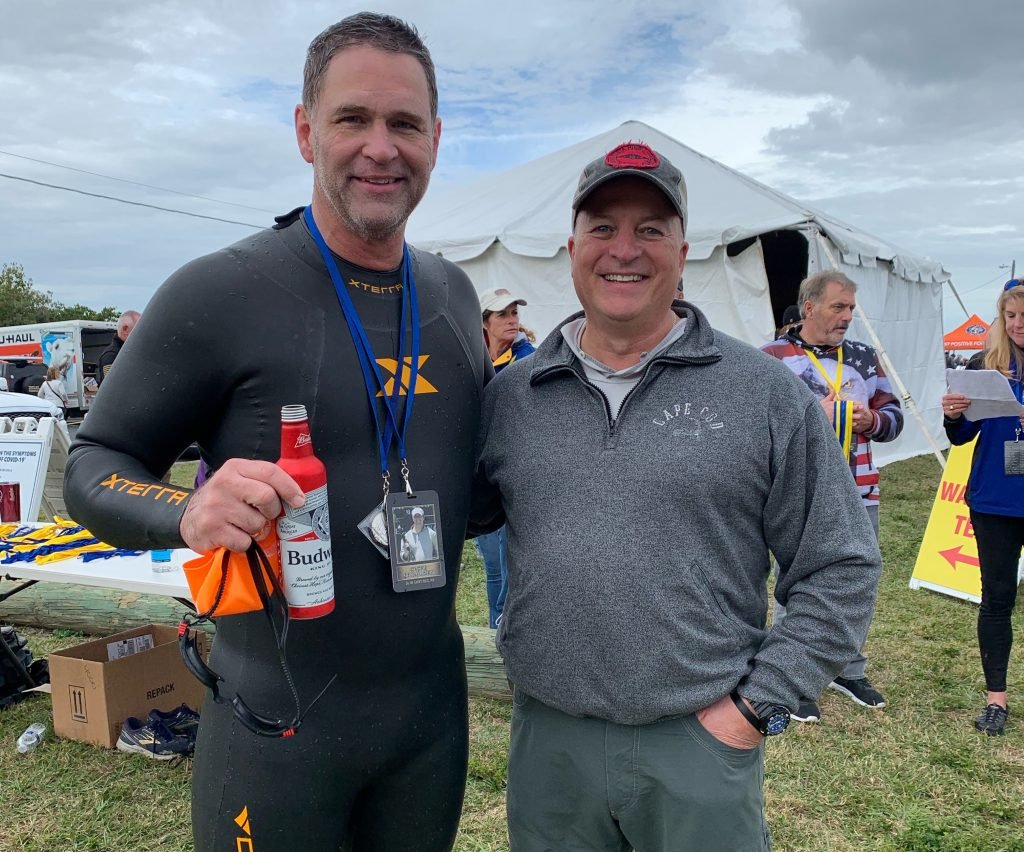 Over the years the Tampa Bay Frogman Swim has accumulated its crop of devotees — many of whom have completed the race for years on end. Underscoring the event's popularity, online registration typically fills up within about 10 minutes each year. And the quality of the competition is top-notch, as well.
This year's overall winner was a 15-year-old named Mary McKenna whom Ott described as a "rising star in the swimming world." McKenna's winning time of 1 hour, 19 minutes, and 10 seconds placed her more than five minutes ahead of the first male finisher. McKenna also finished some eight minutes ahead of three-time Olympic swimming gold medalist Brooke Bennett, who took third overall.
Ott attributed the event's enduring popularity — especially this year, despite the pandemic and the weather — to the participants' steadfast commitment to the Navy SEAL Foundation's mission. Ott also lauded the contributions of some 75 volunteers, as well as the 140 kayakers who were on the water as safety spotters.
"They're all still here because they're passionate about the mission," Ott said.
Schaeffer said he first got involved with the swim thanks to an Air Force Academy classmate named James Doolittle who cross-commissioned into the Navy and became a SEAL. Doolittle, who recently retired after a 26-year military career, first asked Schaeffer to donate to his personal swim seven years ago. After that, he convinced Schaeffer to give it a go himself.
"[Doolittle] did a Jedi mind trick and got me to do the swim with him the next year. I had never done an open-water swim before then," Schaeffer told Coffee or Die Magazine.
"Now I'm a pro," he said. "A very slow pro."