Quentin Tarantino is arguably one of the greatest directors to ever work in Hollywood, and he made an unusual promise to the world several years ago that he has given no indication of breaking. He pledged to direct just 10 feature films before retiring permanently. Since his ninth film, Once Upon a Time … in Hollywood, was released in 2019, everyone has been wondering what Tarantino's supposed final film will be.
For a while, it looked like it might just be a Star Trek movie, which he's reportedly been developing for a while. Now, according to an interview Tarantino did with movieweb.com, he might be turning his one-of-a-kind eye toward another integral panel of the American pop-culture tapestry by directing a new version of First Blood.
I know. Me too. Calm down. There's more.
He wants Adam Driver to take up the Rambo mantle and have him face off against Kurt Russell as Sheriff Teasle. I'm shockingly okay with this. Kurt Russell is, well, he's Kurt Russell, and he'd be an awesome Teasle at his current age. Plus, Driver is an incredible actor and a US Marine veteran, which could lend some great authenticity to the role of a Vietnam-era Green Beret, escaped prisoner of war, and Medal of Honor recipient. And his bare torso is already famous.
But we must ask the most crucial of questions immediately: Why the hell would anyone want to remake First Blood? Say what you will about the Rambo sequels, the first film is an undeniable classic that should never be meddled with.
However, Tarantino doesn't want to remake the Sylvester Stallone movie from 1982 — he wants to make his own direct adaptation of the novel First Blood by David Morrell, written nearly a decade earlier. That's both interesting and unexpected.
Still, let's not get too excited. It's not like this is in preproduction or anything; it's just a pitch idea Tarantino brought up during an interview. But if the idea is on his mind, there's a chance it could happen.
Here's exactly what he said in the interview:
"If I just wanted to make a good movie, that I knew would be good, I would take David Morrell's novel for First Blood and do the novel. Not the movie that was made out of First Blood. I would do the novel. And Kurt Russell would play the sheriff, and [Adam Driver] would play Rambo. Every time I read it, the dialogue is so fantastic in the David Morrell novel that you're reading it out loud. It would be so good. But now, I want to do more than that. But if it was just about to make a good movie, that's out there."
Maybe I have to read the novel again. It's been a good number of years, but I don't remember the dialogue being particularly good, just dated and a little hokey.
For those who aren't aware, the First Blood movie and novel differ quite a bit. Both plots have the same general framework about a traumatized Vietnam veteran and former POW with severe post-traumatic stress who is unjustly arrested for vagrancy while passing through a small town. While in custody, he experiences a flashback when deputies attempt to shave him and cut his hair with a straight razor. He assaults them and escapes to lead the law and the National Guard on a wild chase through the wilderness. The similarities pretty much end there.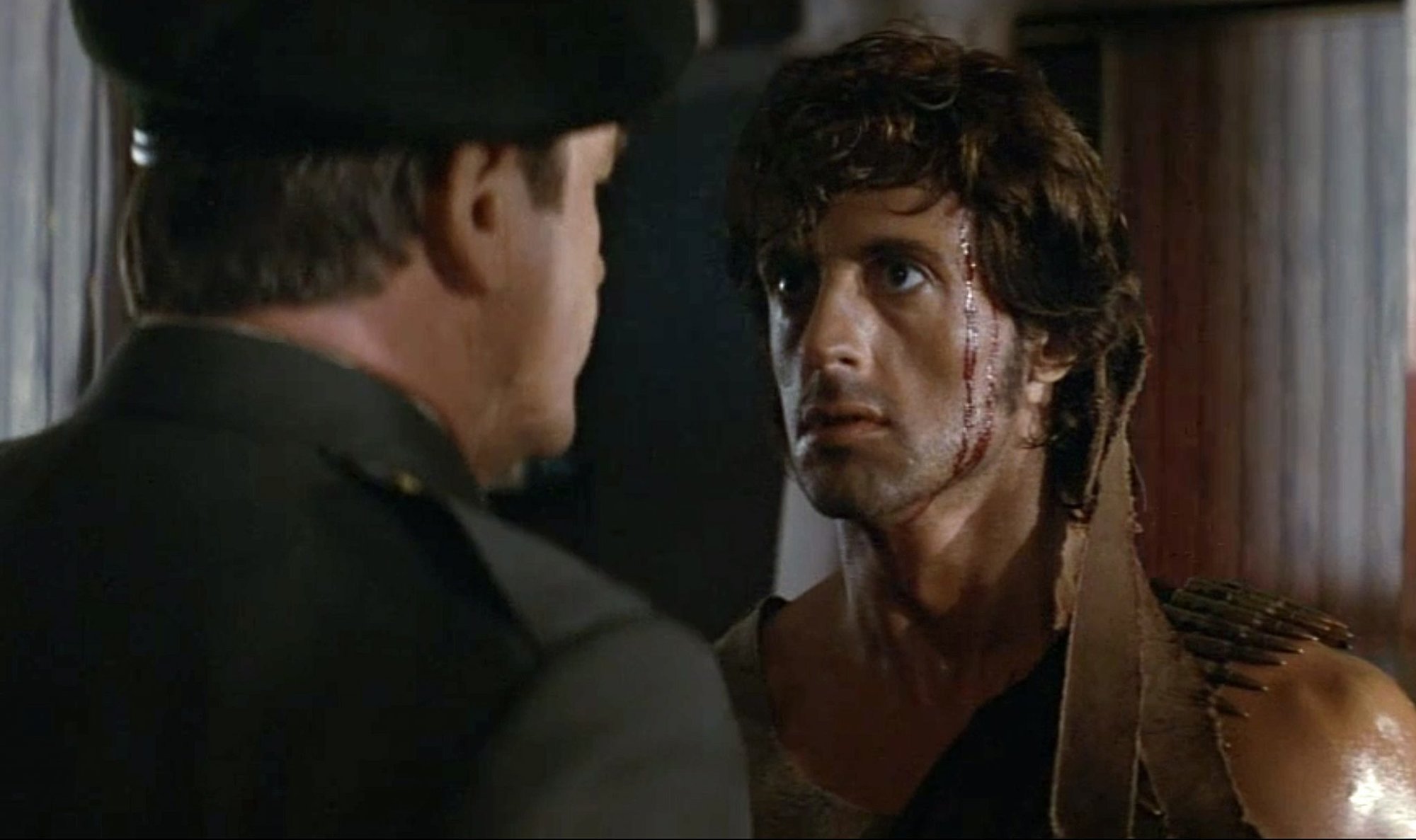 While the movie is set in the Pacific Northwest, the novel takes place in a fictional county in Kentucky, and the Rambo in the novel is much more violent and out of control than Stallone's version. In the book, when Rambo escapes the police station, he uses the straight razor to disembowel a deputy and makes his way to the nearby mountains fully naked. When Sheriff Wilfred Teasle comes after him with a posse, dogs, and a helicopter, Rambo (a mononym in the book) shoots down the chopper with a rifle before killing the dogs and all the deputies one by one, leaving only Teasle alive but not intentionally.
Despite the high body counts in the Rambo sequels, there's only one death in First Blood, and it's largely accidental. Plus, John Rambo lives to fight in further sequels at the end of the movie. Things don't go so well for Rambo in the book. Stallone thought the novel's characterization of Rambo and his ultimate fate sent a negative and hopeless message to veterans. So, he toned down his willingness to kill civilians and changed the ending. An ending where Rambo dies was filmed, but it was still far different from the book's final chapter. That ending was eventually cut and reshot after testing poorly with audiences.
It would be interesting to see Tarantino explore Morrell's version of the story with his propensity for blood and gore, plus there's an interesting dynamic from the novel that the film didn't explore.
Teasle serves as a second protagonist in Morrell's book, equal to Rambo in importance. He's a decorated Korean War veteran whose sense of duty and patriotism is at odds with feelings held by many about the Vietnam War at the time.
Morrell was a college professor when he wrote the book in 1972. The war was still very much on, and Morrell said he was inspired to write the novel by conversations with his veteran students who had returned from Southeast Asia. A hint of this dynamic remains in First Blood in the form of a glass case housing several medals in Teasle's office.
If Tarantino does, indeed, make a new adaptation of First Blood with the proposed cast and the dynamic between two generations of combat vets is the central focus, it could truly be something special.
Read Next: