Few historical figures loom larger in American history than Theodore Roosevelt. For many, Teddy's larger-than-life personality, sheer force of will, and renaissance-man lifestyle still embody what it means to be an American man — even more than a century after his death.
Be it writing books on naval warfare, dominating physical competitions, or taming the wilds of Africa and North America, Teddy did it all. He was a man of physical feats in an age before supplements or pre-workouts and when proper nutrition was serving fried chicken covered in gravy because if the two came separately, the gravy didn't soak into the meat.
No one was "eating clean" at the turn of the 20th century. Just ask Upton Sinclair.
Progressive politics and sketchy meatpacking aside, what fueled the 26th president more than anything else was his coffee. And for Roosevelt to do all the things he accomplished in his lifetime, that meant a whole lot of coffee — the stronger, the better. We're talking caffeine levels that could explode a bear's heart. Not Teddy's heart, but definitely lesser animals like the bears he enjoyed hunting.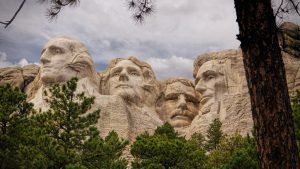 We know this because Roosevelt visited Andrew Jackson's former home in 1907, which was by then a Tennessee resort, and he was overheard gushing about the quality and strength of the coffee, which had come from the nearby Maxwell House Hotel.
"This is the kind of stuff I like to drink, by George, when I hunt bears," the president said.
There's even an apocryphal story that alleges Teddy was the source of the Maxwell House slogan, "good to the last drop." He wasn't because it's not, and Teddy Roosevelt was a lot of things, but a liar wasn't one of them.
When not hunting bears and having breakfast with his family like a mortal man, Roosevelt loved to imbibe his coffee from a cup that was "more in the nature of a bathtub," according to his son, Theodore Jr.
For the president, his breakfast coffee was half coffee, half milk, and he poured the cups for everyone else as well. It didn't stop at breakfast, however. Roosevelt drank coffee all day long, adding five to seven lumps of sugar to each cup. The National Park Service, which oversees Roosevelt's birthplace, says the president drank up to a gallon of coffee every single day. One witness even claimed to have seen the president down 40 cups in one day — that's two and a half gallons.
He eventually switched to saccharin sweetener to cut the calories adding to his increasingly corpulent figure. He was Teddy Roosevelt, after all, not William Howard Taft.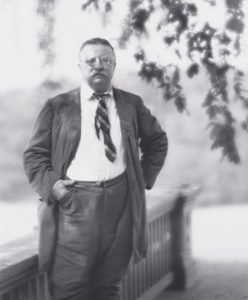 For anyone who stops and thinks about what President Roosevelt did on a daily basis, it kind of makes sense. He wrote personal letters, met with Congress, boxed his military aide, challenged the entire US Navy to a fitness test, ran the US Army general staff into the mud, and rode for three days straight just to prove a point. You know, the normal duties of a president.
Teddy's love of coffee began almost as soon as his love of physical activity. As a boy, Roosevelt famously suffered from asthma. The first widely available rescue inhaler was still 98 years away when he was born, so his father (also named Theodore) searched for a solution.
When little Teddy was 5 years old, the most widely prescribed remedy for asthma was drinking an insane amount of coffee and puffing on a cigar. While the tobacco habit didn't stick with the future president, the coffee definitely did.
It should surprise no one that the next generation of Roosevelts loved the black bean as much as their famous father. He was pouring it out to them over breakfast every day. The young Roosevelts loved it so much that they started their own chain of coffee houses in New York City called The Brazilian Coffee House. It was later changed to The Double R Coffee House.
It was one of the few places in the city that didn't use pre-ground beans — or instant coffee. And we all know instant coffee is the least "bully" of all coffee types.