Without a doubt, the most athletic President had to be Theodore Roosevelt. An avid boxer, wrestler, runner, and lover of all things outdoors, America's 26th President never seemed to reach his peak performance. One might think his subordinates in the United States Army would have realized this before they complained to the Commander-In-Chief. Lesson learned.
Roosevelt remains – to this day – the pinnacle of red-blooded American manliness. This gravel-chewing stone-cold badass never met a challenge he wasn't willing to put in a headlock and pummel with the sheer force of his iron will. He wasn't just comfortable with a sustained level of violence in his daily life, this man thrived on it. And he expected no less from those who served him, especially in the United States military. This is the man who volunteered to serve, raised his own regiment, and then earned the Medal of Honor on his first deployment.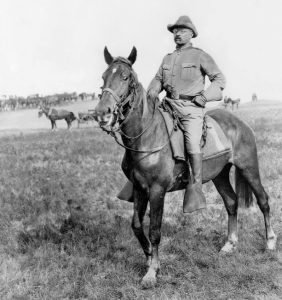 There was pretty much nothing TR couldn't do. So why on earth would anyone in the U.S. military complain to the athlete-in-chief about how hard their life is? One cavalry officer discovered this bad idea personally.
It seems the officer complained to the President about having to ride 100 miles in three days. President Roosevelt, who instituted mandatory physical training for the United States Armed Forces during his Presidency scoffed at the idea. Soldiers and sailors were, for the first time, required to maintain a baseline level of fitness. Still, the Army officer objected to the level of riding he and his men were forced to endure. In response, the then 51-year-old President saw the complaint as a challenge.
He sought to show the Army that not only was it possible to do in three days, but that three days was more than enough time – and he was going to do it personally. If a 51-year-old man who wasn't training every day could do it, then surely the U.S. Army who is training could do it.
Not only did Roosevelt ride that 100 miles as President, he did it in a single day. The President rode along with his military aide Archie Butt and his physician to the Virginia town of Warrenton. There, Roosevelt gave a speech at the Warren Green Hotel and shook hands with everyone who came out to listen. He had a quick lunch before he and his riding companions headed back to Washington, where they finished their ride in a snowstorm.
And that's why you don't complain to Teddy Roosevelt.