Coffee has always been a staple of American cinema, from Audrey Hepburn carrying a cup along Fifth Avenue in "Breakfast at Tiffany's" to Jim Jarmusch's ode to simple conversation, "Coffee and Cigarettes." Whether in a sturdy mug or a classic blue paper cup, coffee is the perfect accessory to help define settings and characters.
But not all coffee is created equal, nor are the movies that have featured coffee in their most popular or pivotal moments. So we talked to dozens of cinema connoisseurs, interviewed the world's top-ranked baristas, and binge-watched movies like Netflix was going out of business.
Just kidding. We did none of that because, frankly, that's a lot of work for a listicle — no thanks. So, without further ado, here is our very non-scientific and highly biased list of the best coffee moments in American movie history!
10. "L.A. Story" (1991)
In the early 1990s, the custom coffee craze hadn't yet taken off. But in Steve Martin's "L.A. Story," you get a taste of its beginnings on the coast. A table full of yuppies describe their orders to a waiter in great detail. "I'll have a decaf coffee." "I'll have a decaf espresso." "I'll have a double decaf cappuccino." "I'll have a half double decaffeinated half-caf with a twist of lemon." That last one is mind-boggling. And so is decaf coffee (what's the point?).
9. "You've Got Mail" (1998)
Tom Hanks' character, Joe Fox, shows off his witty deep thoughts about Starbucks to his AOL love interest, Meg Ryan's Kathleen Kelly. "People who don't know what the hell they're doing or who on earth they are can, for only $2.95, get not just a cup of coffee but an absolutely defining sense of self: Tall. Decaf. Cappuccino." Honestly, what's funniest about this scene is that once upon a time, you could get a tall decaf cappuccino for three bucks.
8. "Men In Black" (1997)
When Agent J (Tommy Lee Jones) asks Agent K (Will Smith) if he would like some coffee, K turns him down. That's probably for the best; when J enters the office, the audience sees that the coffee is made and dispensed by wormlike aliens. "That's not decaf, is it?" asks J with disdain. "Viennese cinnamon," responds a worm. Decaf or not, it's always good to know where your coffee comes from.
7. "The Lego Movie" (2014)
It's a brief scene, but it reflects a phenomenon we all know well — the exorbitant prices of coffee at chain cafes. "That's $37," the barista tells Chris Pratt's endlessly cheerful Emmett. "AWESOME!" responds Emmett, as we watch a endless line of construction workers carrying their own identical coffee cups. Apparently in the city of Bricksburg, people don't define themselves quite as much by their individual coffee orders as the characters in "You've Got Mail."
6. "Kicking and Screaming" (2005)
"Kicking and Screaming" has an entire subplot devoted to coffee. When Phil (Will Ferrell) wants to beat his father's team in little league soccer, he turns to his father's vindictive neighbor, Mike Ditka, for advice. One of the first things Ditka does is berate Phil into drinking coffee, which the health-obsessed Phil has always avoided because it is a "vasoconstrictor." But before long, Phil is hooked and becomes a frequent — and abrasive — customer at a local coffee shop. When you get into a brawl over having to wait in line, maybe it's time to switch to half-caf. Or just, ya know, talk to someone about those deep-seated anger issues you've been bottling up since childhood.
5. "Role Models" (2008)
Salesman Danny and his girlfriend Beth (Paul Rudd and Elizabeth Banks) stop into a coffee shop as well in this comedy, where Danny goes into a sarcastic rant about the pretentious naming conventions now common in the industry. "'Venti' is large," an annoyed Beth simply states, trying to get Danny to stop berating the barista. "No, 'venti' is TWENTY," Danny shoots back. It appears he is unwilling to define himself as a "venti" decaf cappuccino. On a note completely unrelated to this article, that guy who plays Stiffler in "American Pie" does a great job of showing his range as an actor in this movie by … playing Stiffler … again. It was hilarious though, we'll give him that.
4. "Pulp Fiction" (1994)
In a scene that is completely edited out of the TV version for language, Jules, played by Samuel L. Jackson, tries to defuse a complicated situation by complimenting Quentin Tarantino's Jimmie on his coffee. "I don't need you to tell me how fucking good my coffee is, okay?" Jimmie responds, calm on the surface but infuriated underneath. "I'm the one who buys it, I know how good it is. When Bonnie goes shopping, she buys shit. Me, I buy the gourmet expensive stuff because when I drink it, I want to taste it." High-quality coffee makes a difference in your day, but probably not enough to overcome the frustrations of having a corpse in the garage.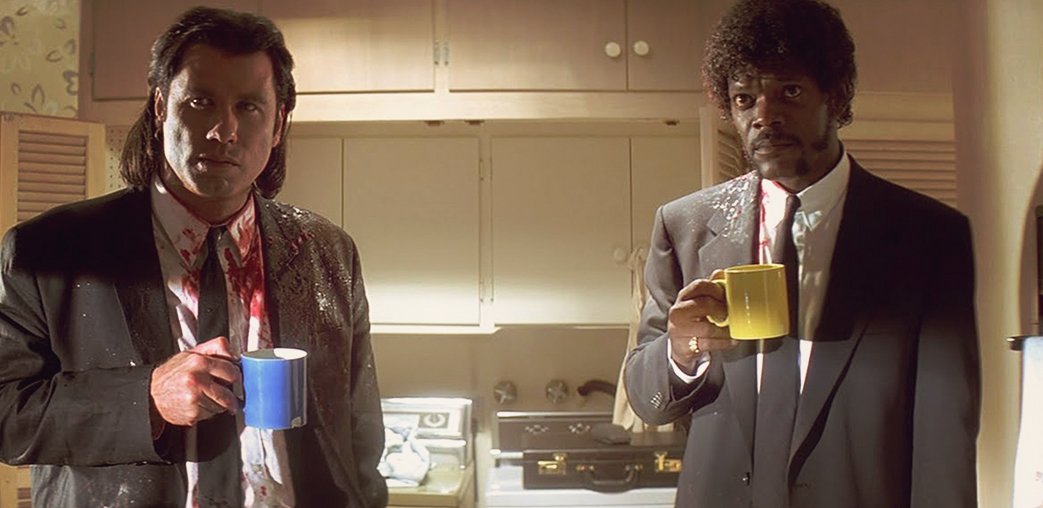 3. "Thor" (2011)
Although it is widely regarded as one of the less creatively successful Marvel Cinematic Universe movies, the viewing public seems to agree on one thing about "Thor": the best moment is when the titular character discovers the wonders of coffee. "This drink," he ponders. "I like it." With jubilant excitement, Thor smashes his mug to the ground and demands more. If your coffee can impress a god, you're doing something right.
2. "Baby Face" (1933)
"Baby Face" was made before the Hays Code, which censored explicit content in movies, was enforced, so it contains sexual themes in a way that was somewhat scandalous for the time. In a scene that launched a thousand GIFs, Barbara Stanwyck's Lily Powers gets fed up with her father's manipulative matchmaking. As sleazy politician Ed Sipple, played by Arthur Hohl, runs his hand up her leg in a restaurant, Lily dumps the hot contents of her coffee cup onto him. "Oh, excuse me," she says, deadpan and disdainful. "My hand shakes so when I'm around you."
1. "The Usual Suspects" (1995)
There may be no more iconic coffee cup in movie history. The audience watches the mug fall to the floor as Agent Kujan (Chazz Palminteri) realizes, with shock, that he had been questioning the infamous Keyser Soze all along. The camera focuses on the final clue, the word "Kobayashi" on the bottom of the shattered cup; meanwhile, Kevin Spacey's crippled Verbal Kint slowly begins to walk upright, gets into a car, and coolly escapes (unlike the real-life Kevin Spacey, who's impressive career definitely has not escaped the damning sexual assault accusations). As Kujan's drink splatters in slow motion across the floor, it's hard not to notice the surprising amount of creamer this hardened detective puts in his coffee.
Holiday Honorable Mention: "Elf" (2003)
It is a brief but memorable moment: Buddy the Elf, played by Will Ferrell at his energetic best, spots a sign outside a diner reading "World's Best Cup of Coffee." Taking it literally, he bursts into the diner shouting, with the deepest sincerity, "You did it! Congratulations!" As the patrons and employees stare at him, bemused, his excitement over meeting the makers of the World's Best Cup of Coffee inspires him to shake his head in wonder. "Great job, everybody. It's great to meet you." He later took his love interest, Jovie (Zooey Deschanel), to the diner on their first date to try the coffee. It is doubtful this random diner in the middle of New York City has actually perfected the coffee-making process, but nothing says Christmas like Buddy spreading cheer to caffeine fans everywhere.
This list is far from exhaustive. Check out our follow-up, 10 More of the Best Coffee Moments in American Movie History.