After a dump truck crossed into oncoming traffic on a busy Tennessee highway directly in front of an Army recruiting office, recruiters inside immediately sprinted to the scene and began assisting the injured, prying drivers from overturned vehicles and directing traffic.
And, being recruiters, they may have found a prospective enlistee.
"I was walking to the printer when we all heard screeching brakes and horns," Staff Sgt. Amber Young told Coffee or Die Magazine. "Before you know it, we were all running outside, no hesitation from anyone."
Young said the 18-recruiter office in Clarksville was about half full when the accident occurred. Everyone inside the office — whose specialties, she said, range from infantry to cooks — immediately ran outside. There the soldiers found that a dump truck, clipped by a pickup, had lost control and left a trail of chaos across an entire section of busy highway. As captured in a dashcam video, a large pickup truck cuts off a fast-moving dump truck that then swerves and runs head on into the car with the dashcam, rolling it onto its side. In all, seven vehicles were caught in the melee, including a Clarksville city bus.
Close to a dozen were hurt, and several people were trapped in their own vehicles.
The dashcam of the flipped vehicle keeps recording and, within seconds, several of the recruiters begin bashing out the windshield to reach the driver.
"Those guys just came out there super fast, going above and beyond their expectations outside of just being in the Army," said Josh Cozart, one of the drivers in the accident. "It just shows their character and their morals and values and their willingness to just be outside of the Army not just fighting, but to help."
Young said she and a second soldier ran to a van that had most of its front end impacted. They helped the elderly driver out of the vehicle, returning to the office to get him a chair to sit in.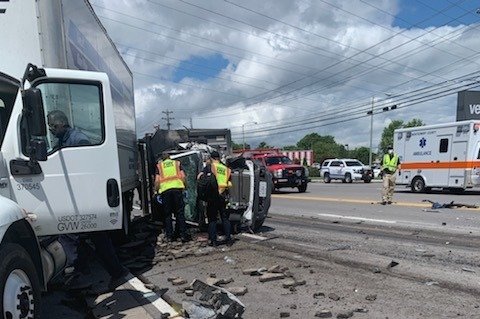 Others helped direct traffic, she said. Despite the chaos, the recruiters had to stop a number of drivers from weaving through the wreckage, seemingly oblivious to the ongoing rescues around them.
"Use common sense," Young said. "Just stop."
Within a day, Young said, the driver of the dump truck came by to thank the team.
"They came in to say thank you," said Young. "And he said it inspired their son to want to join."
By the end of the week, Young said, the office had arranged to give the driver's son a written test, a first step toward enlistment.
Read Next: