A knife-wielding assailant murdered three people in a Catholic cathedral in the seaside French city of Nice on Thursday. Among the dead, one woman had her throat slit, and a man died of multiple stab wounds. Another woman managed to escape to a nearby café where she later died from her wounds, police officials said.
"Everything points to a terrorist attack," Nice's mayor, Christian Estrosi, said Thursday, adding that the victims died "in a horrible way."
The attack took place at the Notre Dame Basilica in the center of Nice. According to French media reports, the attacker was shot by police but survived and is in custody. Estrosi told reporters that the detained assailant repeated the words "Allahu akbar" — Arabic for "God is great" — while being treated by medics.
"Enough is enough … it's time now for France to exonerate itself from the laws of peace in order to definitively wipe out Islamo-fascism from our country," Estrosi told reporters.
French President Emmanuel Macron traveled to Nice on Thursday following an emergency meeting with France's Interior Ministry in Paris.
"It's very clear that it is France that is under attack," Macron said Thursday in Nice. "The deployment of soldiers is to be stepped up on all French territory, stepping up protection of places of worship including churches."
Macron said 4,000 French soldiers would be deployed as part of that domestic security operation. France's national attack alert status had been raised to its maximum level.
"The government's response will be firm and ruthless," French Prime Minister Jean Castex said Thursday.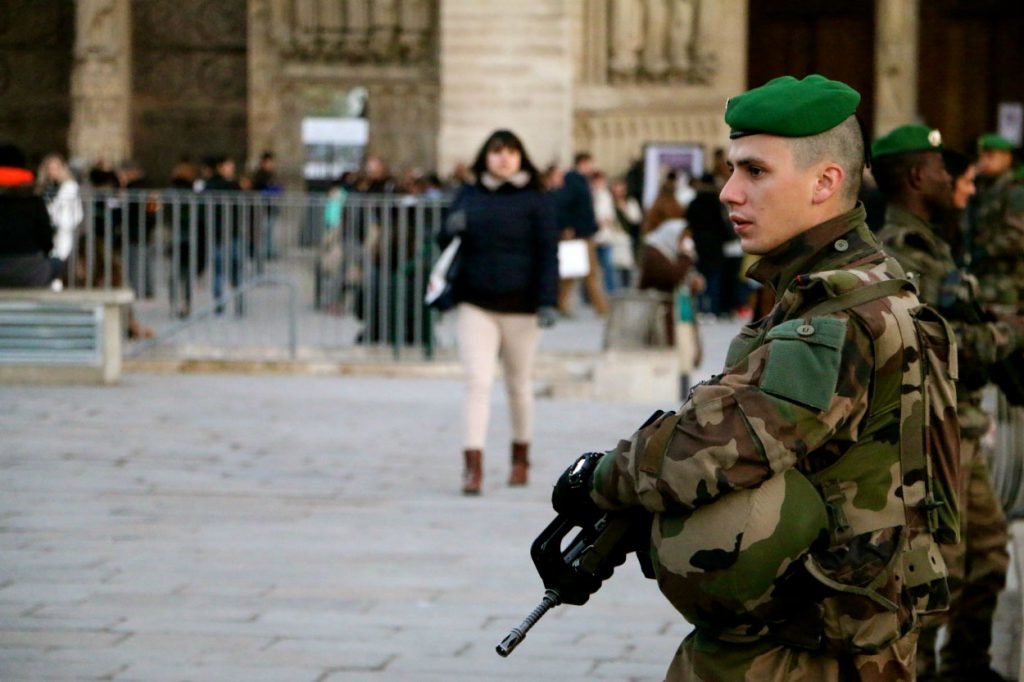 In January 2015, terrorists killed 17 across Paris, including 12 in a shooting at the office of the satirical newspaper Charlie Hebdo and four at a Jewish kosher supermarket.
After those attacks, François Hollande, then president of France, launched Operation Sentinelle, the domestic deployment of about 10,000 troops to patrol French streets, with an emphasis on protecting high-risk targets such as synagogues and schools. Still ongoing today, Operation Sentinelle was the first large-scale peacetime deployment of troops on French soil in the army's history.
To support Operation Sentinelle, reservists were called up to meet manpower needs, and many soldiers who were deployed to patrol the streets of major cities lived away from their families in bare-bones, temporary housing. By April 2015, Hollande had scaled down the operation to 7,000 total troops. He bumped the number back up to 10,000 after the November 2015 attacks in Paris, in which ISIS terrorists killed 130 people in a coordinated series of bombings and shootings.
"We're at war against jihadi terrorism," Hollande said in a Nov. 16, 2015, speech.
In the weeks that followed, the French president went on a transcontinental diplomatic blitz to rally world leaders to escalate the military effort against ISIS in Syria and Iraq. At that time, Hollande also placed France under a state of national emergency, which authorized a countrywide security crackdown and granted extraordinary powers to law enforcement and intelligence services.
France was attacked again on July 14, 2016 — France's national holiday, Bastille Day — when a terrorist with links to ISIS drove a large truck through a crowd in Nice, killing 86 people. Afterward, Hollande pledged to escalate France's military campaign against ISIS in Syria and Iraq.
In 2016, Patrick Calvar, who was then head of the French intelligence service, warned that France was "on the brink of civil war."
"If we are attacked, it is because of our values, our values of freedom and our desires not to yield to terrorism," Macron said Thursday in Nice.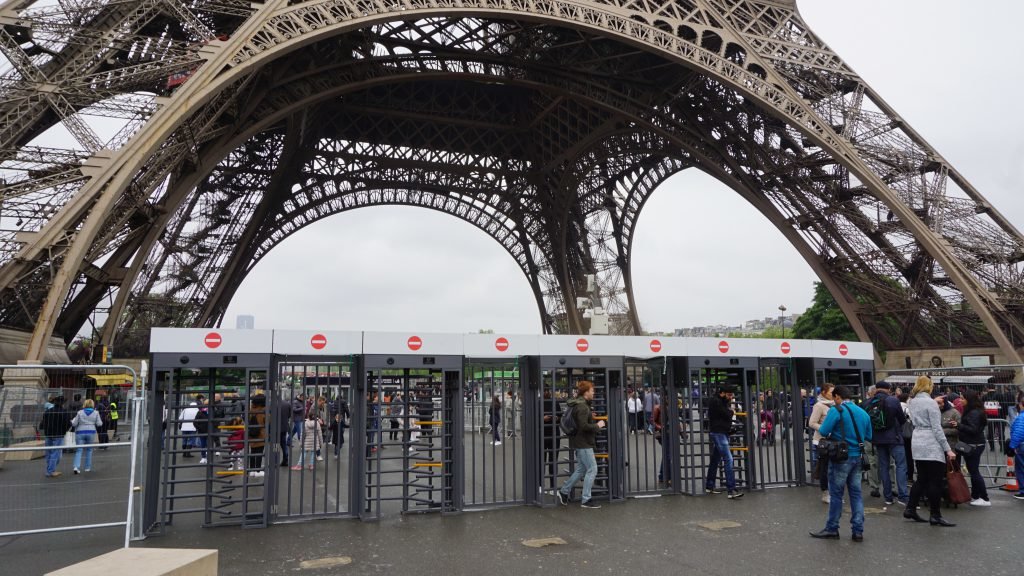 Thursday's attack in Nice was the third terrorist attack in five weeks in France — the first two were related to controversial cartoon caricatures of the Prophet Muhammad published by Charlie Hebdo in 2012. A trial is currently underway in France over the 2015 Charlie Hebdo terrorist attacks, which were in retaliation for the 2012 cartoons.
Thursday's attack also comes as France is set to go into another nationwide lockdown to combat a resurgence of the coronavirus pandemic.
On Sept. 25, a 25-year-old Pakistani man attacked two people with a knife on the street outside Charlie Hebdo's former Paris offices. The attack was "clearly an act of Islamist terrorism," French Interior Minister Gérald Darmanin said.
And on Oct. 16, a Chechen man with established connections to the ISIS terrorist group used a knife to murder Samuel Paty, a 47-year-old middle school teacher, in a French suburb. The killer, 18-year-old Abdullakh Anzorov, was shot dead by police shortly after the attack. Paty, who taught history and geography, reportedly drew Anzorov's attention after showing Charlie Hebdo's controversial cartoons of the Prophet Muhammad during an Oct. 6 class on freedom of expression.
Anzorov had lived in France since 2008 and was born in Moscow. His parents are refugees from Russia's Muslim-majority, war-torn Chechnya region in the North Caucasus. Before murdering Paty, Anzorov was reportedly in contact with a Russian-speaking jihadist in Syria.
Paty's murder provoked a national outcry in France against Islamic extremism, spurring memorials and protest marches. Charlie Hebdo's controversial cartoons have become the symbol of a national affirmation of freedom of speech — sparking outcries from some corners of the Muslim community, both in France and abroad. Macron said he believed that Paty was killed "because he was teaching students freedom of speech, the freedom to believe and not believe."
Macron's statements sparked a row with Turkish President Recep Tayyip Erdogan. After Erdogan said Macron needed "mental treatment" regarding his attitude toward French Muslims, the French government withdrew its ambassador from Ankara.
The Franco-Turkish rift has spurred calls for a boycott on French goods in the Muslim world — from the Middle East to Bangladesh.
"The origins of the recent attacks seem therefore to be rather external than internal," said Marcel Van Herpen, director of the Cicero Foundation, a Dutch think tank that specializes in European affairs.
"But not only [ISIS] is responsible," Van Herpen told Coffee or Die Magazine. "The recent attacks by the Turkish President Erdogan on Macron have certainly played an additional role in creating the present climate. Erdogan has instrumentalized the Muhammad cartoons as a weapon against France and he is fanning anti-French hysteria in Turkey and the Arab countries."
For its part, Ankara was quick to condemn Thursday's attack.
"There is no reason that can justify killing a person or justify violence. It is clear that those who organized such a brutal attack in a holy place of worship do not have any religious, humanitarian and moral values," the Turkish Foreign Ministry said in a Thursday statement.
About 10% of France's population is Muslim, and some French commentators have claimed that France is in the midst of an "internal war," in which the country's disaffected Muslim minority, many of whom were born in France, is increasingly susceptible to recruitment by radical Islamist groups such as ISIS or al Qaeda.
"Even if the origins of the latest terrorist attacks must be sought outside France, these attacks exacerbate tensions between the different ethnic and religious communities in France," Van Herpen said, adding that "the recent wave of terrorist attacks in France is linked to the trial which is currently taking place in Paris of the terrorist attack on Charlie Hebdo in January 2015."
Those who see terrorism as the byproduct of a cultural schism lean toward law enforcement action and intelligence gathering as the best recourse, as well as the need for a hard reckoning within French society to better integrate its ostracized Muslim minority. Others, however, say France is at war against an external enemy, and military action abroad is the best way to diminish the terrorist threat to the homeland.
Compounding the threat, some experts say that with ISIS in its death throes in Syria and Iraq, the thousands of recruits the terrorist army was able to gin up every month to join its ranks on the battlefield are now being redirected to launch terrorist attacks in their home countries in Europe and the West.
All of the known terrorists who carried out the November 2015 attacks in Paris were EU citizens. And at least one slipped back into Europe's Schengen free travel zone pretending to be a Syrian refugee.
While France has not seen a major terrorist attack in the past few years, several smaller attacks have intermittently taken place.
An Islamic militant fatally gunned down 37-year-old French police officer Xavier Jugelé on April 20, 2017, on Paris' iconic Avenue des Champs-Élysées. ISIS claimed responsibility for the attack.
And on Oct. 1, 2017, a 29-year-old Tunisian man named Ahmed Hanachi killed two 20-year-old women, who were cousins, with a knife outside the main train station in Marseille, a French port city on the Mediterranean. Again, ISIS claimed responsibility.