On Wednesday, Aug. 25, Elizabeth Holguin heard from her son. Marine Lance Cpl. David Lee Espinoza, 20, assured her he was safe at Kabul's Hamid Karzai International Airport, where US forces were toiling to evacuate tens of thousands of refugees fleeing Taliban militias.
"He said he was fine," Holguin told The Wall Street Journal. "He said he didn't want to worry me."
On Thursday, a Marine knocked on her door in Rio Bravo, Texas. She learned Espinoza was one of 13 service members killed by a suicide bombing near the airport's Abbey Gate.
Her son was almost as old as the war he died fighting. He'd only been in Afghanistan for a week.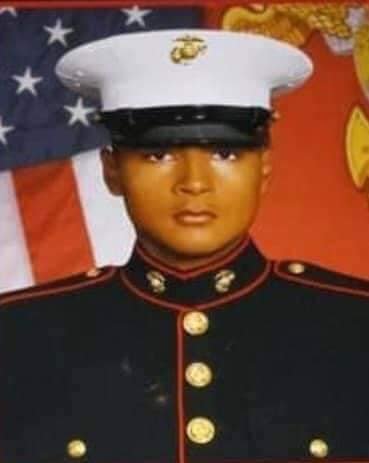 He is survived by his mom, three siblings, and a stepfather.
"He was there helping innocent people," Holguin told the newspaper. "That was what he wanted to do."
On Saturday, Espinoza's family held a candlelight vigil for him in Rio Bravo, his hometown just outside the border city of Laredo.
Espinoza graduated from Laredo's Lyndon B. Johnson High School in 2019. On Friday, district officials took to social media to honor "a hero forever." Earlier, students participated in a moment of silence for the Marine. Taps played on the intercom.
Officials pledge to hang a portrait of the fallen Marine in the school "to honor his memory forever."
"David, we are so proud of you," the statement read.
On Rio Bravo's official City Hall page, Mayor Gilbert Aguilar Jr. wrote that his community mourns "the loss of one of our own."
In a statement to reporters, US Rep. Henry Cuellar lauded Espinoza as a Marine who embodied "grit, determination, service, and valor."
"I mourn him and all the fallen heroes in Afghanistan," Cuellar, who was born in Laredo, said. "My heart goes out to the Espinoza family in this extremely difficult time. The brave never die. Mr. Espinoza is a hero."
Gov. Greg Abbott ordered all Texas flags on state property lowered to half-staff to honor Espinoza and other military members killed in the Kabul attack.
"The First Lady and I extend our prayers of comfort to those affected by this devastating event," he wrote.
The 13 American service members killed in the Aug. 26 bombing were:
Lance Cpl. David Lee Espinoza, USMC | Laredo, TX

Sgt. Nicole Gee, USMC | Roseville, CA

Staff Sgt. Taylor Hoover, USMC | Salt Lake City, UT

Staff Sgt. Ryan Knauss, US Army | Knoxville, TN

Cpl. Hunter Lopez, USMC | Indio, CA

Lance Cpl. Rylee McCollum, USMC | Bondurant, WY

Cpl. Dylan Merola, USMC | Rancho Cucamonga, CA

Lance Cpl. Kareem Nikoui, USMC | Norco, CA

Cpl. Daegan William-Tyeler Page, USMC | Omaha, NE

Sgt. Johanny Rosario, USMC | Lawrence, MA

Cpl. Humberto Sanchez, USMC | Logansport, IN

Lance Cpl. Jared Schmitz, USMC | Wentzville, MO

Navy Corpsman Maxton Soviak, US Navy | Berlin Heights, OH
Read Next: