Texas Rangers arrested a police officer from a small town northeast of Dallas and charged him with murder Monday in the fatal shooting of 31-year-old Jonathan Price, a Black man who was reportedly intervening in a dispute at a gas station.
The Rangers said in a statement that Wolfe City police officer Shaun Lucas responded to a disturbance call for a possible fight in progress at a gas station at approximately 8:24 p.m. Saturday and attempted to detain Price, who was involved in the disturbance. Price "resisted in a non-threatening posture and began walking away" before Lucas deployed his Taser and then shot Price, according to the statement.
Price was transported to Hunt Regional Hospital, where he later died.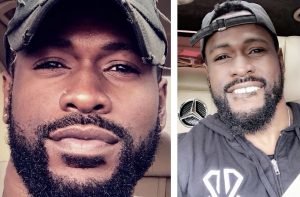 "The preliminary investigation indicates that the actions of Officer Lucas were not objectionably reasonable," the statement said.
At a press conference before Lucas was arrested Monday, Lee Merritt, a lawyer representing Price's family who specializes in civil rights and police brutality cases, said Price had intervened in an incident involving "a male who was aggressive toward a woman […] and the situation was resolved before law enforcement arrived, according to witnesses." Merritt said Price "did not become violent."
"Why this officer still felt the need to tase and shoot Jonathan is beyond comprehension," he added.
Merritt called on the Hunt County District Attorney to issue an arrest warrant for Lucas, saying Price "deserves justice because he was a human citizen who was not breaking the law, and he was gunned down by police officers."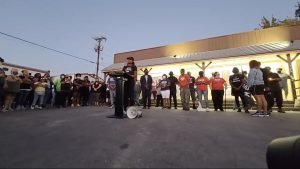 Lucas was booked into the Hunt County Jail Monday, and his bond was set at $1 million, according to jail records. CBS DFW reported that Lucas has been released on bond.
"This is the first step," Merritt said. "This man is dangerous and should not be out on bond. The family was relieved to hear of his arrest and are looking forward to his conviction."
Wolfe City is roughly 70 miles northeast of Dallas and has about 1,400 residents. The city's police department lists Lucas on its website as one of the department's three law enforcement officers.
Price's family told WFAA that he was an employee of the Wolfe City public works department and well known in his community for his friendly demeanor, enthusiasm for fitness and personal training, and "his giving and supportive heart."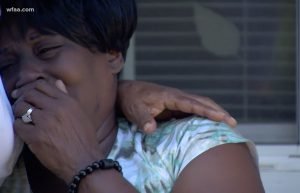 "Everybody loved Jonathan. Everybody," his sister, April Louis, said. "Black, white, Mexican, it doesn't matter. He loved everybody. Everybody loved him."
Price's mother, Marcella Louis, said the world lost "a hero."
"They took my son from me," she said through sobs. "They took my baby."
"He had a good heart," she added. "He always tried to help others. I taught him that all through the years."
Friends and family members said Price was a star athlete throughout his life at Wolfe City public schools. Merritt said he was a motivational speaker and trainer and a former college football player.
"He was known as a hometown hero," Merritt said.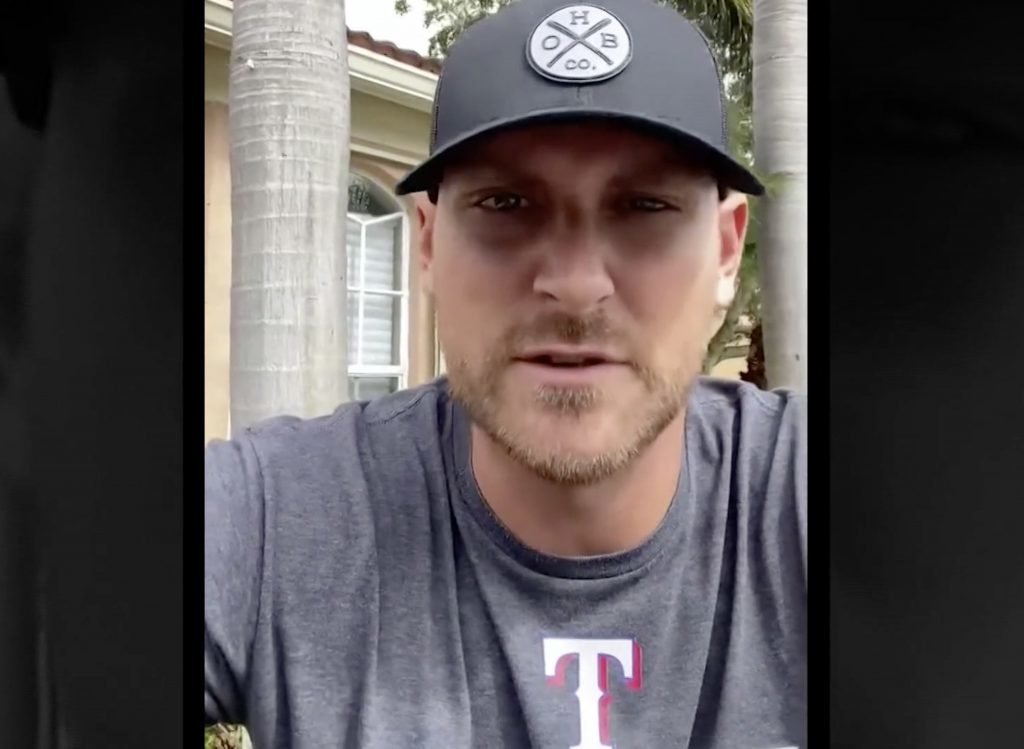 CBS Sports baseball analyst and former Boston Red Sox infielder Will Middlebrooks, who won a World Series with the Red Sox in 2013, said in a video posted on Facebook Monday afternoon that he and Price grew up as close friends in Wolfe City. In a separate Facebook post, Middlebrooks called Price "my first ever favorite teammate."
"What's really sickening is that he was doing the right thing," Middlebrooks tweeted. "He saw a man putting his hands on a woman and stepped in to stop the altercation. The man then fought him… then the police shot him. He was unarmed. I'm heartbroken."
Middlebrooks launched a GoFundMe page to raise funds for Price's family, and it had raised more than $84,000 at the time of publication.
In Middlebrooks' Facebook video, he called for peace in the wake of Price's death.
"I understand you're angry. I understand you're sad and broken. We all are," Middlebrooks said in an emotional plea. "Most people in that town are behind Jonathan and everything he was about. […] And I know for a fact, he would not want that place being torched and torn to pieces and people's businesses being ruined because those people were behind him. […] Stay strong, stand next to each other, and hope and pray for justice for Jonathan."
Hundreds of protesters gathered Monday evening in front of the parking lot where Price was killed. Video shows them listening to speakers, hugging, chanting, and lighting candles for a vigil after nightfall.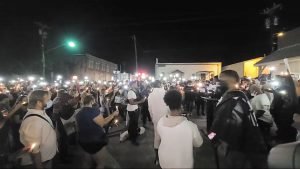 When a small group of white counterprotesters arrived — one carrying a long rifle and another with a German shepherd — tensions rose temporarily before the man with the gun was convinced to leave, video shows.
After restoring the peaceful air, protesters began chanting, "Don't start no shit, won't be no shit."
The Texas Rangers, a law enforcement division within the state's Department of Public Safety, are investigating the case with the cooperation of the Wolfe City Police Department and the Hunt County district attorney.
Investigators have released few details in the case, and Merritt has called for the release of body camera and gas station surveillance footage.