She said she later saw Texas Guard members drive the vehicle away. The Texas National Guard did not immediately respond to questions from Coffee or Die about the incident.
"We've had militia (white supremacist, Oath Keepers, etc) show up from other states," she wrote in a direct message to Coffee or Die. "So I had no way to positively ID whose vehicle — that's why I reached out to closest federal LEO contact."
Wright's second tweet includes a picture of the same rifle in her office. A magazine is inserted in the weapon, though it's unclear whether it is loaded.
"It had [a] loaded magazine, but I did not remove that or check the chamber," Wright said.
A Border Patrol agent and a noncommissioned officer from the Texas Guard soon arrived at the Butterfly Center to collect the weapon. She also said a senior official with the Texas Department of Safety called her to apologize for the incident.
Wright also noted in her tweets that the truck's driver appeared to have purposefully disabled the seat belts in the vehicle by fastening them before sitting down, thereby disengaging the audible seat belt alarm. Seat belt use has been mandatory in all Department of Defense vehicles and on all Department of Defense installations since at least the 1980s.
Operation Lone Star
The Texas National Guard has had soldiers deployed to the US-Texas border since March of 2021 for Operation Lone Star, an initiative launched by Texas Gov. Greg Abbott. The deployments, now in their 16th month, have drawn criticism for a lack of planning and equipment, cost to Texas taxpayers — estimated at about $2.5 million per week — unclear results, and a lack of clear mission. Morale has been found to be low among the deployed troops, who have had to leave jobs and family, even over holidays, for a deployment in which they have few legal or practical duties. Federal authorities are also looking into whether funding for the deployments was diverted from COVID-19 relief funds.
"They are bored as fuck sitting out here," Wright said. "If they see any Border Patrol action, they try to get in on it."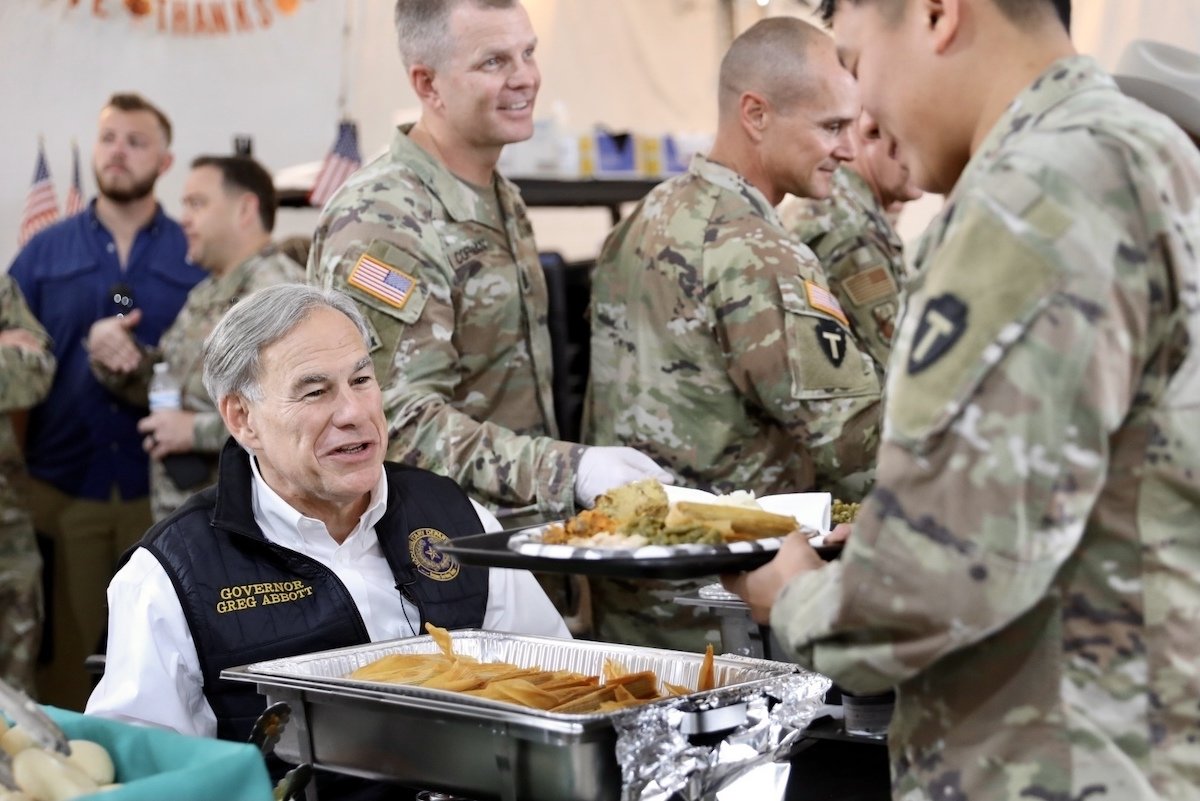 Wright speculated that the Guard member who left the rifle had driven to the property in hopes of joining a search or arrest by Border Patrol agents.
"Every one of these rentals, they are driving it like they stole it," she said. "They have no regard for posted signs or the law. They don't even wear their seatbelts, which is a Texas law."
Missing Weapon
Wright said she has a son who is enlisted in the Navy and another who is in Army ROTC while in college, so she fully understands the gravity of an unsecured or missing weapon to a military member.
"I know it's a big deal," she said.
Losing possession of a weapon is one of the military's gravest errors and is punishable by a wide range of outcomes, including loss of rank, loss of pay, and even jail for up to 10 years, along with nonjudicial punishments like Article 15s.
Wright and the Butterfly Center sued the federal government in 2017 when construction of a pair of so-called border walls began on the center's property with, she said, no warning or proper environmental considerations. One was a federal project under the Department of Homeland Security, while a second was erected by a private group, led by former Donald Trump adviser Steve Bannon.
The 100-acre National Butterfly Center bills itself as "the premier location in the United States to experience the beauty of wild, free-flying butterflies" and "the best place in the United States to experience a safari of diverse and exciting wildlife populations, including hundreds of species of wild butterflies."
The center is adjacent to a facility used by US Border Patrol for horse stables.
Read Next: