A car crash, gunfire, and a Texas wildfire killed five law enforcement officers nationwide over the past week.
Their deaths bring the number of officers killed while on duty so far in 2022 to 84, according to the Officer Down Memorial Page.
At the same point last year, 122 officers had died.
Dominique "Dom" Calata
A husband, father, US Army veteran, Army National Guard officer, friend, and cop, Pierce County Sheriff's Deputy Dom Calata lived a life of service, and he died serving the Washington community he loved.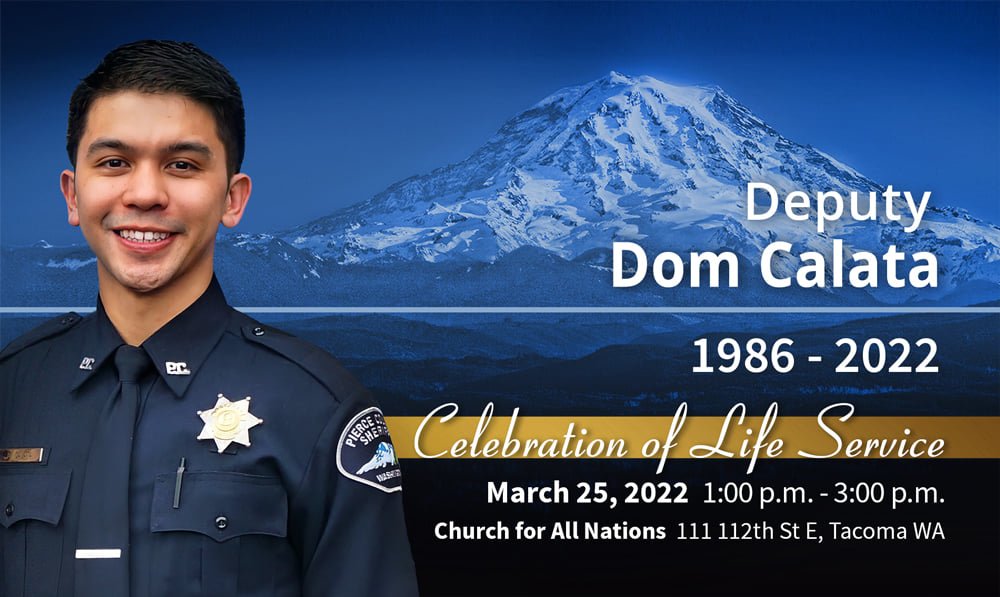 On March 15, Calata and his fellow SWAT team members approached the Spanaway mobile home of career criminal Jeremy Daryl Dayton.
They were going to serve a felony arrest warrant on the suspected 40-year-old gang member. Dayton faced a lifetime behind bars for violating the state's Three Strikes law following arrests for cocaine trafficking, narcotics possession, firearms violations, robbery, and breaking his wife's jaw.
Dayton opened fire, wounding Calata and the team's commander, Sgt. Rich Scaniffe, 45. Law enforcement officers returned fire, killing Dayton, according to the Washington Council of Police and Sheriffs.
Both Scaniffe and Calata were transported to St. Joseph Medical Center. Scaniffe underwent surgery and was released three days later.
Calata died Wednesday. He leaves behind a wife and a 4-year-old son.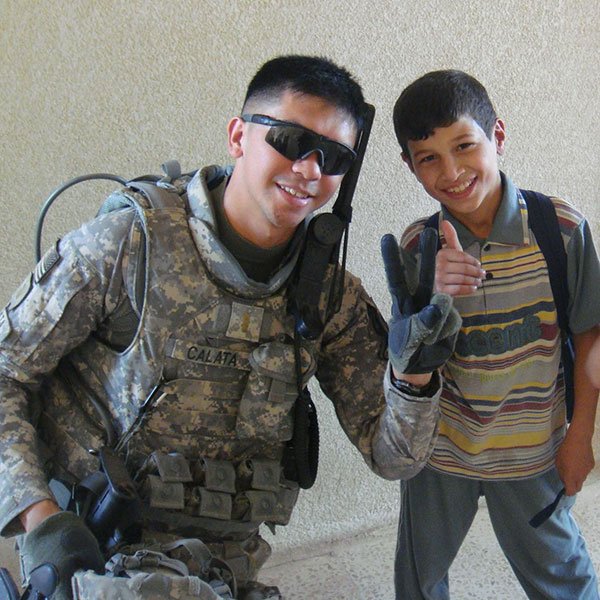 He'd served the sheriff's department for more than six years, following five years on active duty in the US Army. He'd continued his military service in the Washington Army National Guard and recently was named to run its Officer Candidate School.
"When he got out of the Army, he spoke to me about becoming a cop, and I, honestly, could tell his heart was in it," said John Escalera, 35, a fellow Army ROTC candidate and Calata's roommate at Pacific Lutheran University. "He had a heart for service, and he wanted to serve Pierce County. Being a cop in the place where he grew up allowed him to continue to serve after he left active duty."
Both were political science majors. Escalera branched aviation in the Army and Calata became an armor officer, but they remained steadfast friends and both joined the Guard when they left active service.
Escalera recalled Calata's unbreakable Christian faith, his strong devotion to family and friends, and his lifelong commitment to servant leadership.
"What I'm going to remember best was how dedicated a friend he was to everybody," Escalera said. "I've met so many of his friends, people on the police force, those in the military, even people who had only the smallest interactions with him, but they said they were very meaningful.
"I've definitely met people inspired by him. And it was honest with him. It was genuine. He always led the way. If there was anyone who was going to do what was right, Dom was going to take the first step to make it happen."
Dominique "Dom" Calata was born in 1986. He is survived by his parents, his sister, his wife, and their 4-year-old child.
"I'm going to remember Dom by living like Dom would," Escalera said. "He was an outdoor kind of guy. He represented the Northwest. He was always out there, hiking, hunting, things like that. But he was also an outstanding dad. When I heard of Dom's passing, I was losing my best friend. I was losing a brother."
A celebration of life service is slated for March 25 at the Church of All Nations in Tacoma. Escalera said he'll be there, one of a throng of friends transformed by Calata's example.
"I'm going to find meaning by living through his legacy," Escalera said. "He always challenged himself to become a better person, to take on the harder jobs, the most challenging, those that would make the biggest impact on a community.
"The challenge is to live like Dom. Live a life of service. Live a life of honor. Be a true friend to everyone you know. People will honor that and they'll continue to serve because of him."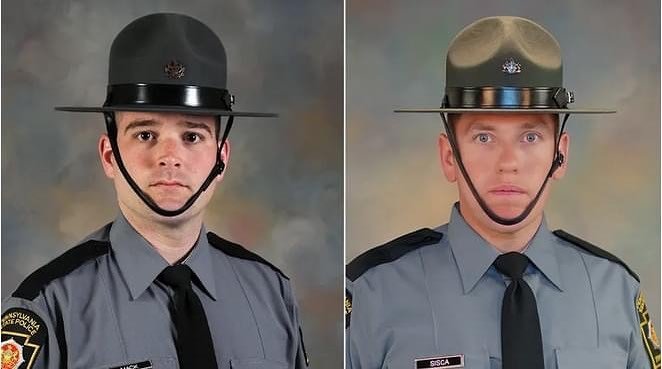 Martin F. Mack III and Branden T. Sisca
On Monday, Pennsylvania State Police Troopers Martin Mack III and Branden Sisca were pulled away from an early morning traffic stop involving a suspected drunk driver to help a man walking on the side of the highway.
Investigators believe that moments after the troopers left Jayana Tanae Webb, the 21-year-old woman drove away, came upon the parked police vehicle, and then attempted to pass them, spearing her car into the two troopers and the wayward pedestrian they were trying to lead to safety.
Mack, 33, and Sisca, 29, died alongside the pedestrian, Reyes Rivera Oliveras, 28, of Allentown. Webb's vehicle then struck a barrier, continued a short distance on the highway, and came to a stop along the shoulder, according to authorities.
Late Tuesday afternoon, authorities charged Webb with three counts of murder in the third degree; three counts of homicide by vehicle while driving under the influence; three counts of homicide by vehicle; two counts of manslaughter of a law enforcement officer in the second degree; three counts of involuntary manslaughter; three counts of recklessly endangering another person; driving under the influence; and multiple summary traffic violations, including failing to drive at a safe speed, careless driving, and reckless driving.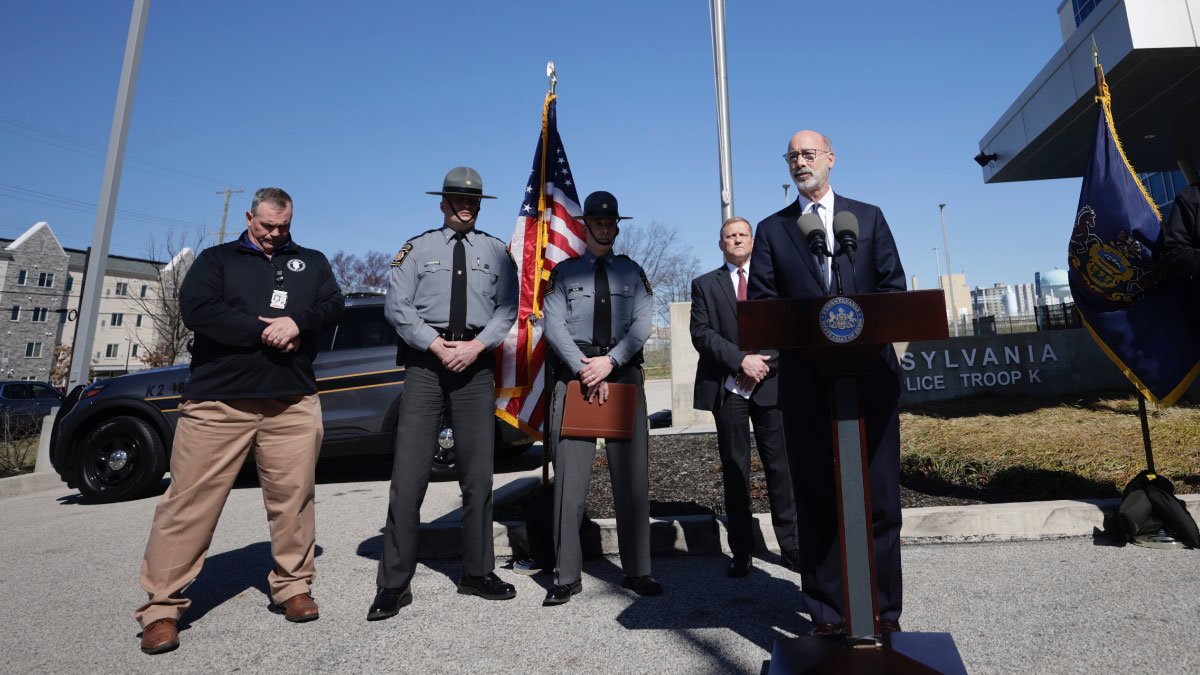 In a prepared statement released shortly after the deaths of the three men, Pennsylvania State Police Commissioner Col. Robert Evanchick said his department was "heartbroken with the tragedy."
Pennsylvania Gov. Tom Wolf added that the incident remains a "stark reminder of the risks and sacrifices" law enforcement officers undertake every day. He ordered the commonwealth flag at all commonwealth facilities, public buildings, and grounds to fly at half-staff until Friday to honor the fallen troopers.
Mack joined the Pennsylvania State Police in 2014. He also was an assistant coach for the lacrosse team at Harry S. Truman High School in Levittown. He's survived by his wife, Stephanie Mack, and daughters, Olivia and Rowan.
Sisca joined the State Police in early 2021. He's survived by his wife and unborn baby.
Funeral arrangements for both troopers are pending.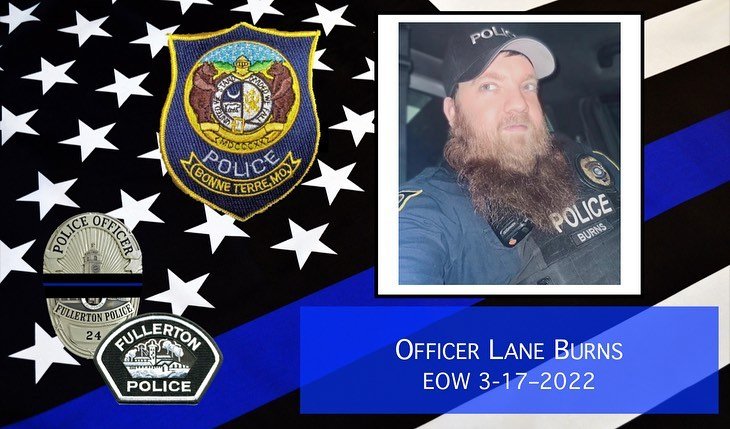 Lane Anthony Burns
Authorities in Missouri said a St. Louis man, James Emery, ambushed two Bonne Terre Police officers responding to reports of a disturbance shortly after midnight Thursday at a Motel 6 along Highway K.
Detectives said that as Cpl. Garrett Worley and Patrolman Lane Burns neared Emery's motel room, the 21-year-old opened fire with a pistol, wounding both officers. They were able to return fire, striking and killing the shooter.
Worley was flown to a St. Louis trauma center to undergo surgery for gunshot wounds to his leg. First responders rushed Burns to a local hospital, where he died.
Burns had spent five years with the Bonne Terre Police Department after serving the St. Francois County Sheriff's Office for five years.
Lane Anthony Burns was born May 30, 1991, in Joplin, Missouri, to Joseph and Julie (née Hill) Burns.
His obituary states that he "enjoyed mustangs, hot rods and was a true gamer."
He's survived by his parents; his daughter, Ivy Claire; his son, Raiden Michael; his brothers, Scott and Steve; and his fiancée, Shannon Chasteen.
Burns' funeral service is slated for March 26 at the Mineral Area College Field House in Park Hills with Pastor Danny Pyeatt officiating and Pastor Robert Thurman assisting.
A funeral procession will leave the CZ Boyer and Son Funeral Home on March 27 for the interment service at Harvey Cemetery east of Carthage. Pastor Brian Freeman will officiate the graveside service.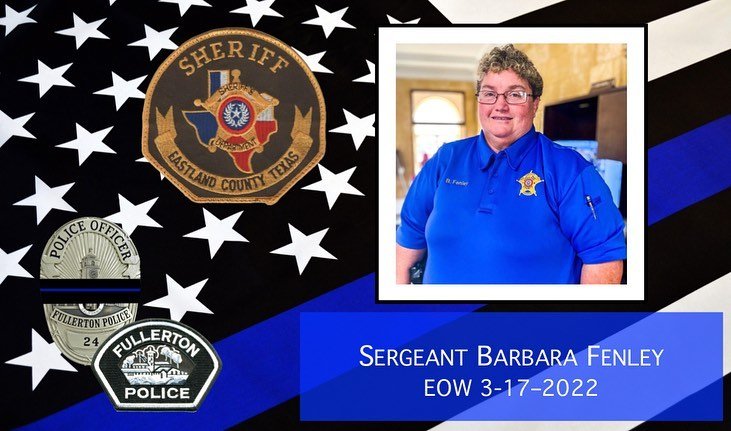 Barbara Ann Fenley
A Texas wildfire claimed the life of Eastland County Sheriff's Office Sgt. Barbara Fenley while she was evacuating residents west of Fort Worth. She was 51.
On Thursday, Fenley was walking door-to-door near Carbon, warning citizens to leave before they were overwhelmed by the rapidly advancing Eastland Complex Fire. She was assisting an elderly resident when a bank of smoke rolled over the neighborhood, cutting visibility.
Eastland County Sheriff Jason Weger believes that Fenley mistakenly ran her patrol vehicle off the road and flames engulfed it.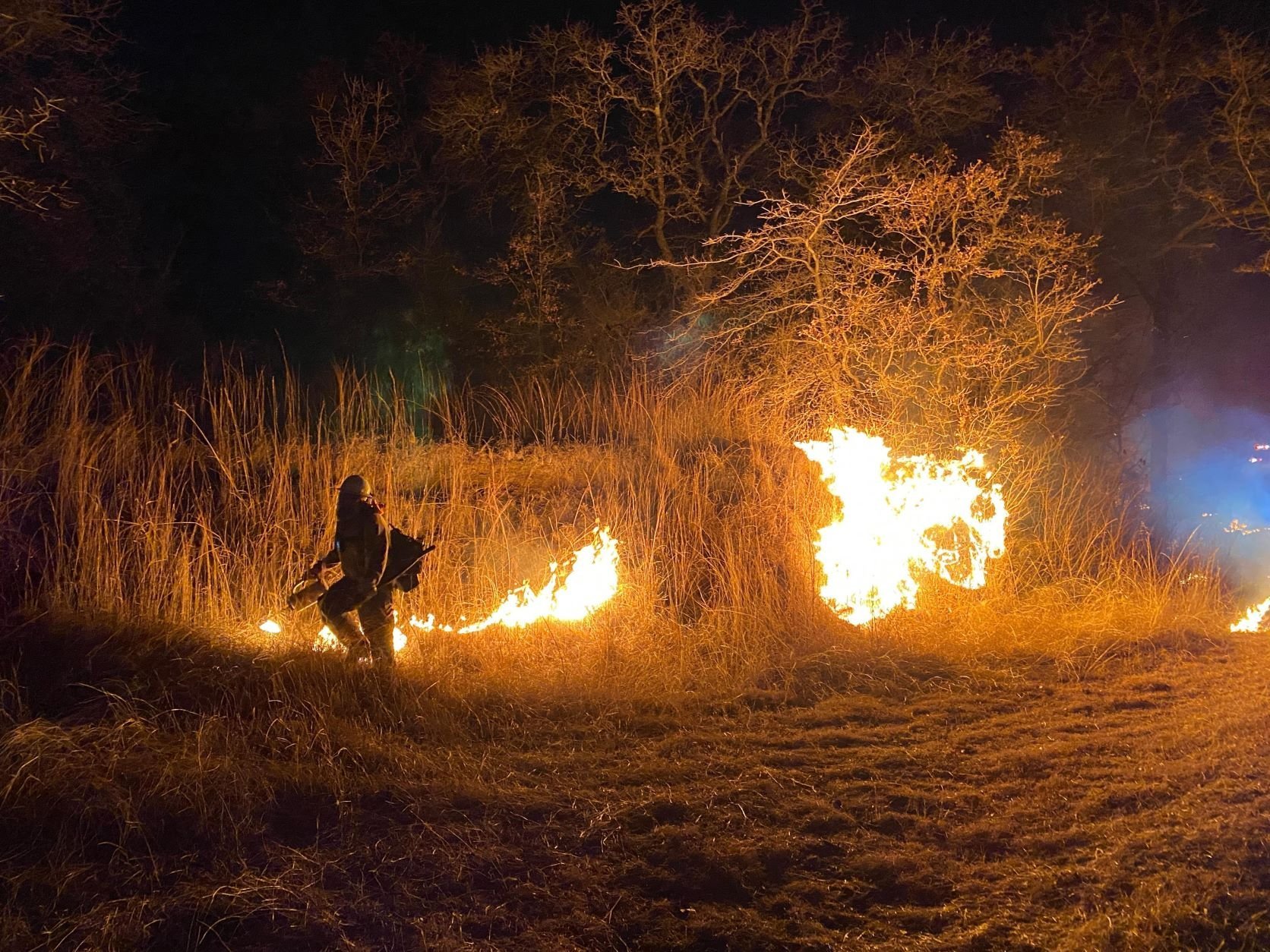 After consuming more than 54,000 acres, the Eastland Complex Fire continues to burn. According to the National Weather Center, crews have contained roughly 60% of a wildfire that's incinerated 142 structures.
Fenley served nine years with the Eastland County Sheriff's Office. She previously served with the Gorman Police Department for 10 years, including six years as the police chief. She also worked as a bailiff for the Eastland County District Court.
Her obituary states that she "loved her family very much and cared for others so deeply that she lost her life trying to evacuate families from the devastating Eastland Complex Fires."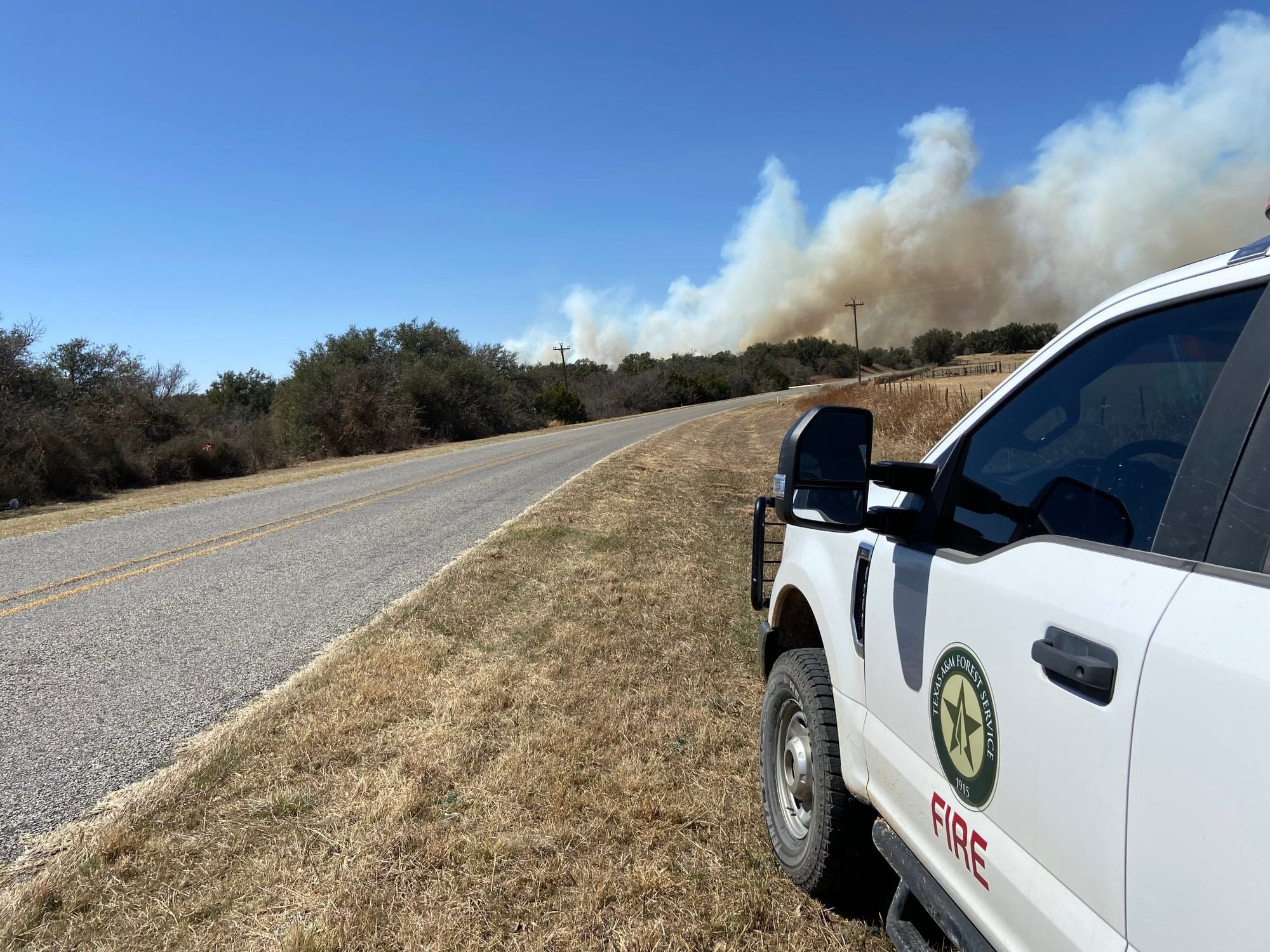 Barbara Ann (née Majors) Fenley was born March 22, 1970, in Cleburne to Johnny Wesley and Vickie (née Nipp) Majors.
She was preceded in death by her father. She's survived by her mother; her husband, Joe; her three sons, Jon, Trent, and Sheldon; and her brothers, Ronald and Donald.
Her funeral service is slated for March 23 at the Myrtle Wilks Building in Cisco. A private graveside service will follow.
Read Next: 5 Law Enforcement Officers Killed Nationwide in First Half of March