It's been 185 years since the fall of the Alamo. The heroic stand of some 200 Texans against a force of more than 1,800 Mexicans is a benchmark of American military history. Considered one of the greatest last stands, the doomed defense of the Alamo has taken its rightful seat alongside the battle of Thermopylae and the siege of Calais.
In the nearly two centuries since the battle, the epic struggle has been adapted for both the stage and the screen numerous times. Some versions favor spectacle while others favor story, yet both typically opt for entertainment over accuracy. However, two movies stand apart from the rest: John Wayne's 1960 The Alamo and John Lee Hancock's 2004 film of the same name.
The most famous portrayal is John Wayne's directorial debut and passion project. The movie stars John Wayne in the lead role of Davy Crockett — the American folk hero and frontiersman-turned-congressman who famously reinforced the doomed Texans with a band of Tennesseans. The Alamo scored several award nominations and won the 1960 Oscar for best sound but has since been considered by many to be a lackluster film, currently holding a 51% rating on Rotten Tomatoes. The movie's roadshow cut drags on for a whopping 202 minutes and is at times cheesy to the point of being comical. While Wayne's version does not strictly adhere to the truth, the plot remains close enough to the story most Americans are familiar with; a band of 200 Texans, led by Davy Crockett, Jim Bowie, and William Travis, bravely defended their small outpost to the last man in the name of independence.
In order to combat Hollywood's shifting political agenda of the time, Wayne took some liberties with the story. His well-known political views become most obvious during an awkward monologue in which he professes his love for the republic. Wayne also slightly alters Crockett's fate for dramatic purposes. At the film's climax, Crockett is mortally wounded, yet rather than die by enemy fire, he manages to stagger to the fort's magazine with a torch in hand, ignite its stores, and die in a fiery explosion, killing another swath of Mexican soldiers along with himself.
There are two accepted theories among historians as to how the Alamo's most famous defender was actually killed, and neither of them involve a self-sacrificing detonation of the fort's gunpowder. Moviegoers hoping for a purely factual recounting of the battle should look elsewhere. Despite a thinly masked commentary on Hollywood's lingering fear of communism, the 1960 version still boasts an impressive list of awards and is certainly worth watching for fans of The Duke.
The real story surrounding the battle at the Alamo is more complicated than Hollywood movies have let on. In 1836, after a change in Mexico's government, conflict flared between Mexico and the American immigrants living there. Texans, some legal immigrants and others illegal aliens, drove Mexico's army out of Texas. A small garrison of Texans remained at the Alamo and converted it into a military outpost.
Soon, a force of more than 1,800 Mexican soldiers commanded by Antonio López de Santa Anna marched against the small Texan force and laid siege to the outpost. After several requests for reinforcements, the Texans resigned to their fate and prepared their defense. When offered conditions of surrender, the Texan commander, William Travis, defiantly responded with a single cannon shot. In a final dispatch to Washington, Travis wrote, "I am determined to sustain myself as long as possible and die like a soldier who never forgets what is due his own honor and that of his country — Victory or Death." Days later, the final assault commenced and Travis was killed, along with all of the Alamo's defenders. Of the fort's occupants, only a small number of civilians and slaves were spared.
Wayne's 1960 version remains the most popular film adaptation, but it is Disney's 2004 box office flop that tells the most interesting and character-driven version of the battle. Directed by John Lee Hancock and distributed by Buena Vista (a studio under Disney's larger umbrella), The Alamo stars Dennis Quaid, Patrick Wilson, and Billy Bob Thornton. As viewers would expect from a movie about the famous last stand, the film is full of large-scale action sequences, stunt-filled fight scenes, and beautifully lit Texas skylines. But what makes this version special is its success in adding depth to previously two-dimensional historical figures like Sam Houston, Jim Bowie, and William Travis. Its greatest achievement, however, comes where John Wayne failed: its humanization of Davy Crockett.
The film introduces Crockett as a man living in the shadow of his own legend. While Wayne essentially played himself, Billy Bob Thornton plays Crockett as a man fully conscious of his mythical status. During his lifetime, Davy Crockett was famous as a Creek fighter, advocate for Native American rights, frontiersman, and congressman. In the film, Crockett reluctantly embraces his celebrity, aware that his fame is nothing more than legend. He is a man cloaked in stardom who finds himself swept up in the passions of a revolution and is left with no choice but to meet people's expectations. This embrace ultimately costs him his life. The film depicts this unique take on Crockett by following the lesser-known theory of his death.
While all of the Alamo's defenders were killed, several civilians were spared by Mexican forces. Most famous of the survivors was Susanna Dickinson, who, despite being sheltered in one of the fort's reinforced rooms during the battle, claimed Davy Crockett was among the last of the defenders to die. Santa Anna's own slave claimed he saw Crockett's body surrounded by no fewer than 16 dead Mexican soldiers, according to Lon Tickle's 13 Days to Glory: The Siege of the Alamo. These accounts directly influenced the common portrayal of Crockett fighting fiercely to the last, as seen in the 1950s miniseries.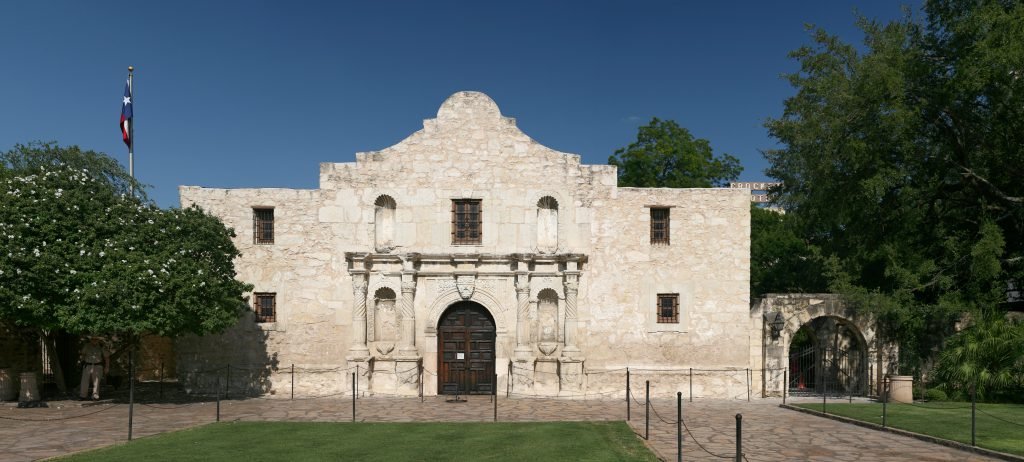 However, other accounts from Mexican veterans of the battle claimed Davy Crockett survived the battle. Rumors spread that Crockett and four to six other Texans either surrendered or were captured. They were presented to Santa Anna for mercy but were quickly executed, as Mary Deborah Petite notes in 1836 Facts About the Alamo & the Texas War for Independence. Some historians argue this version of events is likely not true and was created to further smear Santa Anna's name as a ruthless dictator, thus inspiring more Texans to fight.
Whether Davy Crockett was killed in action or executed will likely never be known; however, the film opts for the latter version in order to bring Crockett's character arc full circle. In his final scene, Crockett kneels before his executioners with his wrists bound. He shakes his head in bewilderment at where his own legend has landed him. Just before he is killed, he assumes the role that's expected of him and mockingly offers to accept Santa Anna's surrender.
While Billy Bob Thornton and Patrick Wilson make the movie the best Alamo movie to date, the film is far from perfect. An attempt to cram the politics surrounding the Texas revolution into a PG-13 action movie ultimately takes away from Thornton and Wilson's performances. A series of events involving slavery, immigration, and a Mexican dictator prove too murky to effectively pull off in what is essentially a patriotic war movie celebrating American folk heroes — albeit more subtly than the 1960 version.
Despite the final product's feeling as though the director was unsure which way to steer the film, the 2004 film remains the most entertaining portrayal of the famous battle. For history buffs hoping to gain a deeper understanding of the Texas revolution and the battle for the Alamo, books may be a better medium than movies. Reading Texian Iliad by Stephen L. Hardin, Three Roads to the Alamo by William C. Davis, and Lone Star by T.R. Fehrenbach provides what movies cannot.
Read Next: