In the Marines, they called him POG.
The grunts in Iraq would size him up and see another gangly reporter, grinning under a crooked Kevlar helmet and rocking an overburdened kit of body armor, M16, notepad, pen, and bulky camera with extra lenses protruding from pouches at his side. More often than not, they would either sigh or roll their eyes at the sight of another reporter they'd have to babysit and make sure he didn't do anything stupid.
He learned not to correct them when they'd call him "combat camera." Admittedly, it sounded cooler than PAO or public affairs officer, and it wasn't really worth explaining the difference — that he was a "storyteller of Marines."
Grunts only care if you can fight, and Raymond Lott, aka The Marine Rapper, aka TMR, understood that because if TMR is anything, he's a fighter.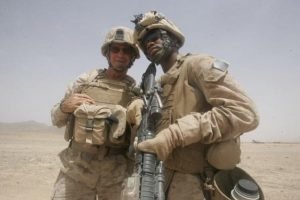 "I'm one of five children, and we grew up in poverty," he told Coffee or Die Magazine on a recent Zoom call, rocking his signature American flag leather jacket. "Like, we literally grew up eating government cheese and having to decide between lights and water. We chose water, and then we did our homework in the dark, next to a candle."
TMR has come a long way from his humble beginnings in Newark, New Jersey. Since leaving the Marine Corps in 2014, he's hustled and grinded out his American dream to make it as a rapper, music producer, and tireless champion of veteran artists and entrepreneurs. He's the host of Military's Got Talent, which he created, CEO of Military Musician platform, and owner of Ninja Punch Music, which finds, promotes, connects, and pays military artists to create albums. Ninja Punch is a play on the well-known military acronym NJP, which stands for nonjudicial punishment — the military's method of disciplining service members for minor offenses.
His music, which is produced over heavy metal, hip-hop, and trap beats, is often humorous and focuses on his military service and unique American experience. He says he strives to motivate others, start conversations, and immortalize his fallen brothers and sisters with his work.
"Ray's all about making connections for people," says Tripp Ainsworth, a Marine combat cameraman turned novelist and multimedia artist who served with TMR in Afghanistan. "The whole Marine Rapper thing — it would have been easy for that to fade out after about 15 minutes, but he's sustained it and succeeded because he's built a brand around helping other veterans."
Ainsworth has known TMR since long before he made it as a recording artist and entrepreneur. When the Marines were bunkmates in Afghanistan in 2008, TMR was in his aspiring-rapper phase and was spending most of his downtime practicing and recording.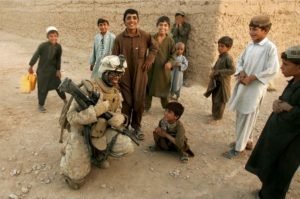 "Tripp was one of those Marines who, when I used to freestyle in Iraq and Afghanistan, would be like, 'Please shut up, dude. You suck. You're never going to make it.' And I did suck then, but I had to start somewhere. I had to do the work."
Ainsworth remembers things a little differently.
"As a corporal, Ray outranked me in Afghanistan, so I never actually told him he sucked," he says. "He had this little beatbox machine and would always be working on a beat or a track at like midnight. I'd be rolling out for a patrol at like 3 a.m., so I'd politely ask him to let me sleep."
Ainsworth recorded a guitar track for TMR's Kickstarter funded, all-military compilation album, Sounds Like Freedom Vol. 1. TMR executive produced the full-length album, which was a massive collaboration with about two dozen other veterans. Looking back, Ainsworth said he's proud to see how far his friend has come as an artist.
"Nobody ever sees the 10,000 hours of practice that go into becoming a great artist, but I've seen Ray's commitment firsthand," Ainsworth says. "He's the real deal."
TMR attributes much of his success to his mother and the values she raised him and his four siblings with.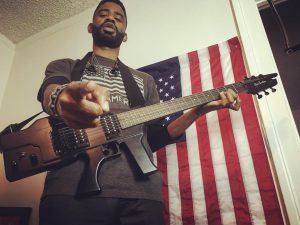 "My mom used to tell me and my brothers and sister, 'You are a king, you are a queen — like, all the time," he says. "She pushed us to succeed and instilled this never-quit attitude — always be the best, be accountable, and never look at ourselves like victims. That made us who we are now and why we're all doing well in our own ways."
TMR says his brother Adrien has a doctorate in film and teaches at the University of Texas. His sister, Tatjana, is a sheet-metal worker in San Diego — "a real-life Rosie the Riveter," he says proudly. His brother Sean overcame obesity as a young man, turned his life around, and is now a chef, personal trainer, and life coach. And TMR's youngest brother Brandon is a 19-year-old college student who works two jobs while studying computer science.
"I feel like our humble beginnings helped mold our minds into being great," he says. "We grew up in a suburban neighborhood where most of the middle-class families were better off than we were. I think we were all determined to rise up and transcend our status as kind of low folks on the totem pole, and that's how I raise my daughter now. I tell her just like my mom told my sister, 'You're a queen.'"
TMR says after his family moved from New Jersey, he grew up in Oceanside, California, just outside Camp Pendleton. Service in the Marines is a proud tradition among the men in his family. His father, stepfather, uncle, and cousin — who now serves as a police officer — were all Marines.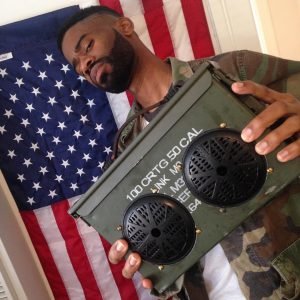 Grammy-winning reggae artist Shaggy served in the Marines while TMR's father and stepfather were on active duty, and the multiplatinum-selling musician makes an appearance on TMR's latest production, "World War Cypher" — a massive collaboration with military-veteran musicians that TMR compares to Wu-Tang Clan's "Triumph."
Black Rifle Coffee Company co-founders Mat Best and Jarred Taylor and comedian Jack Mandaville all make appearances in the song's video.
TMR met Best when he was working on Range 15 — the irreverent, crowdfunded zombie movie made by and for veterans. TMR sent Best a track called "Grunt Like a Grunt." He liked it so much, he put it in the film.
Best says when they finally met in person in Los Angeles, he wanted to see if the Marine could actually freestyle — the real test of any true rapper.
"He just started spitting this freestyle for like two minutes without missing a beat," Best says. "He was great. I was like, 'Damn, bro, you are a real rapper.'"
TMR says throughout his life when people have doubted him, he's used it as fuel.
"In the Marine Corps, when I said I wanted to rap, some people would tell me I was stupid, and I should just reenlist and be a lifer. They'd be like, 'How you gonna do that?' And I'd say, 'I don't know, but I'm gonna get it done."
As it goes for most aspiring artists and entrepreneurs, getting it done wasn't easy. TMR has taken a lot of punches along the way, including some vicious uppercuts.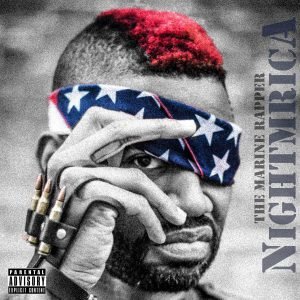 When he got out of the Marines in 2014, he moved in with his daughter's mother and her husband in Austin, Texas, and took a job at Taco Bell while continuing to make music. He experienced the cycle of depression and loss of purpose that veterans often feel after leaving the service.
"I fell into a deep depression," he says. "I didn't know who I was, didn't have a purpose. I remember crying on the bathroom floor, just curled up feeling sorry for myself. I had to work through it and remind myself who I was and where I came from. I had to look in the mirror like, 'What are you doing, dude? You're not a victim; you're a fucking superhero.'"
TMR earned a promotion to manager at Taco Bell before he left that behind for a job doing layout and design at a local newspaper.
"I swear my confidence alone got me that job," he says. "My experience as a Marine correspondent helped, but I swear it was my attitude that set me apart and made them take a chance on me. That's why I always tell people you can't have a victim mentality. Some people are like, 'I only have a dollar to my name.' I'm like, 'I have $1. How am I going to use it to achieve greatness?'"
As TMR continued grinding out his path, making music and producing his own YouTube videos, he realized he wanted to do something that leveraged all his skills as a storyteller, video producer, and champion of veteran entrepreneurs and artists. He launched The Gi Show in September 2014. The talk-show-style YouTube series featured TMR interviewing military members and veterans and sharing their stories with the world.
One of his first guests was Kelsey Brooke De Santis, a Marine Corps martial arts instructor and MMA fighter who now works with UFC champion Amanda Nunes and Olympic gold medalist in judo Kayla Harrison.
TMR and De Santis forged a friendship after the two Marines became viral sensations in 2011, when inviting celebrities via YouTube to the Marine Corps ball became a trend for a while.
De Santis scored a date with Justin Timberlake, but TMR initially struck out when he asked Betty White to be his date. After the beloved Golden Girl declined, however, Linda Hamilton made his year when the Terminator-terminating icon flipped the script and made her own YouTube video, begging TMR to take her to the ball.
"It was amazing," TMR recalled. "I picked her up from the airport, and we had a great time. That experience helped me realize I have a bigger calling. It made me focus on my rap and helping other people."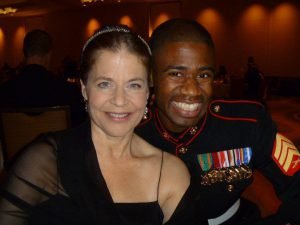 After De Santis appeared on The Gi Show, TMR brought her on as co-host.
"Ray is like a unicorn," De Santis says. "He's just this incredibly creative, energetic, genuine person who's all about his art and uplifting people in his community. He's a storyteller who asks really deep, interesting questions and loves empowering others. He's a true patriot and a rapper you wouldn't mind your kids looking up to."
TMR and De Santis produced several episodes of The Gi Show before TMR realized he couldn't sustain the production. He decided to move to Los Angeles, where he stayed with a girlfriend before life hit him with another uppercut. He ended up homeless for a while until he found a program through the VA that put him up in a dorm for veterans in Hollywood.
He started seeing a therapist and meditating while he worked through some of his personal demons. The VA helped expedite a disability claim, which gave him an income, and he enrolled in the Los Angeles Film School's music production program. After three months in the dorm and some much-needed spiritual healing, he was able to move into an apartment in Hollywood.
"I needed that help," TMR says. "It was a steppingstone. But I told myself, I never want to go back to that place again."
At LA Film School, TMR found himself surrounded by talented musicians, producers, and videographers. Rocking a red mohawk, American flag jacket, black 5.11 boots, and leather half-gloves with embedded rifle rounds, TMR drew a lot of attention from his peers.
"Everybody thought I was in a rock band or something," he says, smiling.
He says the look probably helped him connect with an Air Force veteran named Brian Spencer, who he collaborated with on his breakout song, "Star-Spangled Banger."
TMR says when "Star-Spangled Banger" dropped, a lot of people didn't know what to make of him.
"It was like, 'Wait, you're Black, but you're patriotic?' And I'm like, 'I've been over in Iraq and been shot at, bro.' If you know, you know."
"Star-Spangled Banger" has been streamed more than half a million times, and TMR says he's inspired and honored to know his music reaches so many people and such a diverse audience.
"Military bodybuilders will message me and tell me they use 'Star-Spangled Banger' as their workout music," he says. "That song motivates people on a daily basis, and that's pretty special to me."
The track was also a springboard for other successes. It helped him get connected with Bunker Labs, a national nonprofit network of veteran and milspouse entrepreneurs dedicated to helping the military connected community start their own businesses.
TMR served as a Marine for 10 years from 2004 to 2014. He completed two combat tours and one deployment to Africa, earning a combat action ribbon in Iraq. His photos from Iraq were recognized by the Marine Corps Division of Public Affairs as some of the Corps' best images in 2006. He says the things he saw while deployed in the Marines are why he never takes for granted the lifestyle he enjoys as an American.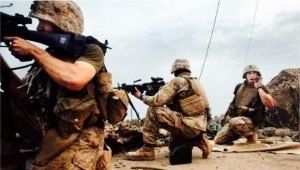 "I have this vivid memory from Iraq where I'm all bogged down with heavy gear, sweating and tired, and this little kid runs up to me. His lips are dry and cracked, and he just looks up at me with sad eyes and says, 'Water.' I gave him a bottle of water, and that moment changed my life forever. A lot of people don't hear about all the humanitarian missions we did in Iraq and Africa, and how much we helped people, but those experiences had a profound impact on me."
TMR says he's had Black Americans approach him on the street and question why he wears an American flag jacket.
"As Black Americans, we helped make this country," he says. "I served this country. Why shouldn't I be proud of my culture and heritage?"
TMR says he doesn't like when people try to fit him in a box. One of his favorite pastimes is drawing inspiration from and writing songs about current events. When Joe Biden made a famous gaffe during an interview with Charlamagne tha God on The Breakfast Club, TMR felt he had to roast him.
"If you have a problem figuring out whether you're for me or Trump, then you ain't Black," Biden said.
"I was like, 'Man, you were doing fine, right up until you said that,'" TMR says.
When he produced a 50-second video and posted it to Twitter, it made headlines when the president shared it.
While most people are eager to put 2020 in their rearview mirror, TMR has thrived professionally. He executive produced and performed on "World War Cypher"; released long-play albums NighTMRica and HearTMRica; Space Force albums Rocket Science and Jingle Bell Rap; and numerous singles and collaborations that are all available now on iTunes, Google Play, Amazon Music, and Spotify.
The future looks bright for TMR, and he's looking forward to making more music and continuing to lift up and empower others in his community and on Military Musician, the platform he created solely through social media. He says he'll be harnessing energy from hip-hop mogul Diddy, aka Sean "Puffy" Combs, who introduced the world to hip-hop legend Notorious B.I.G., the artist who inspired TMR to start rapping. When asked what he's doing with his newfound inspiration from the rap boss, TMR cites his most recent song release.
"Diddy made the band, I made the Band of Brothers," TMR raps on "World War Cypher," where he brought together American, Jamaican, and British military musicians on a track he executive produced. The Marine Rapper's music can be found on all digital streaming platforms, and "World War Cypher" drops today on his YouTube Channel.