"No such thing as a war crime."
That's how Joe Drago summarized his feelings about fighting in World War II. Seventy years later, Drago was practically confined to an armchair, with visibly atrophied legs and a frail upper body. Yet as soon as he held the 9 1/2-pound battle rifle, it was as if the weapon transported him back to his teenage self. He smiled at the familiar weight, shouldered the stock, and began to unleash a stream of stories he had not told in years.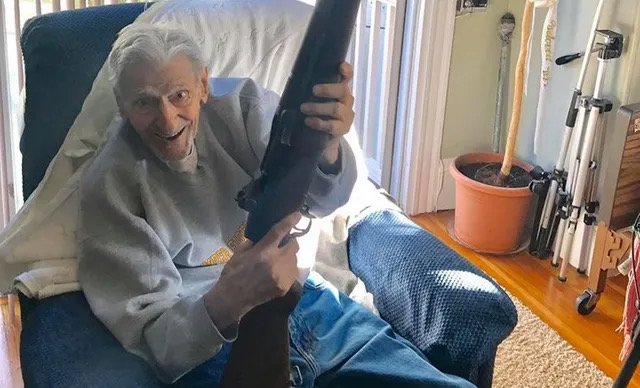 This was the start of The Rifle, an oral history project created by Andrew Biggio. Biggio, himself a Marine, enlisted as a rifleman and served in both Iraq and Afghanistan. Six years later, Biggio left to earn a bachelor's degree but continued to serve the public as a police officer. In his spare time, Biggio organized a nonprofit benefiting recently wounded veterans. Then, in 2018, he created The Rifle.
In just over three years, Biggio has gathered the stories of more than 200 World War II veterans. He has spoken with Mohawk and Navajo Code Talkers, Merrill's Marauders, and Tuskegee airmen, as well as veterans of every branch who served in the European, Pacific, and African theaters. And he's compiled their stories into The Rifle, a website and an upcoming book.
Chapter 1 tells the story of Joe Drago. Drago enlisted in the Marines when he turned 18 and served as a machine gunner on Okinawa — a campaign sometimes referred to as "the typhoon of steel" for its devastating totality. With the M1 Garand in his hands, Drago opened up, detailing atrocities committed on both sides of the battle. He then said, "I cannot believe Marines got in trouble for urinating on dead Taliban," referencing a 2010 incident in which a video surfaced involving several scout snipers and bodies of the enemy. Things were apparently much different for the Marines on Okinawa than they were in Afghanistan.
As Drago and Biggio wrapped up the first interview, Drago handed over a small velvet Crown Royal bag. Inside was a collection of gold fillings, trophies Drago collected on Okinawa. He explained, "These are yours now. There used to be more but when my kids were little they ran around giving them away in the neighborhood." In exchange for the teeth, Drago agreed to be the first signature on Biggio's then-pristine M1 Garand.
Now, at the end of every interview, the veteran autographs the M1 Garand. The rifle, once coined "the greatest battle implement ever devised," serves not only as a record of the stories told but as a device of old wood and steel that conjures the feelings, emotions, and memories of the former soldiers, sailors, and Marines who lay hands on it.
In 2019, Biggio used The Rifle to lead a group of veterans back to the battlefields of Europe on which they fought. He organized a fundraiser and successfully took 17 World War II veterans of the Battle of the Bulge back to Ardennes, to the forest and fields of Belgium. While touring the battlefields and cemeteries, the veterans even met with German veterans of the same battle, sharing stories of combat and celebrating their new, more peaceful relationship. Biggio also took veterans of the Italian campaign back to Anzio and Monte Cassino for the 75th anniversary of the liberation of Rome.
[vimeo id="357698065″ /]
When Coffee or Die Magazine asked if any particular interviews stuck out in his mind, Biggio was quick to answer, "Lawson Sakai."
Sakai was a Japanese American who was first told he was not eligible to serve in the military due to a policy barring Americans of Japanese descent from enlisting or receiving commissions. In 1944, the federal government reversed its original policy and formed the 442nd Infantry Regiment, an infantry unit of the US Army comprised entirely of Asian Americans. Sakai and the 442nd deployed to Italy and quickly made a name for themselves due to their ferocity in combat. By the end of the war, the 442nd had earned more than 4,000 Purple Hearts, 4,000 Bronze Stars, and 21 Medals of Honor, becoming the most decorated regiment in American history.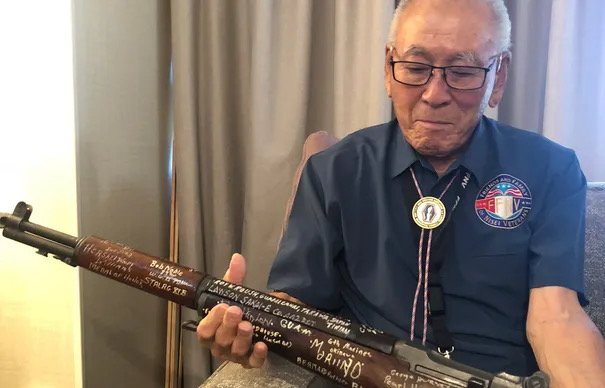 Sakai himself earned four of those Purple Hearts and two Bronze Stars. After fighting in Italy, Sakai was transferred to France, where he participated in the rescue of "the Lost Battalion" in eastern France. It was here, among the heavily timbered peaks of the Vosges Mountains, that Sakai recalled killing a German soldier with his Browning Automatic Rifle at point-blank range.
Sakai's story is one of the few that made their way into Biggio's upcoming book.
"The selection process was tough," he said. Every veteran's story deserves a spot, but for practical purposes, he narrowed down the book's focus to just 18 interviews from the more than 200 he has conducted. Set for release in June, The Rifle preserves invaluable memories from "the greatest generation." As we move deeper into 2021, fewer and fewer veterans of World War II remain to tell their stories, and Biggio recognizes the urgency in preserving them. Of the veterans Biggio has spoken with, roughly half have since passed away, highlighting that urgency.
He does not plan to stop there. When asked what was next for his crusade to preserve oral history, Biggio said he's now considering moving on to the stories of Vietnam veterans or perhaps those of the GWOT. While his attention is still directed at the release of his first book, Biggio and The Rifle show no signs of slowing down.
---
The Rifle: Combat Stories from America's Last WWII Veterans, Told Through an M1 Garand by Andrew Biggio, Regnery History, 278 pages, $30
Read Next: Douglas Munro: The Coast Guard's 1st and Only Medal of Honor Recipient