Operation Iraqi Freedom cost an estimated 4,411 US lives. If it wasn't for the courage of Iraqi Sergeant Major Hamody Jasim, that figure would likely have been much higher.
When Jasim was 12, he was stopped by members of the Ba'ath Party while walking home from school. They asked Jasim if he had any money. He had dinars in his sock and wallet, but he didn't want his money to be taken because he was planning to buy a new pair of shoes. He didn't just tell them no, Jasim walked away from the Ba'ath Party members, putting himself at great risk.
"The police officer in the car didn't let me walk away and go find another Iraqi to steal from. He pulled his vehicle in front of me and said, 'If I get out of the car and search you and find money in your pocket, this will be the last day of your life.' As I stopped, he got out of the car, grabbed me, threw me around, and started to search me immediately. It didn't take him much time to find the dinars in my wallet," Jasim recounted.
From there, Jasim was arrested and brought to a prison next to the Ministry of Interior. "It was like a zoo, full of cages, and it was so dark that you weren't able to see what was behind you after you passed it," Jasim said. The Baath party members wanted to make an example of him.
First, he was told to sign a paper that said he was a revolutionary fighter who attempted to assassinate a member of Saddam Hussein's party. He refused to sign. As a result of his refusal to comply, Jasim was tortured.
"I was brought to a room that was painted red with no windows. Inside, there were chains hanging from the ceiling. It looked like a butcher shop for humans. They grabbed me and hung me upside-down from the ceiling," Jasim said. "I lost all sense of gravity. But that was just the beginning. The guards kicked me again and again and again. The pain and torture made me pass out after about 45 minutes." He was tortured on multiple occasions.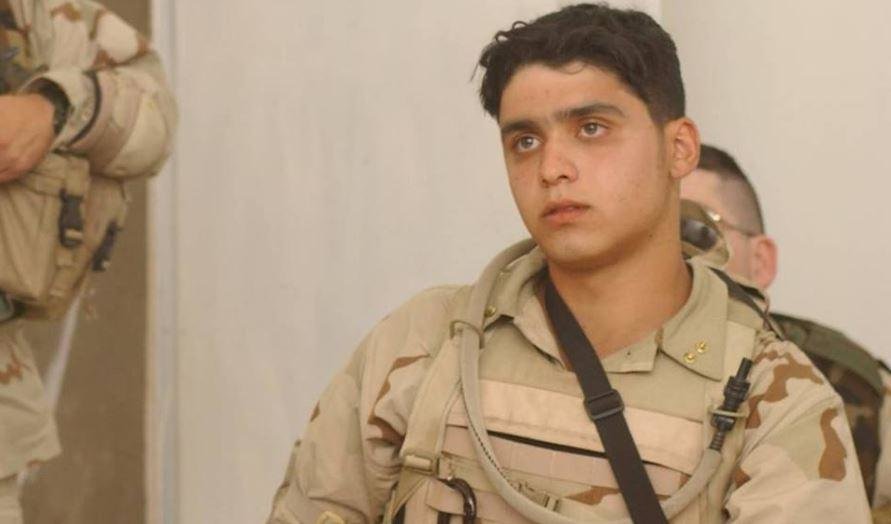 He was only 17 when the US Army came rolling into Baghdad. It wasn't long before Jasim received a knock on his door. The stranger on his porch was a soldier with the 1st Cavalry Division named Brad.
"Everyone in my neighborhood thought it was some kind of trick from Saddam," Jasim explained. He thought, There's no way; he's the whitest Iraqi I've ever seen, referring to the soldier's presence at his door. "So, I asked Brad if they were going to stay or leave, because they had left before. He told me, 'No, we are staying this time.'"
A day later, Jasim heard that the Iraqi military was rebuilding and looking for recruits. Apparently Brad was telling the truth. The opportunity lit a fire in Jasim.
But a radio ad was a turning point for the young Iraqi.
"I was bullied growing up. I didn't see much of a future for myself," Jasim said. "Then I hear this ad, and I thought I finally can go and have the freedom to fight these people who made my life hell."
"I was brought to a room that was painted red with no windows. Inside, there were chains hanging from the ceiling. It looked like a butcher shop for humans."
When he attempted to enlist, he was told that he was too young. He wouldn't give up that easy, though. On the next attempt, Jasim bought a fake ID and went through the line again. Unfortunately, the same official who sent him home before easily recognized him. Instead of just sending him away empty handed a second time, he told Jasim to get his parent to sign a document giving him permission to enlist. At 17, he became the 19th person to join the Iraqi military.
---
The Iraqi military promotes based on displays of battlefield courage. In his first year, Jasim was promoted to staff sergeant. Then came the Battle of Haifa Street, which would change the course of his life. During the battle, members of Al-Qaeda cut the heads off of Iraqi troops. Jasim helped retrieve the bodies. Due to the grisly carnage, many Iraqis fled the battlefield.
Not Jasim. As his brothers-in-arms died around him, he stayed to fight, killing multiple terrorists in the process. His valor during Haifa Street didn't go unrewarded. After the battle, morale was low and his sergeant major was permanently leaving his post out of fear. Jasim was promoted to take his place, becoming the youngest sergeant major in Iraqi military history.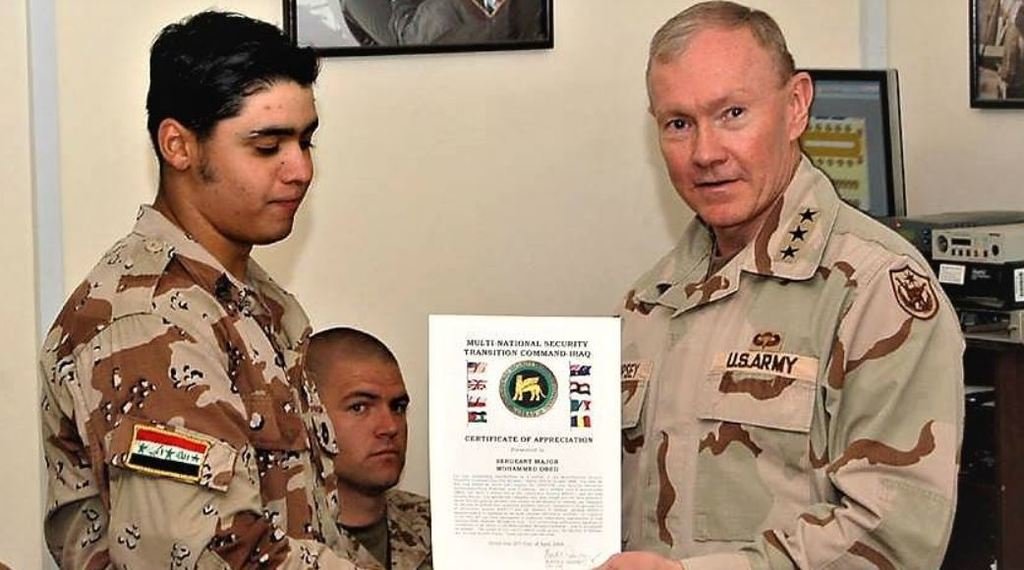 Saddam Hussein had been deposed, but an insurgency was thriving. The intelligence community was concerned about insider threats. Because of Jasim's courage, English skills, and battle-tested leadership, he was selected to take the helm of the personal security detail team at the Iraqi Ministry of Defense — a building where thousands of Iraqis came and went daily.
His sole mission was to protect the lives of US personnel working inside the ministry. One morning while at his post, Sabah al-Dulaimi entered the ministry with 200 men. At the time, his identity was unclear.
Al-Dulaimi and company triggered red flags because of the dark spots on their foreheads and elbows, which indicated that they were highly religious Sunnis. In addition, they all came from the Anbar Province, a governorate where the US Marines were locked in a deadly fight with Al-Qaeda. The second red flag was the construction truck that was parked next to a T-barrier (a concrete barricade used for blast protection). When Jasim and his men asked al-Dulaimi what they were doing, they claimed that they were moving furniture for the Iraqi Minister of Defense. They left that morning without incident.
Al-Dulaimi returned that evening though. After further analysis, Jasim knew they intended to kidnap an American who worked in the ministry. The claims about furniture were just a cover story. The moment Jasim knew al-Dulaimi was back, he reached out to Col. John Burke, a US Army intelligence officer who was responsible for briefing Gen. David Petraeus at the time.
Unable to get through to Burke, Jasim took action. First, he discovered the lock on the back door had been broken. Jasim and his men immediately moved to the second floor where the American was working, grabbed him, and got him out. Al-Dulaimi and his followers were just downstairs, debating how to come up the second floor. When they finally went up to carry out the kidnapping, they discovered that the American was gone, and immediately left. After the incident, Petraeus pulled all American advisors out of the ministry for the next day.
Twenty-four hours later, Jasim met with US intelligence officers who worked in Anbar and knew who al-Dulaimi really was: an Al-Qaeda operative and former member of Saddam Fedayeen (Hussein's suicide squad). Three days after Jasim's meeting, al-Dulaimi and 25 of his men were arrested "in a place where no lawyer could be present," according to the agents who briefed Jasim.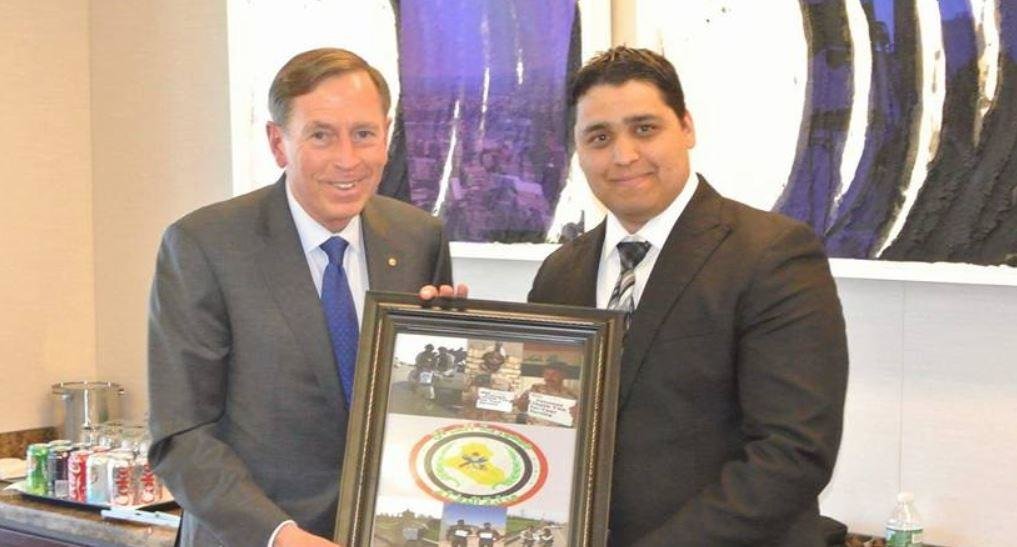 Jasim was later recruited by intelligence officers and became an asset in America's Global War on Terror (GWOT), continuing to foil terrorist plots against US personnel in Iraq. His information was so sought after that it often found its way into the daily briefing for President George W. Bush.
Today, Jasim resides in the United States with his wife and daughter. He traded his rifle and beret for a suit and a microphone, working as a professional speaker now. Jasim shares his story across the country, inspiring Americans to dig deep and put forth their best effort in the worst of situations.