Cpl. Tibor "Ted" Rubin had already seen the violence fellow human beings were capable of prior to his service with the US Army during the Korean War. He didn't have a normal American upbringing — in fact, he was born in Hungary and deported to Mauthausen concentration camp in Austria when he was only 13 years old.
He was separated from his family, suffered from malnutrition, and fought starvation and lice. In 1945, American GIs from the US Army's 41st Reconnaissance Squadron, 11th Armored Division, liberated his camp. His relief was cut short when he learned his parents and 10-year-old sister had been murdered in the gas chambers of Auschwitz.
Given a second chance at life, Rubin arrived in New York City in 1947. He failed the entrance exam to the US Army twice, barely passing the third time with the support of a recruiter who walked him through the questions in the English language he barely knew. "When I came to America, it was the first time I was free," Rubin later said. "It was one of the reasons I joined the U.S. Army because I wanted to show my appreciation."
The 21-year-old corporal was a member of 8th Cavalry Regiment, 1st Cavalry Division, and deployed to Korea in 1950. Rubin was alone to defend a hilltop at 4 a.m. when he heard gunfire from a force numbering over 100 enemy troops. "I figured I was a goner," Rubin later recalled. "But I ran from one foxhole to the next, throwing hand grenades so the North Koreans would think they were fighting more than one person. I couldn't think straight — a situation, like that, you become hysterical trying to save your life."
Rubin's 24-hour onslaught allowed friendly forces to retreat down the Taegu-Pusan road to safety. Cpl. Leonard Hamm nominated Rubin for the Medal of Honor, noting Rubin had personally low-crawled across the kill zone and picked him up to rescue him despite being pinned down by an enemy sniper. Rubin was denied, as senior members in his regiment were bigoted toward those with Jewish heritage. One sergeant even sent Rubin on one-man suicide missions, yet each time he returned.
On a hillside the night before Halloween, three fellow soldiers were killed while manning a .30-caliber machine gun against Chinese communist forces. "Nobody wanted to take over, but somebody had to," Rubin remembered. "We didn't have anything else left to fight with."
The battle was so intense that he expended every round of ammunition and was overrun after being severely wounded. The Chinese death-marched surviving Americans to a POW camp known as "Death Valley."
The Chinese offered Rubin an out — to be returned to Hungary. Instead he chose to stay behind alongside his fellow soldiers, once again a prisoner at the hands of an enemy regime. At night, he snuck out from under the barbed wire fence to retrieve food from the guards' stash; he took vegetables from their victory garden, boiled snow to make soup out of leaves and grass, and found medicinal plants to craft a potion for the sick. He did whatever it took, nurturing his fellow prisoners back to health — he was a doctor, a therapist, and a caregiver, changing roles for the needs of his friends.
"At one time my wounds got so infected he put maggots in them to prevent gangrene from setting in," recalled Cpl. James E. Bourgeois. "This, I am sure, not only saved my left arm — which I have full use of today — but also my life."
Between April 20 and May 3, 1953, the Chinese forces from Death Valley participated in Operation Little Switch: a POW exchange of the sick and wounded. Rubin's courage helped 35 to 40 soldiers be freed who might otherwise have died.
"When you save a life, you save maybe a nation," Rubin later reflected. "Who knows who he become?"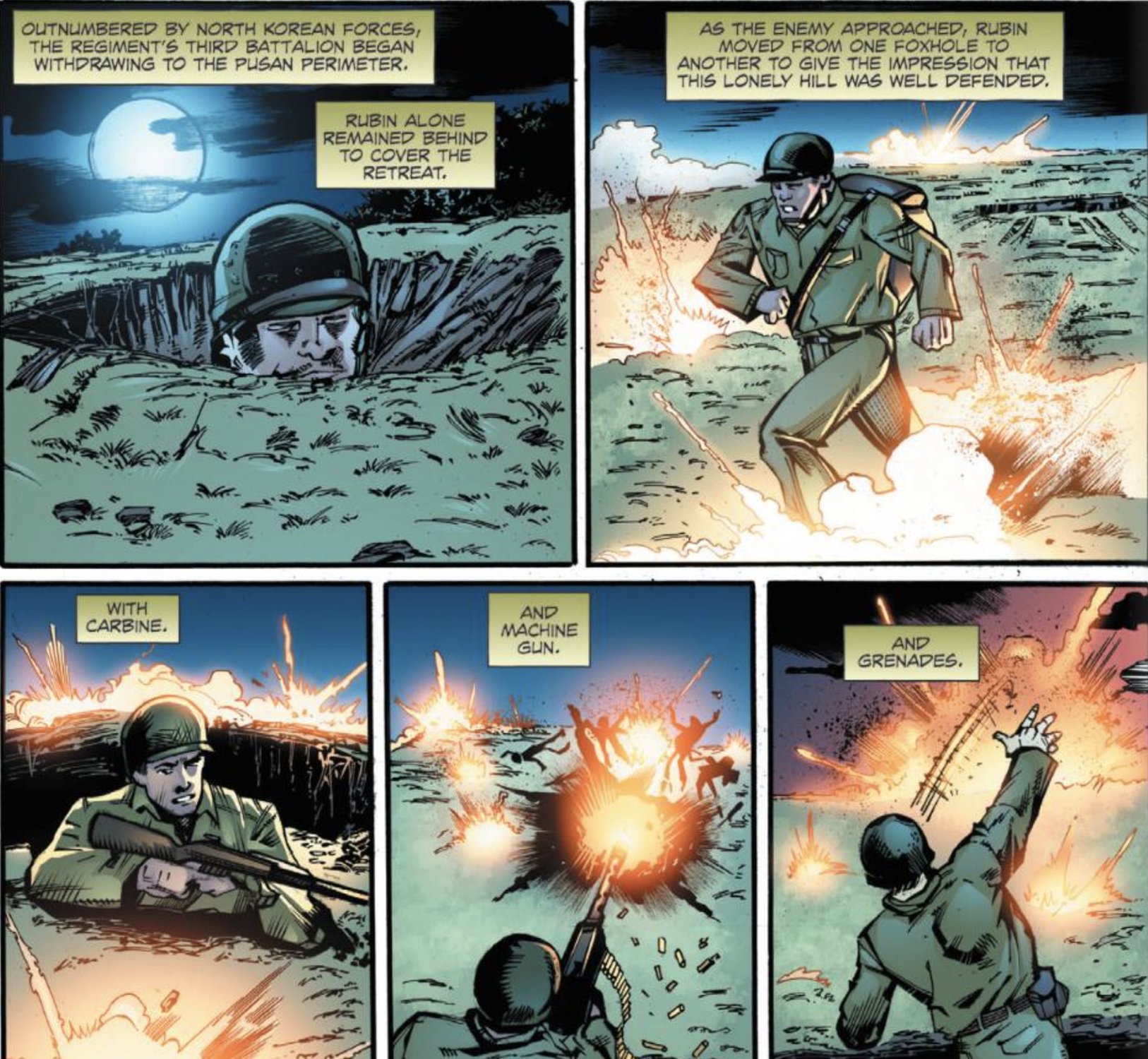 Rubin returned home to California to work at his brother's department store. He devoted 20,000 hours of his post-Army life to the local Veterans Affairs hospital in Long Beach. On Sept. 23, 2005, President George W. Bush at last presented Rubin with the Medal of Honor — an award he was recommended for on four separate occasions, but due to anti-Semitism he was passed over.
"Yesterday I was just a schmuck," Rubin later said after his Medal of Honor ceremony. "Today they call me 'Sir.' I wasn't born here, I wasn't a citizen, I just was a little Jew coming back from the most terrible place and to get the Medal of Honor, that's a big thing. I never knew that I gonna be a super Jew."
Tibor Rubin passed away in 2015 at the age of 86. Two years later, the Long Beach VA hospital honored his memory by renaming the facility in his honor. On Sept. 29, 2020, the Association of the United States Army published a graphic novel highlighting his heroic story of survival.