On the north side of the 6200 block of Hollywood Boulevard is Mark Harmon's star on the Hollywood Walk of Fame. Thomas Mark Harmon is most popularly known as leading man Jethro Gibbs in the hit CBS TV show NCIS. He shares his first name with his father, Tom Harmon, a man of many accomplishments in his own right.
Unlike his son, Mark, who played college football at UCLA, Tom Harmon wasn't an average college football player. He scorched opposing defenses with his legs, setting records on the ground as a tailback for the Michigan Wolverines. It was a different era — he played both offense and defense, punted the football and returned punts for the special teams, kicked extra points, and threw several touchdown passes. He was on the cover of Time Magazine in 1939 and the cover of Life magazine in 1940. His jersey number 98 was retired when he graduated after his senior season.
The once-in-a-generation-type player earned the honor of accepting the first Heisman Trophy — awarded to the best college football player in the nation — in his school's history. He had all the intangibles trending in his favor, entering the NFL draft and selected No. 1 overall by the Chicago Bears.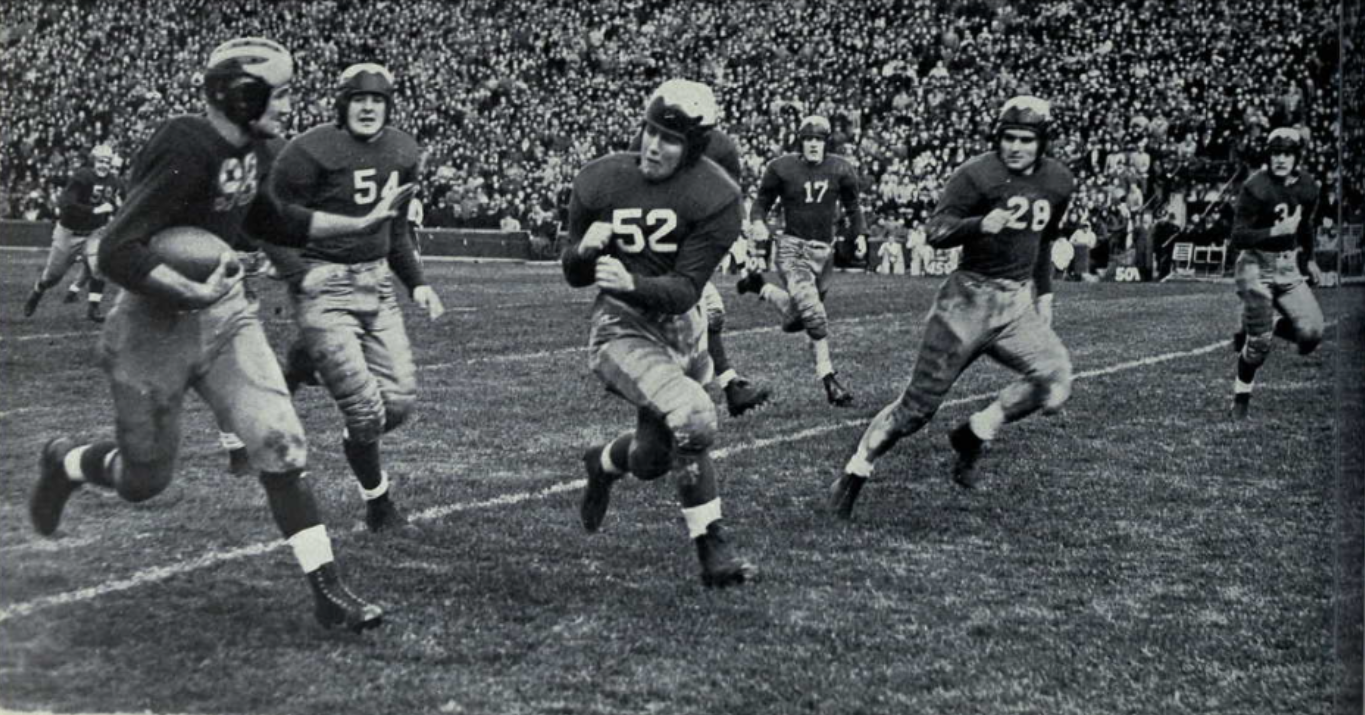 Harmon didn't play a single snap for the Bears.
Instead, the 6-foot-tall 195-pound athlete enlisted in the US Army Air Corps on Nov. 8, 1941, almost a month exactly before many other professional athletes followed in service after the attack on Pearl Harbor.
In April 1943, Lt. Thomas Harmon piloted a bomber at an altitude of 8,000 feet through heavy turbulence for nearly two hours. His Army plane — known as "Little Butch" and nicknamed "Old 98" after his football days — was flying over the jungles of Dutch Guiana, on the northeast coast of the South American continent. He saw an opening in the clouds and dove to fly beneath the overcast.
"At the end of the second turn there was a sudden sharp crack from the right wing and right engine," Harmon later told The Associated Press. "I opened up the good engine, and then cut both throttles, but the ship wouldn't come out of the spiral."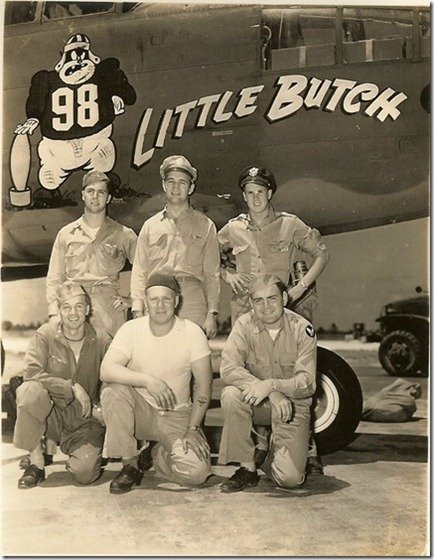 Harmon yelled to his crew, pleading with them to bail out as the altimeters and instruments went berserk. He bailed out and pulled on his ripcord but didn't feel a yank. For a second time, he repeated the action, and his canopy filled with air as he floated down. He landed in a tree and watched his plane nose-dive into the jungle's floor and disintegrate.
The smoldering crash site was too hot to approach, but Harmon clasped his bolo knife in his hand and found a pistol nearby. He also salvaged a pair of pants, shoes, a jungle kit, some water, and a parachute. Nobody could have survived the impact.
"The jungle was terrible. Thick undergrowth and no trails," Harmon told the AP. "The country was hilly and every little valley was swampy. I had to cut my way through with the bolo knife and stop for breath at the top of each hill. It rained and rained."
Harmon spent days in the jungle before a local native tribe with a dugout canoe brought him to a base of the Antilles Air Command. He got on the next plane to help rescuers locate any signs of life, but his crew members were killed. Harmon was the lone survivor.
His flying days were not over. A day before Halloween in 1943, Harmon and three other P-38 Lightning fighters escorted American bombers over Japanese-occupied China. Three Japanese Zeros engaged the bombing formation, but Harmon intercepted one of the Zeros flying into his blind spot and fired his guns. Black smoke from the plane trailed toward the ground as the Japanese pilot was seen hovering above the trail's wake.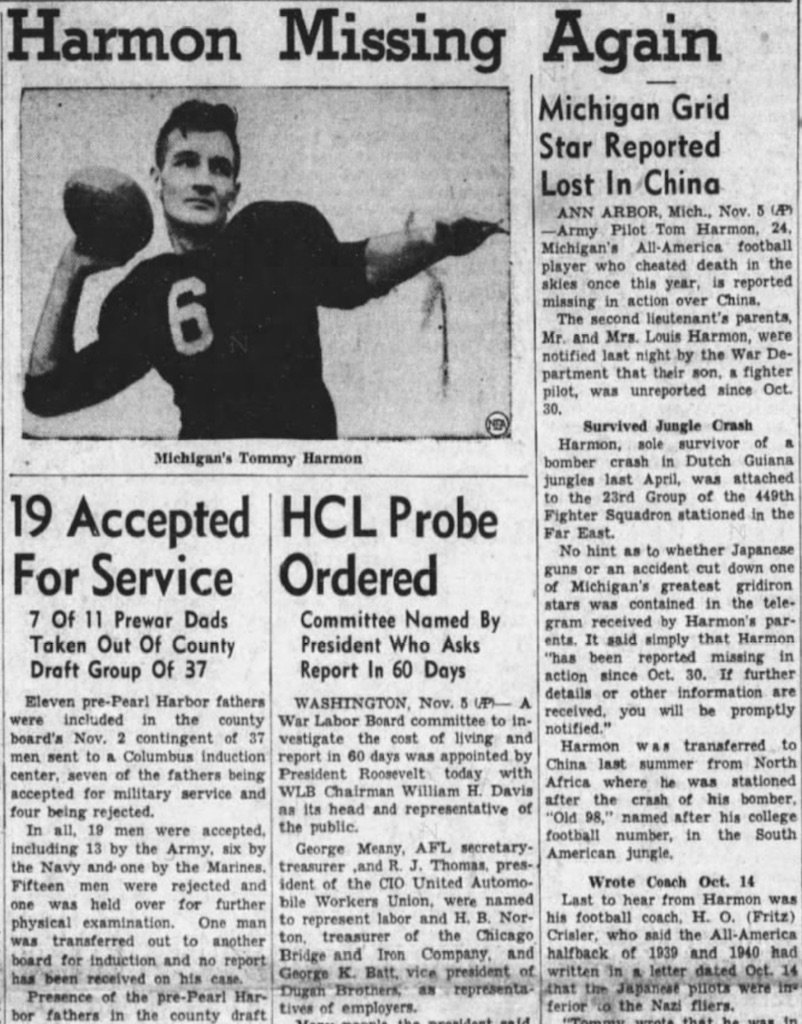 His next target swooped in at about 8,000 feet above the Yangtze River. He aligned his sights at the engine block and observed his bullets rip through it. His P-38 had managed to escape the numerous tracer rounds until three bullets pierced his aircraft, one of them ignited the gas line, and the small explosion ripped off most of his pants. He slapped his legs, now on fire, as his control console exploded. His cockpit became a fiery blaze with him trapped inside as his left hand reached toward his waist to unbuckle his seatbelt. He slid open the cockpit's door and fell out of the plane. In a free fall, Harmon reached for his ripcord and pulled it to his side — and was yanked into the air in the same flight path as 10 other planes maneuvering around one another in a violent dogfight.
With each pass the Japanese Zeros strafed bullets in the vicinity of his parachute, trying to get a kill shot. He bowed his head to indicate he was dead and prayed. He dropped into a tree, badly wounded, but alive.
"Chinese guerillas found the 'American Birdman' and hid him for 10 days, moving him from one hiding place to another as they worked through the heavily patrolled Jap territory to the safety of an advanced American air base," wrote The Tribune in December 1943.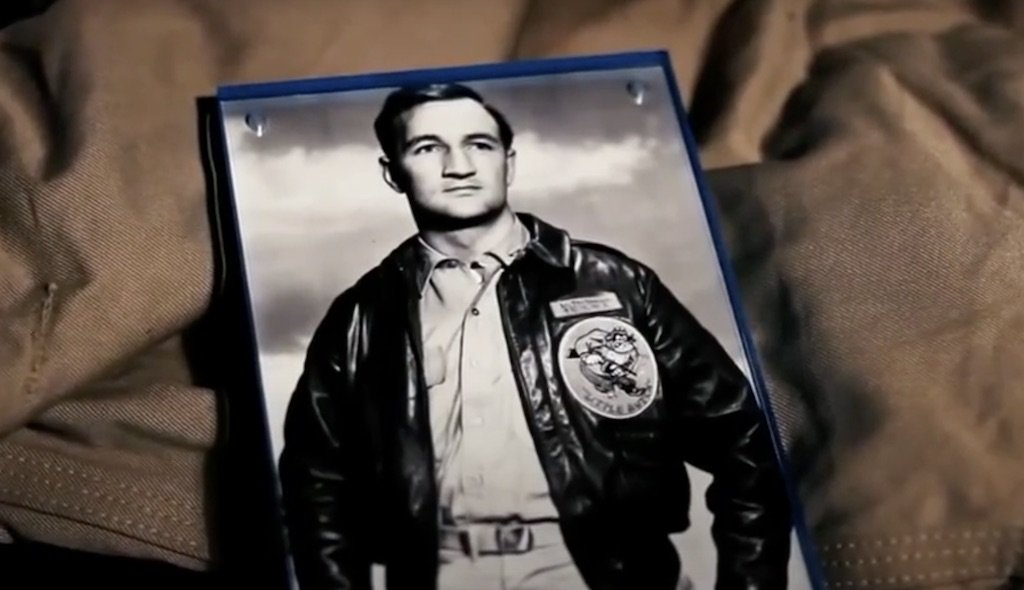 This smuggling ring had been put in place by the Chinese Underground to help downed aviators escape capture. Later it was compared to the Underground Railroad that once helped enslaved Americans flee into free states. Harmon had survived another hellacious ordeal after bailing out into a desolate environment. He had extensive burns that became infected in the unsanitary conditions, he suffered from shock, and he had a delirious state of mind. His clothing was inadequate, and the Chinese were focused on his escape instead of caring to his wounds — yet, despite it all, he prevailed.
Harmon was awarded the Silver Star medal and the Purple Heart medal for his World War II service. The war injuries to his legs plagued his subsequent NFL career with the LA Rams for two seasons. He married actress Elyse Knox in 1944, and his bride used the white silk and white cords from his infamous parachute for her wedding gown. They had a family together of two daughters and one son. With Harmon's playing days behind him, he took his degree in speech from Michigan and put it toward a successful broadcasting career in radio and television.
"Sports broadcasting was the only job I ever wanted," he said, wrote the New York Times in his obituary. "It was the thing I loved because it put me among people I knew and wanted to be with."
Tom "Old 98" Harmon was inducted in the College Football Hall of Fame in 1954. This true Renaissance man achieved greatness as an athlete, a military pilot, an actor, and a sports broadcaster — feats that are difficult to replicate during any era.