POOLER, Ga. — For at least 10 minutes on Jan. 26, screams drifted along Holly Avenue here. Finally, a neighbor heard them, turned down the TV, and went out to see what all the commotion was about.
A construction worker after a long day thought he had just enough vim left to work on his 2005 Dodge 1500 pickup, but the jack stands failed and the 2-ton truck walloped down on top of him, pinning him at the waist.
So he started howling.
"In all honesty, it was really the only thing he could have done," City of Pooler Fire-Rescue Department Chief Wade Simmons told Coffee or Die Magazine. "He couldn't get out from underneath it; he didn't have a phone close by that he could use to call for help."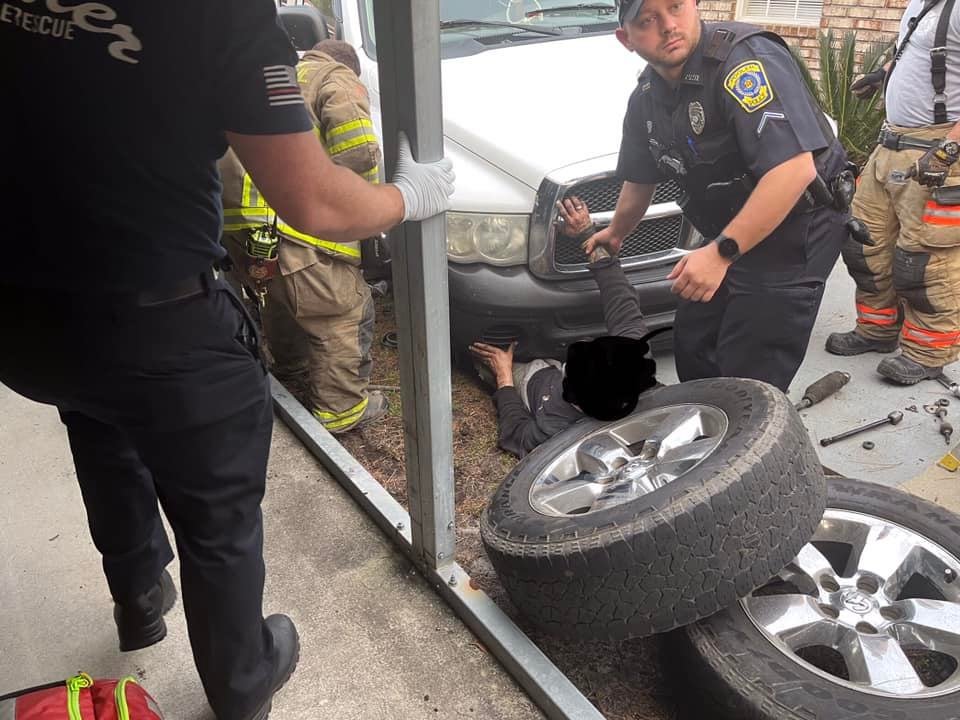 The neighbor rang 911 at 5:19 p.m. Within three minutes and nine seconds, both the city's police department and fire service's Rescue 61, Engine 61, and Battalion 60 were there.
"Fortunately, we've got a station that's about a mile and a half from where that was at," Simmons said. "That worked out to his advantage and to our advantage as far as being able to get there quickly."
The Pooler Department of Fire-Rescue Services is comprised of career firefighters spread among four stations, and another station is being built in this booming Georgia city. At least 16 personnel are on duty at any given time, Simmons said, and they answer more than 5,000 calls annually.
But it's not every day they find a Dodge pickup truck on top of a resident.
"Everything shifted in some way, shape, or form on him," Simmons said. "I don't know if it was equipment failure, or what actually caused it to slide off."
During the dash to Holly Avenue, the rescue coordinator, Capt. Josh Daniels, worked out a game plan with his team to save the man's life. And he was mulling inside his brain two or three other possibilities "just in case" that went south, he told Coffee or Die.
When he pulled up, Daniels saw a "very frantic" guy who had been stuck for maybe as long as 20 minutes, but at least he could still talk.
So they went about executing Plan A. Rescue 61 and Engine 61 got out the hydraulic spreaders — often termed the "jaws of life" — and began extricating the trapped resident.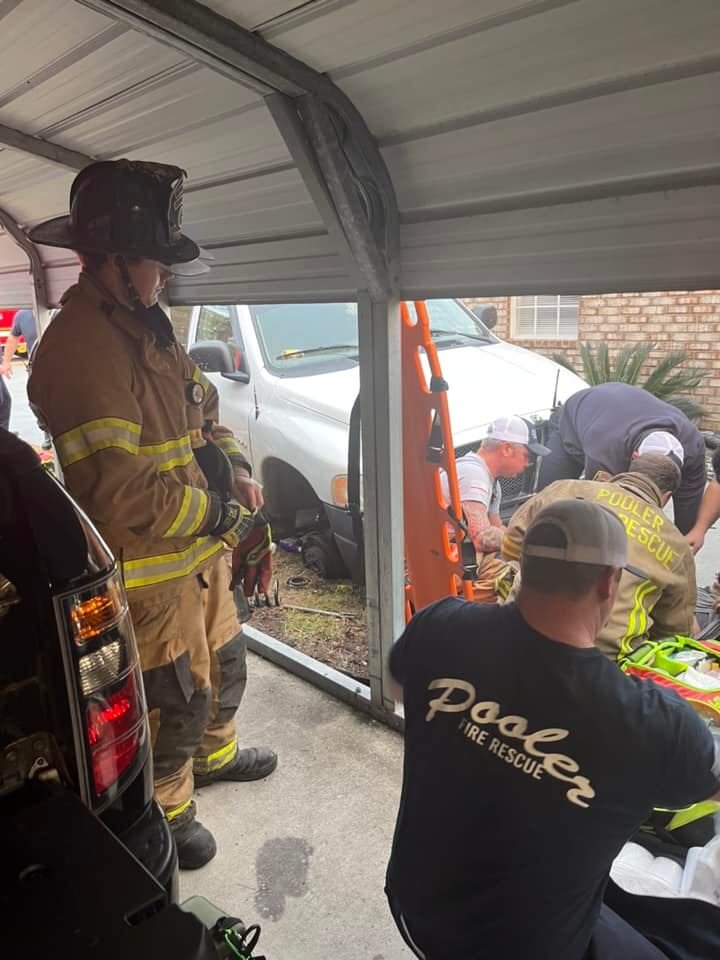 These spreaders can rip, pull, and twist steel from a truck like a potter tugs apart wet clay, but this one just needed to lift the pickup. Daniels estimated they had the man freed within two minutes of parking their trucks.
"My guys honestly made it easy, you know?" Daniels said. "They usually make my job pretty simple, especially when it comes to responding to incidents. They're pretty squared away."
The rescuers found that the truck had settled on the man's waist and an ankle, but it didn't seem to do too much damage, mostly "some obvious bruising," Daniels said. The captain said they got a little lucky because the vehicle shifted toward the grass and not the concrete, which might've "been a whole different outcome for him."
The man was taken to HCA-Memorial Medical Center, a Level I trauma center in Savannah, but strolled into the fire station the next day to thank his rescuers with kind words and pastries.
Read Next: A Tuesday in Hell: Daring Police Rescue Inside a Burning Bronx Apartment