It's hard to think of an extreme motor sport that Travis Pastrana hasn't participated in at the highest levels — and mastered. He's won gold medals at the X Games and other national championships.
He replicated three of Evel Knievel's most famous stunts in Las Vegas in 2018, and he leads the stunt show Nitro Circus.
Coffee or Die Magazine caught up with the stuntman — who was sidelined with an injury he sustained while jumping out of a building — and asked him about coffee, success, and being a leader in the post-apocalyptic world.
This interview has been edited for length and clarity.
COD: How do you make your coffee?
TP: I seem to be on the road a lot and got used to instant coffee packs at hotels and a French press at home.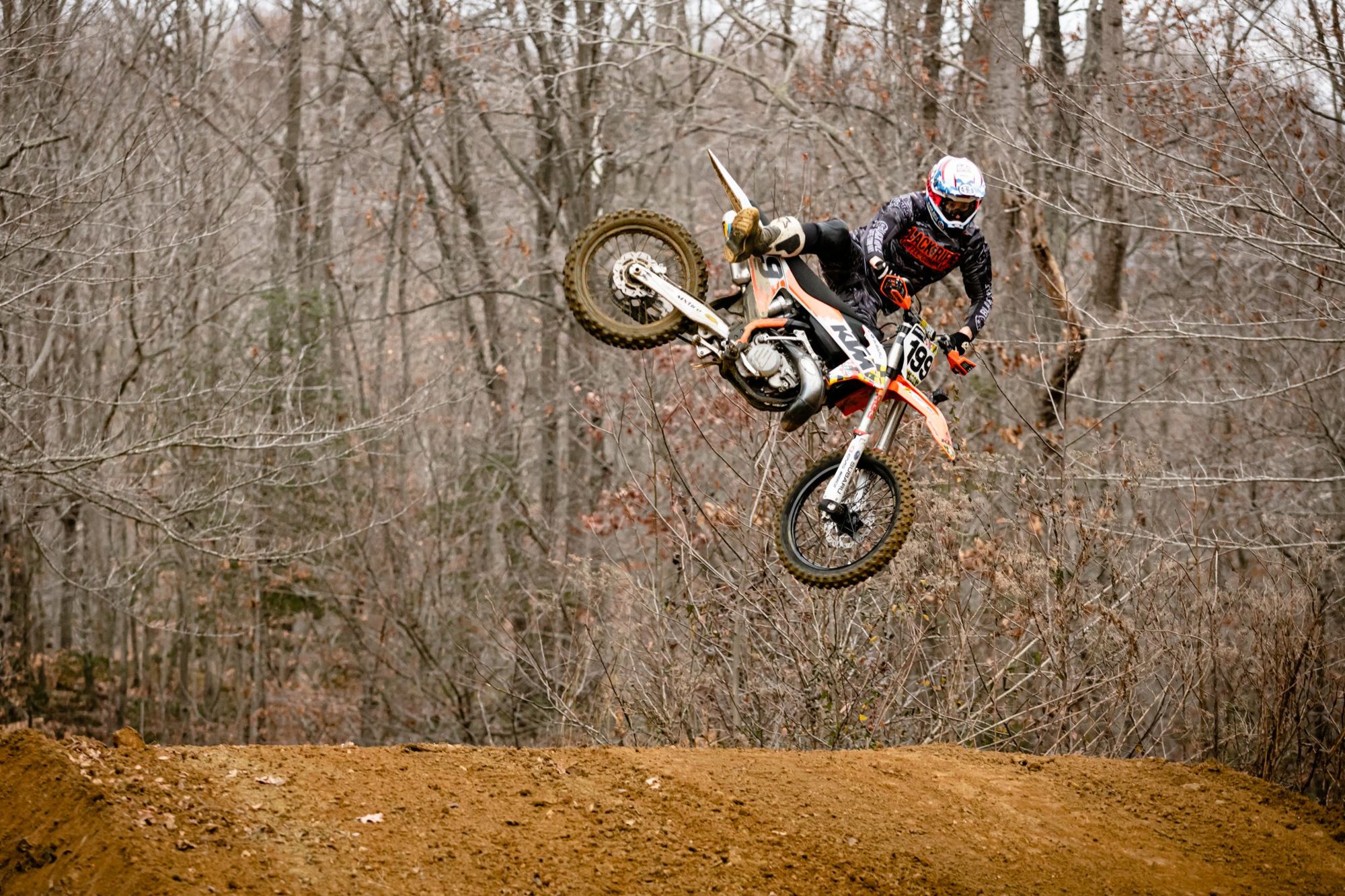 COD: How do you take your coffee?
TP: I take my coffee black. When you have good coffee, I don't feel like you need any sugar to bring you down afterwards. And at the end of the day, I'm always traveling, always on the road. You never know what you're gonna have. Right when I started drinking coffee, I always had my special everything, and then I get on the road, and that's when you've got to perform, when you're on the road, right? That's when you're at the races.
I just felt like I was just underprepared.
So I started getting used to drinking black coffee, and then you know you have great coffee, like Black Rifle, it just tastes good all the time, and you're always on the same level. So yeah, you don't need any of that b.s.
COD: What's the most bizarre or extreme place you've ever drank a cup of coffee?
TP: Gotta be BASE jumping. We were over in Brento [in the Italian Alps] and waiting for the sun to come up. We had just climbed up this mountain. And Stinky Pete, he was taking us on our trip, and he had a French press in his backpack that he was going to jump with. He's like, 'Man, the start to every good day — gotta have some coffee. Gotta have some good coffee.' So it was pretty good. He actually kind of got me started on coffee.
He was just waiting to jump. We were over in Johannesburg, South Africa, and similar deal: I was just waiting for the Nitro Circus people to get out of the way down at the bottom of the stadium. This is in practice. I don't have the ratings to really jump. I mean — I'm broken right now, I've got a home catheter in and everything because of BASE jumping. So I don't do it that often, shouldn't do it probably ever again. But we were up just waiting for all my friends to get out of the way because I didn't know exactly where I was gonna land, just somewhere down in the Nitro Circus area. And I jumped in, you know, but had a cup of coffee while I was waiting. And it's a cool view from up top Johannesburg, big ole stadium, watch all your friends, little dots, do their stuff. Anyway, then I found $10.
COD: What's the hardest thing you've ever done, physically or mentally?
TP: It was probably Supercross, and Supercross when you're sick or injured. I think my second-ever race, going in, I had a broken thumb. So I had my cast on, but I hadn't been able to ride for the three weeks coming into the race, which meant I was going to get extra tired. I already ran probably an average 190 heart rate — spikes up to 205 — always held my breath through the whoops. Plus, there's 65,000, 70,000 people in the RCA Dome in Indy and Detroit, and all of the Supercrosses. So at 16 years old, my heart rate was already at like 130 before I even started, on adrenaline alone.
And I had the flu, I think I had food poisoning. I don't know, it was coming out both ends, absolutely horrible. I didn't even feel like getting out of bed. I'm trying to smile for people. I'm trying to do my interviews. In qualifying, I thought I was gonna die. I hadn't been riding because of my broken wrist or broken thumb and the cast, and I had just basically blood where, you know, I didn't have a glove, I just had the cast. So everything hurt. My body hurt, I couldn't keep any food down. I was just tired.
You go out there, and you're on the starting line, just trying to figure how to keep your eyes open. You know you're going to be going at 205 heart rate. You know it's gonna be everything you have not to be puking your helmet, which I did. Luckily, it didn't come out the other end during the race. I think I didn't have anything left to come out.
And you got to perform. Nobody cares that you're sick. Nobody cares that you're hurt. Everyone's cheering, and you get that adrenaline going. Halfway through, I had an arm pump, where you can't hold on. I can't hold on anyway because I've got a cast on the hand that's supposed to be grabbing, and the blisters and everything, and the whole body's just telling you, just screaming, Just slow down, just quit. But it's Supercross — you've got to make the jumps. You don't make the jumps, you're broken again.
I mean, you're breathing through everything you can breathe through, you'd breathe through your butthole if you could, and you're talking to Elvis and Jesus and everybody else trying to get you through. And I think I ended up with a fourth place that night, and that felt like the biggest win of my life, just not quitting, not giving up. I ended up falling a couple points short of that championship, so, still disappointed to this day that I wasn't able to pull out more, but yeah, that was tough. For 16, that was a real tough mental situation.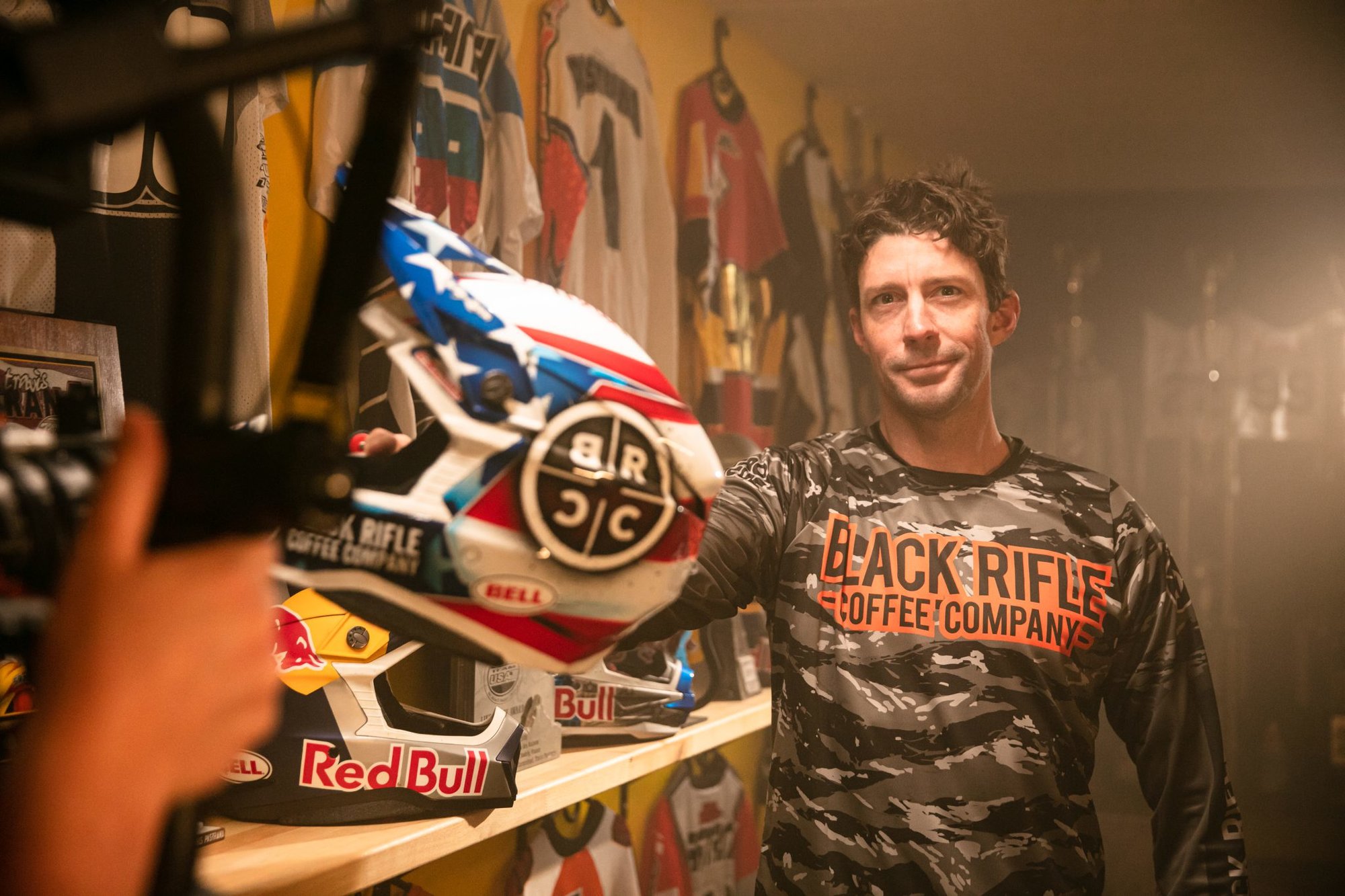 COD: What motivates you to do what you do?
TP: I have to say there's absolutely no motivation needed. I mean, to get up every day, doing what I love to do, living my dream. It's just wanting to get up to do the best that I possibly can. I get to travel the world with my wife, with my kids, with my best friends. I get to drive things really fast. I get to jump out of buildings — well, maybe not anymore. My wife's probably not gonna allow that to happen after the last thing that I told her was "absolutely foolproof" and "we'll never have a crash."
So, anyway, um, yeah, now it's just about trying to push limits and being in the most competitive series that I can be in, that I can test my limits and push the boundaries. My dad said every day: You can do what you love to do, do it. Ride that train till the wheels fall off. And there's been a couple of wheels that have fallen off — and some other parts. But the train's still going, so we're still riding. It's good.
COD: What do you think is the most misunderstood thing about you or the work you do?
TP: We don't do any work, do we? I think that's probably the most misunderstood, but it actually takes a lot of work to make a living as your hobby because everyone wants to do it. Because it's the best job in the world. Because most people are paying to do what I do and Rhi [co-driver Rhianon Gelsomino] does for a living. I feel like it's very, very hard to stay on top of any sport, but to stay on top of a sport where everyone wants in, where sponsorship is limited, and to be able to figure out that you're not just a racer, but that you're a salesman, and that at the end of the day, it doesn't matter how bad your day was — if there's a kid out there or a fan, to go spend that extra couple minutes.
And for me, I'm still a fan of the sport. So it's not a job, it's not hard to do. But you know, there's times you're sick, there's times you're hurt, there's times that you just have a really bad day or you make a really bad mistake or you crash and somebody else flips because of it, or someone won't talk to you anymore — and that's all part of racing. And there are tough days, and a lot of times your desk flips over and lands on you — that's something that you don't get at a normal desk job. And your desk could be a car, or it could be a motorcycle or a parachute, whatever.
So yeah, I think there's a lot of work involved. There's a lot of sleepless nights, a lot of notes. Making sure you have everything that you need. It's tough. But like they say in that song, you wanna be a rock star? It's a tough job, still a job. Fun job, still a job. I don't know how to get the quote right — you know what I mean.
COD: How do you define success?
TP: I define success as waking up with a smile on your face and getting to do what you love with your best friends and your family.
COD: Mountain view or ocean view?
TP: This is such a tough question for me — mountain view or ocean view — because I'm not much of an ocean guy. My wife absolutely loves to surf, and if my wife's happy, I'm happy. So I'll go crash on some waves and drown myself in the ocean. That's fun.
I'm more of a mountain guy, but I hate cold weather. So mountains are great in the summer. Mountain biking, awesome.
Rock climbing, BASE jumping — like, are you kidding me? Yeah. Backpacking, all that, great. Fishing, whatever — it's all mountainesque. That's perfect. I realize you could probably fish in the ocean too, so that's really a neither-here-nor-there kind of thing.
Mountains, except for the winter, and then probably beaches. Can I have both? Can I have my cake and eat it, too?
COD: If you could have any superpower what would it be?
TP: Teleportation. I love everything that I do, but I spend half of my life on planes and in cars and waiting in lines at the airport, going through TSA. And yeah, it's really frustrating. So if I could just have a teleportation device, life would be good.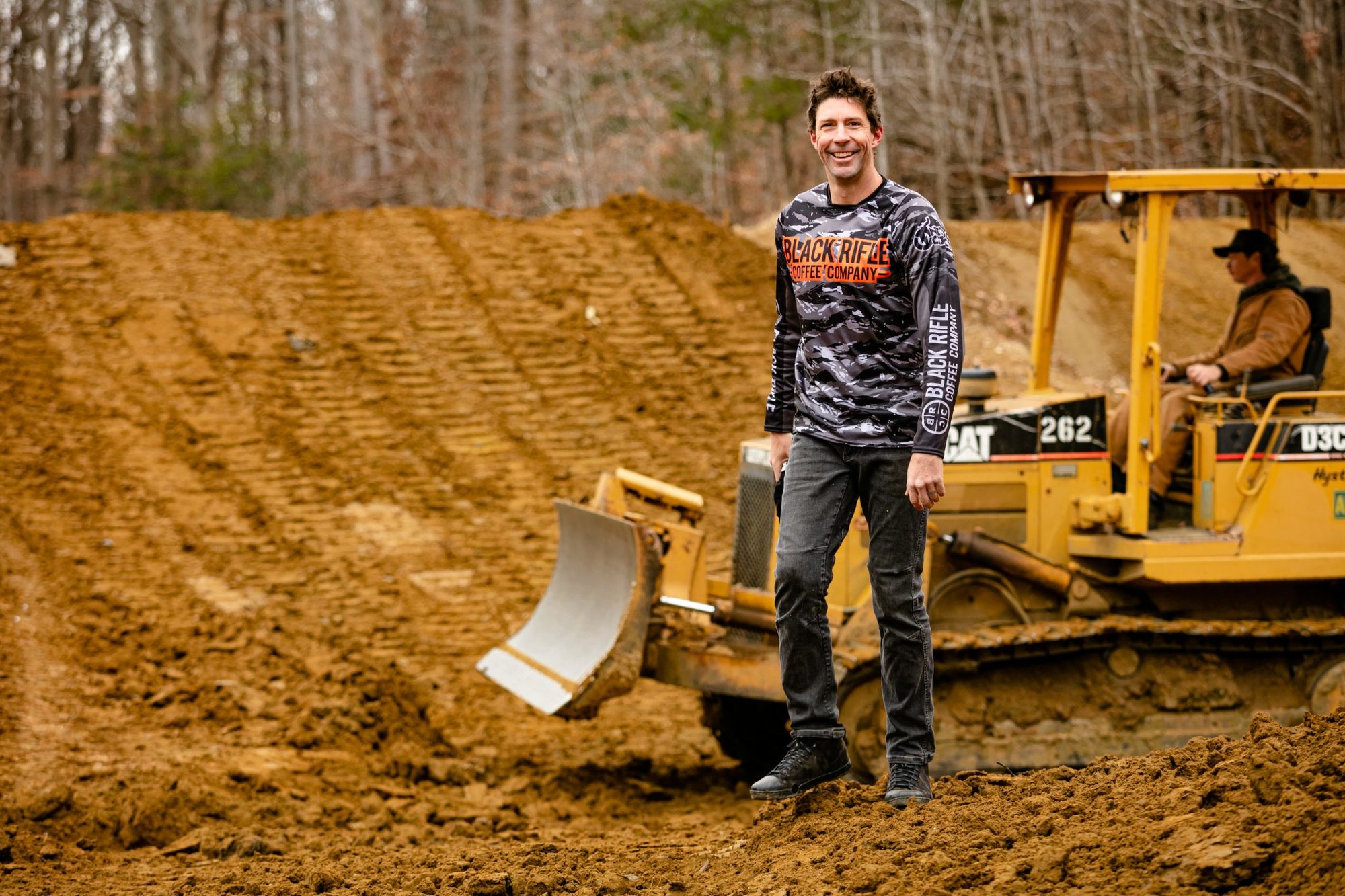 COD: What are your hobbies, outside of what you're known for?
TP: Well, I think I'm known for all my hobbies. So I don't know a lot about much. Yeah, that sounds a little strange — but I am very specific for what I love to do. And if I love to do it, chances are we've gotten to a point where we're decent at it. And most of the things that I love to do, I'm known for, I guess. So whether it's motorcycles or bicycles or cars or trucks — if it involves speed, motors, and tires, I'm in. I think that's pretty much what I'm known for, so now I got nothing. I got nothing for you.
COD: On a scale of one to 10, how confident are you in your ability to survive in a post-apocalyptic world? One being I'm dead on day one, 10 being I'll be the ruler of the new world order.
TP: That's the easiest question ever. I mean, to be fair, I'm gonna live forever. And yeah, I would definitely be a 10, a ruler of the new world order.
I am very difficult to kill. I know it seems like I'm hurt often, but I deserve all of my injuries.
My friend Jim DeChamp once said when we were kids, "If you're doing something that everyone has more fun than anyone else is doing, they'll follow you. You'll have your friends there." So I feel like I would be that guy that's just not afraid and is thinking, This is going to be fun. Post-apocalyptic world? Freakin' zombies? Yeah, let's go. We're on a good street. We got a lot of veterans, a lot of ex-military, a couple cops — if there's an apocalypse, we're in the right place. We're gonna live forever. It's gonna be great. I mean, I hope there's not an apocalypse, but if there is, you're looking at your new leader.
---
This article first appeared in the Spring 2022 print edition of Coffee or Die Magazine as "11 Questions & A Cup of Coffee."
Read Next: Surviving Pastranaland: A Day in the Life of America's Premiere Daredevil