Trench raids were tactical assaults in World War I in which small parties of soldiers would slip out from their dug-in trenches under the cover of night and, after sneaking across the deadly "no man's land," attack their enemy's positions. The intention of these operations was to kill, capture, and demoralize enemy soldiers and to gather intelligence and supplies. Raiding operations stood in stark contrast to the regular trench warfare methods of World War I, as they required hand-to-hand fighting done quickly and quietly.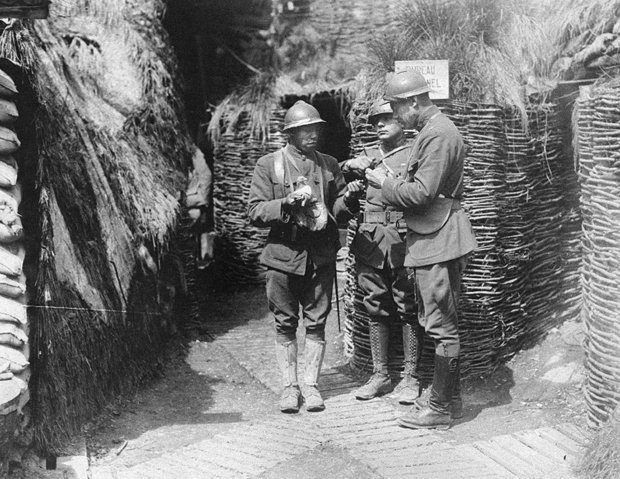 Stealth was the key component in these operations, so firearms were only used as a last resort. Instead, soldiers used blades, clubs, and makeshift melee weapons in the close-combat trench raids, as they allowed soldiers to neutralize enemies without alerting others to their presence. While some armies provided their soldiers with weapons suitable for this task, others did not, so many soldiers were left to improvise makeshift weapons to get the job done. Whether they were issued or fashioned in the field, the tools of this particular trade had to be lethal, quiet, and efficient. The five following weapons were favorites of the English Tommies, French Poilus, American Doughboys, and German Jerries.
French Nail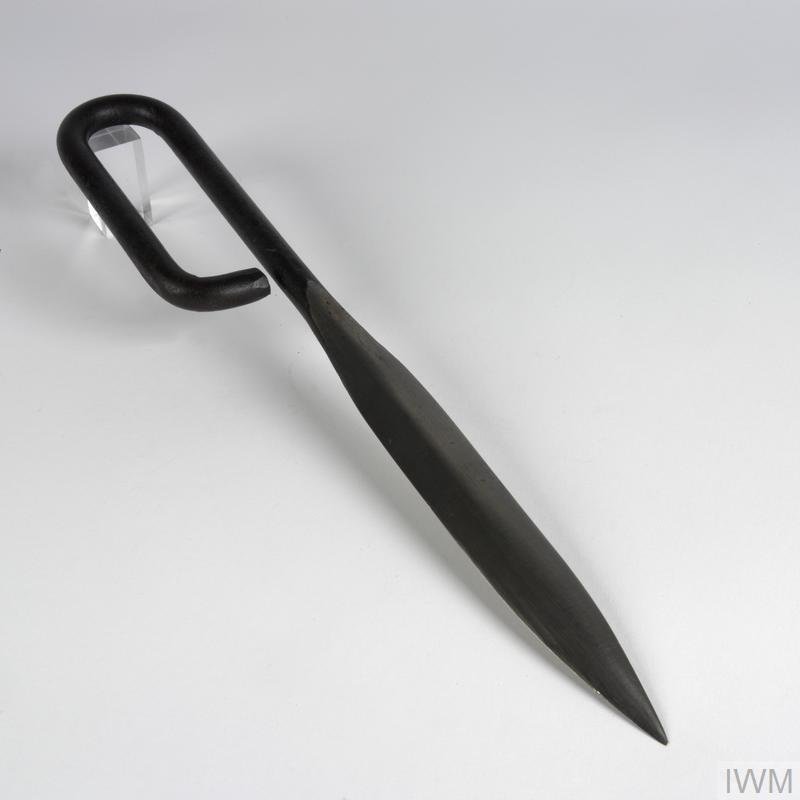 French bayonets were generally long and not well suited for fighting in the tight spaces of the trenches. Soldiers needed purpose-built blades suited for fighting in the trenches during raids, but with wartime supply shortages, designing and mass-producing a suitable knife for the task was out of the question. The solution ultimately came in the form of the French Nail. Predominantly made of steel salvaged from German field fortifications, these rudimentary stabbing spikes typically featured narrow, double-edged blades — perfect for stabbing — and curved handle guards that also served to protect the users' hands when striking.
Trench Club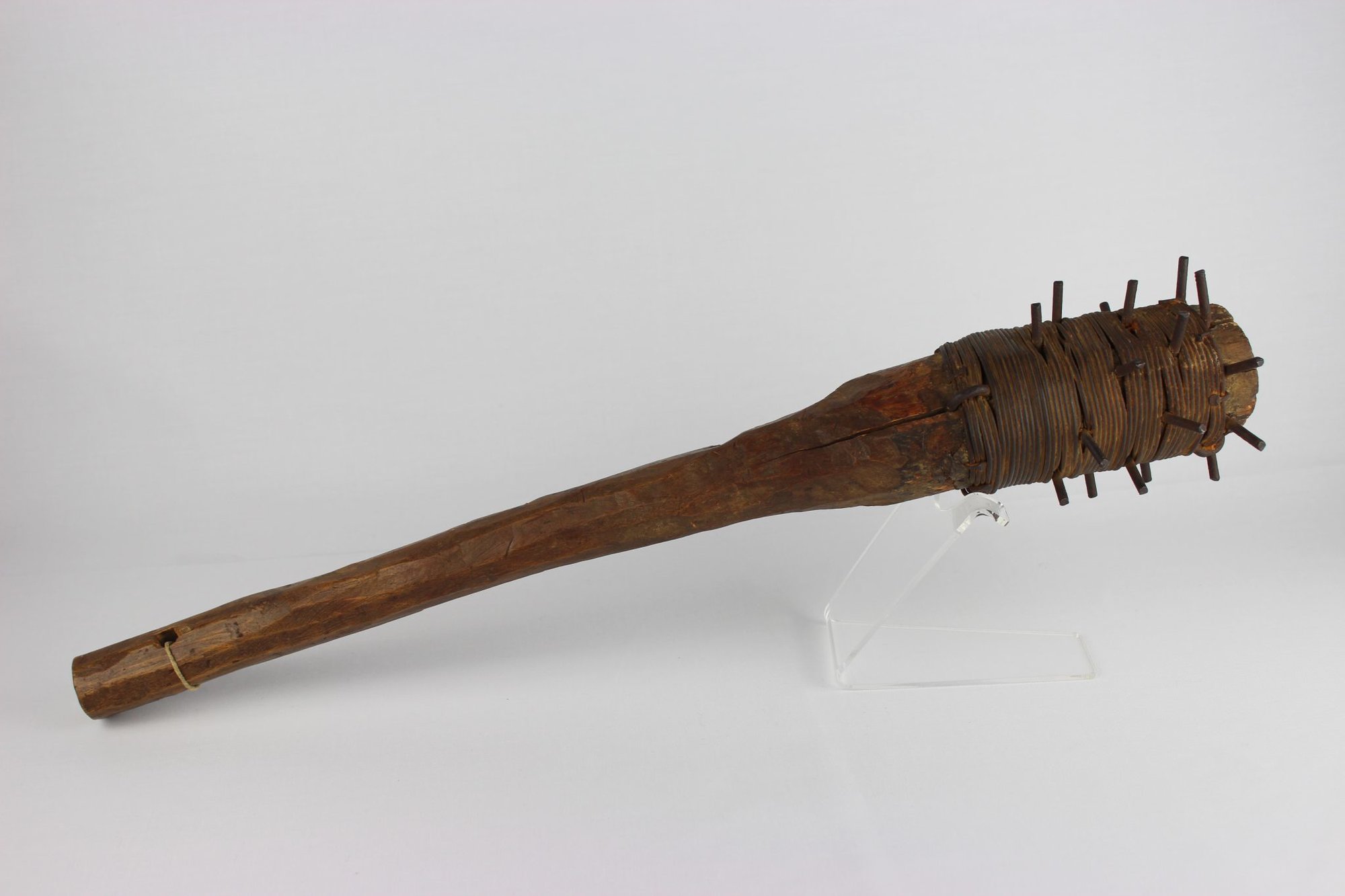 Used by both the Allied and Central powers in World War I, trench clubs were favored by officers and Bosnian soldiers serving in the Austro-Hungarian army. Fashioned by unit carpenters in the field, the design of such a club was simple: a wooden stave with some type of weighted metal at the end, such as nails or even a deactivated hand grenade, and a leather- or cord-wrapped handle. These weapons were crude, but they were effective at quietly dispatching enemies during raids.
Billhook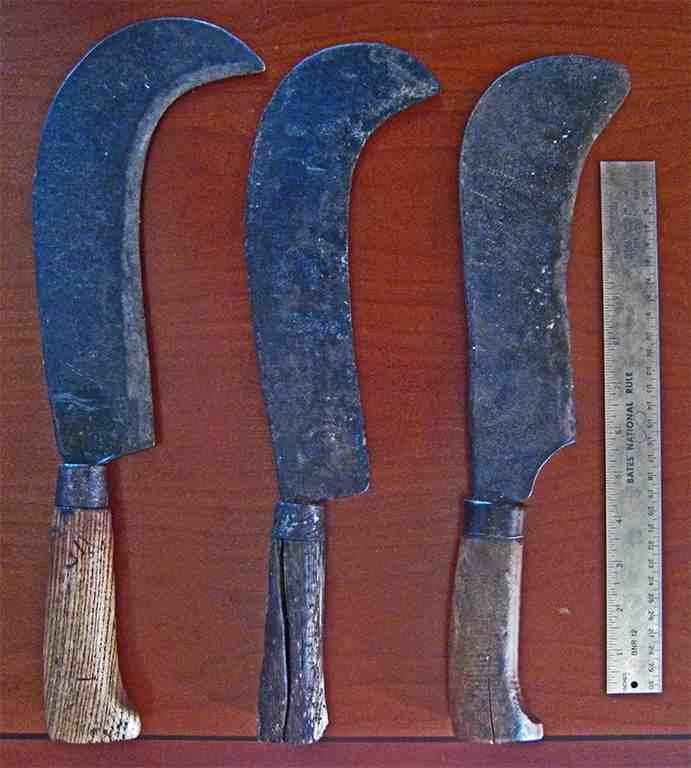 This weapon, which several units used in the trenches of World War I, was originally devised as an agricultural tool for cutting away brush and building fascines (rough bundles of brushwood for strengthening structures). Although designs varied, the billhook typically featured a thick, straight, single-edged blade with a curve or 'hook' at the end. This tool has been used in combat since medieval times and is still used in agricultural settings today.
Push Dagger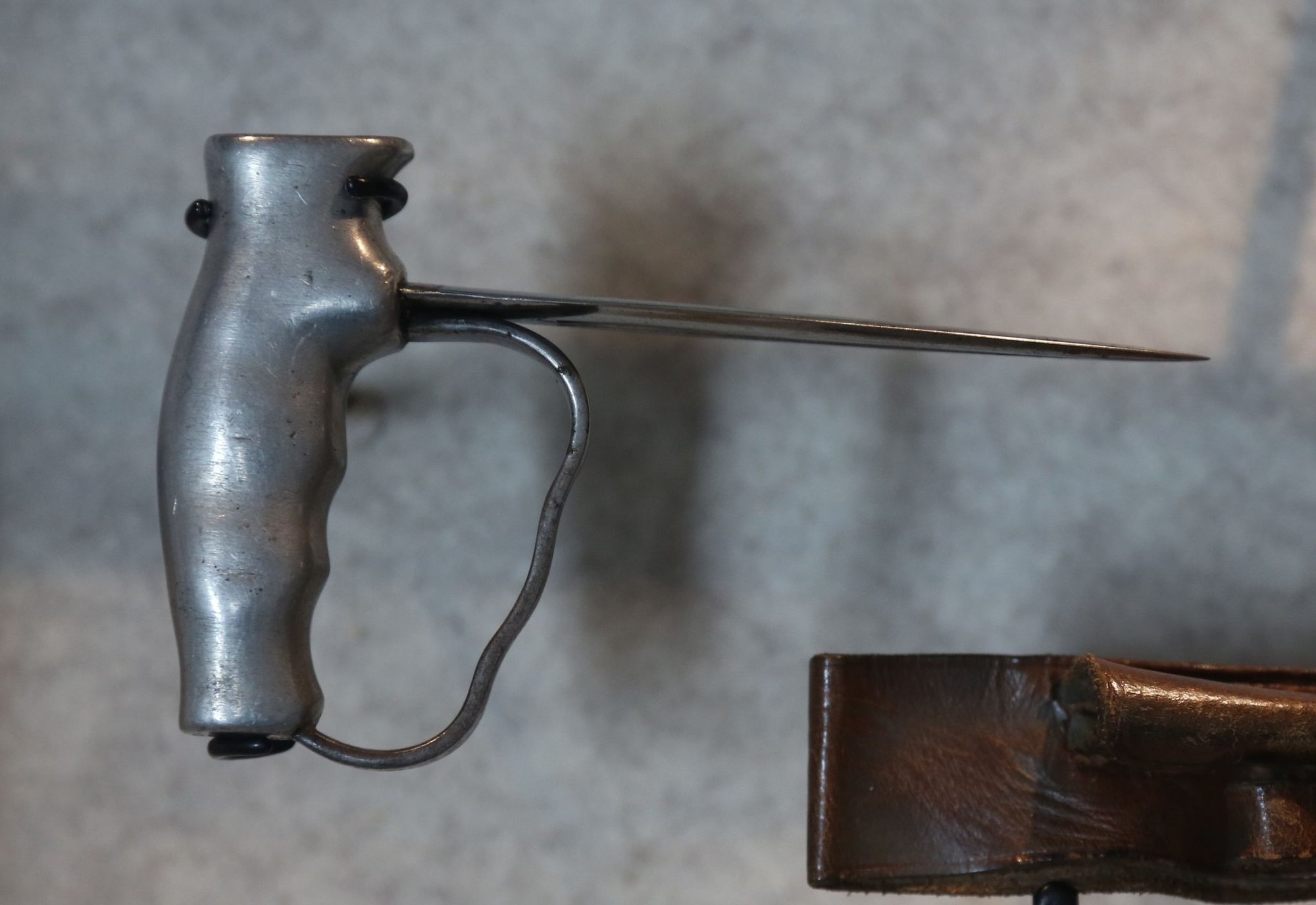 The push dagger, or knuckle knife, was a knife with a T-shaped handle meant to be grasped so that the blade protruded from between the user's index and middle fingers. Believed to be inspired by the Indian katar, the push dagger was predominantly used by the British. The British metalworking company Robbins-Dudley Co. produced the knives commercially. That version featured an aluminum handle with a knuckle guard and a 5-inch spike blackened to prevent glares from moonlight on nighttime trench raids.
Mark I Trench Knife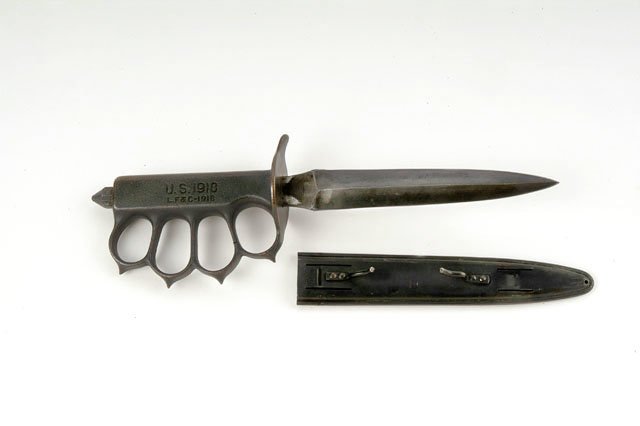 American forces in World War I used the Mark I trench knife. The Mark I featured a double-edged, 6.75-inch, dagger-style blade and a cast-bronze handle with a spike on each knuckle. To prevent the weapon from reflecting light and giving away a soldier's position, the blade was blued with a black-oxide finish, and the handle was chemically blackened. The knife received mixed reviews from service members, some of whom complained that the knife was poorly balanced and that the blade was generally too thin and would frequently snap when performing utility tasks.
Read Next: Harlem Hellfighters Finally Recognized With Congressional Gold Medal