After the US Capitol building came under siege Jan. 6, a mass influx of National Guard soldiers from various states arrived in the streets of Washington. Many of the buildings, including the Capitol itself, are filled with guardsmen. Capitol staff started posting photos of what they saw when they walked into work Wednesday morning, exactly one week after the siege, and those photos have been flooding social media — showing soldiers sleeping on the marble floors.
Commenters marveled at the soldiers' ability to sleep on such a hard surface, using rucksacks or armor plate carriers for pillows while maintaining a firm grip on their rifles. Many of the staff here at Coffee or Die Magazine have served in the military and know how long days of training or deployment can take their toll. The ability to sleep anywhere, using anything for a pillow, and being able to sleep on command is a skill developed and honed by our men and women in the military, regardless of branch.
The images of soldiers sleeping while others watch over the Capitol building are reminiscent of our troops at war, who catch short naps when and where they can. We put together a list of photos from the past and present that show just how good our troops are at sleeping anywhere and on anything.
In the above image posted to Twitter by the national security correspondent for the Washington Post, Greg Miller, you can see several National Guard troops sprawled out across the Capitol building's marble floors. With various other images shared from the Capitol, journalists and Congress members marveled at the sight of so many soldiers in the Capitol building, with some calling for better sleeping conditions for our troops.
A separate post to Twitter by Ben Riley-Smith, editor for the Daily Telegraph, was captioned with "Well this is something I thought I'd never see. National Guard members getting rest in the Capitol, guns by their sides, under the busts of Lincoln and Washington." Another Twitter user who goes by "robu" tweeted in response to a different photo of the troops: "Why the hell don't they have sleeping gear or some kind of bedding? Is there not a better room more conducive to rest and relaxation? Planning and coordination is not inspiring here."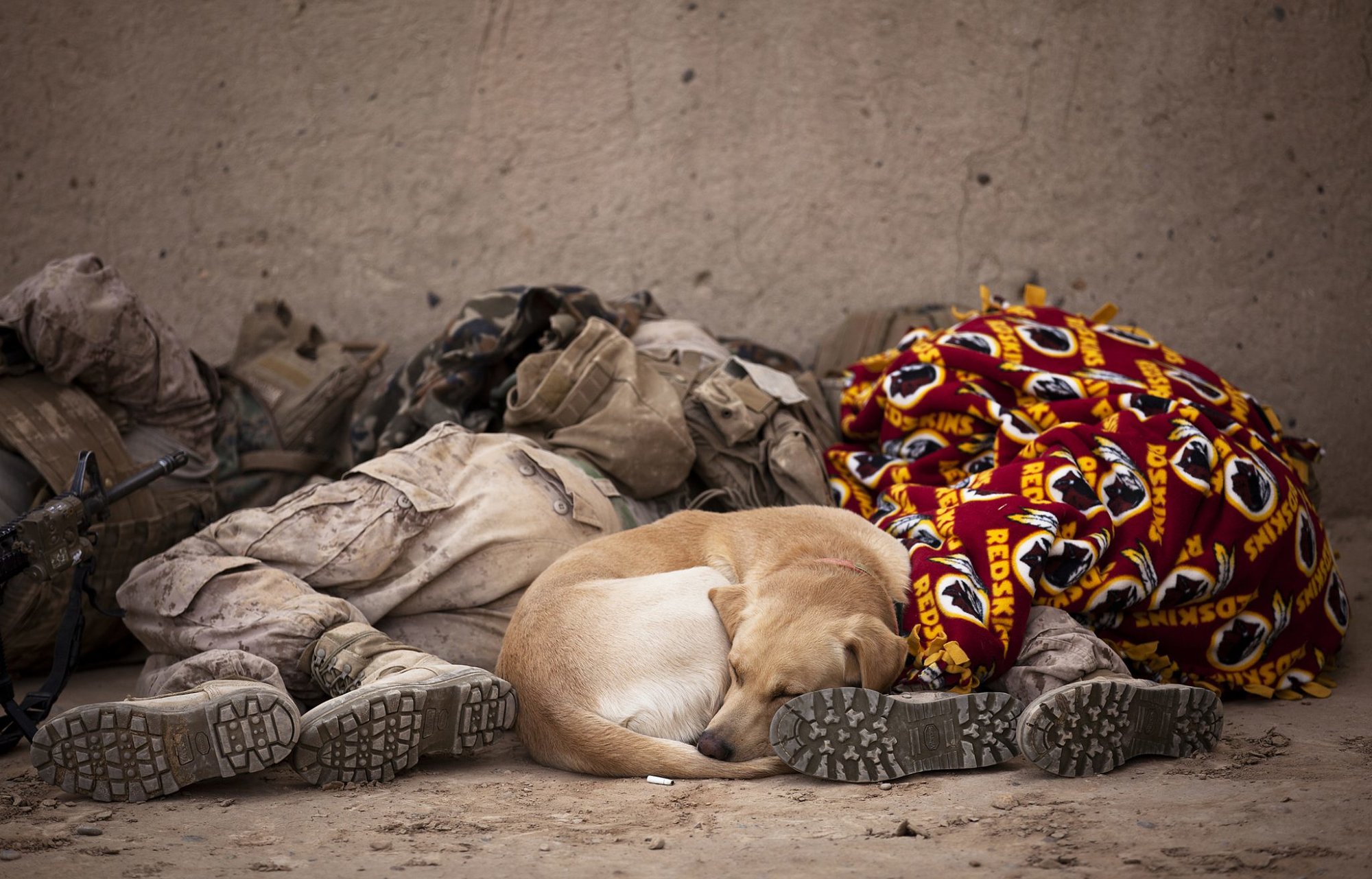 In the photo above, 21-year-old US Marine Cpl. Sharadan Reetz and 21-year-old Lance Cpl. Jarrett Hatley are resting next to Blue, an improvised explosive device detection dog. All three were Marines with 3rd Platoon, Lima Company, 3rd Battalion, 3rd Marine Regiment, and Hatley was Blue's handler at the time. According to the Defense Visual Information Distribution Service, this image was captured after the group had cleared compounds with Afghan National Army soldiers as a part of Operation Winter Offensive on Jan. 4, 2012.
Later, on Feb. 8, 2012, during a patrol with ANA soldiers in Helmand province's Garmsir district, Hatley and Blue detected a 40-pound IED in a canal. They found it seconds before a large group of allies was ready to cross.
"My dog Blue is pretty much like another Marine, I guess," Hatley said. "He doesn't know he's doing it, but he's protecting all of us. If I have him on a patrol and there's an IED that could hurt us, I know he'll find it."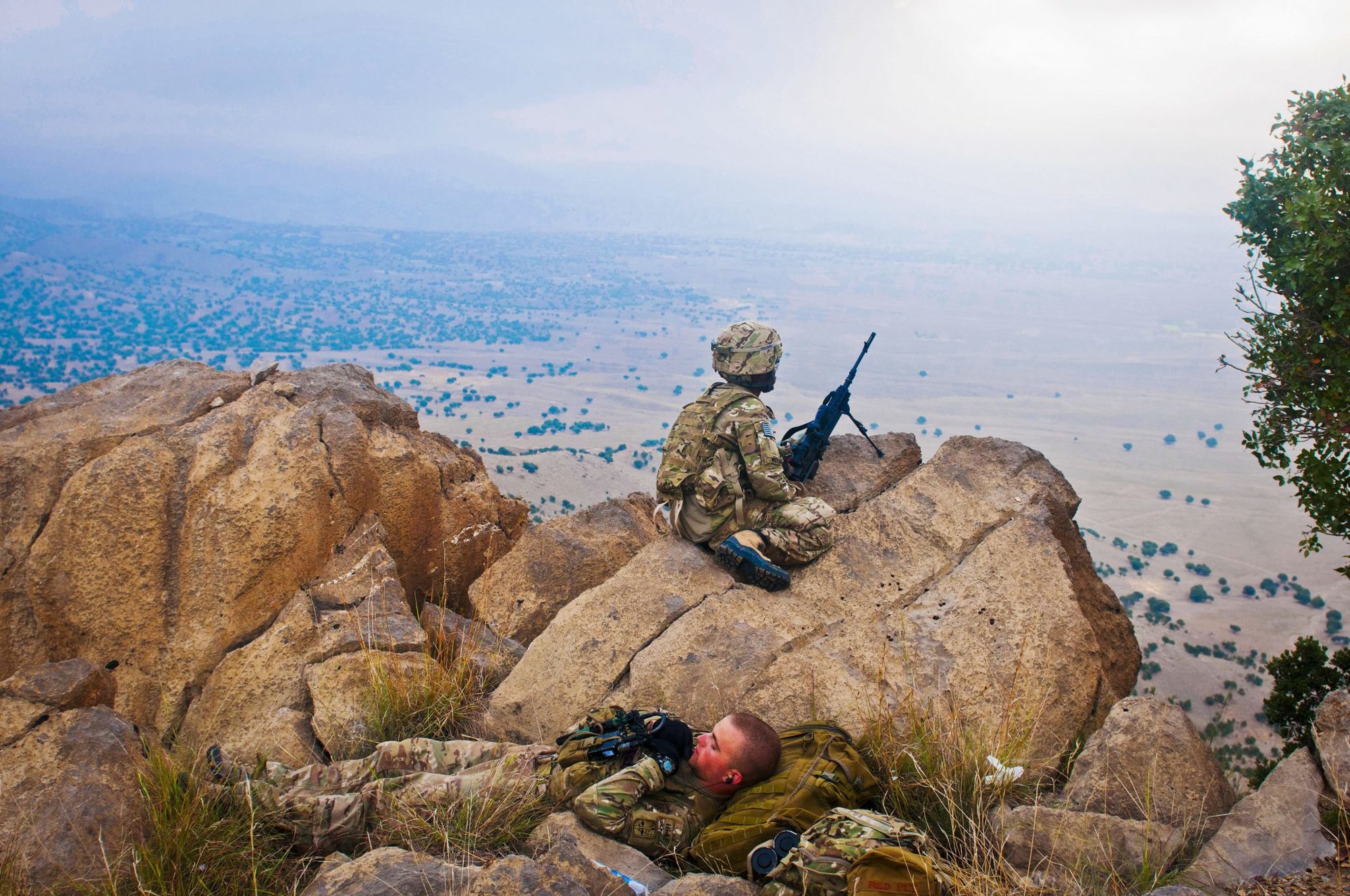 Above, Najier Williams, a US Army private first class, provides overwatch as his battle buddy sleeps on the rocks below on the morning of Sept. 8, 2011, in the unforgiving Afghan mountains surrounding Forward Operating Base Tillman. Both were part of Company C, 3rd Battalion, 66th Armor Regiment, Task Force 2-28, 172nd Infantry Brigade.
On Sept. 7, 2011, soldiers from Task Force 2-28 set out from FOB Tillman with their allies from the ANA and the Afghan Border Police to clear out an observation post that insurgents had been using to attack FOB Tillman with rocket-propelled grenades and gunfire, according to Spc. Ken Scar, who wrote the story behind this image. It was captured a day into the mission after the troops had been engaged in multiple firefights with the enemy while traversing the Afghan mountains' harsh terrain.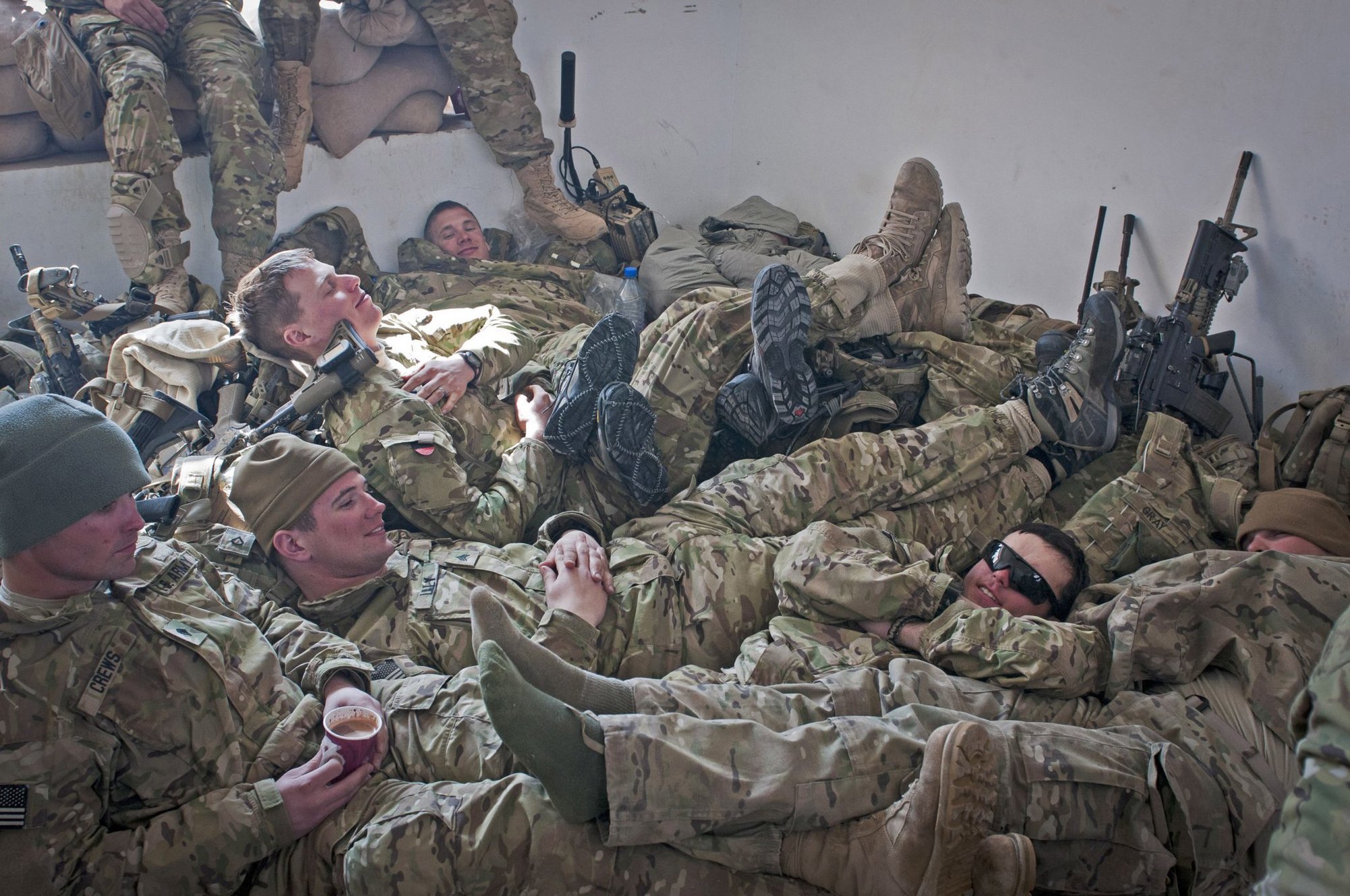 Piled into a tiny room, US Army scouts from Headquarters and Headquarters Company, 3rd Battalion, 509th Infantry Regiment, Task Force Spartan, can be seen above attempting to get some safe sleep after marching through the night in below freezing temperatures.
According to 7th Mobile Public Affairs, the Task Force Spartan members were moving from Forward Operating Base Gardez into the city of Gardez located within Paktya province, Afghanistan. The room is in a local police headquarters building and was provided to the soldiers by the Afghan Uniformed Police. A small wood-burning stove heated the small room. Between the stove and the combined body heat of all the soldiers, the room was presumably warm.