Read the original article on Military.com. Follow Military.com on Twitter.
A bill that would clear the way for a legendary fallen hero of the Iraq War to receive the Medal of Honor is now a law.
President Donald Trump on Friday signed a bill waiving a five-year procedural limit for Army Sgt. 1st Class Alwyn Cashe to receive the Medal of Honor. Cashe died Nov. 8, 2005, weeks after sustaining grievous burns while pulling six soldiers out of a fiery Bradley Fighting Vehicle in Samara, Iraq.
Cashe had been drenched in fuel when the vehicle hit an improvised explosive device, and ignored the flames licking at his own skin in order to save his comrades.
A measure to award Cashe the medal must still be submitted by the Defense Department and approved by the president to finalize the award.
"Now that we have enacted bipartisan legislation to remove the only obstacle standing in the way of Alwyn receiving the Medal of Honor, which the Department of Defense has already concluded he earned, I hope the President will move swiftly to announce the award," Rep. Stephanie Murphy, D-Fla., said in a statement. "The story of Alwyn's heroism has inspired so many people and I cannot wait for the day that his family will receive the nation's highest award for combat valor on his behalf."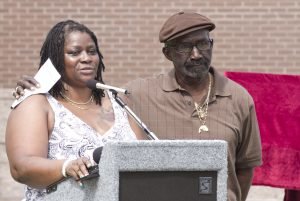 Murphy, along with Reps. Dan Crenshaw, R-Texas, and Michael Waltz, R-Fla., sponsored the waiver legislation after receiving a letter from then-Defense Secretary Mark Esper in August saying he'd support Cashe for the Medal of Honor. They wrote to Acting Defense Secretary Christopher C. Miller in November urging him to move "swiftly" to provide his endorsement to the president.
Cashe received the Silver Star for his sacrificial heroism, but procedural hurdles including witnesses and incomplete evidence — since addressed — thwarted previous attempts to recognize him with a higher award.
His family has not stopped fighting for Cashe to receive the Medal of Honor, and public support has grown as the 15th anniversary of his heroic actions passed this year.
The conference version of the fiscal 2021 defense budget bill contained an additional provision waiving the time limit for Cashe to receive the medal, signaling broader congressional support.
"America can never fully repay the ultimate debt paid by our heroes like Alwyn Cashe–but what we can do is honor them for their sacrifices. This is a monumental accomplishment for Alwyn's family, who have waited 15 years for this moment," Waltz said in a statement. "I'm very optimistic the Department of Defense will recommend this award. I'm very grateful and proud to have been part of this bipartisan effort — and I'm looking forward to the ceremony at the White House to bestow this great honor to Alwyn and show our nation's profound gratitude to his family for his selfless act of courage."