A recent big reveal in the Disney+ series The Falcon and the Winter Soldier has rekindled memories of the famed Tuskegee Airmen. In Episode 5, conversations between characters Sam Walker (Falcon) and Isaiah Bradley questioned whether there could ever be a Black Captain America.
"I used to be like you, until I opened my eyes, until I saw men in The Red Tails, the famous 332, fight for this country, only to come home to find crosses burned on their lawn," says Isaiah, a Black supersoldier whose mistreatment at the hands of his own government left him angry and disenchanted.
That reference is to the Tuskegee Airmen, a historic, segregated combat aviation unit that flew more than 15,000 sorties across Europe and North Africa during World War II.
Though the Tuskegee Airmen is now one of the best-known flying units in US Air Force and US Army Air Corps history, here are some facts about the groundbreaking flyers you might not know.
Eleanor Roosevelt Was an Early Supporter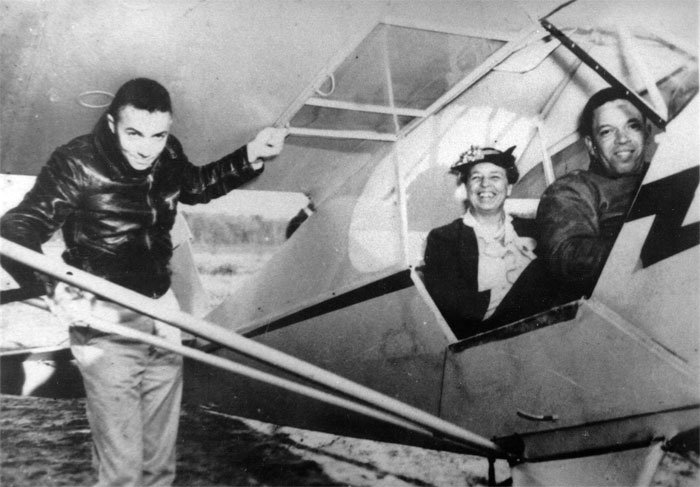 On January 16, 1941, the War Department announced the formation of a new unit: the 99th Pursuit Squadron (later renamed the 332nd Fighter Group). At the time, no Black pilots were serving in the Army Air Corps. The segregated unit received training from eleven white officers chosen to teach the 429 Black enlisted airmen and 47 Black officers at the Tuskegee Institute in Tuskegee, Alabama. In March of that same year, First Lady Eleanor Roosevelt arrived at the Tuskegee Army Airfield to observe the first class as they went through flight training and to go on a flight herself.
Chief civilian flight instructor Charles Alfred Anderson, later known as "The Father of Black Aviation," took the First Lady into the air. "The first thing she said was, 'I always heard colored people couldn't fly airplanes, but I see you're flying all around here,'" Chief Anderson said in an interview, according to The Philadelphia Inquirer. After her flight, she said, "Well, I can see you can fly all right!"
The Tuskegee Airmen of the 99th Pursuit Squadron were officially activated on March 23, 1941, and would enter combat in 1943, flying sorties and escort missions for two years.
The Myth of Their Spotless Bomber Record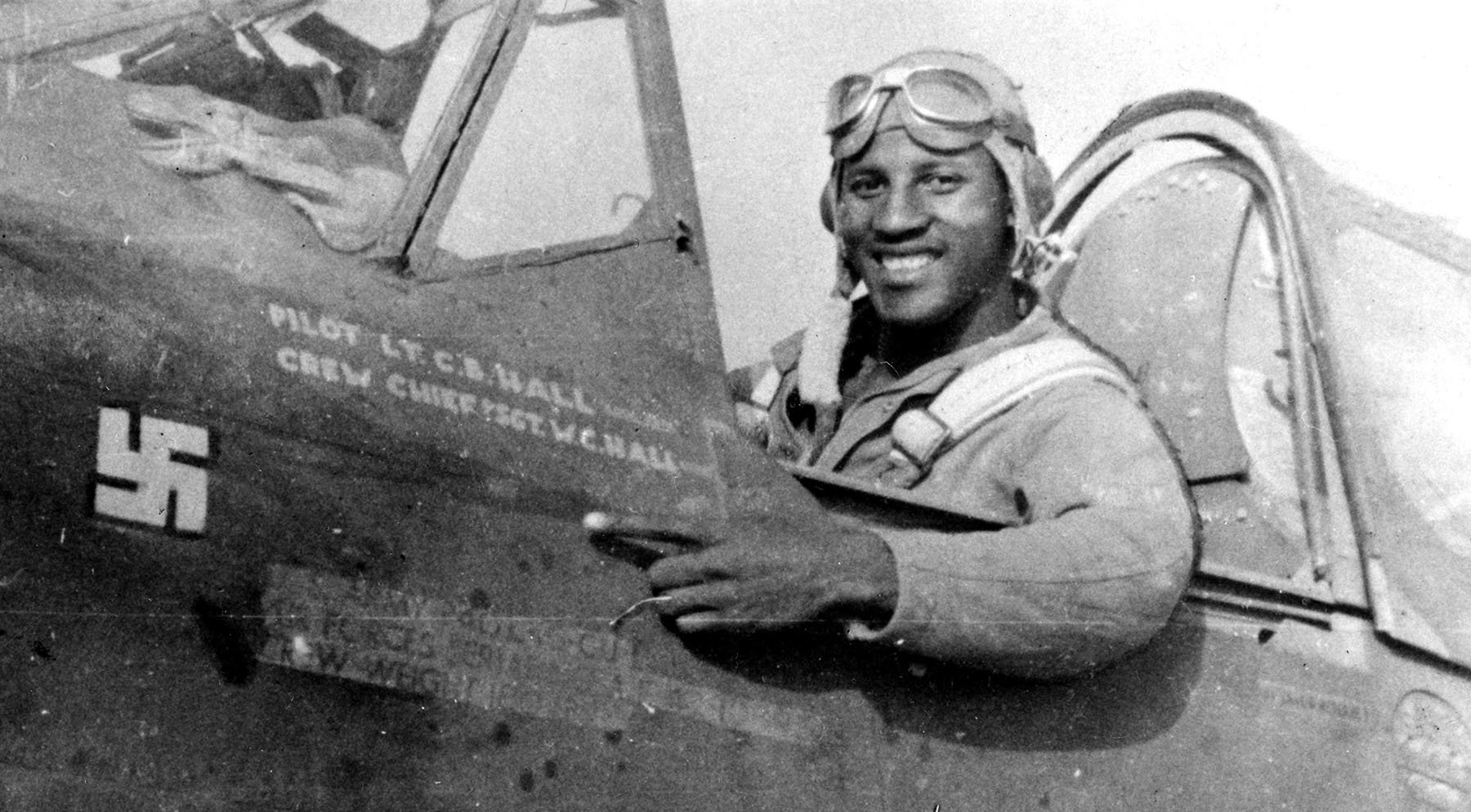 "We never lost a bomber to enemy action of airplanes," recalled Gen. Benjamin O. Davis Jr., the first Black general of the Air Force and commanding officer of the Tuskegee Airmen. Although this statement was presented as fact in museums, books, magazine articles, and newspapers in the decades following World War II, a 2011 analysis of the unit's combat record revealed that, on the 179 escort missions the Airmen were assigned to, enemy aircraft shot down at least 27 of the bombers the Airmen were escorting. Among other fighter squadrons of the 15th Air Force, the average number of lost bombers was 46. All 27 of the bombers that the Red Tails lost were lost during seven specific missions, each of which involved hundreds of bombers, according to Air Force records.
Four Tuskegee Airmen Became Generals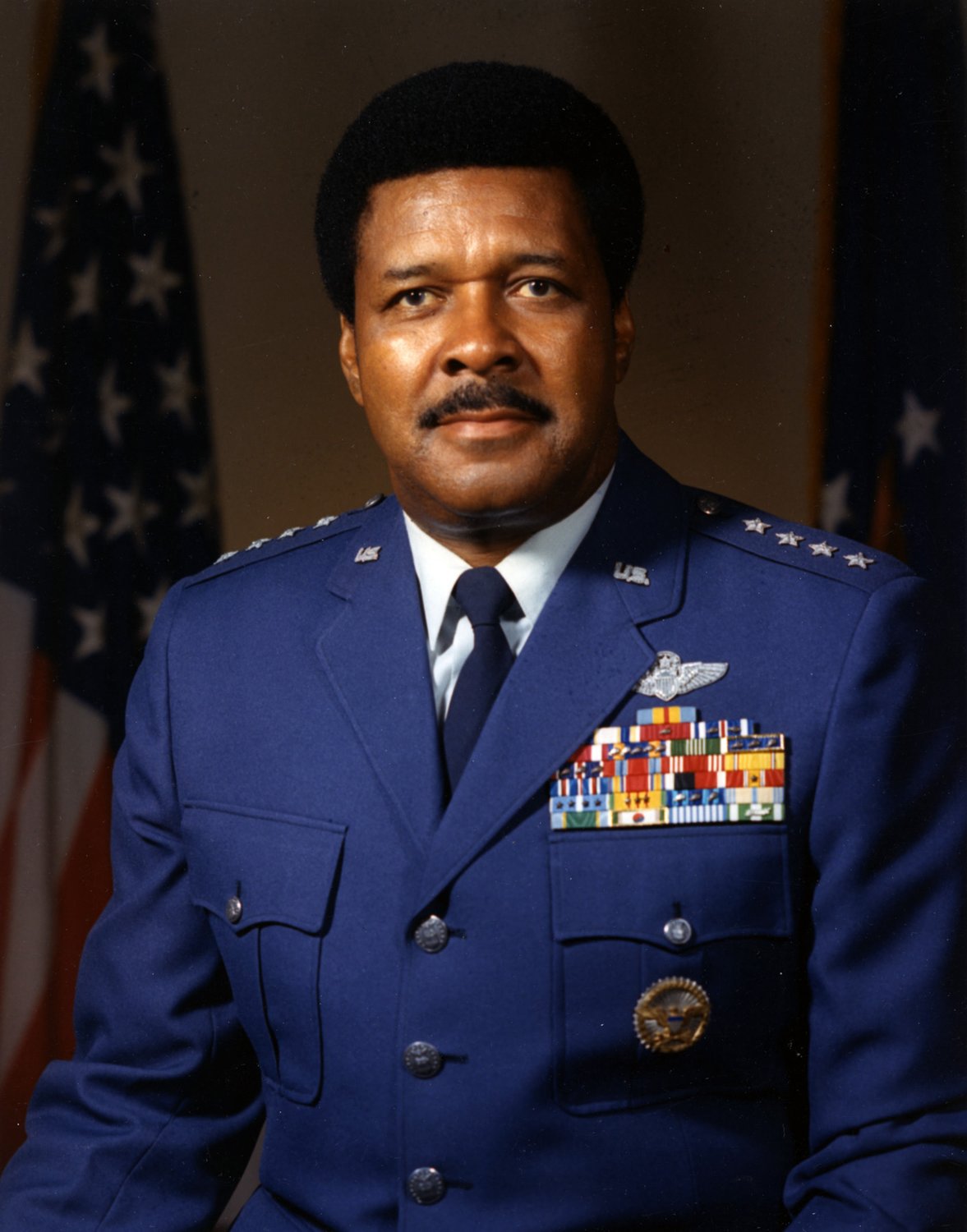 The Tuskegee Airmen weren't merely terrific WWII pilots. Many went on to full careers as military leaders. Gen. Benjamin O. Davis Jr. is perhaps the most famous for not only following in his father's footsteps — Davis Sr. was the first Black General in US military history — but for becoming the first Black Air Force officer to attain the rank of general. Davis was one of the first five Tuskegee Airmen pilots to receive his pilot wings, earned a Silver Star during an escort mission, and served as the commanding officer of the 332nd Fighter Group during World War II.
Three other Tuskegee Airmen rose to the rank of general, including Daniel "Chappie" James Jr., Lucius Theus, and Charles McGee.
James didn't see combat action during World War II but was responsible for training Black pilots as a flight instructor. He eventually got his combat time in the cockpit, flying 101 missions during the Korean War and 78 in Vietnam. He became the first Black man in US military history to attain the rank of four-star general. Most surprisingly, though, while serving as the commander of the 7272nd Fighter Training Wing at Wheelus Air Base in Libya, he got into a confrontation with future Libyan dictator Moammar Gadhafi. In 1970, following Gadhafi's successful overthrow of the Libyan government, Gadhafi picked the wrong Air Force officer to mess with when his troops stormed the gated barriers. At one point, the two faced off, and Gadhafi reached for his gun.
"I had my .45 in my belt," James recalled. "I told him to move his hand away. If he had pulled that gun, he never would have cleared his holster." The encounter didn't turn violent, and James safely evacuated 4,000 people and $21 million in assets from the airbase.
Theus was the first and only mission support officer within the Tuskegee Airmen to be promoted to general and the third Black Air Force general following Davis and James. McGee achieved his highest rank late in life — very late. On Feb. 4, 2020, just after turning 100, the retired colonel was promoted to brigadier general in the Oval Office. Across three decades and three different wars, he flew 409 combat missions, the most of any Tuskegee Airmen.
The Famed Red Tails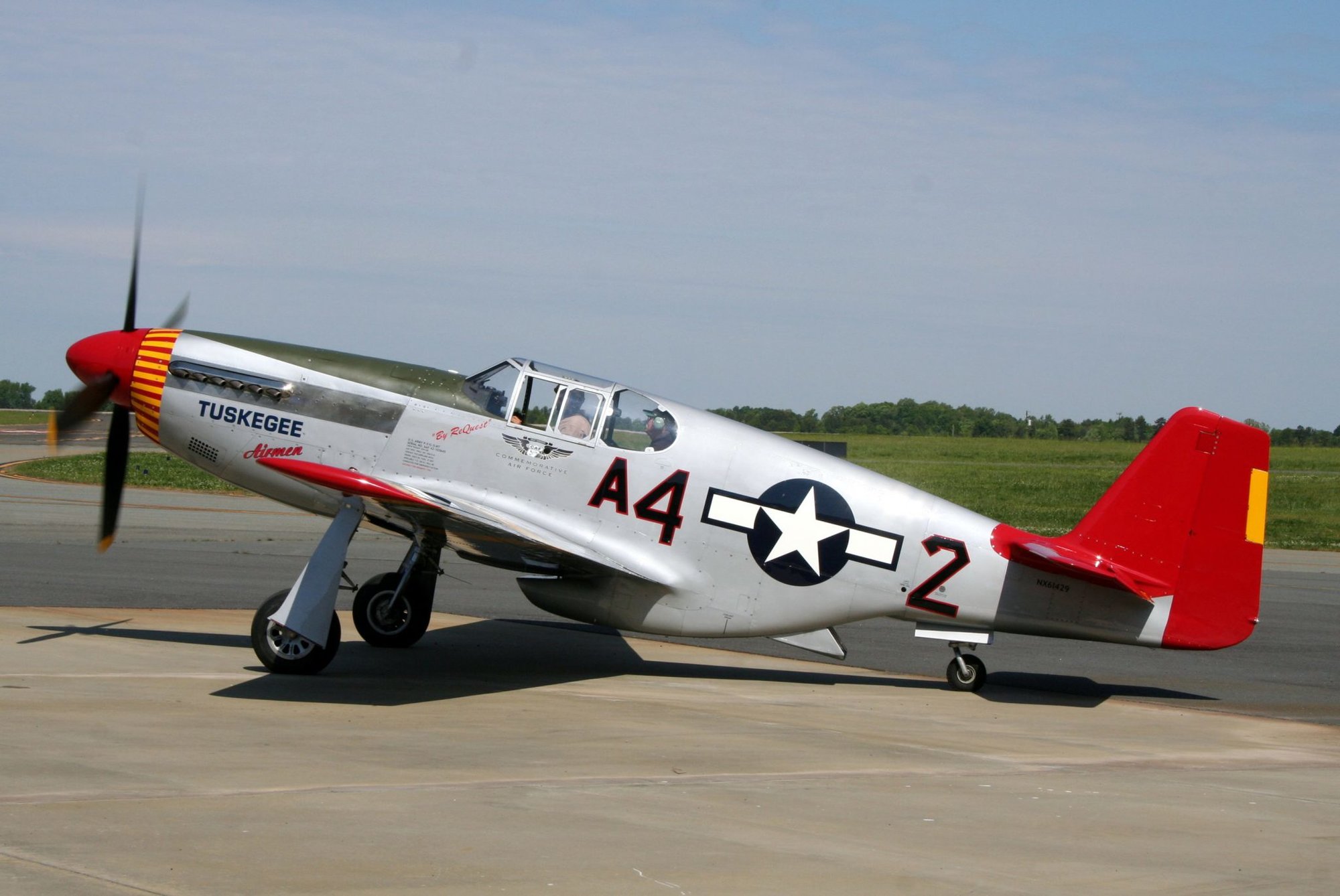 The Tuskegee Airmen deployed flying Curtiss-Wright P-40L Warhawks in Tunisia in June 1943. However, their first aerial victory came a month later when 1st Lt. Charles B. Hall shot down a German fighter while escorting B-25 medium bombers on a raid on Castelvetrano in southwestern Sicily, Italy. Hall was the first Black Tuskegee airmen to shoot down an enemy aircraft. In a span of two years, the pilots flew 312 missions under the 15th Air Force, with 179 of those being bomber escort missions. They gained such notoriety that bomber crews began to look for the "Red Tails" of the Tuskegee Airman's P-51C Mustangs guarding their every move. The nickname stuck.
"It is well documented that our WWII bomber pilots would look out their windows and gain confidence from Red Tail fighters flying beside them," said Col. David C. Lyons, the 407th Air Expeditionary Group commander. "It has been stated they took comfort in knowing their chances for survival were higher with a Red Tail escort than from any other outfit in 12th and 15th Air Force."
The Tuskegee Airmen's Red Tails legacy was sealed. The unit scored 112 aerial victories, and three pilots shot down four aircraft each, leaving them just one confirmed aerial victory away from securing the status of "ace."
Today, the lineage of the Red Tails lives on. The 332nd Air Expeditionary Wing is a deployed unit in Southwest Asia. Among the 332nd have been front-line Air Force fighting units, including search and rescue assets and fighter squadrons.
Read Next: 'The Town That Didn't Stare': How the Guinea Pig Club Assimilated Into the Community