When gymnast Simone Biles withdrew from several Olympic events last month with "the twisties," one military community may have found her story hauntingly familiar: pilots.
In a now-deleted Instagram post, Biles said she "literally can not tell up from down. It's the craziest feeling ever. […] What's even scarier is since I have no idea where I am in the air I also have NO idea how I'm going to land, or what I'm going to land on."
Although "twisties" is a gymnastics word, the phenomenon is one that military pilots know all too well.
"It does happen in a cockpit," Chief Warrant Officer 5 Myke Lewis told Coffee or Die Magazine. A career helicopter pilot, Lewis is the chief warrant officer of the Aviation Branch at Fort Rucker, Alabama, where nearly all new Army pilots learn to fly. "It's an ongoing phenomenon, and it is exacerbated by the fact that we are in an aircraft that has a whole other axis of orientation to maintain that you don't find when you are either walking or driving in a car."
In the Army's accident history, spatial disorientation — basically the twisties for pilots — accounts for 25% of all the accidents and about 50% of all fatalities from aircraft crashes, Michael Wilson, a research psychologist at the US Army Aeromedical Research Lab, said.
"This is an important time for us to realize that things that [the world] is seeing somewhere on the Olympics is happening out there to our soldiers," Wilson said.
Lewis, now one of the Army's most senior pilots, said he faced similar moments in the cockpit. He joked that on his first tour in Iraq he experienced three significant emotional events, "and being shot at was not at the top of the list."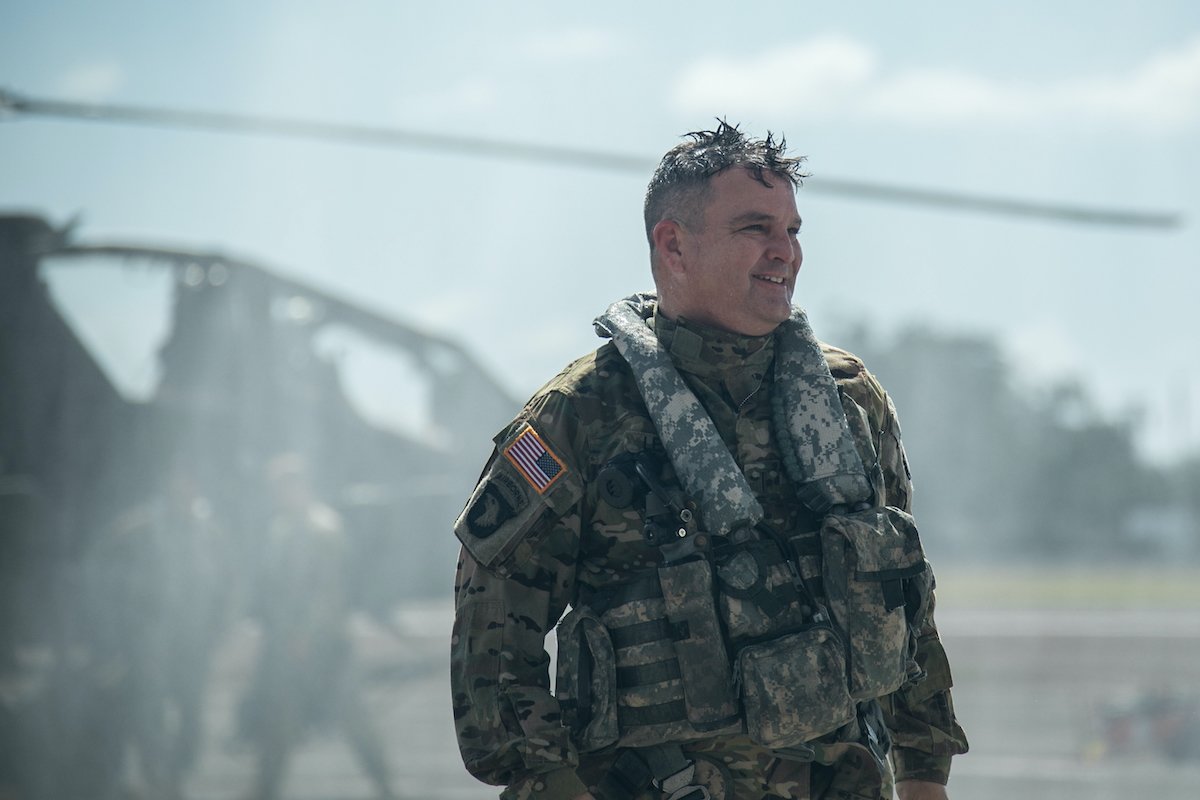 "The most significant emotional event that I experienced was doing a brownout landing where I wasn't sure if I was going to keep the aircraft 'dirty side down' throughout the landing," Lewis said. "I lost complete spatial disorientation during the landing sequence because the dust was so bad that the cockpit actually went black — there was no sunlight coming through that dust."
The aircraft did finally stop, Lewis said.
"The event was so significant that I couldn't get up out of my seat for about 20 minutes," he said.
Though the Army's "Aeromedical Training for Flight Personnel" document does not mention "the twisties," it spends an entire chapter on spatial disorientation and its many slightly less-scary-sounding phenomena: vection, or a false sense of movement (think of a car pulling up next to you at a stoplight, briefly causing you to think you are rolling backward); false horizon illusion; confusion with ground lights (when a pilot mistakes the lights of a town for stars and, believing he is safely in the sky, dives toward them); and size and shape constancy (when a pilot misjudges the angle of his descent toward a runway, believing it is bigger or smaller than it really is).
There have been some high-profile victims of crashes due to pilot disorientation, including Kobe Bryant, whose pilot became disoriented in low clouds and crashed in a canyon near Los Angeles, and John F. Kennedy Jr., who, flying at night over water, did not realize he'd put his plane into a fatal spiral until it was too late.
Military pilots face three types of spatial disorientation, Lewis said: recognized, unrecognized, and incapacitating.
"Based on which level of spatial disorientation you're dealing with and how well you're trained to deal with those can determine the outcome of that event," Lewis said.
Speaking as not only a pilot but also a soldier, Lewis said the feeling after a brush with spatial disorientation was the same as that of skirting gunfire. After his brownout landing in Iraq, he wrote a letter to his mother to prepare his mind for getting back into the cockpit.
"When I was finished with that cleansing, you could call it, I was able to move on," Lewis said. "You have to be able to compartmentalize those types of things and do what you're asked to do. You've got to remember why you're doing what you're doing."
As Biles struggled in Tokyo, Lewis watched as both a pilot and a former college gymnast. He noted that Biles needed her own recovery process, like Lewis' letter to his mother. "She took her time. She got her head right," Lewis said of Biles.
He noticed that, during one twisties-plagued jump, Biles altered her flight from two flips and two twists to just one of each.
"It was pretty cool," Lewis said.
Read Next: 'World's Fastest Man' Has Us Army Roots